Der Artikel wurde erfolgreich hinzugefügt.
Various
Mountain Music - The Polydor Recordings 1971-1973 (2-CD)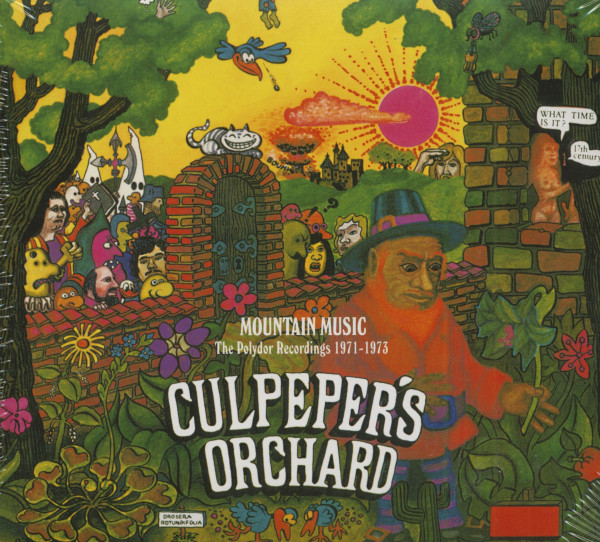 inkl. MwSt. / zzgl. Versandkosten - Abhängig vom Lieferland kann die MwSt. an der Kasse variieren.
nur noch 1x verfügbar
Sofort versandfertig, Lieferzeit** 1-3 Werktage
Artikel-Nr.:

CDECLEC22742

Gewicht in Kg.:

0.2
(Esoteric) 30 tracks, digipack Esoteric Recordings freut sich, die Veröffentlichung einer...
mehr
Various: Mountain Music - The Polydor Recordings 1971-1973 (2-CD)
(Esoteric) 30 tracks, digipack
Esoteric Recordings freut sich, die Veröffentlichung einer neuen, neu gemasterten 2-CD der legendären dänischen Kultprogressive-Rock-Kultband CULPEPER'S ORCHARD mit dem Titel "
Mountain
Music - The
Polydor
Recordings 1971 - 1973" anzukündigen.
Die Band wurde 1970 in Kopenhagen mit einer Originalbesetzung von CY NICKLIN (Gesang, Gitarre), NEILS HENRIKSEN (Lead-Gitarre, Klavier), MICHAEL FRIIS (Bass, Orgel, Flöte) und RODGER BARKER (Schlagzeug, Perkussion) gegründet.

Der Engländer Nicklin lebte seit 1963 in Dänemark und hatte auch Aufnahmen mit
Sandy Denny
and the Strawbs gemacht, während diese Band in Kopenhagen ansässig war.
Im Jahr 1968 war er Gründungsmitglied einer anderen legendären dänischen Band, DAY OF PHOENIX, gewesen, hatte aber aufgehört, seine eigene Band mit den Dänen Henriksen und Friis und dem englischen Schlagzeuger Rodger Barker zu gründen.

Culpeper's Orchard unterschrieb bei Polydor Records in Dänemark und veröffentlichte im März 1971 ihr selbstbetiteltes Debütalbum. Das Album war ein schönes Beispiel für psychedelischen, progressiven Rock, der aus einer Unzahl verschiedener Einflüsse von Rock-, Folk- und den damaligen Westküsten-Bands der USA schöpfte.

Das Album wurde in weiten Teilen Europas veröffentlicht und hat sich in der Folge seinen Platz als legendäres psychedelisches Progressive-Album verdient, bei dem Original-Vinylkopien für dreistellige Summen den Besitzer wechselten.

Nach diesem erfolgreichen Debüt nahm die Band 1972 das Album "SECOND SIGHT" auf, wobei Schlagzeuger KEN GUDMAN (früher bei The Savage Rose) Rodger Barker ersetzte. Das Album war ein ebenso feines Werk und nahm mehr akustische Einflüsse der US-Westküste auf und behielt gleichzeitig einen rockigen Touch.
Culpeper's Orchard traten in Skandinavien regelmäßig auf Konzerten mit vielen bedeutenden Künstlern auf, aber die Besetzung der Band änderte sich erneut zum Zeitpunkt ihres dritten und letzten Albums für Polydor, "GOING FOR A SONG", das im Herbst 1972 aufgenommen wurde.

Neils Henricksen verließ die Band und wurde durch Neils Vangkilde an der Gitarre ersetzt.
Nils Tuxen wurde ebenfalls für die Pedal-Steel-Gitarre angeworben, und der britische Schlagzeuger Tom McEwan ersetzte Ken Gudman.

Das Album nahm mehr Einflüsse von Künstlern wie Crosby, Stills und Nash auf und erntete kritisches Lob, war aber nicht der größere Durchbruch, den sich die Band erhofft hatte.

Es sollte das letzte Album der Band für Polydor Records sein. Eine Pause folgte auf
Live
-Auftritte im folgenden Jahr (zu denen ein Auftritt beim Ragnarock-Festival in Norwegen neben Acts wie den Pretty Things und
Mungo Jerry
gehörte).
Drei Jahre später nahm die Band ein letztes Album in einem anderen Stil auf, aber ihre Alben für Polydor, und insbesondere ihr Debüt, sind diejenigen, für die Culpeper's Orchard in bester Erinnerung bleibt.

Artikeleigenschaften von

Various: Mountain Music - The Polydor Recordings 1971-1973 (2-CD)
Bewertungen lesen, schreiben und diskutieren...
mehr
Kundenbewertungen für "Mountain Music - The Polydor Recordings 1971-1973 (2-CD)"
Bewertung schreiben
Bewertungen werden nach Überprüfung freigeschaltet.