Der Artikel wurde erfolgreich hinzugefügt.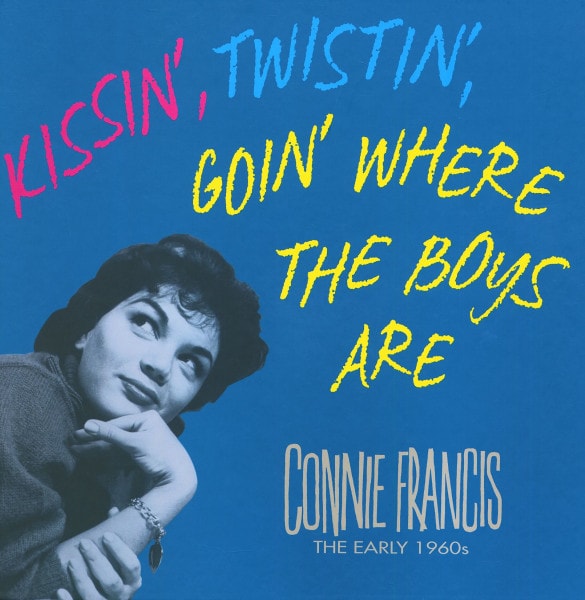 Benachrichtigen Sie mich, sobald der Artikel lieferbar ist.
89,95 € *
94,95 € *
(5,27% gespart)
inkl. MwSt. / zzgl. Versandkosten - Abhängig vom Lieferland kann die MwSt. an der Kasse variieren.
Artikel derzeit nicht verfügbar, Lieferfristen von bis zu 2-3 Wochen sind zu erwarten. (soweit verfügbar beim Lieferanten - kann schneller gehen, manchmal aber leider auch nicht)
Artikel-Nr.:

BCD15826

Gewicht in Kg.:

1.4
5-CD Box (LP-Format) mit 36-seitigem Buch, 148 Einzeltitel. Spieldauer ca. 381 Minuten. Unsere...
mehr
Connie Francis: Kissin', Twistin', Goin'.. (5-CD Deluxe Box Set)
5-CD Box (LP-Format) mit 36-seitigem Buch, 148 Einzeltitel. Spieldauer ca. 381 Minuten.
Unsere hochgelobte CD-Box 'White Sox, Pink Lipstick und Stupid Cupid' mit Aufnahmen von
Connie Francis
beschreibt ihre Karriere bis ins Jahr 1959. Mit dieser zweiten Edition dokumentieren wir die nächsten Jahre ihrer Karriere bis zum Frühjahr 1962. Diese 5-CD Box enthält sämtliche englischsprachigen Aufnahmen jener Jahre. Nur wenige Sängerinnen jener Ära beherrschten derart viele Richtungen auf so überzeugende Art und Weise. Sie nahm klassischen Pop der 20er und 30er Jahre auf, Country Songs, Chansons und Rock `n' Roll. 
Die Chart-Platzierungen sprechen für sich. Zu den 'Connie Francis Hall of Fame'-Aufnahmen dieser Kollektion gehören
Everybody's Somebody's Fool, My Heart Has A Mind Of It's Own, Where The Boys Are
und
Don't Break The Heart That Loves You
. Zusätzlich liefern wir mit den Stereoaufnahmen von 'Award Winning Motion Picture Hits', einer seltenen in Australien veröffentlichten LP, einen besonderen Bonus. Wir planen weitere Retrospektiven mit Aufnahmen von Connie Francis aus ihrer MGM-Zeit. Erinnert sei auch an die CD-Box mit deutschsprachigen Aufnahmen, 'Lass mir die bunten Träume', sowie an ihre CD mit
Hank Williams
Jr., 'Sing Great Country Favorites'.
Video von Connie Francis - Kissin', Twistin', Goin'.. (5-CD Deluxe Box Set)
Artikeleigenschaften von

Connie Francis: Kissin', Twistin', Goin'.. (5-CD Deluxe Box Set)
Albumtitel:

Kissin', Twistin', Goin'.. (5-CD Deluxe Box Set)

Genre

Rock'n'Roll

Edition 2

Deluxe Edition

Preiscode

EI

Artikelart

Box set

EAN:

4000127158260

Gewicht in Kg:

1.4
Connie Francis Geboren am 12. 12. 1938 als Concetta Rosa Maria Franconero in Newark,...
mehr
"Connie Francis"
Connie Francis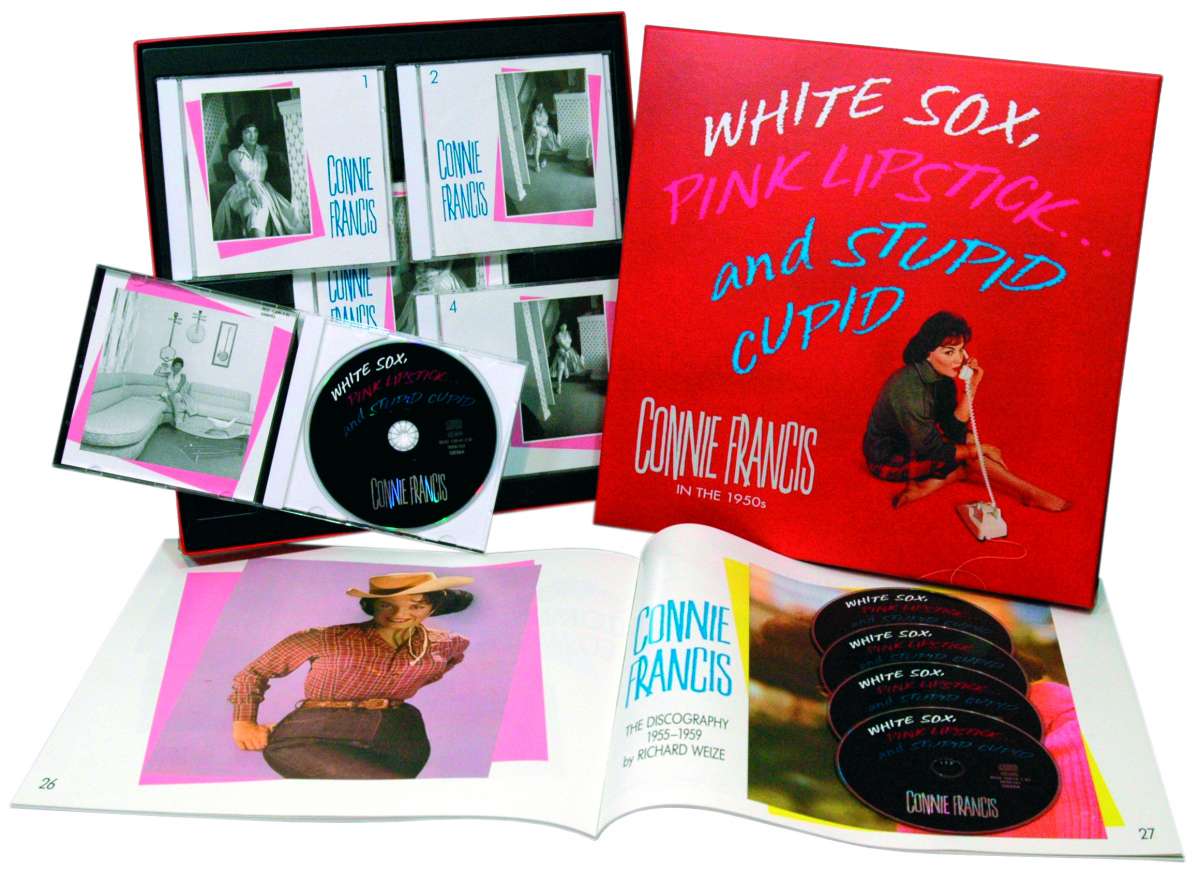 Geboren am 12. 12. 1938 als Concetta Rosa Maria Franconero in Newark, US-Bundesstaat New Jersey.
Als Elfjährige wurde Connie Francies während einer Talentshow entdeckt, sechs Jahre später erhielt sie einen Vertrag von MGM. Ihre erste Single ('Freddy') erschien 1955, die, wie einige andere mehr, zunächst unbeachtet blieb.

Erst 1958 funkte es, 'Who's Sorry Now' (Baujahr 1923) wurde ihr erster Chart-Treffer in den USA, dem bis 1969 noch 54 weitere folgen sollten. In England brachte die erfolgreichste Sängerin der 50er und 60er Jahre 24 Titel in die Hitlisten (1958 - 66), von ihren 35 deutschsprachigen Original-Singles platzierten sich 23 zwischen 1960 und 1970. Keine andere Interpretin weltweit nutzte so geschickt die Zeit- spanne nach der Hoch-Zeit des Rock'n'Roll und dem Beginn der Beat-Ära. Als die goldenen Jahre von Connie Francis vorüber waren, setzte sie sich für UNICEF ein, ging als singende Truppenbetreuerin nach Vietnam. Seit 1960 war sie auch in diversen US-Filmen zu sehen und zu hören, etwa "Where The Boys Are' ('Dazu gehören zwei', 1960), "Follow The Boys' ('Mein Schiff fährt zu dir', 1962), "Looking For Love' ('Ich wär' so gern verliebt', 1963) und 'When Boy Meets Girl' ('Boy meiner Träume', 1965).

1974 wurde sie nach einem Auftritt im Westbury Theatre vor den Toren New Yorks überfallen und vergewaltigt- ein Verbrechen, von dem sie sich lange Jahre psychisch nicht erholte. Anfang der 80er absolvierte sie wieder Gastspiele, doch gegen Ende des Jahrzehnts forderte ihre instabile Gesundheit erneut Tribut. Nach Sprachproblemen während einer Show im Londoner Palladium gab es ähnliche Anzeichen während eines TV-Gesprächs im amerikanischen Fernsehen. 1991 brach Connie Francis während eines Konzerts in New Jersey zusammen. 1992 erlebten mehrere Francis-Titel in Deutschland eine Renaissance: Die Medleys "Jive Connie' und '(10, Connie, Go' schossen in den Hitlisten ganz nach oben.

1993 nahm sie in München mit Peter Kraus für Sonys Herzklang-Label die Duette 'Que Sera' und "So nah' auf- in England wurde ein Song aus einer TV-Serie zum Überraschungs-Hit: 'Lipstick On Your Collar' aus dem Jahr 1959.

Aus dem Bear Family Buch - 1000 Nadelstiche von Bernd Matheja - BFB10025 -
Connie Francis
Connie Rocks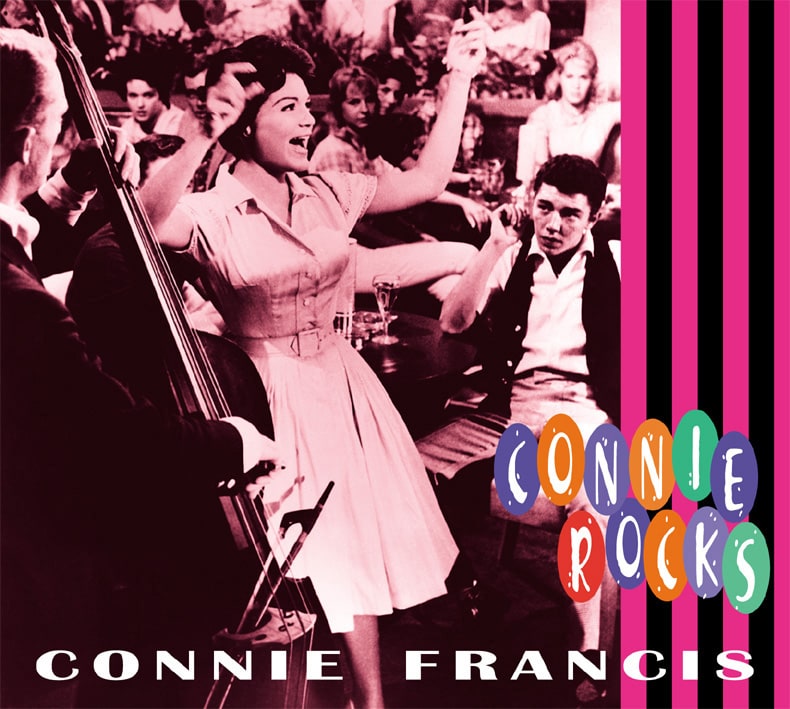 Die Rock'n'Roll-Ära war ein Jungenclub. Die meisten der meistverkauften Künstler waren männlich: Nur wenige Künstlerinnen konnten sich mit ihnen messen. Von den Frauen dieser Zeit war Connie Francis die mit Abstand meistverkaufte. Rock'n' Roll war Testosteron-reiche Musik, und Connie erkannte schon früh in ihrer Karriere, dass sie nicht mit einem Banshee Rockabilly Wail loslegen konnte, aber sie konnte sehr glaubwürdige Rock'n' Roll Musik machen, die ihrem Hintergrund und ihrem einzigartigen Talent gerecht wurde.
Connie wurde am 12. Dezember 1938 in Newark, New Jersey, als Concetta Maria Franconero geboren. Ihre Eltern waren in den Vereinigten Staaten in italienischen Einwandererfamilien geboren. Connie's Großvater väterlicherseits kam 1905 mit einer zerschlagenen Ziehharmonika und wenig mehr. Connie saß auf der Treppe ihres Hauses und lernte die Volkslieder aus dem alten Land. Es wurde schnell klar, dass sie Talent hatte, und begann, bei Einstiegswettbewerben in und um New Jersey aufzutreten, zu singen und Akkordeon zu spielen. Connie's Vater, George Franconero, interessierte sich für ihre aufkeimende Karriere und nahm sie mit nach New York, um sie in eine Kinderfernsehsendung "Startime" zu bringen. "Wir haben den Produzenten der Show, George Scheck, der ein Taxi rief, angehalten", sagte Connie später. "Mein Vater sagte: "Würdest du meiner Tochter beim Singen zuhören?" Er sagte: "Ich bin bis hierhin in den Sängerinnen und Sängern. Ich kann keine Sänger gebrauchen." Da hat mir das Akkordeon das Leben gerettet. Scheck sagte, dass er ihr ein Vorsprechen geben würde, wenn sie Akkordeon spielen würde, und sie war vier Jahre lang bei'Startime'. Schließlich wurde Scheck ihr Manager.
1950 erschien Connie von Küste zu Küste auf "Arthur Godfrey's Talent Scouts" und war in den nächsten Jahren oft im Fernsehen zu sehen. Es war übrigens Godfrey, die vorgeschlagen hat, dass sie ihren Namen in Connie Francis ändert. Mit vierzehn Jahren überquerte Connie den Fluss nach New York und sang Demonstrationsscheiben für Musikverlage. 1955 finanzierte Lou Levy bei Leeds Music eine Session mit George Scheck und brachte die Meister gemeinsam zu den Plattenfirmen. Der einzige Abnehmer war der A&R-Mann von MGM Records, Harry Meyerson. Einer der Songs auf dem Demo-Tape war einer mit dem Titel Freddy, und Connie wurde später gesagt, dass Meyerson sie nur signierte, weil sein Sohn Freddy hieß und er dachte, die Platte würde ein gutes Geburtstagsgeschenk sein.
Die frühen Singles machten wenig Geschäfte, und Connie wurde Jim Vienneau übergeben, der mit dem Gründungspräsidenten von MGM Records, Frank Walker, verwandt war. Vienneau erhielt die Verantwortung, MGM in die Rock'n'Roll-Ära zu bringen, und er fand einen Song für Connie namens Eighteen. Sie signalisierte eine neue Richtung und die erste Reaktion war vielversprechend, aber auch sie blieb aus. Nach neun aufeinanderfolgenden Flops wurde Connie gesagt, dass sie einen letzten Schuss auf MGM bekommen würde, bevor sie fallen gelassen wurde. Zwei Personen führten Connie's Karriere, George Scheck und ihr Vater, George Franconero. Auf Drängen ihres Vaters nahm Connie einen alten Jazz-Pop-Song, Who's Sorry Now, mit einem zweispurigen Gesang ähnlich Patti Page auf. "Mein Vater", sagte Connie, "hatte ein Ohr für das, was die Leute von mir wollten, das war unheimlich. Bei der letzten Sitzung sagte er: "Hier ist ein Lied, das ich dir in den letzten anderthalb Jahren in den Hals stecken wollte." Ich sagte:'Sag mir nicht, dass es wieder dieses Lied von 1923 ist. Haben die Leute 1923 tatsächlich ihre Namen geschrieben? Ich mache es nicht." Er sagte: "Nur zu, nimm noch eine Bombe, und du beendest deine Karriere." Ich bin überrascht, dass sie so lange bei dir geblieben sind. Ich sag dir was. Tu mir einen großen Gefallen. Tu so, als würde ich morgen sterben und das ist mein letzter Wunsch. Du suchst dir deine üblichen drei Klamotten aus und wirfst sie für mich rein.'"
George Franconero hatte natürlich Recht. Veröffentlicht im November 1957, Who's Sorry Now? erhielt ein wenig Airplay im ganzen Land, aber nicht gestartet, bis MGM's Philadelphia Distributor, Ed Barsky, eine Kopie an Dick Clark brachte. "Dick hörte ein Geräusch in mir, das ganz anders war", sagte Connie später. "Die Reaktion war einfach phänomenal. Er spielte es drei Monate lang jeden Tag." Connie gibt freiwillig zu, dass sie ihren Erfolg Dick Clark und den wiederholten Auftritten auf'American Bandstand' zu verdanken hat. Wenn nicht für ihn, wäre sie fallen gelassen worden, als ihr Vertrag abgelaufen war. Who's Sorry Now? erreichte Platz 3 in'Cash Box', Platz 4 in'Billboard' und Platz 1 in England.
Ein weiterer überarbeiteter Oldie wurde als Nachfolger veröffentlicht, aber auch nicht annähernd. Damals schlug der Musikverleger Donnie Kirshner vor, zwei junge Songwriter zu hören, die er gerade unterschrieben hatte, Neil Sedaka und Howie Greenfield. Nachdem Sedaka und Greenfield alle ihre Balladen gespielt hatten, sagte Connie, dass sie etwas peppigeres hören wollte. Neil beschloss, Stupid Cupid zu spielen (was laut Howard Greenfield für Sal Mineo geschrieben wurde und dann den Shepherd Sisters versprochen wurde). Connie liebte es, und Neil kam zu Connie's Session am 18. Juni 1958, um Klavier zu spielen. Innerhalb eines Monats war Stupid Cupid unter den Top 20. Die B-Seite war ein älteres Lied aus dem Jahr 1929, Carolina Moon. Die Kombination wurde zu einem doppelseitigen Erfolg, so dass es kaum verwunderlich war, dass sich Connie für ihre nächste Single, Fallin', an Sedaka und Greenfield wandte, aber sie blieb kurz vor den Top 30 stehen, was zu einer Rückkehr zu den Oldies führte. My Happiness, ein Song aus der Depressions-Ära, der 1948 ein großer Hit war, krönte ein unglaubliches Jahr, als er Connie's größter Hit bis zu diesem Punkt wurde. 1958 war das Jahr, in dem Connie Francis ankam, und sie würde für weitere zehn Jahre nicht aus den Charts verschwinden.
1959 eröffnet mit Connie, die Songs für ihre nächste Single in Betracht zieht. Sie mochte einen, den der erfahrene Musikverleger, Leonard Joy, rübergeschickt hat, Lipstick On Your Collar. Jetzt brauchte sie eine B-Seite. "Howie Greenfield war mein Lieblingstexter", sagte sie zu William Ruhlmann. "Jedes Mal, wenn eine Session aufkam, saß ich tagelang in meinem Büro und hörte mir jeden Verleger, jeden Songwriter an, aber Neil und Howie hatten immer einen Hit für mich. Es war eine tolle Ehe. Wir dachten genauso. Neil und Howie und ich haben den Song'Frankie' geplant. Neil würde sagen: "Okay, was hast du auf dem Herzen, Concetta?" Ich sagte:'Sieh dir das an. Ich habe eine Liste gemacht. Alle diese Lieder der letzten drei Jahre, ein Drittel davon sind Namen von Personen oder Orten. Eine Seite meiner neuen Single "Lipstick" wird uptempo sein, also möchte ich eine verträumte, langsame Tanzballade für die andere Seite." Neil sagte: "Okay." Am nächsten Tag war'Frankie' da." Wer war Frankie?
Die Geschichte wurde erzählt, dass das Lied ein Valentinsgruß für Frankie Avalon war, der in "Jamboree", dem Film, für den Connie die geisterhafte Singstimme der weiblichen Hauptrolle spielte. Aber nicht jeder mochte es. Am 15. April 1959 nahm Connie es mit dem Arrangeur Ray Ellis auf. "Die Musik beginnt, und ich sage: "Frankie, wo immer du bist, ich liebe dich." Ray Ellis sagte:'Das ist zu viel für mich. Ich kann damit nicht umgehen. Das ist so eine Scheiße." Ich sagte:'Es steht im Protokoll. Die Kinder mögen das Zeug. Entspann dich einfach, ich mache es." Er sagte: "Du wirst keinen Treffer haben." Ich sagte: "Lass meine Mutter sich darum kümmern." Aber ein Hit war es: ein doppelseitiger Top 10 Smash. Die gleiche Session produzierte auch den Nachfolger, Eddie Curtis' You're Gonna Miss Me (Curtis schrieb später Songs für Connie's'Do The Twist' LP). Die Kehrseite von You're Gonna Miss Me war Plenty Good Lovin', das erste Mal hatte Connie einen ihrer eigenen Songs auf einer Single platziert.
Pünktlich zu Weihnachten 1959 unternahm MGM den beispiellosen Schritt, fünf Connie Francis-Alben auf einmal zu veröffentlichen. Es gab ein Weihnachtsalbum, ein Countryalbum, ein italienisches Album, ein Greatest Hits Album und eine Sammlung von Rock'n' Roll Millionenverkäufern. Wirklich etwas für jeden Geschmack. Vom Rock'n' Roll-Album haben wir Tweedle Dee, I Hear You Knockin' und den Durchbruch für MGM-Labelpartner Conway Twitty, It's Only Make Believe genommen. Und 1959, wie 1958, schloss sie mit einem weiteren Lied von Connie Francis in den Charts, diesmal ein Revival eines britischen Liedes von 1927, Among My Souvenirs, das sie in einer Publikation namens'The Musicians Handbook' gefunden hatte.
Es erreichte Platz 7, als das Jahr zu Ende ging. Am 12. Dezember 1959 wurde Connie Francis 21 Jahre alt, und kurz vor Weihnachten erreichte sie mit dem Ausverkauf der Carnegie Hall einen der Höhepunkte des Erfolgs im Popmusikgeschäft. In Vertragsgesprächen mit MGM hatte sie eine beispiellose künstlerische Kontrolle über ihre Aufnahmen erreicht. Sie war einundzwanzig und hatte ihr Leben und ihre Karriere unter Kontrolle. Im folgenden April erhielt sie eine Auszeichnung als Bestseller-Sängerin von der Plattenindustrie-Handelsgruppe NARM (National Association of Record Merchandisers).
Bewertungen lesen, schreiben und diskutieren...
mehr
Kundenbewertungen für "Kissin', Twistin', Goin'.. (5-CD Deluxe Box Set)"
Von:
Jowls_67
Am:
23.09.2020
Gut
Schön und gut zusammengestellt, wie üblich bei Bear Family mit vielen sorgfältig zusammengetragenen Informationen
Von:
Maria S.
Am:
26.09.2017
Gut
Bewertung schreiben
Bewertungen werden nach Überprüfung freigeschaltet.
Weitere Artikel von Connie Francis