Wer war/ist

Pee Wee King

? - CDs, Vinyl LPs, DVD und mehr
Pee Wee King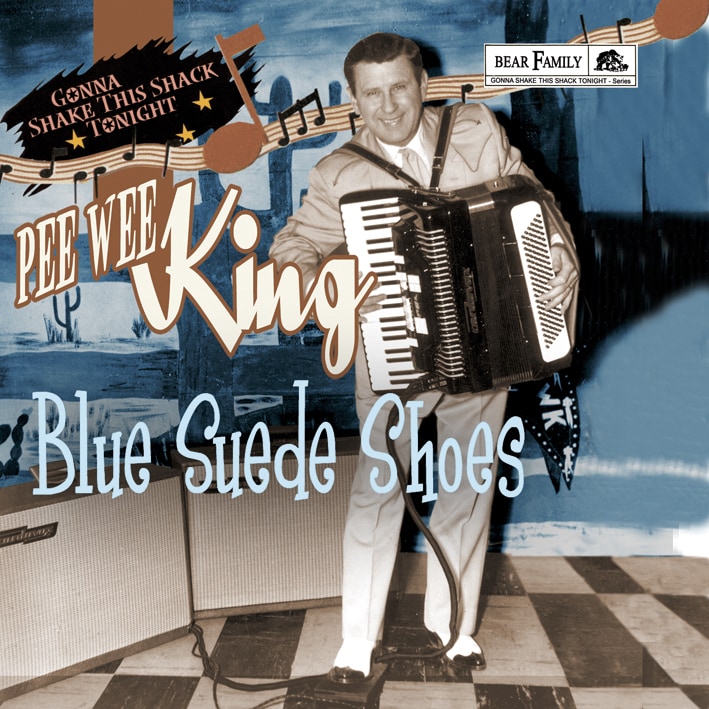 Pee Wee King erfreute sich einer langanhaltenden und abwechselungsreichen Karriere als Bandleiter, Schauspieler, Komponist und Geschäftsmann. Als Julius Frank Kuczynski kam er 1914 in Wisconsin zur Welt. In der Polkaband seines Vaters erlernte er Geige, Akkordeon und Concertina. Nach seinem Schulabschluss leitete er seine eigene Band und traf dann Gene Autry. Der zukünftige Cowboystar hatte eine Sendung bei Chicagos WLS Radio und bot King an, ihn zu begleiten. 1934 wechselten die beiden zu WHAS in Louisville, aber kein ganzes Jahr später verabschiedete sich Autry nach Hollywood. Pee Wee setzte auf den Verbleib in der Musik und änderte seinen Namen in 'King', in Anlehnung an seinen liebsten Polka-Musiker, Wayne King.
Nachdem er ein Jahr mit Frankie Mores Log Cabin Boys gespielt hatte, gründete er seine Golden West Cowboys mit Sänger Texas Daisy, Geiger Abner Sims und Gitarrist Curly Rhodes. Er führt ein strenges Regiment, organisierte Arrangements und ausgefeilte Bühnenshows, die die Band in der Louisville Gegend sehr bekannt machten. 1937 nahmen die Golden West Cowboys ein Engagement an der Grand Ole Opry an.
In den frühen Vierzigern erwies sich die Band als eine Brutstätte für vielversprechende Sänger. In einem nur fünfjährigen Zeitraum sangen Eddy Arnold, Milton Estes, Cowboy Copas, Minnie Pearl und Tommy Sosebee bei den Golden West Cowboys. "Ich lernte eine Menge über das Showgeschäft von ihm" sagte Eddy Arnold. Redd Stewart überdauerte sie alle. Er stieg 1937 ein und wurde der Star auf Kings Charterfolgen, die 1948 mit dem Nummer 3 Hit Tennessee Waltz ihren Anfang nahmen. In den darauffolgenden sechs Jahre landeten die Golden West Cowboys zehnmal in den Top 15. Kings einzige Nummer 1, Slow Poke, war 1951 ein Riesenhit - er konnte sich 15 Wochen als Chartführer behaupten und wurde auch noch drei Wochen die Nummer 1 der Popcharts. Pee Wee und Redd waren außerdem Co-Autoren des Pop-Standards You Belong To Me.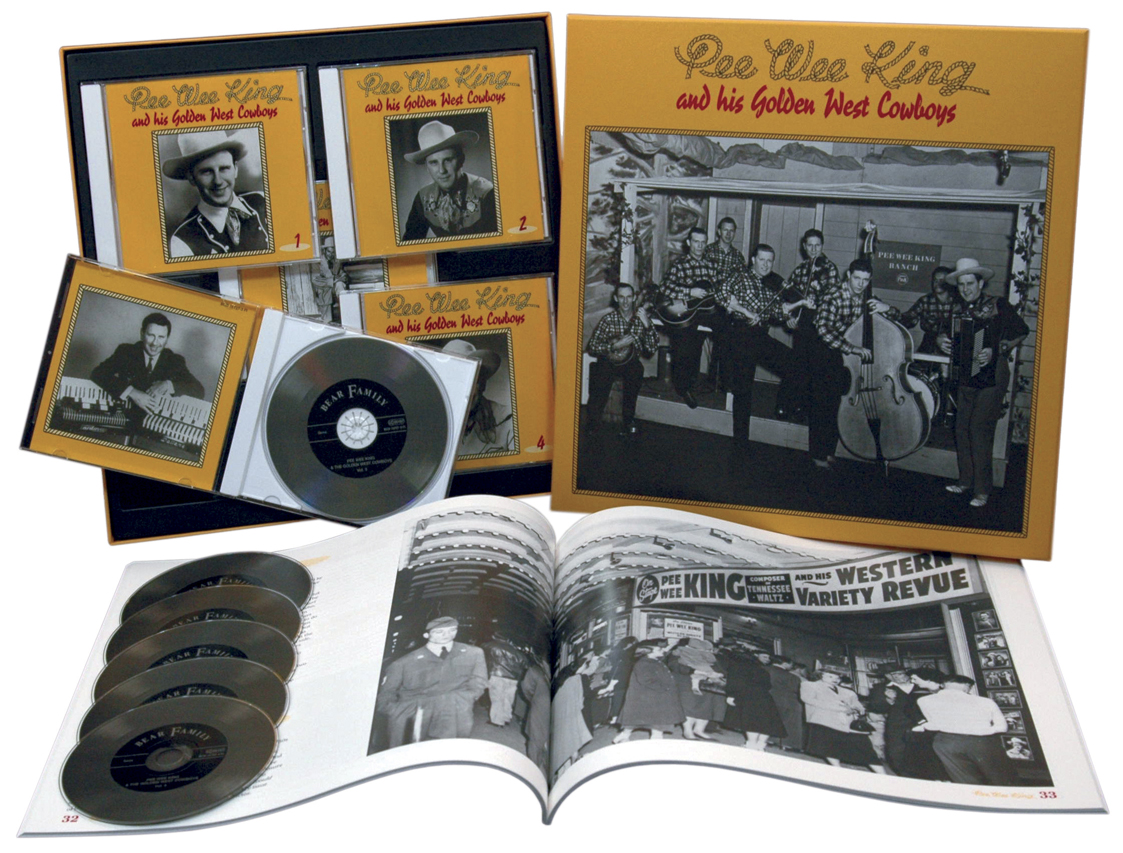 Obwohl die Band nach 1954 keine Charterfolge mehr vorweisen konnte, leitete King sie bis 1969. Dann zog er sich zurück, um auf die Geschäftsseite der Countrymusik zu wechseln. Als ein ehemaliger Leiter der Country Music Foundation wurde Pee Wee Mitglied der Nashville Songwriters Hall of Fame und 1974 für seine musikalischen Leistungen in die Country Music Hall of Fame aufgenommen.
Nachdem er am 28. Februar eine Herzattacke erlitt, verstarb Pee Wee am 7. März 2000 im Alter von 86 Jahren. Er war ein kleiner, lustiger und gutherziger Mann, der gerne in seinen Plattenladen kam (King's Record Shop, auf dem Cover einer Rosanne Cash LP zu sehen), um dort mit Freunden zusammen zu sein und Geschichten zu erzählen.
Seine komplette Aufnahmen der Jahre 1946 bis 1958 sind in unserer Anthologie zu finden und enthalten seine besten Swing- und Rock 'n' Roll-Aufnahmen.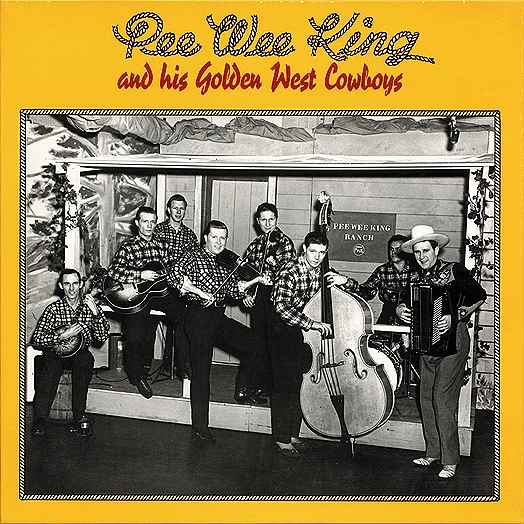 Pee Wee King Blue Suede Shoes - Gonna Shake ThisShackTonight
Read more at: https://www.bear-family.com/king-pee-wee-blue-suede-shoes-gonna-shake-thisshacktonight.html
Copyright © Bear Family Records
Copyright © Bear Family Records® Alle Rechte vorbehalten. Nachdruck, auch auszugsweise, oder jede andere Art der Wiedergabe, einschließlich Aufnahme in elektronische Datenbanken und Vervielfältigung auf Datenträgern, in deutscher oder jeder anderen Sprache nur mit schriftlicher Genehmigung der Bear Family Records® GmbH.
Für die Filterung wurden keine Ergebnisse gefunden!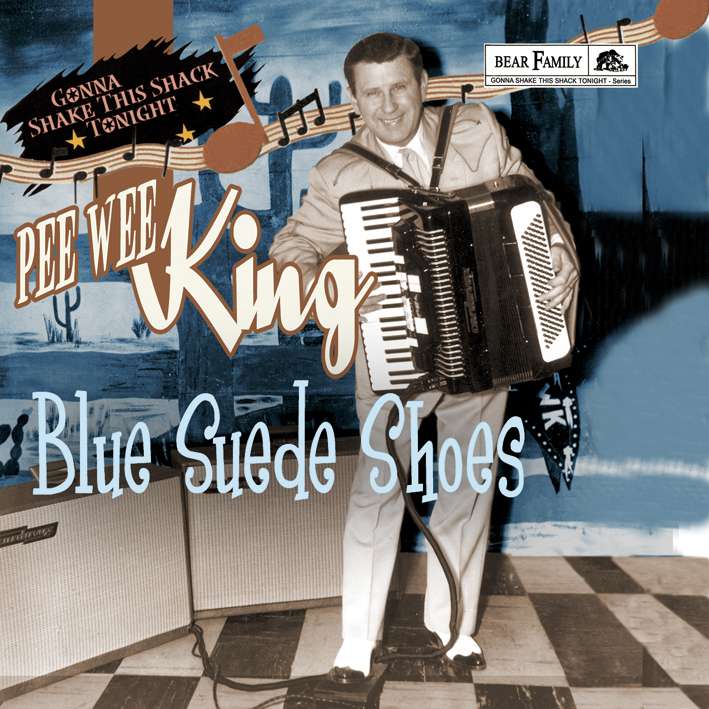 Pee Wee King: Blue Suede Shoes - Gonna Shake ThisShackTonight
Art-Nr.: BCD16190


Sofort versandfertig, Lieferzeit** 1-3 Werktage
1-CD Album mit 32-seitigem Booklet, 30 Einzeltitel, Spieldauer 72:45 Minuten. Es ist nichts Neues, daß die Musikgeschichte Pee Wee King und die Golden West Cowboys über ihre Hits definiert: über den unsterblichen Tennessee Waltz...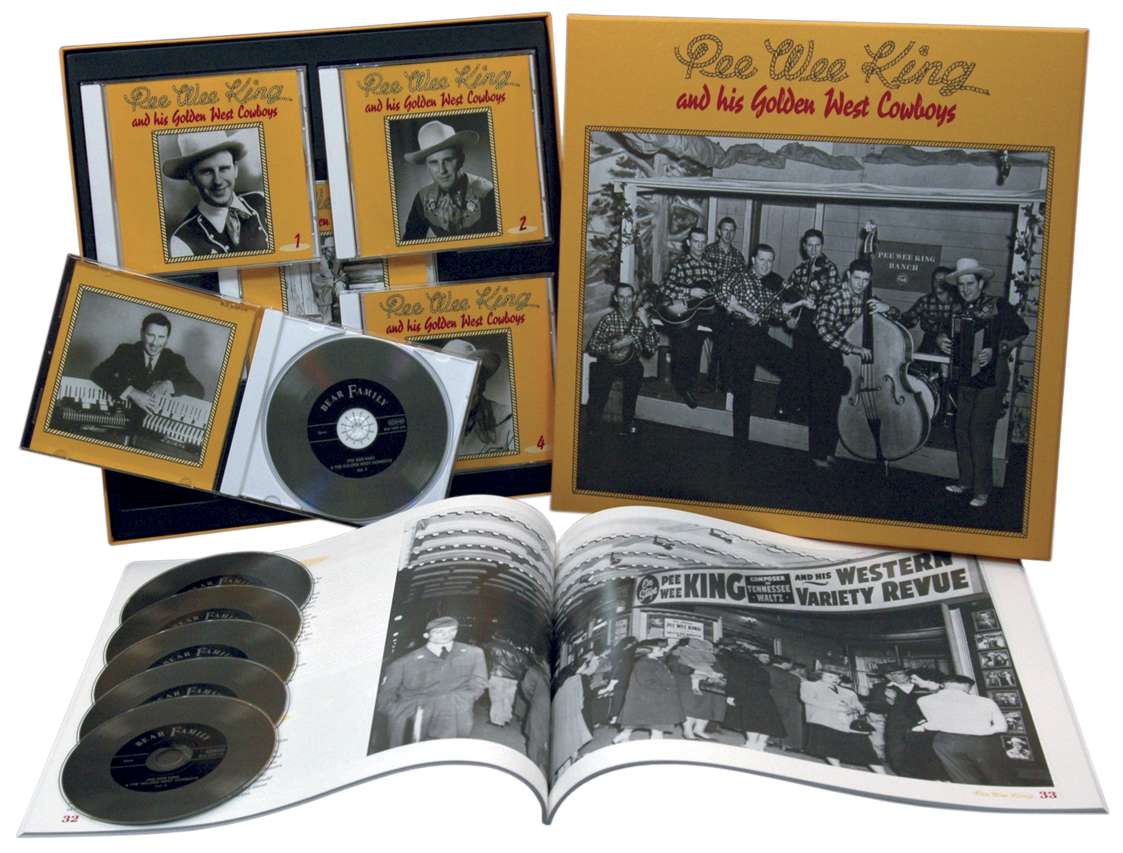 Pee Wee King: & His Golden West Cowboys (6-CD Deluxe Box Set)
Art-Nr.: BCD15727


Sofort versandfertig, Lieferzeit** 1-3 Werktage
6-CD Box (LP-Format) mit 66-seitigem Buch, 152 Einzeltitel. Spieldauer ca. 402 Minuten. Eine der seltsamsten Geschichten der Country Music ist jene vom Polka-Bandleader namens Frank Kuczynski aus Wisconsin, der zu Pee Wee King wurde,...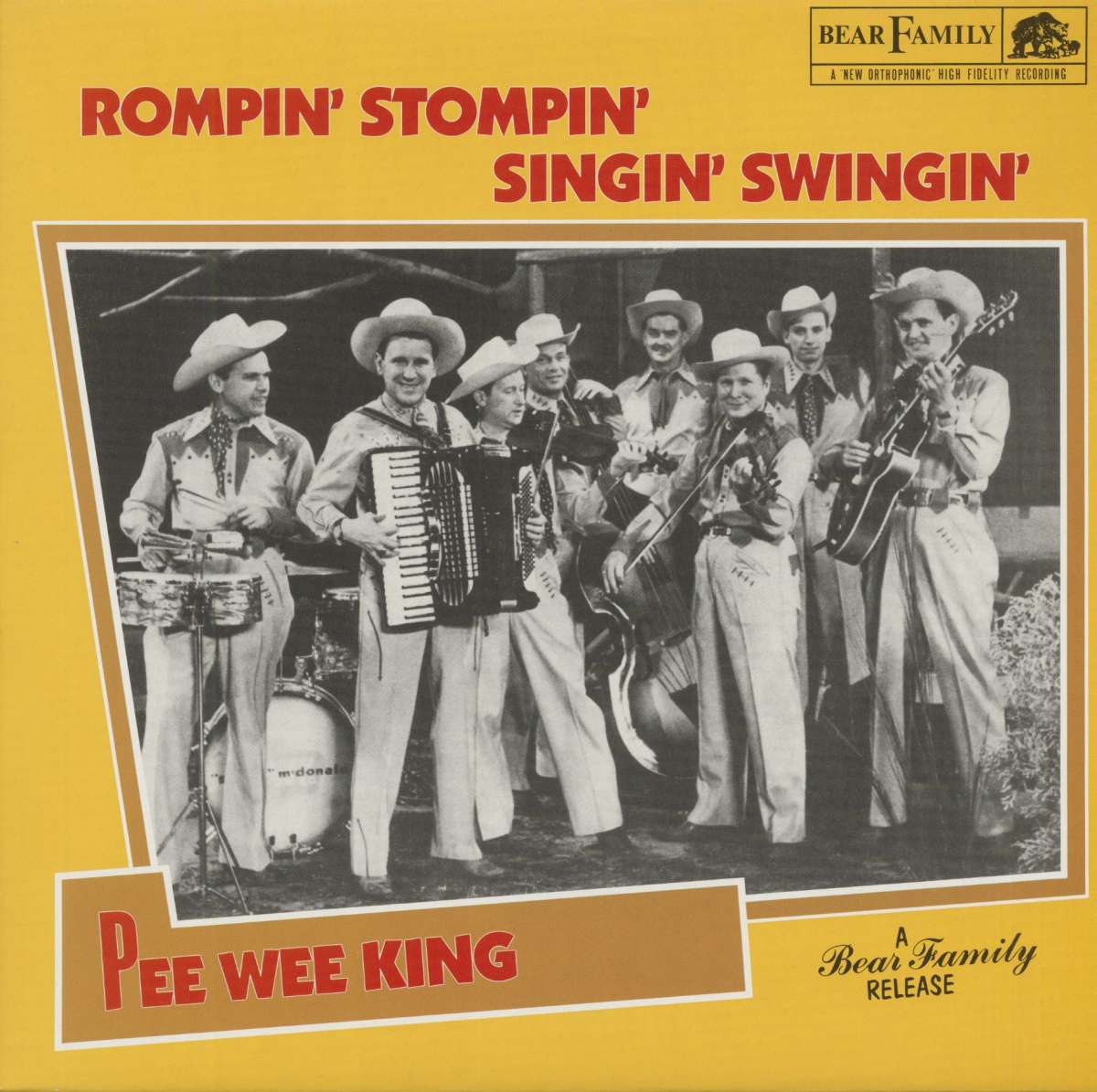 Pee Wee King: Rompin' Stompin' Singin' Swingin' (Vinyl)
Art-Nr.: BFX15101WP


Sofort versandfertig, Lieferzeit** 1-3 Werktage
​Vinyl Weisspressung / Testpressung / Promotion Copy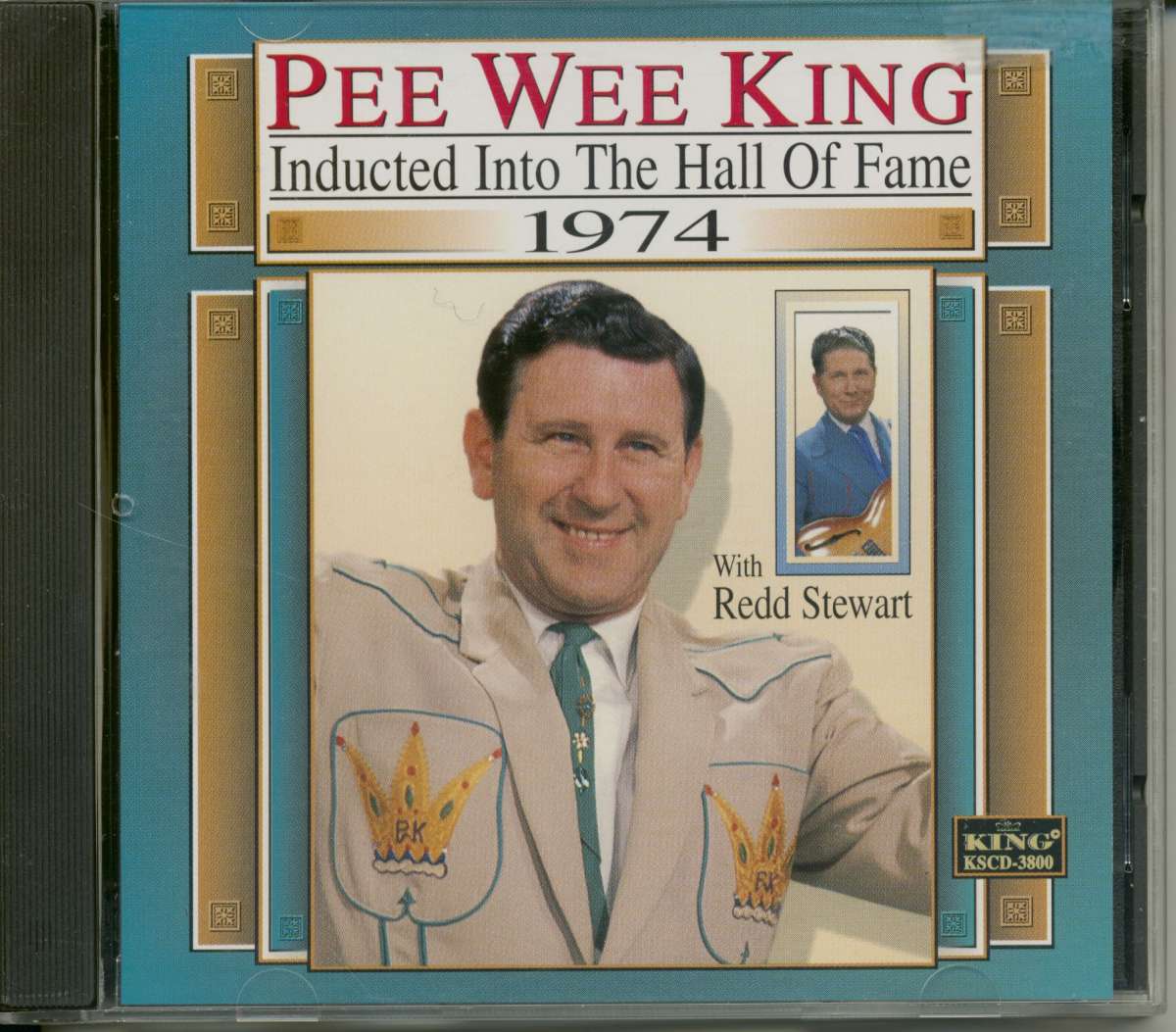 Pee Wee King: Hall Of Fame, Inducted 1974
Art-Nr.: CDKING3800


die letzten 2 verfügbar
Sofort versandfertig, Lieferzeit** 1-3 Werktage
(KING/1998) 10 tracks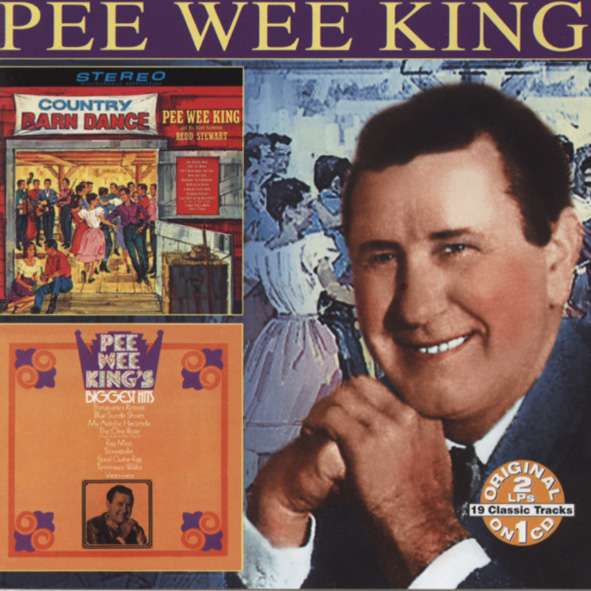 Pee Wee King: Country Barn Dance & Biggest Hits
Art-Nr.: CDCOL7322


Artikel muss bestellt werden
(2004/COL) 19 tracks (49:46) RCA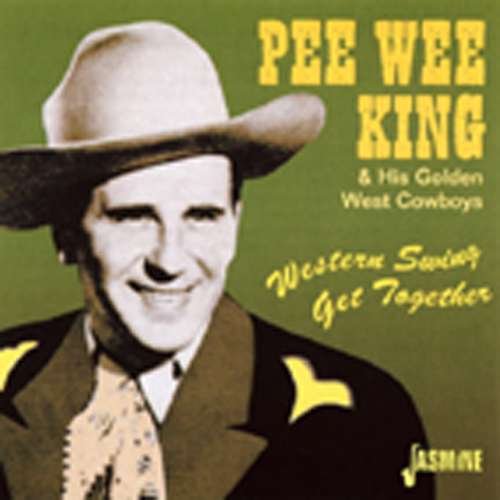 Pee Wee King & His Golden West Cowboys: Western Swing Get Together (CD)
Art-Nr.: CDJAS3517


Artikel muss bestellt werden
CD on JASMINE RECORDS by Pee Wee King - Western Swing Get Together