Der Artikel wurde erfolgreich hinzugefügt.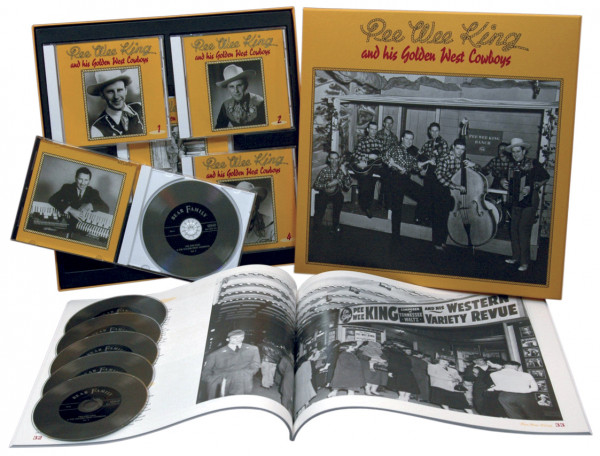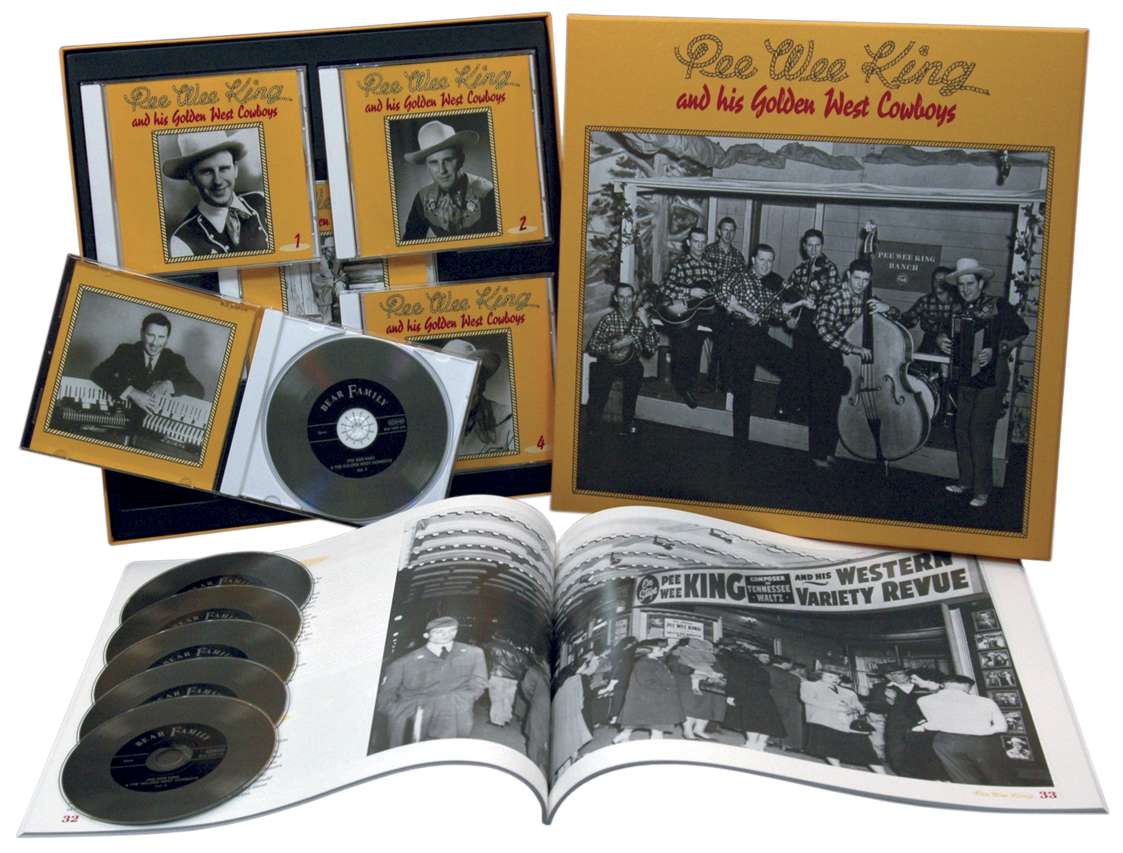 99,95 € *
109,95 € *
(9,1% gespart)
inkl. MwSt. zzgl. Versandkosten
Sofort versandfertig, Lieferzeit** 1-3 Werktage
Artikel-Nr.:

BCD15727

Gewicht in Kg.:

1.25
6-CD Box (LP-Format) mit 66-seitigem Buch, 152 Einzeltitel. Spieldauer ca. 402 Minuten. Eine der...
mehr
Pee Wee King: & His Golden West Cowboys (6-CD)
6-CD Box (LP-Format) mit 66-seitigem Buch, 152 Einzeltitel. Spieldauer ca. 402 Minuten.

Eine der seltsamsten Geschichten der Country Music ist jene vom Polka-Bandleader namens Frank Kuczynski aus Wisconsin, der zu Pee Wee King wurde, eine Big Band in die Grand Ole Opry brachte und dann einige der größten Hits in der Geschichte der Country Music schrieb. Mit dieser umfangreichen CD-Box lernen sie Pee Wee Kings Geschichte und seine Musik mit den Originalversionen von 'Tennessee Waltz', 'Slow Poke' und 'Bonaparte's Retreat' kennen. Hinzu kommen weniger bekannte Klassiker wie Tennessee Central #9, Ten Gallon Boogie, Jukebox Blues, Bull Fiddle Boogie, Birmingham Bounce, Plantation Boogie und sogar die erste Coverversion von Blue Suede Shoes. Alles in allem sind es 151 Aufnahmen, die zwischen 1946 und 1958 für RCA und Bullet aufgenommen wurden. Nichts hat jemals besser geswingt als die Golden West Cowboys! Pee Wee King starb am 7. März 2000 im Alter von 86 Jahren.
Artikeleigenschaften von

Pee Wee King: & His Golden West Cowboys (6-CD)
Albumtitel:

& His Golden West Cowboys (6-CD)

Genre

Country

Edition 2

Deluxe Edition

Preiscode

FI

Artikelart

Box set

EAN:

4000127157270

Gewicht in Kg:

1.25
King, Pee Wee - & His Golden West Cowboys (6-CD)

Box set 1
01
That Cheap Look In Your Eye
02
You Were The Cause Of It All
03
Texas Toni Lee
04
Tennessee Central #9
05
Southland Polka
06
Steel Guitar Rag
07
I Hear You Knockin'
08
Keep Them Cold Icy Fingers Off Of Me
09
Don't Feel Sorry For Me
10
Arkansas Traveler
11
Out Of My Mind
12
Ten Gallon Boogie
13
Kentucky Waltz
14
Don't Forget
15
Jukebox Blues
16
Chattanooga Bess
17
Say Good Mornin' Nellie
18
Forty Nine Women
19
The Ghost And Honest Joe
20
New York To New Orleans
21
I'm Satisfied With You
22
Quit Honkin' That Horn
23
Oh Monah
24
Bull Fiddle Boogie
25
Tennessee Waltz
26
Rootie Tootie
King, Pee Wee - & His Golden West Cowboys (6-CD)

Box set 2
01
Gotta Climb Those Golden Stairs
02
Everytime I Feel The Spirit
03
Gospel Boogie
04
Singin' As I Go
05
Waltz Of The Alamo
06
Whisper Waltz
07
I Lost My Love (The Color Song)
08
Bonaparte's Retreat
09
Blue Grass Waltz
10
Alabama Moon
11
Tennessee Tears
12
Get Together Polka
13
The Nashville Waltz
14
The Waltz Of Regret
15
Tennessee Polka
16
Lonesome Steel Guitar
17
Cornbread, 'Lasses And Sassafras Tea
18
Fire On The Mountain
19
Shocking Rye Straw
20
Billy In The Low Ground
21
Devil's Dream
22
Fisher's Hornpipe
23
Sally Goodin
24
Whistling Rufus
King, Pee Wee - & His Golden West Cowboys (6-CD)

Box set 3
01
Going Back To A.L.A.
02
You Call Everybody Darlin'
03
The Battle Hymn Of The Republic
04
Black Eyed Susie
05
When They Played That Old Missouri Waltz
06
Blame It All On Nashville
07
The Kissing Dance
08
Rag Mop
09
What, Where And When
10
Birmingham Bounce
11
We're Gonna Go Fishin' (Next Saturday Night)
12
Cincinnati Dancing Pig
13
River Road Two Step
14
Mop Rag Boogie
15
No One But You
16
Within My Heart (La Golondrina)
17
Helegged Hilegged
18
You Drifted
19
The Strange Little Girl
20
Chew Tobacco Rag
21
Slow Poke
22
You Won't Need My Love Anymore
23
Two Roads
24
Railroad Boogie
25
Makin' Like A Train
King, Pee Wee - & His Golden West Cowboys (6-CD)

Box set 4
01
The Crying Steel Guitar Waltz
02
Ragtime Annie Lee
03
Slow Bloke
04
Slow Coach
05
Silver And Gold
06
If And When
07
Busybody
08
I Don't Mind
09
Two-Faced Clock
10
A Mighty Pretty Waltz
11
Tennessee Tango
12
The Crazy Waltz
13
Varsoviana
14
San Antonio Rose
15
My Adobe Hacienda
16
The One Rose (That's Left In My Heart)
17
Under The Double Eagle
18
Spanish Two Step
19
Over The Waves
20
Steel Guitar Rag
21
Screwball
22
Last Night On The Back Porch
23
Till I Waltz Again With You
24
Gone
25
I'll Go On Alone
26
That's Me Without You
27
Your Kisses Aren't Kisses Anymore
28
Here Lies My Heart
King, Pee Wee - & His Golden West Cowboys (6-CD)

Box set 5
01
Oh Mis'rable Love
02
Ricochet
03
Dragnet
04
Deck Of Cards
05
Huggin' My Pillow
06
Changing Partners
07
Bimbo
08
Backward, Turn Backward
09
In A Garden Of Roses
10
The Red Deck Of Cards
11
Keep Your Eye On My Darling
12
Indian Giver
13
Why Don't You All Go Home?
14
How Long
15
Peek-A-Boo Waltz
16
Steel Guitar Rag
17
Peaches And Cream
18
I Can't Tell A Waltz From A Tango
19
Flying Home
20
Woodchopper's Ball
21
Seven Come Eleven
22
Farewell Blues
23
Tippin' In
24
Melody Of Love
25
You Can't Hardly Get Them No More
26
Tweedle Dee
King, Pee Wee - & His Golden West Cowboys (6-CD)

Box set 6
01
Plantation Boogie
02
Jim, Johnny And Jonas
03
Nevermind
04
Beauty Is As Beauty Does
05
Half A Dozen Boogie
06
Blue Suede Shoes
07
Tennessee Dancin' Doll
08
Ballroom Baby
09
Catty Town
10
Absolutely, Positively
11
Hoot Scoot
12
I'll Be Walking Alone In A Crowd
13
Sugar Beet
14
(I Tasted) Tears On Your Lips
15
A Catchy Tune
16
My Darlin' (We're Not Too Young To Know)
17
Do You Remember
18
Congratulations Joe
19
Prelude To A Broken Heart
20
Do You Remember
21
Unbreakable Heart
22
Janie
23
A Little Bit About Myself (A Phonobiography)
Pee Wee King Pee Wee King erfreute sich einer langanhaltenden und abwechselungsreichen...
mehr
"Pee Wee King"
Pee Wee King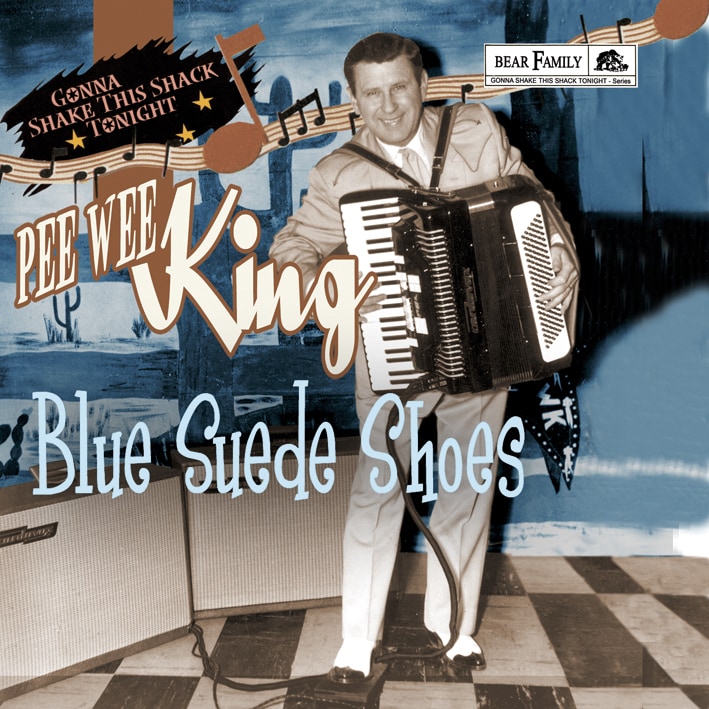 Pee Wee King erfreute sich einer langanhaltenden und abwechselungsreichen Karriere als Bandleiter, Schauspieler, Komponist und Geschäftsmann. Als Julius Frank Kuczynski kam er 1914 in Wisconsin zur Welt. In der Polkaband seines Vaters erlernte er Geige, Akkordeon und Concertina. Nach seinem Schulabschluss leitete er seine eigene Band und traf dann Gene Autry. Der zukünftige Cowboystar hatte eine Sendung bei Chicagos WLS Radio und bot King an, ihn zu begleiten. 1934 wechselten die beiden zu WHAS in Louisville, aber kein ganzes Jahr später verabschiedete sich Autry nach Hollywood. Pee Wee setzte auf den Verbleib in der Musik und änderte seinen Namen in 'King', in Anlehnung an seinen liebsten Polka-Musiker, Wayne King.
Nachdem er ein Jahr mit Frankie Mores Log Cabin Boys gespielt hatte, gründete er seine Golden West Cowboys mit Sänger Texas Daisy, Geiger Abner Sims und Gitarrist Curly Rhodes. Er führt ein strenges Regiment, organisierte Arrangements und ausgefeilte Bühnenshows, die die Band in der Louisville Gegend sehr bekannt machten. 1937 nahmen die Golden West Cowboys ein Engagement an der Grand Ole Opry an.
In den frühen Vierzigern erwies sich die Band als eine Brutstätte für vielversprechende Sänger. In einem nur fünfjährigen Zeitraum sangen Eddy Arnold, Milton Estes, Cowboy Copas, Minnie Pearl und Tommy Sosebee bei den Golden West Cowboys. "Ich lernte eine Menge über das Showgeschäft von ihm" sagte Eddy Arnold. Redd Stewart überdauerte sie alle. Er stieg 1937 ein und wurde der Star auf Kings Charterfolgen, die 1948 mit dem Nummer 3 Hit Tennessee Waltz ihren Anfang nahmen. In den darauffolgenden sechs Jahre landeten die Golden West Cowboys zehnmal in den Top 15. Kings einzige Nummer 1, Slow Poke, war 1951 ein Riesenhit - er konnte sich 15 Wochen als Chartführer behaupten und wurde auch noch drei Wochen die Nummer 1 der Popcharts. Pee Wee und Redd waren außerdem Co-Autoren des Pop-Standards You Belong To Me.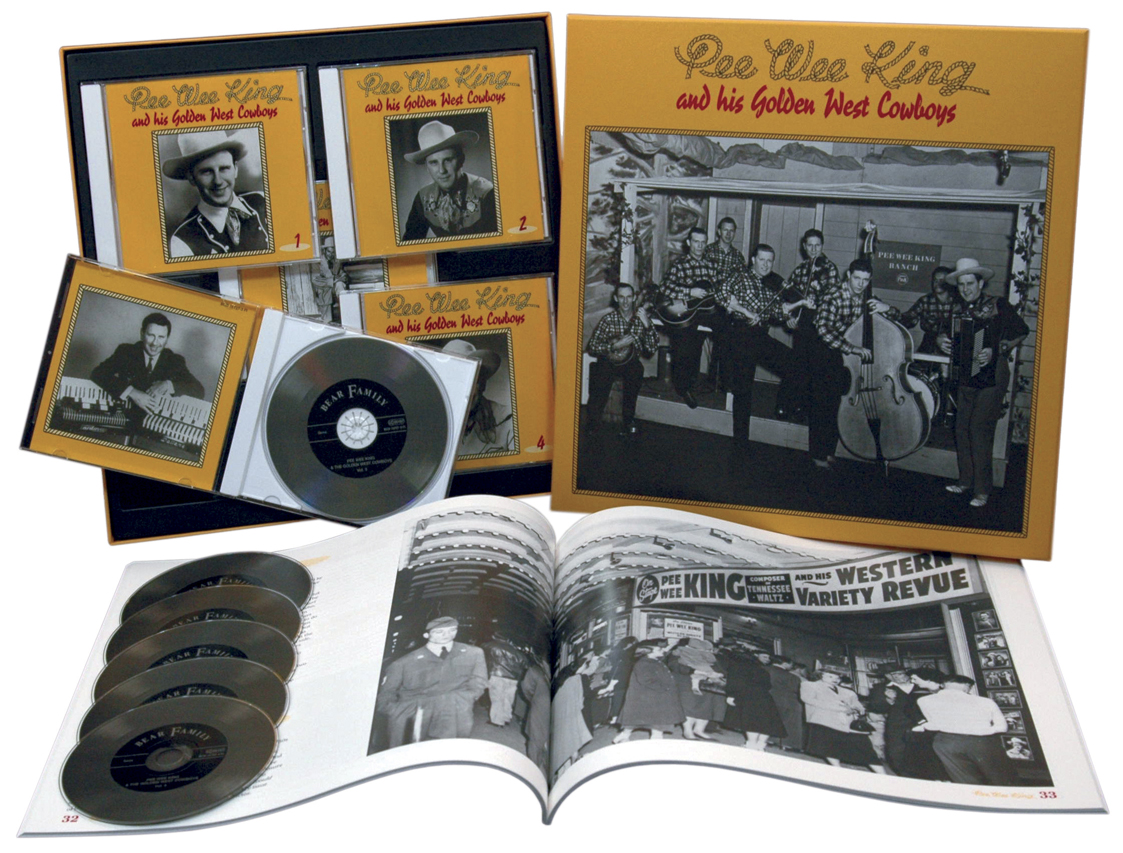 Obwohl die Band nach 1954 keine Charterfolge mehr vorweisen konnte, leitete King sie bis 1969. Dann zog er sich zurück, um auf die Geschäftsseite der Countrymusik zu wechseln. Als ein ehemaliger Leiter der Country Music Foundation wurde Pee Wee Mitglied der Nashville Songwriters Hall of Fame und 1974 für seine musikalischen Leistungen in die Country Music Hall of Fame aufgenommen.
Nachdem er am 28. Februar eine Herzattacke erlitt, verstarb Pee Wee am 7. März 2000 im Alter von 86 Jahren. Er war ein kleiner, lustiger und gutherziger Mann, der gerne in seinen Plattenladen kam (King's Record Shop, auf dem Cover einer Rosanne Cash LP zu sehen), um dort mit Freunden zusammen zu sein und Geschichten zu erzählen.
Seine komplette Aufnahmen der Jahre 1946 bis 1958 sind in unserer Anthologie zu finden und enthalten seine besten Swing- und Rock 'n' Roll-Aufnahmen.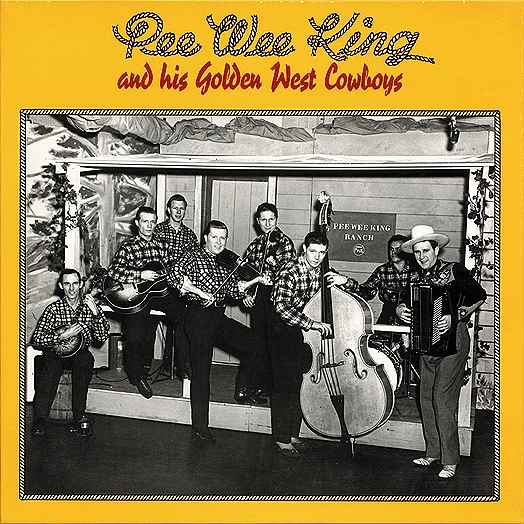 Pee Wee King Blue Suede Shoes - Gonna Shake ThisShackTonight
Read more at: https://www.bear-family.com/king-pee-wee-blue-suede-shoes-gonna-shake-thisshacktonight.html
Copyright © Bear Family Records
Bewertungen lesen, schreiben und diskutieren...
mehr
Kundenbewertungen für "& His Golden West Cowboys (6-CD)"
Von:
Sharon
Am:
02.07.2018
Excellent
One of THE BEST CD collections out there. The photo book is an excellent addition to the whole set! A must have!
Von:
Schweder
Am:
04.06.2014
Bewertung schreiben
Bewertungen werden nach Überprüfung freigeschaltet.
Weitere Artikel von Pee Wee King

Pee Wee King: Blue Suede Shoes - Gonna Shake ThisShackTonight
Art-Nr.: BCD16190


Sofort versandfertig, Lieferzeit** 1-3 Werktage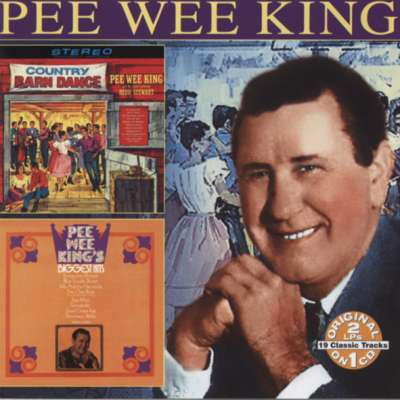 Pee Wee King: Country Barn Dance & Biggest Hits
Art-Nr.: CDCOL7322


Sofort versandfertig, Lieferzeit** 1-3 Werktage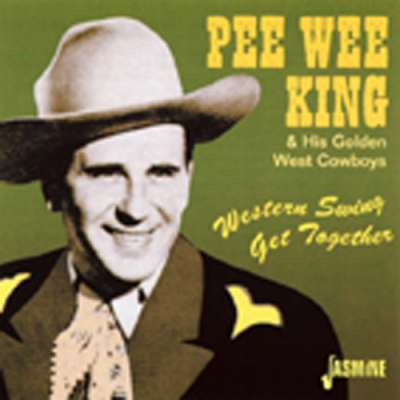 Pee Wee King & His Golden West Cowboys: Western Swing Get Together (CD)
Art-Nr.: CDJAS3517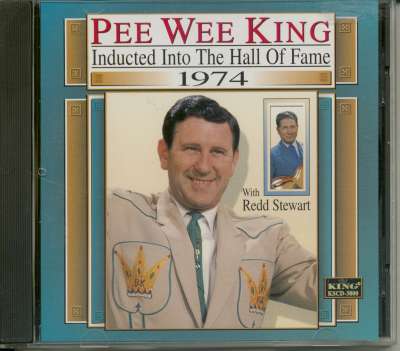 Pee Wee King: Hall Of Fame, Inducted 1974
Art-Nr.: CDKING3800


Sofort versandfertig, Lieferzeit** 1-3 Werktage