Der Artikel wurde erfolgreich hinzugefügt.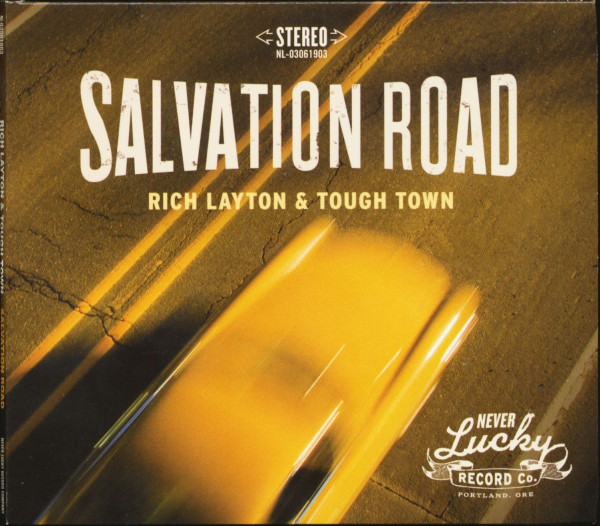 Artikel-Nr.:

CDNL03061903

Gewicht in Kg.:

0.04
(Never Lucky Record Co.) 11 Tracks - Digisleeve - Rich Laytons erstes Album mit...
mehr
Rich Layton & Tough Town: Salvation Road (CD)
(Never Lucky Record Co.) 11 Tracks - Digisleeve -
Rich Laytons erstes Album mit originalen Songs war fast sein letztes. Nur sechs Monate nach dem weltweiten Airplay, dem Hit in den Charts und auf der Straße, kam alles zu einem erschreckenden Stillstand. Ein mysteriöses Hörproblem ließ ihn nicht in der Lage sein, etwas zu leisten, Lärm zu tolerieren oder gar am Telefon zu sprechen. Die Erholung würde schließlich mehr als 18 Monate dauern, da Rich wartete, um zu sehen, ob seine Spieltage vorbei waren.
Als er schließlich auf der anderen Seite der langen Tortur herauskam, schrieb er "Live to Rock", die hart fahrende persönliche Hymne, die das Return-Album "Salvation Road" einläutete.
Mit 10 Originalen und einem psychedelischen 60er Jahre Nugget ist die Salvation Road eine hochoktane Reise, die über zwei späten Südasphalt führt. Es sind die Yardbirds, die mit Johnny Cash jammen..... Die Steine in Muskelschwärmen mit Delbert McClinton..... Elvis unterstützt durch das Knurren einer verstärkten Mundharmonika in einem Memphis-Juke-Joint. Rich Layton macht diese Einflüsse zu seinen eigenen, und springt aus den Lautsprechern mit der Überzeugung, dass der Rock and Roll-Prediger der Firebrand entschlossen ist, deine Seele zu retten - und seine.
Bandmitglieder: Rich Layton: Gesang & Harmonika Larry McCoy: Gitarre Eric "Haus" Krabbenhoft: Bass Charles Pike: Fässer
Laytons Songs wurden als "Mini-Filme" bezeichnet, und Koproduzent Terry Wilson verleiht jedem Track seinen eigenen, unverwechselbaren filmischen Schwung. Mit den Live-Basisspuren der Band als Grundlage für die vollendeten Arrangements beinhalten die Songs Klavier, B3-Orgel, Engpass-Slide, Hörner, mehrschichtige Hintergrundharmonien und eine 12-saitige Gitarre, die von John Fogarty übernommen wurde. Keine zwei Songs klingen gleich, aber der Twang und der Tremolo-Vibe der Band pulsiert im Kern jedes Songs.
Zu den besonderen Gästen gehören 2019 die Grammy-Nominierte Teresa James (Gesangsduett, Track 5: "Show Me What You're Workin' With"), Portlands Pate des Rock and Roll, Jon Koonce (Lap Steel, Track 3: "Raise It Up / Burn It Down") und das britische Rock-Königreich Chris Mercer (Saxophon, Track 1: "Live to Rock").
In einer passenden Hommage an das unglückliche Vorgängeralbum nahmen Rich und seine Band "The Troublemakers" Bezug auf den legendären Phoenix. Der Titeltrack dieses Albums, Tough Town, lebt wieder in dem neuen Namen der Band.
Rich Layton & Tough Town webt einen swampadelic Soundtrack für eine letzte Chance am Samstagabend. Dein Tisch wartet unter dem kaputten Neon in einer Tauchbar draußen an der Salvation Road!
Artikeleigenschaften von

Rich Layton & Tough Town: Salvation Road (CD)
Albumtitel:

Salvation Road (CD)

Genre

Country

Artikelart

CD

EAN:

0888295883306

Gewicht in Kg:

0.04
Layton, Rich - Salvation Road (CD)

CD 1
01
Live To Rock
02
Salvation Road
03
Raise It Up
04
Wake-Up Call
05
Show Me What You're Workin' With (Feat Teresa James)
06
Dollars To Donuts
07
Sorry Don't Cut It
08
Two Hearts
09
The Dude Abides
10
Soul Divided
11
Take A Giant Step
Bewertungen lesen, schreiben und diskutieren...
mehr
Kundenbewertungen für "Salvation Road (CD)"
Bewertung schreiben
Bewertungen werden nach Überprüfung freigeschaltet.