Wer war/ist

Baby Face Leroy

? - CDs, Vinyl LPs, DVD und mehr
Baby Face Leroy Trio
Die Band von Muddy Waters war der Dreh- und Angelpunkt der neuen Generation von Bluesmännern in Chicago, und das zweiteilige Rollin' And Tumblin', bei dem sich einem die Nackenhaare aufstellen, präsentierte den Kern von Muddys erster Band. Leonard Chess war sehr verärgert, dass es nicht auf seinem Label erschien (aus unbekannten Gründen zögerte Chess, Muddy mit seiner regulären Band aufzunehmen), sondern als erste Veröffentlichung der kurzlebigen neuen Marke Parkway Records von Monroe Passis. Muddy, der Abtrünnige, wurde auf dem Etikett nicht erwähnt, aber seine brennende Slidegitarre war so unverwechselbar, dass Chess von ihm verlangte, ins Studio zu gehen und das uralte Delta-Thema, das Hambone Willie Newbern 1929 für OKeh einspielte, für ihn neu aufzunehmen, um die Parkway-Platte aus dem Rennen zu werfen.
Der Gesang wurde auf der Parkway-Session im Januar 1950 größtenteils zwischen Little Walter, der noch nicht ganz seinen Status als Bluesharp-König der Windy City erreicht und ebenfalls eine Parkway-Veröffentlichung von dieser Session hatte, und dem Schlagzeuger Baby Face Leroy verteilt (Muddy macht bei dem textlosen Wehklagegesang mit, der den zweiten Teil dominiert). Leroy Foster wurde am 12. Februar 1923 in Algoma, Mississippi, geboren und kam 1945 in Chicago an. Er machte sein Plattendebüt als Sänger gegen Ende 1948 auf Aristocrat mit Shady Grove Blues und Locked Out Boogie, unterstützt von Muddy Waters. Seine nächste 78er erschien im Folgejahr auf Joe Browns J.O.B.-Logo (My Head Can't Rest Anymore und Take A Little Walk With Me), diesmal ohne Waters, dafür spielte Leroy selbst auf beiden Seiten die Gitarre. Foster übernahm auch den Gesangspart auf Red Headed Woman und Boll Weevil Blues, die im Mai 1949 für Irv Tamans Tempo-Tone-Label aufgenommen wurden und unter dem Namen des Pianisten Sunnyland Slim veröffentlicht werden sollten, aber wahrscheinlich nie erschienen sind. Beim Parkway-Gipfeltreffen entstanden auch Neuaufnahmen der zwei Tempo-Tone-Titel, die zu Fosters zweiter Parkway-Platte wurden.
"Ich kannte Walter, bevor ich anfing Platten zu machen", erinnerte sich Muddy. "Baby Face Leroy und ich fingen an zusammenzuspielen. Er spielte Gitarre. Wir sagten: 'Hey, wir brauchen ein weiteres Instrument', und wir fanden Walter und brachten ihn dazu, mit uns zu kommen."
Foster war nach allen Berichten jemand, der kompromisslos lebte und den Alkohol liebte; er machte nur noch eine weitere 78er unter eigenem Namen für J.O.B., Pet Rabbit (1951; mit Louella auf der Rückseite), obwohl er auch als Begleitmusiker bei Aufnahmen von Memphis Minnie, J.B. Lenoir, Snooky Pryor und Sunnyland mitwirkte. Einer der beiden Titel von seiner letzten, damals unveröffentlichten J.O.B.-Session im Jahr 1952 sagt wahrscheinlich alles: Blues Is Killin' Me. Leroy Foster starb am 26. Mai 1958 in Chicago, gerade mal 35 Jahre alt.
Bill Dahl
Chicago, Illinois
Electric Blues 1939-2005. - The Definitive Collection!
Weitere Informationen zu Baby Face Leroy auf de.Wikipedia.org
Für die Filterung wurden keine Ergebnisse gefunden!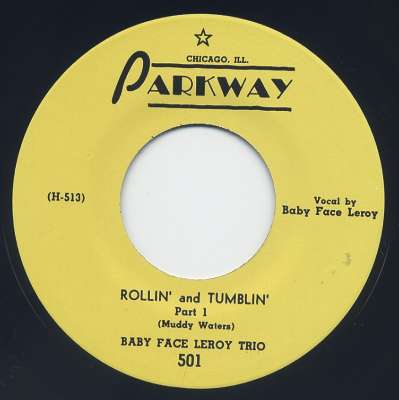 Baby Face Leroy: Rollin' & Tumblin' Pt.1 & 2
Art-Nr.: 45501


Artikel muss bestellt werden
(1950 'Parkway') Ungekürzte Originalversionen, nicht ausgeblendet, die legendären 1950er Parkway-Aufnahmen. Erstmals veröffentlicht! Leroy Foster - vocals/drums, Little Walter Jacobs - harmonica/vocals, Muddy Waters -guitar/vocals