Wer war/ist

Bob Newman

? - CDs, Vinyl LPs, DVD und mehr

Bob Newman

Bob Newman wurde im Oktober 1915 in der Nähe von Macon, Georgia geboren. 1935 schloss er sich seinen Brüdern (als Bassgeiger) an, die seit 1928 als Duo im gesamten Süden und Mittleren Westen tätig waren. Die Georgia Crackers.

Der Zweite Weltkrieg hat die Musik beendet. Nur Hank (der älteste Bruder) wurde nicht in den Dienst gerufen und für Lloyd Perryman bei den Sons Of The Pioneers uafgenommen. Die Georgia Crackers kamen nach dem Krieg wieder zusammen und ihre Popularität nahm dramatisch zu. In den Jahren 1947 und 1949 nahmen sie für RCA-Victor auf.. Die Georgia Crackers sind dann 1950 nach Columbus Ohio gezogen, wo sie bei King Records unterschrieben haben.

Die erste Session im Cincinnati Studio fand am 19. September statt. 1950 und ein Jahr später, am 19. Oktober, wurde der großartige -Hangover Boogie" aufgenommen. Die letzte KIng Session fand am 15. August 1952 statt.

Sie schnitten insgesamt 25 Songs bei King. Die Georgia Crackers arbeiteten weiter im Mittleren Westen und Hank ging um 1954 in die italienische Gastronomie.

Das Datum der Sage-Aufnahmen (1956/57?) ist ein Rätsel. Nur vier Tracks sind bekannt. Diese werden auf einem E.P. (45-EP-316) veröffentlicht. "Hangover Boogie- ist rockiger als die King-Version und "Sunday Down In Tennessee" ist großartiger Boppin' Country Boogie.

Bis 1958 hatte Bob ernsthafte gesundheitliche Probleme (er hatte einen geklemmten Nerv in seinem Gehirn ), aber eine Operation brachte die Dinge wieder in Ordnung. Danach versuchte er sein Glück in der Gegend von Phoenix. Er gründete die Arizona Night Riders. mit Red Embry und Billy Grammar und für eine Weile lief alles gut. (von dieser Formation sind keine Aufnahmen bekannt).

Im selben Jahr fand Bob Arbeit als D.J. bei KHAT, dem Top Country Radiosender in Phoenix. Er nannte sich The Old Hilligan und hatte eine beliebte Hillbilly-Show. Aber trotz seiner Popularität verließ Bob KHAT, in einem Streit mit dem Management. und wäre fast verhungert.

Im Jahr 1970 kehrte er nach Ohio für ein kurzes Wiedersehen mit Hank und Slim für ein paar Shows zurück, aber er landete pleite wieder in Phoenix, wo er den Wohnwagenpark leitete, in dem er lebte. Er sprach von einem Neuanfang im Musikgeschäft, aber nichts schien zu funktionieren. Hank starb 1978, Bob starb (an einem Herzinfarkt) am 8. Oktober 1979 und der verbleibende Georgia Cracker, Slim starb 1984.



Für die Filterung wurden keine Ergebnisse gefunden!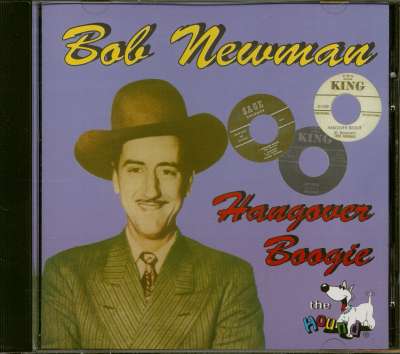 Bob Newman: Hangover Boogie (CD)
Art-Nr.: CD505108

(TRG) 26 tracks 1947-1959