Wer war/ist

Larry Williams

? - CDs, Vinyl LPs, DVD und mehr
Larry Williams
Slow Down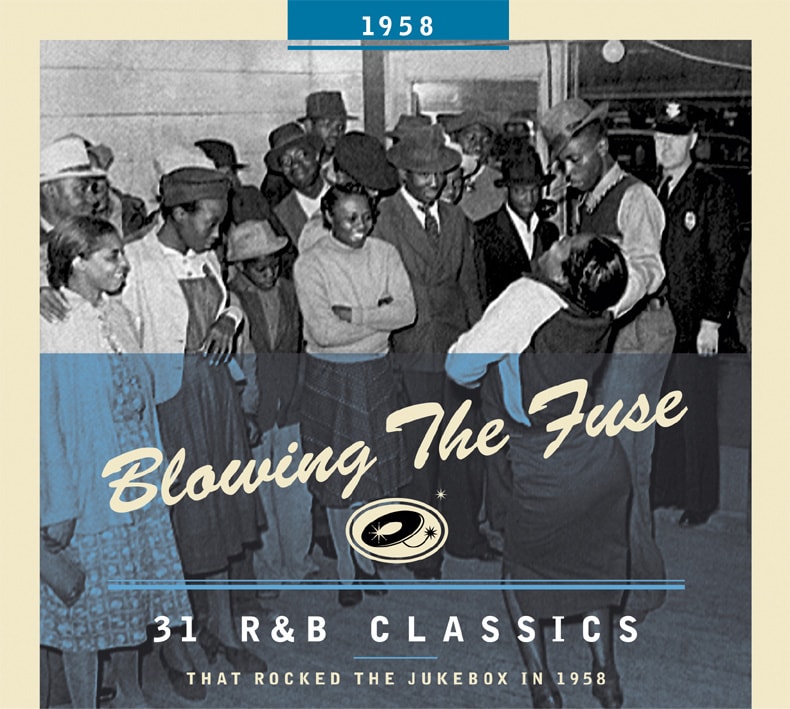 Larry Williams
Slow Down
If one were to argue that this is the absolute best of Larry Williams (the bigger hits notwithstanding), you would have had no argument from John Lennon and many others. Recorded on September 11, 1957 after Little Richard had entered the ministry, it was a calculated shot at Richard's style, right down to the squeals. The backing musicians included Plas Johnson on sax, Rene Hall on guitar, and Earl Palmer on drums. Upon release, it was confined to the B-side of Dizzy Miss Lizzy, which itself was Larry Williams' last hit single on Specialty.
Little Richard had not been replaced. Specialty continued to pump out singles by Williams together with an LP, but another major hit eluded them. In 1959, Williams was busted for narcotics possession, and Specialty dropped him. There were more sessions for more labels, and a big blip in his royalty income when the Beatles recorded three of his songs, including this one, but his music income could in no way account for the fact that when he died of gunshot wounds to the head, he was living in Los Angeles' exclusive Laurel Canyon, drove a Rolls Royce, and had $500,000 stashed on the premises.
He was found on January 7, 1980, but the coroner decided that he'd been dead for five days. There was something earthy, innocent, and almost boyish about Williams' records, even if his life was anything but…
Its origins notwithstanding, Otis' record has survived in part because of Jimmy Nolen's beautifully economical guitar. Nolen would go on to more or less invent funk guitar with James Brown. Willie And The Hand Jive charted again in 1966 for the Strangeloves, in the 1974 for Eric Clapton, and in the 1985 for George Thorogood.
Various - Blowing The Fuse 1958 - Classics That Rocked The Jukebox

Read more at: https://www.bear-family.de/various-blowing-the-fuse-1958-classics-that-rocked-the-jukebox.html
Copyright © Bear Family Records
Weitere Informationen zu Larry Williams auf de.Wikipedia.org
Für die Filterung wurden keine Ergebnisse gefunden!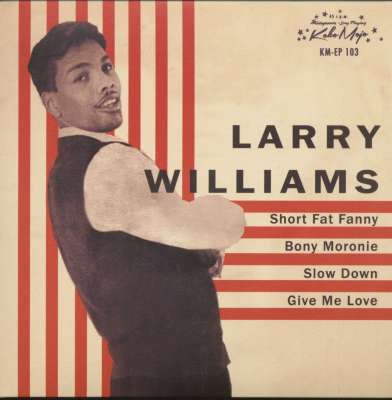 Larry Williams: Larry Williams (7inch, EP, 45rpm, PS)
Art-Nr.: 45KMEP103


Sofort versandfertig, Lieferzeit** 1-3 Werktage
(Koko Mojo) 4-Track EP - Mit Bildhülle, 45 U/Min, großem Innenloch - Larry Williams wurde am 10. Mai 1935 in New Orleans als Lawrence Edward Williams geboren. Louisiana. Er lernte Klavier, als er sieben Jahre alt war. Als er zehn Jahre...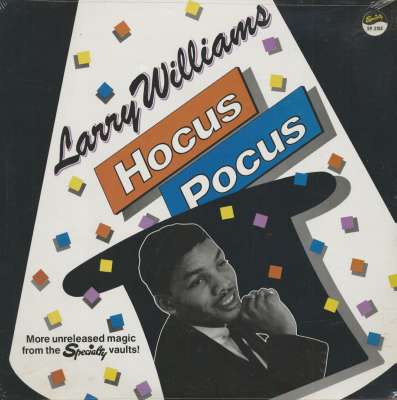 Larry Williams: Hocus Pocus - More Unreleased Magic Vaults From...
Art-Nr.: LPSP2162


Sofort versandfertig, Lieferzeit** 1-3 Werktage
(Specialty) 15 Tracks - Original versiegelte 1986er LP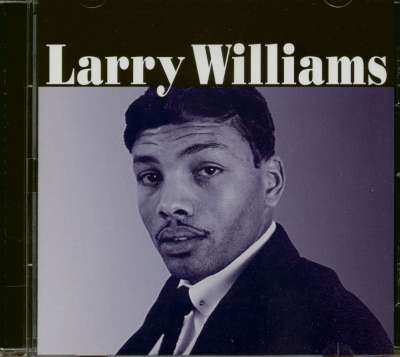 Larry Williams: Specialty Profiles (CD)
Art-Nr.: CDSPEC30115

(2006/Specialty) 14 tracks
Larry Williams: The Legends Of Specialty Series - Larry...
Art-Nr.: LPSP7002

(1990/Specialty) 20 tracks - Original Specialty recordings from 'The Bad Boy Of Rock 'n' Roll'! The 2-Lp album is originally sealed!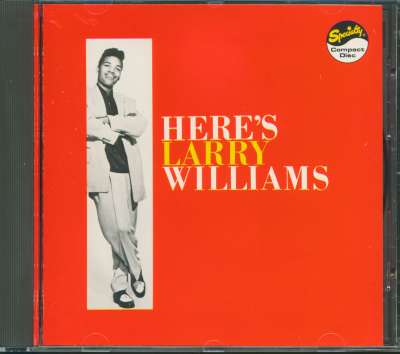 Larry Williams: Here's Larry Williams (CD)
Art-Nr.: CDSP2109


Sofort versandfertig, Lieferzeit** 1-3 Werktage
(Specialty) 12 Tracks, Wiederveröffentlichung der original 1959er LP!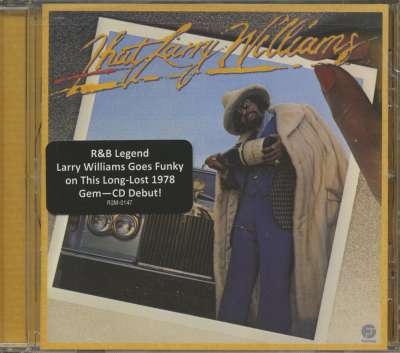 Larry Williams: That Larry Williams: The Resurrection Of Funk (CD)
Art-Nr.: AN_512294


Sofort versandfertig, Lieferzeit** 1-3 Werktage
(​2013/Real Gone) 7 tracks (34:58). R&B legend Larry Williams goes funky on this long-lost 1978 gem. CD-debut for the only album he issued in the 70s.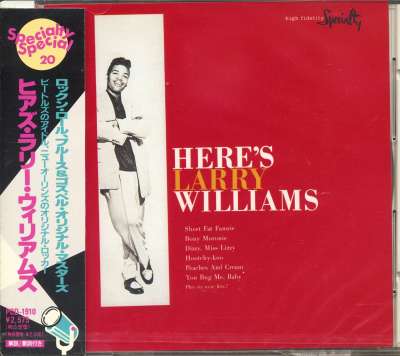 Larry Williams: Here's Larry Williams (CD, Japan)
Art-Nr.: CDPCD1910


Sofort versandfertig, Lieferzeit** 1-3 Werktage
(1993/Blues Interactions Japan) 20 Tracks - Rare Japan reissue of the original 1959 Specialty album plus 8 bonus tracks, all songs recorded between 1957-59! Booklet contains English lyrics and Japanese liner notes! Very rare and still...
Larry Williams: Get Ready Baby - The Chess Collection
Art-Nr.: LPSR1008

(2014/Sleazy) 11 tracks, the complete Chess material, recorded between 1959 and 1961, incl. an alt. take!
Larry Williams: Alacazam - Specialty Recordings
Art-Nr.: LPCH203


Sofort versandfertig, Lieferzeit** 1-3 Werktage
(1987/Ace) 16 Titel - Original Specialty Recordings!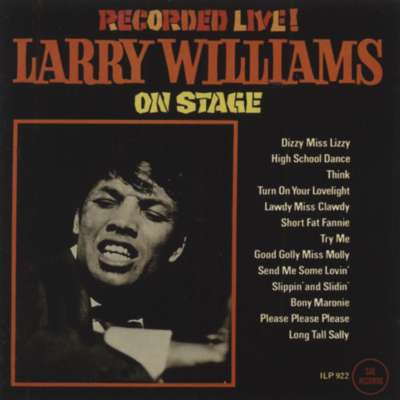 Larry Williams: Live On Stage - Greatest Hits
Art-Nr.: CDHPR01

(2011/HOCUS POCUS) 23 tracks (73:28) taken from the albums 'On Stage' (Sue Records 1965) recorded in GB! and 'Greatest Hits' (Okeh 1967).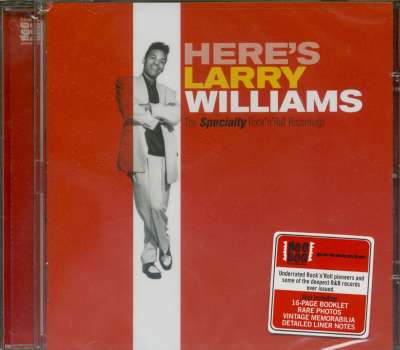 Larry Williams: Here's Larry Williams...plus (CD)
Art-Nr.: CD263365

(HOODOOO) 24 Tracks 1957-59 mit 16-seitigem Booklet.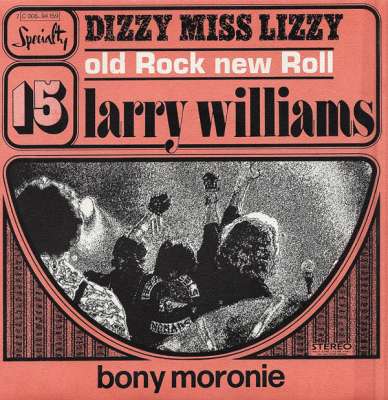 Larry Williams: Old Rock New Roll #15 7inch, 45rpm, EP, PS
Art-Nr.: EMI94159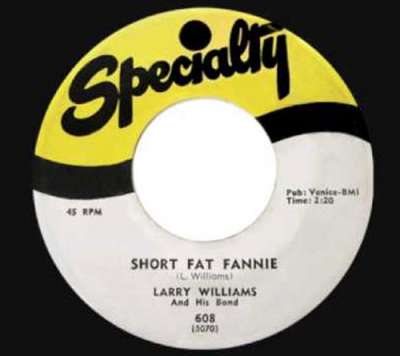 Larry Williams: Short Fat Fannie - High SChool Dance 7inch, 45rpm
Art-Nr.: SP608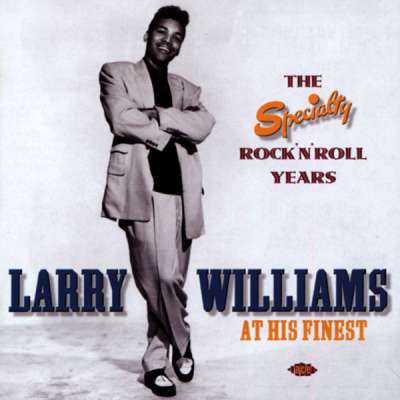 Larry Williams: At His Finest - Specialty R&R Years (2-CD)
Art-Nr.: CDCH21021

(1950 'Specialty') (116:33/47) Along with Little Richard, Larry Williams is rightly considered as one of the greatest black rockers - and both artists recorded for Art Rupe's Specialty label. This standout double-CD release features all...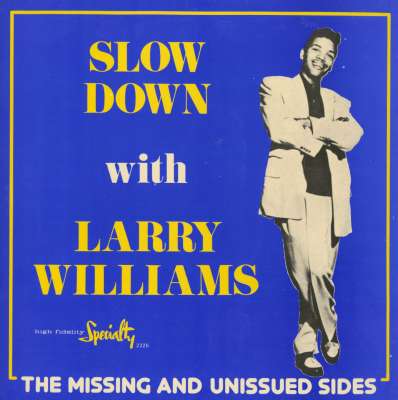 Larry Williams: Slow Down - The Missing And Unissued Sides
Art-Nr.: LPSP2225

(Specialty) 14 Titel, aufgenommen in den Jahren 1957 bis 1959!