Wer war/ist

Little Roger & The House Rockers

? - CDs, Vinyl LPs, DVD und mehr
Little Roger & The House Rockers
A five-piece blues band – harp/vocals, piano, guitar, bass and drums
In den letzten zwanzig Jahren hat sich Roger C. Wade (harp/vocals) als herausragender Mundharmonikaspieler der Zunft deutscher Bluestraditionalisten etabliert. Sein ebenso kraftvoller wie sensibler Stil, eindringliches Bluesfeeling gepaart mit einem gesunden Maß an Virtuosität begeistert den Bluesspezialisten und das Partypublikum gleichermaßen. Spontaneität, Humor und eine energiegeladene "Stage presence" - so schätzt das Publikum Roger C. Wade seit über 20 Jahren in Deutschland und Europa.
Roger Wade
1968 in Norwich, England geboren, entdeckte Roger Mitte der 80er Jahre nicht nur den British Blues aber hauptsächlich seine Liebe zum klassischen Blues. Nach ersten Gigs als Duo auf den Straßen von England, zog es ihn schon nach Deutschland, wo er Anfang der 90er Jahre in seiner ersten deutschen Bluesband spielte, zunächst als Sideman dann als Frontman und Sänger. Kurz darauf gründete Roger seine erste Band, Excuse My Blues, zusammen mit seiner Frau Marion am Klavier. Die Weichen waren gestellt und die Richtung klar - es ging um Blues, Boogie und RnB. 1994 verbrachte Roger mehrere Monate in den US, wo er mit vielen namhaften Blueskünstlern zwischen New York und San Francisco zusammenspielte.
Nach dieser aufregenden und charakterprägenden Zeit kehrte Roger nach Deutschland zurück und gründete die Band Little Roger & The Houserockers, mit seiner Frau Marion am Klavier und Tilmann 'T-Man' Michalke an der Gitarre. In den letzten 20 Jahren waren zahlreiche bekannte Musiker als Gast bei Auftritten der Band, u.a. Alex Schulz, Chris Rannenberg, Marc T uvm. Im Jahr 2010 hat die Band eine zweiwöchige Tournee mit RJ Mischo in Europa absolviert. Die Band hat vier CDs aufgenommen, die letzte "Jumping at Jack's Joint" zusammen mit Thomas Feldmann, Sax Gordon und mit Special Guest Marc T, der darüber hinaus zwei CDs der Band produziert hat. Neben den Houserockers steht Roger regelmäßig mit anderen Bands auf der Bühne, insbesondere Jan Mohr and the Backscratchers und das Duo "Roger Mohr."
Little Roger & The Houserockers
Little Roger & The Houserockers widmen sich voll und ganz Ihrer Liebe zum Blues, speziell dem Blues und Boogie der 40er und 50er Jahre. Die Band unterschiedet sich zu anderen Retrobands durch ihre dynamische Live-Show, die das Publikum in Clubs oder auf Festivals mit müden Beinen, wunden Händen und einem Lächeln im Gesicht zurücklässt - eine mitreißende Show, die man live nicht versäumen sollte.
Weitere Informationen zu Little Roger & The House Rockers auf de.Wikipedia.org
Für die Filterung wurden keine Ergebnisse gefunden!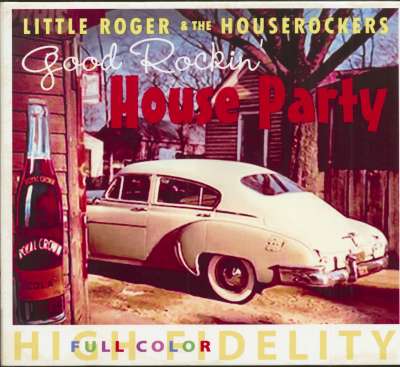 Little Roger & The Houserockers: Good Rockin' House Party (CD)
Art-Nr.: CD9ACD006


Sofort versandfertig, Lieferzeit** 1-3 Werktage
(2017/9a Music) 13 Tracks - Digipack - Authentic 50s Blues and Jump Blues! Angeführt von dem britischen Harpspieler und Sänger Roger Wade hat sich die Combo über die Jahre stetig entwickelt und klingt mittlerweile absolut authentisch....