Der Artikel wurde erfolgreich hinzugefügt.
RED CAPS
Boogie Woogie On A Saturday Night (CD)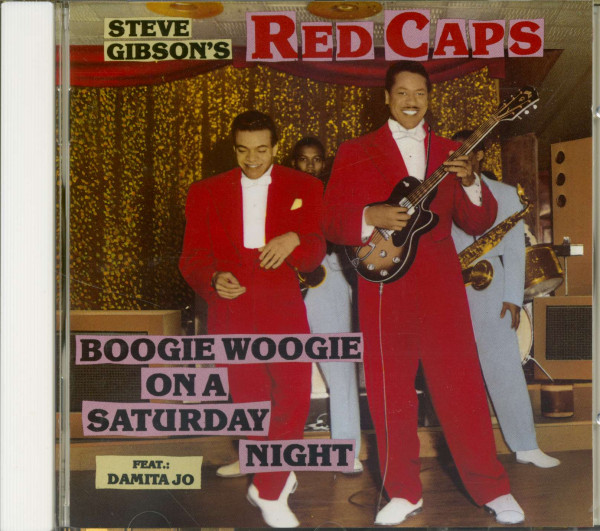 Dieser Artikel ist gestrichen und kann nicht mehr bestellt werden!
Benachrichtigen Sie mich, sobald der Artikel lieferbar ist.
Artikel-Nr.:

BCD15490

Gewicht in Kg.:

0.115
Die Red Caps, eine der frühen schwarzen Gesangsgruppen, die in der Vor- und Nachkriegszeit Erfolg...
mehr
RED CAPS: Boogie Woogie On A Saturday Night (CD)
Die
Red Caps
, eine der frühen schwarzen Gesangsgruppen, die in der Vor- und Nachkriegszeit Erfolg hatten, waren in sehr praktischer Hinsicht ungewöhnlich; sie waren nicht nur eine gute Gesangsgruppe, sie begleiteten sich auch selbst. Sie konnten ihre eigenen Instrumente spielen und das gar nicht einmal schlecht. Schon mit Beginn 1938 verfeinerte die Gruppe ständig ihre
Live
Auftritte, daher erzählen ihre Asufnahmen meist nur einen Teil ihrer Geschichte.
Nach einer erfolgreichen Phase für von Joe Davis bestimmten Labels, gab es einige Änderungen für die Gruppe, die 1950 bei RCA unterschrieb und 1951 den Gesang von Damita Jo hinzu fügte. Diese CD sammelt all ihre Victor Aufnahmen von 1950 bis 1955 - 28 insgesamt (3 vorher unveröffentlichte), darunter Sidewalk Shuffle, D'Ya Eat Yet Joe, Nuff Of That Stuff, A Fussin' And A Fightin', sowie die Original Versiond es großen Pop Hits I Went To Your Wedding.
No street-corner harmonizers, no Ink Spots hummers, the Red Caps were a self-contained entertainment unit like
Louis Jordan
's Tympany Five or the Spirits Of Rhythm. Formed in 1942 from the remnants of several vocal groups who had worked in motion pictures in Hollywood, the Red Caps were ac-complished musicians as well as singers, geared to play the night clubs in those fun-hungry war years.
Steve Gibson
, the founder of the group, put it this way in 1953, "I noticed that a lot of middle-class clubs were going out of busi-ness because they could not meet all the expenses of a band and entertainers too. So I formed a group which could play, sing and wash the dishes, if neces-sary. As a result I signed up jobs for five years in the future.
Today I could play for50 weeks a year, if we could stand the grind." Originally known as the Four Toppers, the group worked the West Coast club and TV circuit and then moved into tours of the rest of the country. While ap-pearing at the Enduro Club in Brooklyn, they were spotted by Joe Davis, who was scouting talent for his new Beacon label. Davis was reacting to another war-inspired need in the music business - records for juke boxes. The ration-ing of shellac had severely restricted record production at the same time a musicians ban on recording had curtailed most sessions at the major labels.
As the Five Red Caps, Gibson's group recorded prolifically for Davis and his labels. Despite the array of instrumental talent available in the Five Red Caps, their records from this period featured only piano, bass, guitar and vibes. In the manner of the day, a ballad was usually paired with a jump tune, and the presence of high tenor Jimmy Springs on the love songs, sometimes with "talking bass" choruses by Gibson, caused the inevitable comparison to the then-reigning Ink Spots. Regardless of knee-jerk reviews that emphasized the similarities in styles be-tween the two groups, the Red Caps scored a major R&B hit with I Learned A Lesson (I'll Never Forget), their sixth release for Davis, in January, 1944.
Later that year, the group did a session for Herman Lubinsky's Savoy label, released as by The Toppers. On stage, the Red Caps continued to develop as a complete musical revue with singing, dancing, comedy and playing.
Artikeleigenschaften von

RED CAPS: Boogie Woogie On A Saturday Night (CD)
Albumtitel:

Boogie Woogie On A Saturday Night (CD)

Genre

R&B, Soul

Preiscode

AH

Artikelart

CD

EAN:

4000127154903

Gewicht in Kg:

0.115
Bewertungen lesen, schreiben und diskutieren...
mehr
Kundenbewertungen für "Boogie Woogie On A Saturday Night (CD)"
Bewertung schreiben
Bewertungen werden nach Überprüfung freigeschaltet.