Wer war/ist

Rumble On The Beach

? - CDs, Vinyl LPs, DVD und mehr
Rumble On The Beach
Rumble – the early years (1985-1988)
Dreißig Jahre nach dem ersten Auftritt stellt sich eine pulsierende Subkultur die Frage, was aus Rumble On The Beach geworden ist. Im Zuge der 80er Jahre-Nostalgie haben sich in den letzten Jahren viele Bands wieder zusammengetan. Aber weit gefehlt bei ROTB! Man spricht zwar von einer "Reunion", aber genau genommen hat sich die Band nie aufgelöst. Sie hatte lediglich aufgehört, zu agieren. Die Gründe hierfür liegen in den persönlichen Bereichen der einzelnen Band-Mitglieder, die letztlich dazu führten, dass ein aufwendiges Tourneeleben dann nicht mehr möglich war. Dennoch war allen klar, dass Rumble irgendwann wieder reaktiviert wird.
Anfang des Jahres 2015 trafen wir uns, Michael 'Ohlly' Ohlhoff (Gitarrist und Sänger) und ich (Marc Mittelacher –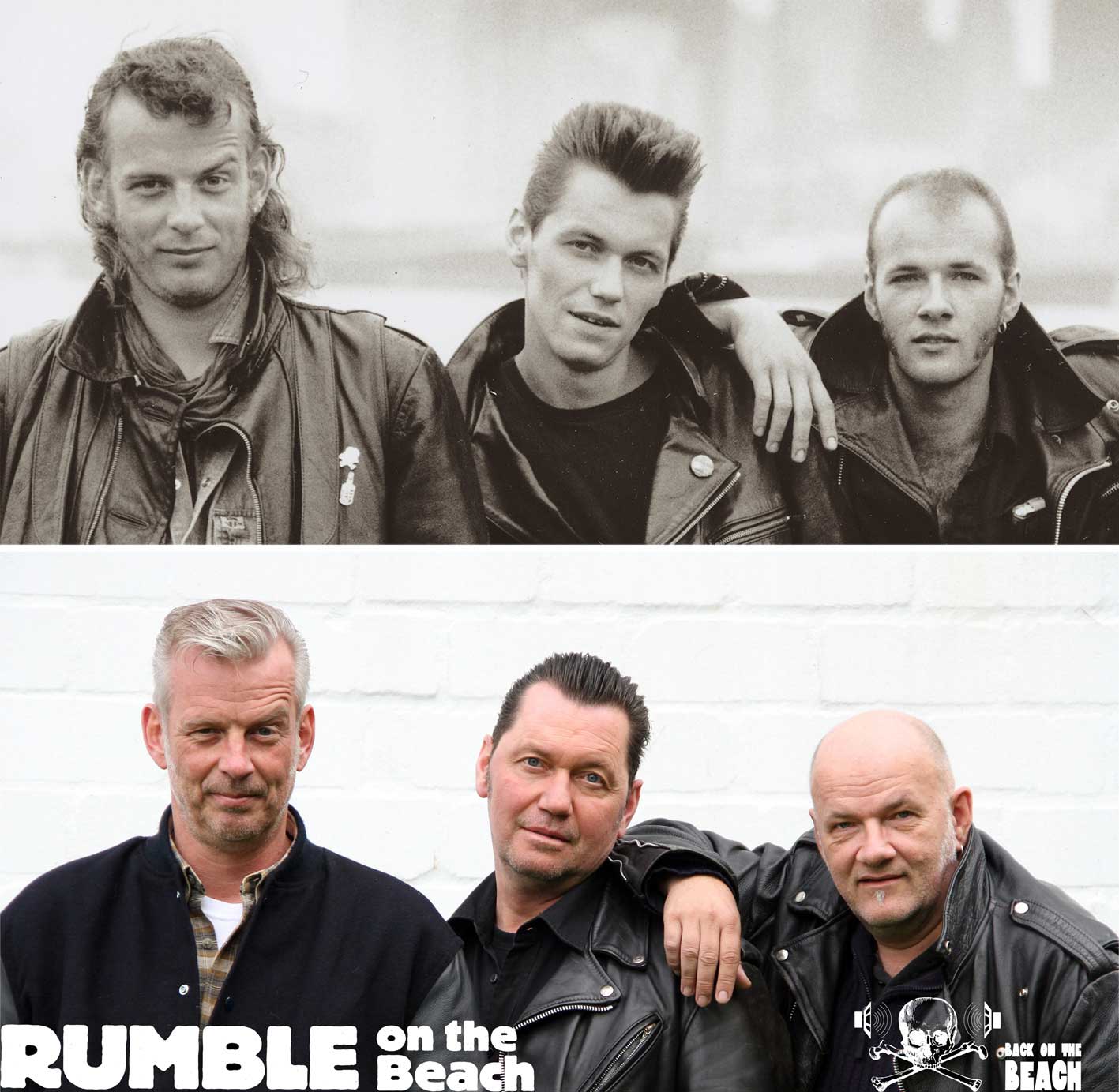 Drums und Gesang), auf einer privaten Party mit Live Musik und wir spielten ein paar alte Songs gemeinsam aus dem Stehgreif. Wir waren mit so viel Spaß dabei, dass wir ab dem Zeitpunkt keine Zeit mehr verlieren wollten. Bassist Andreas 'Andy' Merck kam mit Freuden wieder dazu – ergo, "Rumble is back on the Beach" in Originalbesetzung. Zu dieser "Reunion" kommt hiermit der erste Teil, die frühen Jahre, aus der Schaffenszeit der Band Rumble On The Beach.
Rumble On The Beach wurde Mitte Mai 1985, in Bremen, Deutschland, gegründet, nachdem Andy, Ohlly und ich die Rockabilly Band Randy Rebels verlassen hatten um zu neuen Ufern aufzubrechen. Mit Andy hatte ich bereits seit Ende 1983 in der ersten Besetzung der Randy Rebels gespielt, zu der Ohlly ab Mitte Juli 1984 als Rhythmus-Gitarrist hinzu kam. Ohlly brachte viel Innovation in die Band, die mit Andys und meinen Ideen zusammenpasste, so dass schnell klar wurde, dass da eine Entwicklung in Gang gekommen war, die zwangsläufig zur Gründung einer neuen Band führen musste, zumal das auch der Puls der Zeit war...
Aus dem Booklet
Rumble On The Beach Two Legendary Albums - Rumble Rat & Rumble

Read more at: https://www.bear-family.de/rumble-on-the-beach-two-legendary-albums-rumble-rat-und-rumble.html


Discography - Rumble On The Beach
1986: Silly Billy (Single 7inch)
1986: We Are The Champions - Various Artist Compilation (EP 7inch)
1987: Rumble Rat (LP)
1988: Rumble (LP & CD)
1989: movin' on (LP & CD)
1989: Teenage Rumble (Single 7inch)
1990: The Furious Swampriders - Various Artist Compilation (LP & CD)
1991: Good Times And Some Mighty Fine Rock`n Roll (LP & CD)
1993: 1986 Special (CD)
1994: Randale am Strand (CD)
1997: Hewitt, Ben -Spirit Of Rock & Roll (2 Titel mit Ben Hewitt - Bundle Of Love & Good Times And Some Mighty Fine Rock) (CD)
2007: Rock'n'Pop meets Rock'n'Roll - Various Artist Compilation (LP & CD)
2016: Two Legendary Albums plus Live - Rumble Rat & Rumble - (CD)
2016: Rumble - 10inch Purple Vinyl (LP)
2016: Rumble On The Beach & The Perc Meets The Hidden Gentleman (/inch)

2016: Randale am Strand - (CD)
2016: Randale am Strand - (Vinyl LP)
Offical Website: http://www.rumbleonthebeach.com
Copyright © Bear Family Records® Alle Rechte vorbehalten. Nachdruck, auch auszugsweise, oder jede andere Art der Wiedergabe, einschließlich Aufnahme in elektronische Datenbanken und Vervielfältigung auf Datenträgern, in deutscher oder jeder anderen Sprache nur mit schriftlicher Genehmigung der Bear Family Records® GmbH.
Weitere Informationen zu Rumble On The Beach auf de.Wikipedia.org
Für die Filterung wurden keine Ergebnisse gefunden!