Der Artikel wurde erfolgreich hinzugefügt.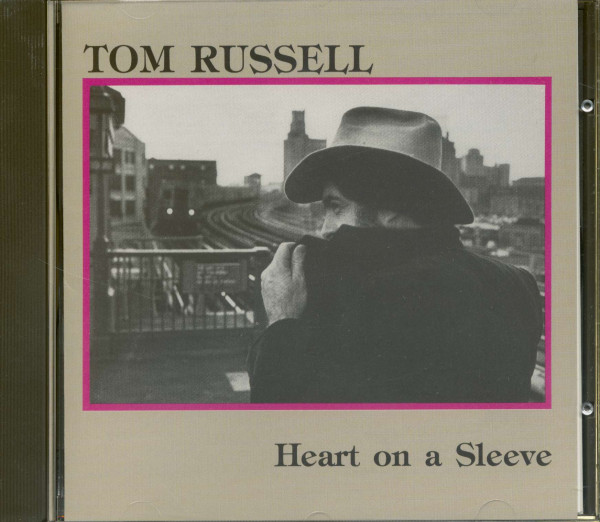 Dieser Artikel ist gestrichen und kann nicht mehr bestellt werden!
Benachrichtigen Sie mich, sobald der Artikel lieferbar ist.
Artikel-Nr.:

BCD15243

Gewicht in Kg.:

0.115
- Wolf-Titel in UNGLAUBLICH guter Qualität!! Ein Hammer! Agressiv, laut, Super-Gitarre von Willie...
mehr
RUSSELL, Tom: Heart On A Sleeve
- Wolf-Titel in UNGLAUBLICH guter Qualität!! Ein Hammer! Agressiv, laut, Super-Gitarre von Willie Johnson / the sound quality of this 'Bear
Family
' CD is simply unbelievably GREAT!! This CD is a must! Agreesive, loud, and excellent guitar playing from W.Johnson)
Lonely nights and chicken fights »Gallo de Cielo«, »Mandarin Oranges«, and »Cropduster«, were recorded in San Francisco in 1979-80 in a basement studio on the south side of town. I've cut the song several times but this is the original version recorded a few weeks after I wrote it in a garage in
Mountain
View. Brian Fitzpatrick plays the
Grady Martin
-inspired Mexican guitar, a guy named »Steve« wandered in and played accordion, and carpenter-musician Don Graham is on drums. Mayne Smith, who was on the classic Jim Kweskin, »
America
« album, plays dobro on «Mandarin Oranges«, and Michael »armed and crazy« Weinstein played bass and helped produce. Last I heard Michael had hocked his .357 magnum and joined the Israeli army.
My old songwriting compadre Carl Brouse played the Tennessee Hi-string guitar on »Cropduster«. Carl has since recorded AMERICAN HOTEL on DTI records. Carl teils stories of a penniless songwriter named Stephen Foster falling out of bed onto a pile of empty whiskey bottles and bleeding to death. With that in mind Carl once picked up my souvenir bottle of »
Elvis Presley
« German white wine and told me that when I'm desperate enough to pop the cork my »big song« lies waiting at the bottom. I'm getting thirsty, amigo. »Canadian Whiskey« and »Chinese Silver« were recorded in Oslo, Norway in the Spring of 1982 thanks to the finäncial assistance of a Scottish gentleman I know onlyas George. George is an oil rig inspector who commutes to the North African desert from Oslo.
The infamous banjo-playing recanteur Richie Bull played and helped produce the session. Richie, Andy Hardin and I played seven nights a week in an Oslo beer cellar then ran down Karl Johans Gate trying to sober up for the all-night sessions. I heard that Richie Bull left Norway and operates a skin diving school in a village in England ... one hundred miles away from any known body of water. »St. Olav's Gate« and »
Heart
On A Sleeve« were written in Norway and recorded later in New York. »St. Olav's Gate« was written in the old »Munch's Gate Arms« and »Heart On A Sleeve« in a renovated monastery near the Edvard Munch Museum. These two and the remainder of side one were recorded in New York — beneath the shadows of the 59th Street Bridge. »St. Olav's Gate« is dedicated to Louis Am brose Larson, born in Bergen in 1847. T
he earlier New York tracks were co-produced by Gene Hicks, last seen playing the studios, streets and subways of Oslo. Buddy Gage, who has played and recorded with the likes of
Lefty Frizzell
,
Bob Dylan
, lan Tyson, and the New Riders of Purple Sage, played steel guitar on several tracks.
Bill Kirchen
, of
Commander Cody
, was driven out of bed one morning and plyed with eight cups of truckstop coffee to play lead guitar on the title track. Paul Pearcy of Austin, Texas contributes drum tracks and the haunting voice on New York's Shawn Colvin can be heard on »One And One« and mang of the backup harmonies.
Two of the mainstays throught a thousand honkytonk nights are bass player Billy Troiani, veteran of ten road years with blues singer Eddie Kirkland, and Andrew Hardin, who not only co-produced but played acoustic and electric guitars, tiple, bass, percussion, and sang harmonies. They deserve their rightful spots in Honkytonk Heaven. Final thanks to believers like Jimmy Cullen, country singer Harold Lamm, and my old friend Bill Chambliss. We shall all meet on the Mexican desert for one last Fandango This album is dedicated to my daughters Jessica and Shannon.
Tom Russell
, New York 1984
Artikeleigenschaften von

RUSSELL, Tom: Heart On A Sleeve
Albumtitel:

Heart On A Sleeve

Preiscode

AH

Artikelart

CD

EAN:

4000127152435

Gewicht in Kg:

0.115
Russell, Tom - Heart On A Sleeve

CD 1
01
One And One
RUSSELL, Tom
02
Heart On A Sleeve
RUSSELL, Tom
03
Blinded By The Light Of Love
RUSSELL, Tom
04
A Touch Of Grey
RUSSELL, Tom
05
Wild Hearts
RUSSELL, Tom
06
St. Olav's Gate
RUSSELL, Tom
07
Gallo De Cielo
RUSSELL, Tom
08
Mandarin Oranges
RUSSELL, Tom
09
Cropduster
RUSSELL, Tom
10
Canadian Whiskey
RUSSELL, Tom
11
Chinese Silver
RUSSELL, Tom
12
A Bowl Of Red
RUSSELL, Tom
TOM RUSSELL "Er ist einer der grossen unentdeckten Schreiber im Stil der klassischen Dichtung",...
mehr
"RUSSELL, Tom"
TOM RUSSELL
"Er ist einer der grossen unentdeckten Schreiber im Stil der klassischen Dichtung", dies sagte lan Tyson, ein enger Freund von Tom Russell über diesen genialen Songwriter, der bisher leider noch nicht die Anerkennung gefunden hat, die ihm eigentlich gebührt. Durch Europa tourt Tom Russell mit seiner Band seitJahren schon regelmässig und hat auch hier seinen Freundeskreis gefunden. In den USA dagegen scheint er noch immer als eine Art Geheimtip gehandelt zu werden.
Der wahrscheinliche Grund dafür: Tom Russell mag Nashville nicht, ihm ist die umtriebige Music City mit ihrem Vermarktungssystem ein Greuel und somit versteht er sich als eine Art Einzelkämpfer für eine gute Musik, für Songs mit Tiefgang, für Lieder mit einer Aussage.
Aus seiner Feder stammen so herrliche Kompositionen wie Navajo Rug, Cropduster , U.S. Steel und Gallo De Cielo. Dabei fällt Tom Russell' s Neigung zur Tex-Mex-Music immer wieder auf, eine Musik, die er dank der Vielseitigkeit seiner Bandrecht authentisch vorzutragen versteht. In der Tom Russell Band fallen vor allem Fats Kaplin und Andrew Hardin auf, Fats Kaplin, ein einfühlsamer Virtuose auf der Fiddle, der Steel Guitar und dem Akkordeon, Andrew Hardin, ein Hexenmeister auf der Gitarre.
Tom Russell selbst präsentiert sich als Sänger mit einer Stimme, die irgendwo zwischen Merle Haggard und Johnny Cash angesiedelt scheint. Als 1987 Tom Russell' s neueste LP RoadTo Bayarnon auch in den USA veröffentlicht wurde, schrieb John Lomax III über ihn: "Tom Russell ist einer der besten Songwriter der Welt, dessen Wer_k auch noch ins nächste Jahrhundert, und ins übernächste und ins übernächste passen wird." Tom Russell ist auf dieser CD mit den drei Eigenkompositionen Mezcal, Alkali und Navajo Rug vertreten.
Bewertungen lesen, schreiben und diskutieren...
mehr
Kundenbewertungen für "Heart On A Sleeve"
Bewertung schreiben
Bewertungen werden nach Überprüfung freigeschaltet.
Weitere Artikel von RUSSELL, Tom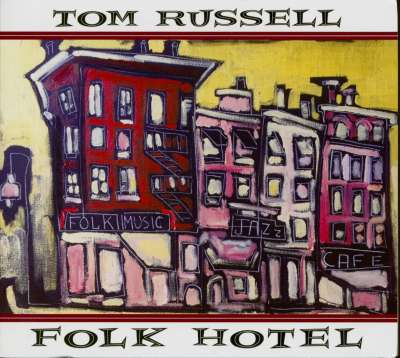 Tom Russell: Folk Hotel (CD)
Art-Nr.: CDFR54577


Artikel muss bestellt werden
Tom Russell: Indians, Cowboys, Horses, Dogs
Art-Nr.: CDHIGH8165


Artikel muss bestellt werden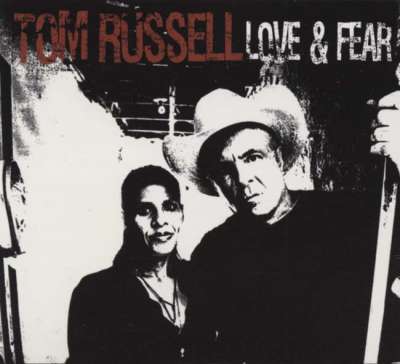 Tom Russell: Love & Fear
Art-Nr.: CDHIGH8190


Artikel muss bestellt werden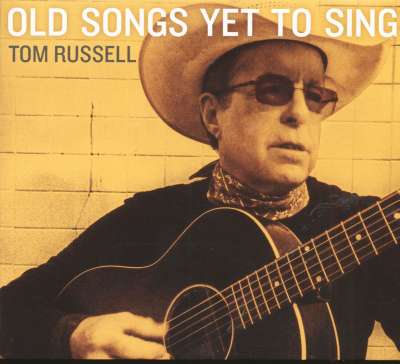 Tom Russell: Old Songs Yet To Sing (CD)
Art-Nr.: CDFR012


Artikel muss bestellt werden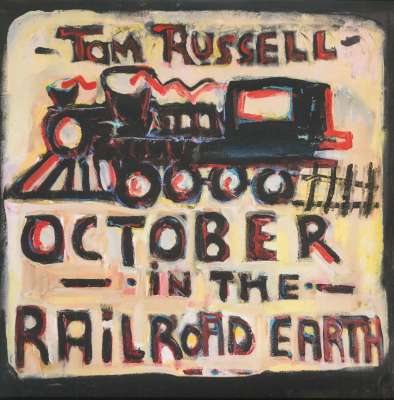 Tom Russell: October In The Railroad Earth (LP)
Art-Nr.: LPPRP155


Artikel muss bestellt werden