Der Artikel wurde erfolgreich hinzugefügt.
18,75 € *
23,25 € *
(19,35% gespart)
inkl. MwSt. / zzgl. Versandkosten - Abhängig vom Lieferland kann die MwSt. an der Kasse variieren.
Sofort versandfertig, Lieferzeit** 1-3 Werktage
Artikel-Nr.:

CDCCD22005

Gewicht in Kg.:

0.136
(2002 'CrossCut') (126:50/23) Enhanced CD - kommt mit einem Bonus 'Live'-Videostück,...
mehr
Hank Shizzoe: In Concert - With Sonny Landreth (2-CD)
(2002 'CrossCut') (126:50/23) Enhanced CD - kommt mit einem Bonus '
Live
'-Videostück, 'Stagger Lee', featuring
Sonny Landreth
/ comes with a bonus 'live' video track featuring Sonny Landreth. -- . Nach vier Studioalben im Verlauf von acht Jahren war die Realisierung eines Live-Albums für Hank logische Konsequenz - und für die meisten seiner Fans die Erfüllung eines Traums. Das letzte, selbstbetitelte Album konzentrierte sich auf die Songs von Hank und liess wenig Raum zur instrumentalen Entfaltung. Wer Hank einmal 'live' erlebt hat weiss, mit welcher Intensität und ausgeprägten Soli er seinen Songs eine extra Portion Spannung verleiht. Und exakt dieses gewisse Etwas, das nur auf der Bühne passieren kann, ist perfekt eingefangen worden. Der Sound ist unglaublich nah an dem Erlebnis vor der Bühne, direkt und kraftvoll und mit einer Transparenz, die es in diesem Masse bei Liveaufnahmen nur selten gibt. Loose Gravel sind eine hervorragend eingespielte Rhythm Section und der perfekte Support für Hank. Das zusammen würde schon genügen, um über zwei Stunden ein äußerst entspanntes Rockkonzert zu Hause geniessen zu können. Doch der besondere Höhepunkt passiert auf CD #2. Als besonderer Gast wurde Sonny Landreth aus Louisiana eingeflogen. Er gilt bei seinen Fans und Kritikern gleichermassen als Gitarren-Zauberer. Seine Art, Slideguitar zu spielen, ist einzigartig auf dieser Welt. Zu hören, mit welch unglaublichem Einfühlungsvermögen er mit Hank als Gitarrist auf der Bühne kommuniziert, laeßt mir Schauer den Rücken herunterlaufen. Zwei der weltweit besten Slidegitarristen auf einer Bühne - was will man mehr? Wer abseits vom Blues auf exquisiten Gitarren-Riffs und -soli steht, kann kaum besser bedient werden! Kommt im acht-seitigen Digipak / on his last, self-titled album Hank's focus was on the songs. The arrangements were tight, not allowing to stretch-out on guitar. With four studio albums in the catalog, Hank felt it was time for a live record, an album all his fans have been waiting for! Who ever had a chance to experience
Hank Shizzoe
& Loose Gravel 'In Concert' knows about the extra portion of intensity, power and feeling that can only be produced on stage, in front of a supportive audience. This live double-CD brings you more than two hours of the finest in American style roots rock. The sound is just perfect. You'll get the impression of shuffling in front of the stage, without having to leave the ambience of your living room. Loose Gravel featuring the fabulous Michel Poffet on upright bass, and the rock-solid Christoph Beck on drums, are the perfect support for Hank's extensive guitar, and slide guitar soloing. The trio recordings alone would be a gem. But CD #2 is giving you extra value. Exclusively for the live recording sessions last September, we flew Sonny Landreth in. The slide guitar player from Louisiana is member of the top-five club of excellence, one of the finest players on this planet. His interplay with Hank and the band is amazing. That part of the show is a real highlight, both in instrumental versatility, and human experience. This is the album, Hank's fans have been waiting for. It's also a good start for all those that love great guitar music. HANK SHIZZOE - voc/gtr/bouzouki, MICHEL POFFET - upright bass, CHRISTOPH BECK - drums. Special guest: SONNY LANDRETH - slide gtr (12 tracks).
Artikeleigenschaften von

Hank Shizzoe: In Concert - With Sonny Landreth (2-CD)
Albumtitel:

In Concert - With Sonny Landreth (2-CD)

Genre

Rock'n'Roll

Preiscode

AS

Artikelart

CD

EAN:

4014924220051

Gewicht in Kg:

0.136
Hank Shizzoe   "Längst ist ja zumindest einschlägigen Kreisen geläufig, dass Hank...
mehr
"Hank Shizzoe"
Hank Shizzoe
"Längst ist ja zumindest einschlägigen Kreisen geläufig, dass Hank Shizzoe der beste Roots-Rock-Songwriter und Gitarrenstilist ist, der nicht aus den USA kommt. Und dass er selbst dann noch zumindest einer der besten wäre, käme er aus dem gelobten Land." – Rolling Stone Magazin
Hank Shizzoe, Jahrgang 1966, lebt und arbeitet in Bern, Schweiz. Mit sechzehn bekam er seine erste Gitarre, und bis heute hat ihn das Instrument nicht mehr losgelassen. 
Später begann er, Songs zu schreiben. Das macht er bis heute. Und er fing an, zu singen, eine Leidenschaft, die ihn bis heute verfolgt.
Irgendwann in den neuzehnhundertneunziger Jahren – mittlerweile zu einem veritablen (Slide-)Gitarrenvirtuosen gereift – nahm er seine Musik auf, die er seit 1994 bis heute auf mittlerweile 16 Alben veröffentlicht hat.
Der nächste Schritt für Hank, den Multi-Instrumentalist – er spielt u.a. auch Bass, Schlagzeug, Marimba und Triangle auf seinen Produktionen -  war für ihn der Weg auf die Bühne. Inzwischen hat er mehr als 1.500 Konzerte gespielt, teils solo, teils mit eigener Band oder mit anderen, trat in Trondheim, Tanger, Budapest und Los Angeles sowie vielen Orten dazwischen auf. Er hat mit Bob Dylan, Ali Farka Touré, ZZ Top, David Lindley und Bo Diddley auf der Bühne gestanden, war Mitgleid in Stephan Eichers Gruppe und nahm ein Live-Album mit Sonny Landreth auf. Er spielte in New York Citys berühmter 'Carnegie Hall', hat den 'Prix de la Scène' des renommierten Paléo Festival Nyon verliehen bekommen und wirkte bei zahlreichen Produktionen anderer Musiker mit, sowohl als Gastmusiker als auch als Produzent, in so unterschiedlichen Genres wie Rock, Folk und Pop, schrieb Theater- und Filmmusiken und ist regelmäßiger Gast in Radiosendungen. Er liebt die Berge, Wälder, Motorräder, Kalifornien und weiß gutes Essen zu schätzen. www.hankshizzoe.com- Detlev Hoegen, Februar 2019
Bewertungen lesen, schreiben und diskutieren...
mehr
Kundenbewertungen für "In Concert - With Sonny Landreth (2-CD)"
Bewertung schreiben
Bewertungen werden nach Überprüfung freigeschaltet.
Weitere Artikel von Hank Shizzoe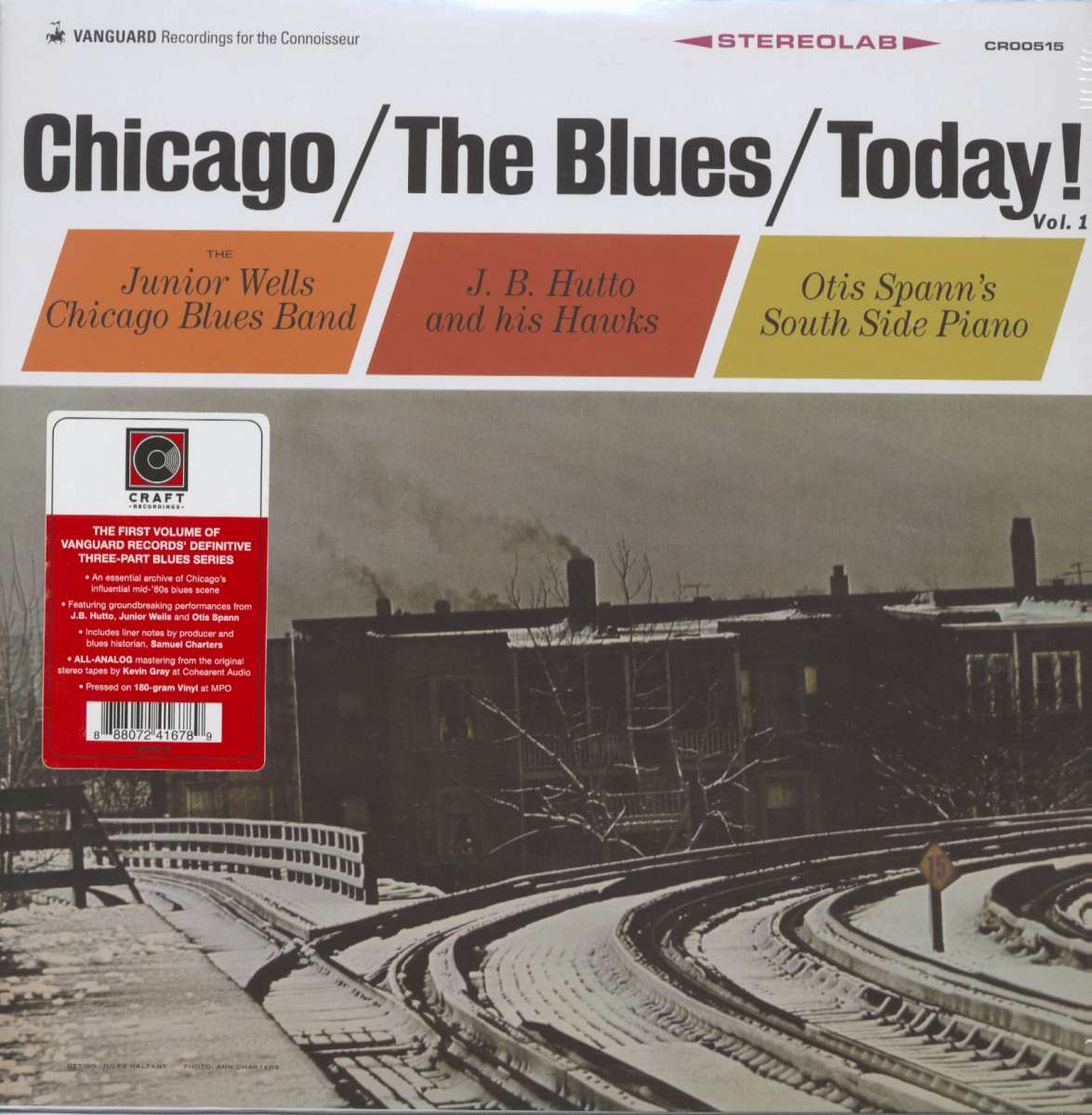 Various: Chicago - The Blues - Today! Vol. 1 (LP, 180g...
Art-Nr.: LPCR00515


nur noch 1 verfügbar
Sofort versandfertig, Lieferzeit** 1-3 Werktage