Der Artikel wurde erfolgreich hinzugefügt.
Hank Snow
Thesaurus Transcriptions (5-CD Deluxe Box Set)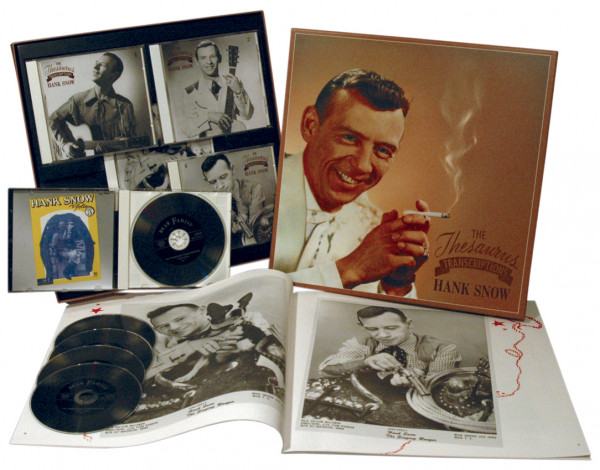 inkl. MwSt. / zzgl. Versandkosten - Abhängig vom Lieferland kann die MwSt. an der Kasse variieren.
Sofort versandfertig, Lieferzeit** 1-3 Werktage
Artikel-Nr.:

BCD15488

Gewicht in Kg.:

1.5
5-CD Box (LP-Format) mit 35-seitigem Buch, 140 Einzeltitel. Spieldauer ca. 345 Minuten. Quasi...
mehr
Hank Snow: Thesaurus Transcriptions (5-CD Deluxe Box Set)
5-CD Box (LP-Format) mit 35-seitigem Buch, 140 Einzeltitel. Spieldauer ca. 345 Minuten.
Quasi als Nebenprodukt unserer
Hank Snow
-Retrospektive enthält diese CD-Box 140 Aufnahmen, die zwischen 1950 und 1956 entstanden. Keine dieser Aufnahmen, die Hank Snow in einer entspannten und ungezwungenen Stimmung zeigen, war zuvor käuflich zu erwerben. Er spielt seine eigenen Songs, seine persönlichen Lieblingsnummern und seine aktuellen Hits.
Diese Auswahl zeugt von seinem großen Verständnis und dem mühelosen, meisterlichen Umgang mit der Geschichte der Country Music. Zu den Titeln gehören
Blue Yodel #12, I'm Here To Get My Baby Out Of Jail, Frankie & Johnnie, The Convict & The Rose,
Blue Eyes Crying In The Rain, Jealous Heart, I'm Thinking Tonight Of My Blue Eyes, Blow Yo' Whistle Freight Train, Travelin' Blues, This Cold War With You, You Nearly Lose Your Mind, My Rough And Rowdy Ways
,
Any Old Timed, Do Right Daddy Blues
und
Poison Love
. Natürlich sind hier auch einige Pop-Hits wie
Memories Are Made Of This
und
The Wayward Wind
vertreten
Artikeleigenschaften von

Hank Snow: Thesaurus Transcriptions (5-CD Deluxe Box Set)
Albumtitel:

Thesaurus Transcriptions (5-CD Deluxe Box Set)

Genre

Country

Edition 2

Deluxe Edition

Preiscode

EH

Artikelart

Box set

EAN:

4000127154880

Gewicht in Kg:

1.5
Hank Snow Bevor der 22-jährige Hank Snow im Oktober 1936 in den Büros von RCA...
mehr
"Hank Snow"
Hank Snow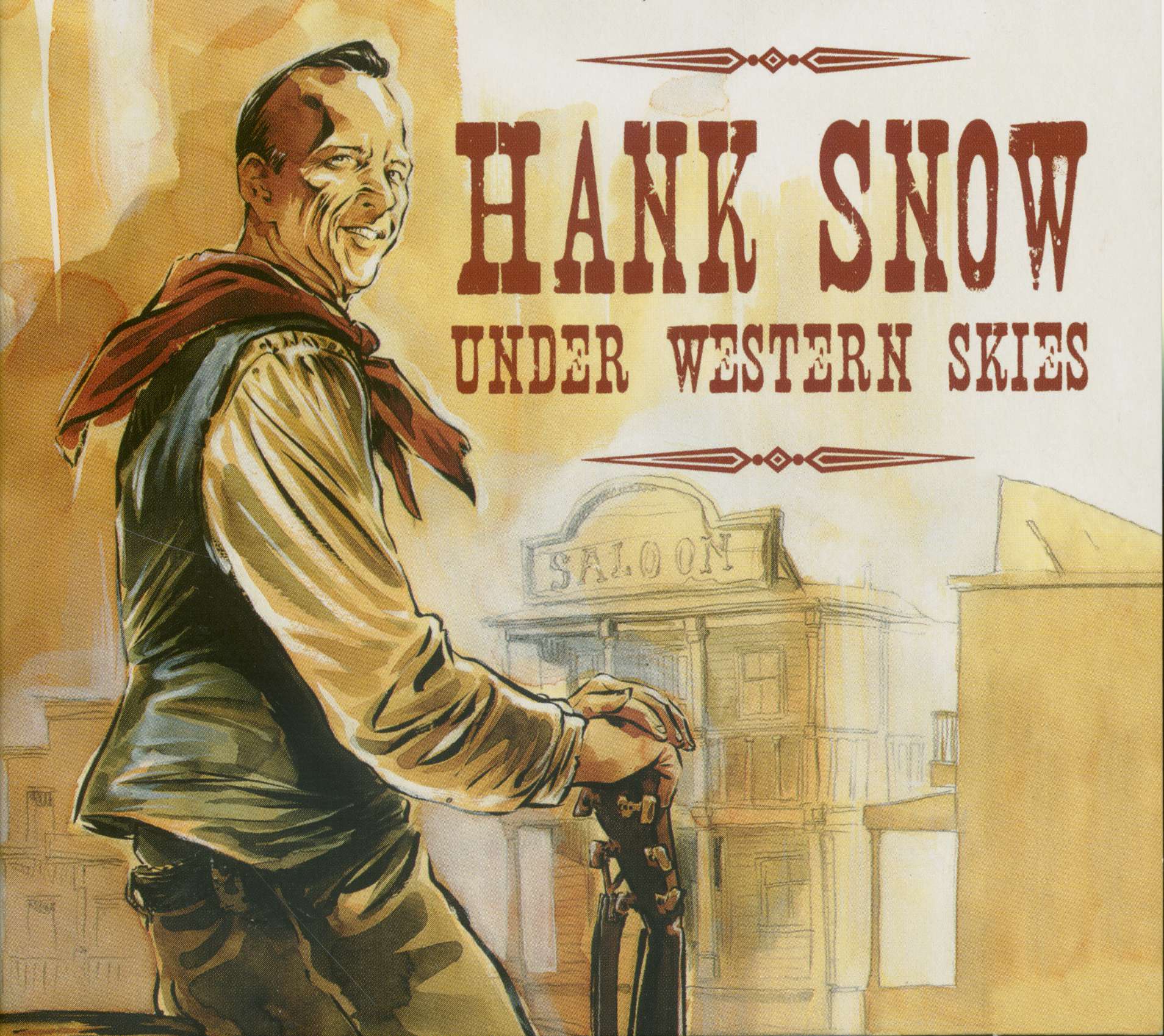 Bevor der 22-jährige Hank Snow im Oktober 1936 in den Büros von RCA Victor's Canadian Division in Montreal vorsprach, fragte Repertoire und Recording Manager A.H. 'Hugh' Joseph, ob er irgendwelche Originalsongs hätte. "Freunde, ich habe ihm eine kleine Notlüge erzählt", erinnert sich Snow in seiner Autobiographie von 1994. "Ich sagte ja, ich habe zwei gute Songs, die ich gerade geschrieben habe."
Als er dem angehenden Aufnahmekünstler die Adresse einer alten Kirche gab, die RCA vorübergehend als Studio benutzte, sagte Joseph, er solle morgen um 14.00 Uhr dort erscheinen. Obwohl er von dieser Gelegenheit begeistert war, sorgte sich Snow nun um die beiden nicht existierenden Originale, die er bereit zu haben versprach.
Als er in sein Hotelzimmer zurückkehrte, schrieb er eine Jimmie Rodgers Persiflage mit dem Titel Lonesome Blue Yodel und eine verworrene Ballade über einen Cowboy-Sänger, die sich als Gesetzloser entpuppte. Während kein lyrisches Meisterwerk, wurde Prisoned Cowboy ein günstiger Start in eine sechs Jahrzehnte währende Aufnahmekarriere. Es spiegelte auch Snow's lebenslange Faszination für den amerikanischen und kanadischen Westen wider - romantische Orte, von denen er nur während seiner Kindheit in Nova Scotia träumte.
Im Alter von 12 Jahren entkam Snow dem Zorn eines missbrauchenden Stiefvaters, indem er sich als Kabinenjunge auf einem Fischerschoner anmeldete. Für die nächsten vier Jahre ertrug die leichtgewichtige Jugend im Nordatlantik zermürbende Bedingungen. Bei seinen gelegentlichen Besuchen zu Hause zog er die Victrola seiner Mutter auf und spielte wiederholt Vernon Dalharts The Prisoner's Song und The Wreck Of The Old 97. Als er schließlich mit seiner Schwester und ihrem Mann in Bluerocks, Nova Scotia, umsiedelte, kaufte Snow seine erste Gitarre. Von den blauen Jodlern von Jimmie Rodgers angezogen, beherrschte er die Lieder und den Stil des Singing Brakeman.
Prisoned Cowboy und Lonesome Blue Yodel verkauften genug Exemplare, um eine zweite Aufnahmesession zu bekommen. Mittlerweile hatte sich Snow auf das Songwriting konzentriert, viele seiner Texte basieren auf sentimentalen westlichen Themen. Frühe Songs wie We Met Down In The Hills Of Old Wyoming, I'll Ride Back To Lonesome Valley und There's A Picture On Pinto's Saddle sind kaum mit den lebhaften Western-Sagen von Bob Nolan oder Stuart Hamblen zu vergleichen, aber sie halfen, eine Fangemeinde für 'Hank, The Yodeling Ranger' aufzubauen. Der Texas Cowboy, aufgenommen im Februar 1939, war eine der lebhaftesten frühen Bemühungen von Snow. Seine gesprochene Einführung gibt uns eine Vorstellung von Snow's prägenden Sendungen im kanadischen Radio.
Snow's zehn Sessions für Canadian RCA bis 1947 beinhalteten mindestens einen Song über Texas oder der open range. Nicht alle wurden von Hank Snow geschrieben. Snow lernte Bobby Gregory's Riding Along, Singing A Song von einer Decca 78 von Denver Darling. Philadelphia Promoter und Verleger Jack Howard gab ihm Tom Grindhart's Blue Ranger. Howard, einer der ersten Amerikaner, der Snow's Karriere verfochten hat, buchte ihn im Juli 1944 in mehrere Austragungsorte in Philadelphia. Er brachte den Sänger auch nach Wheeling, um Harry 'Big Slim' McAuliffe zu treffen, der ihm anbot, Snow beim Midnight Jamboree der WWVA zu helfen.
Als er erkannte, dass seine Karriere nur in Kanada so weit gehen konnte, zog Snow nach Wheeling. Wie viele andere junge Talente arbeitete McAuliffe unermüdlich für Snow. McAuliffe brachte ihn nicht nur zu WWVA, sondern stattete Snow auch mit dem Notwendigsten für eine reisende Bühnenshow aus, darunter ein trainiertes Pferd. Für die nächsten vier Jahre zickzackten Snow und seine Truppe über die Grenze. Aber trotz seiner hohen Sichtbarkeit und Popularität in seiner Heimat, fand Snow es schwierig, in Amerika Fuß zu fassen. Hugh Joseph setzte sich im New Yorker Büro von RCA Victor für die Veröffentlichung seiner meistverkauften Kupplungen in den USA ein. Labelbeamte waren nicht interessiert, auch wenn ein paar einfallsreiche amerikanische Country-Discjockeys seine kanadischen Bluebird-Platten auf gute Zuhörerresonanz drehten.
Im Januar 1948 verbot die American Federation of Musicians ihren Mitgliedern, Aufnahmen zu machen. Verzweifelt darauf bedacht, das ganze Jahr über einen Veröffentlichungsplan einzuhalten, wandte sich RCA Victor an Snow's kanadische Meister. My Sweet Texas Bluebonnet Queen wurde im April veröffentlicht, zwei Monate später folgte Brand On My Heart. Dallas Discjockey Hal Horton verwandelte Brand On My Heart in einen lokalen Hit. Sein Erfolg führte Snow dazu, seinen vergeblichen Versuch, in Hollywood einzudringen, aufzugeben; er kam früh im Herbst in Dallas an, sein trainiertes Pferd im Schlepptau und nur elf Dollar in der Tasche.
Mit dem neuen Live-Showcase Big-D Jamboree von KRLD zog Snow in Clubs und Konzerten große Menschenmengen an, doch finanziell erwiesen sich diese als magere Monate. Ernest Tubb, selbst ein texanischer Auswanderer, überzeugte Snow, dass Nashville der Ort war, an dem er sein musste.
RCA Victor gab drei weitere kanadische Kopplungen von 'Hank, The Singing Ranger' heraus, bevor die Musikergewerkschaft ihren Streit mit den Plattenfirmen beilegte. Obwohl keine nationalen Hits, alle gut genug verkauft, um Snow's erste amerikanische Session im März 1949 zu verdienen. Acht Songs wurden in Chicago aufgenommen, und Jenny Lou Carsons Marriage Vow wurde ein bescheidener Chart-Erfolg. Es gab Tubb genug Druckmittel, um seinen Freund nach Nashville und in die Grand Ole Opry-Liste zu bringen...
Bewertungen lesen, schreiben und diskutieren...
mehr
Kundenbewertungen für "Thesaurus Transcriptions (5-CD Deluxe Box Set)"
Bewertung schreiben
Bewertungen werden nach Überprüfung freigeschaltet.
Weitere Artikel von Hank Snow