Wer war/ist

Johnny Tillotson

? - CDs, Vinyl LPs, DVD und mehr

Johnny Tillotson

Geboren am 20. 4. 1939 in Jacksonville, Florida. Wurde als Jugendlicher in der "Nashville Pet Milk'-Talentshow entdeckt. Größte künstlerische Vorbilder: Roy Rogers, Gene Autry und Hank Williams. Johnny Tillotson unterschrieb 1958 einen Vertrag bei Archie Bleyers Cadence Records, wechselte 1963 zu MGM. Der Country- und Balladen-Spezialist spielte bis in die 70er Jahre Platten ein, seine Hoch-Zeit hatte er jedoch zwischen 1958 und 1965, als er 26 Titel in die amerikanischen Top 100 bugsierte. Tillotsons erfolgreichste Songs sind "Poetry In Motion' (Platz 2 - 1960), 'It Keeps Right On A-Hurtin' ' (Platz 3 - 1962) und 'Talk Back Trembling Lips' (Platz 7 - 1963). Während der 70er hatte er ferner Rollen in diversen TV-Serien übernommen. In den späten 90er Jahren war er, gemeinsam mit Kollegin Brenda Lee, Gastgeber der Fernseh-Reihe 'Nashville Today'.

Aus dem Bear Family Buch - 1000 Nadelstiche von Bernd Matheja - BFB10025 -

Johnny Tillotson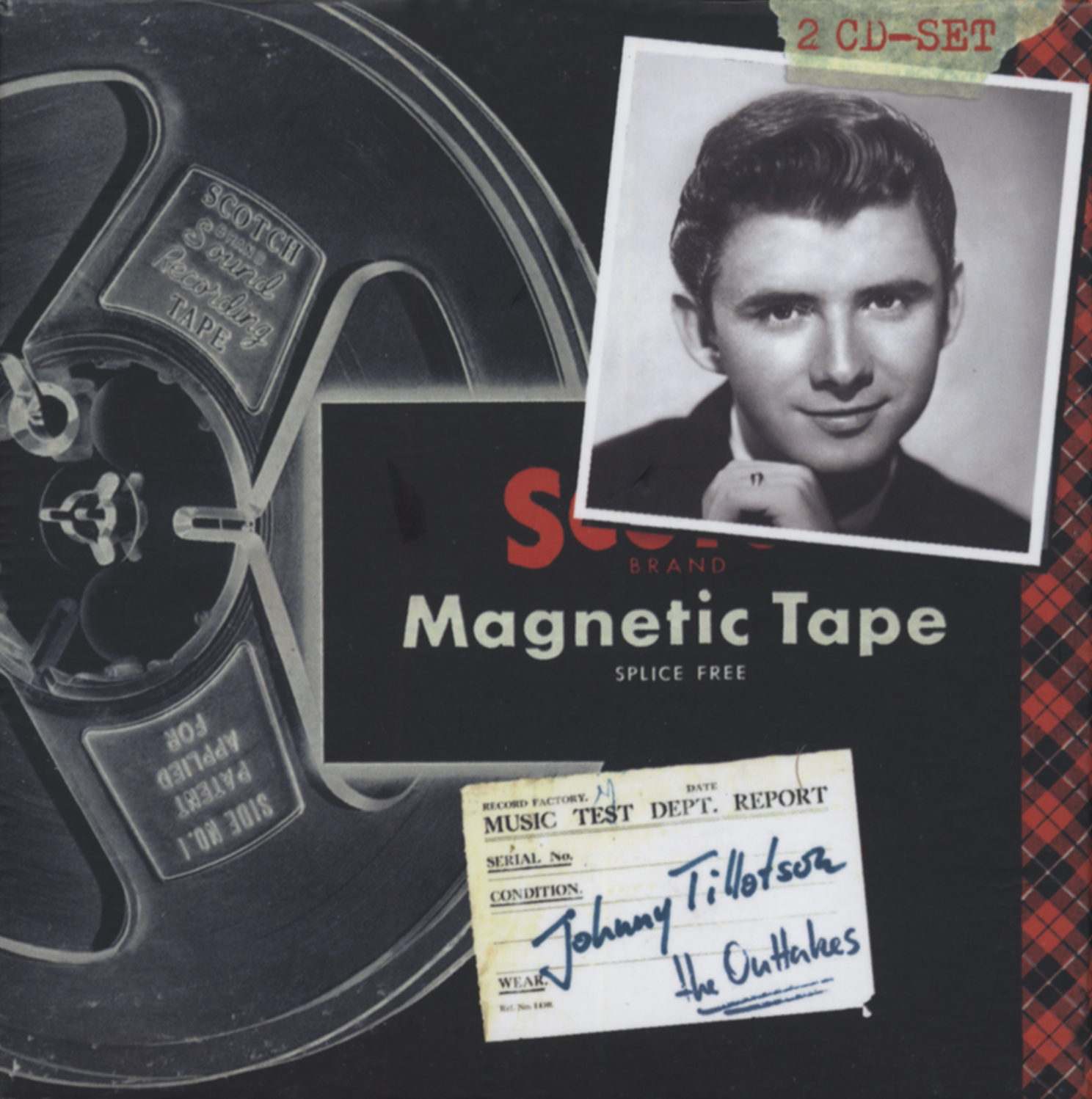 At the time of writing, it is now over 52 years since Johnny Tillotson made his first professional recordings for Cadence in August 1958. In that time he has achieved what many fail to do in music industry. He has lasted! After a lifetime in the firmament of popular music, he remains an attraction in the U.S.A. and abroad where his appearances in cabaret and one nighters are still enjoyed by fans many of whom, have stood by him through five decades of music, films, television and concerts
Born in Jacksonville, Florida on April 20th 1939, Johnny was actually raised in Palatka by his grandparents but he travelled back to be with parents each summer. His mother was Doris and his father was Jack, a country music disc jockey.
It appears that performing was in his blood from an early age and indeed by the age of nine, he was featured on the local radio show, Young Folks Revue. Encouraged by his grandparents, he set about turning himself into becoming a professional singer. He sang at local functions and had played so much locally by the time he entered Palatka Senior High School, his reputation had preceded him and he was quite well established and known in the state of Florida.
He guested on the television show, The Toby Dowdy Show, where he became a regular with a three year contract and when the show itself ceased transmission, the opportunity opened up for Johnny to have his own show on WDGA-TV. Juggling a television show and studies at the University of Florida was not easy but Johnny pulled it off and he successfully graduated with a Bachelor of Science Degree in Journalism and Communications in 1959 despite the distractions of his passion for music.
At the same time that all this was going on, Johnny has started writing songs and when, in 1957, a local disc jockey sent six of his songs to the National Pet Milk Talent contest, Johnny found himself in Nashville performing on WSM Radio.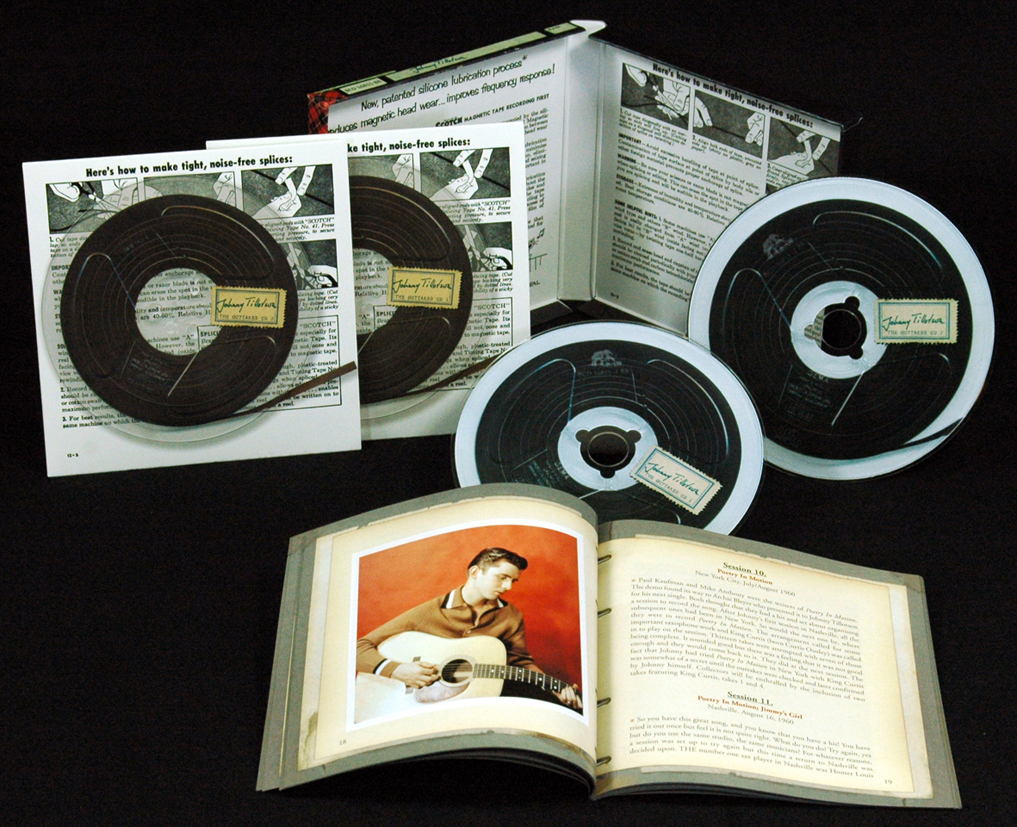 In Nashville he was heard by Lee Rosenberg, a Nashville music publisher who was so impressed by what she heard that she took a tape of Johnny singing to Archie Bleyer at Cadence Records, already scoring highly in the pop charts with hit titles by The Chordettes, The Everly Brothers and Andy Williams as well as achieving a #17 hit in his own right with The Naughty Lady Of Shady Lane as 1954 turned into 1955.
The hits started immediately with Dreamy Eyes charting in November 1958 and peaking at #63 (reissued in 1961, it moved 28 positions higher to #35). Twenty-six chart entries followed in the U.S. with his biggest being Poetry In Motion which advanced to #2 in the States in late 1960 but was eclipsed by its success in the U.K. where it spent three weeks in the #1 position at the early part of 1961.
Undoubtedly Johnny's greatest success a songwriter was with It Keeps Right On A-Hurtin' which was a #3 pop and #4 country hit for him in 1962. Many covers and revivals followed with perhaps Elvis Presley's rendering on his 'From Elvis In Memphis' album in 1969 being the most prestigious.
During his association with Cadence Records (1958-1963), Johnny recorded 41 different titles in his own right. He recorded three songs on more than one occasion and he added his vocal to a session by French singer, Genevieve, on one song.
When the Cadence tapes were analysed, it was found that all but one performance existed in outtake form; the only track to survive purely as a master was Love Is Blind (Cadence 1365).
There was one song, Please Help Me I'm Falling that had never been released before and like something akin to the discovery of Tutankhamun's tomb, we found a session recorded in New York with King Curtis on sax playing on an earlier attempt at Poetry In Motion.
Within the master tapes boxes, the master take, as originally issued, tends to be missing from the spools.
Johnny Tillotson The Outtakes
Read more at: https://www.bear-family.de/tillotson-johnny-the-outtakes-2-cd.html
Copyright © Bear Family Records
Weitere Informationen zu Johnny Tillotson auf de.Wikipedia.org
Für die Filterung wurden keine Ergebnisse gefunden!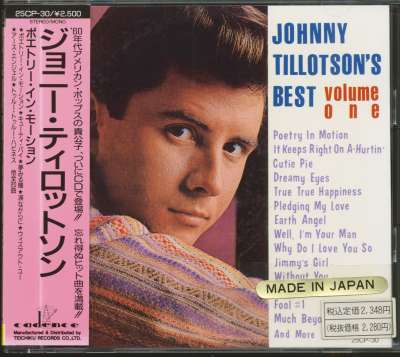 Johnny Tillotson: Johnny Tillotson's Best Vol.1 (CD, Japan)
Art-Nr.: CD25CP30


Sofort versandfertig, Lieferzeit** 1-3 Werktage
(Teichiku Japan) 20 Tracks - Cadence 1959-1963, Rare Japan CD!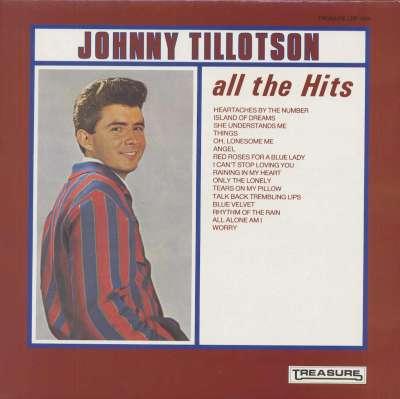 Johnny Tillotson: All The Hits (LP)
Art-Nr.: LPLSP1059


Sofort versandfertig, Lieferzeit** 1-3 Werktage
(Treasure) 16 Titel - Johnny Tillotson singt Hits der 50er und frühen 60er Jahre! Seltene LP!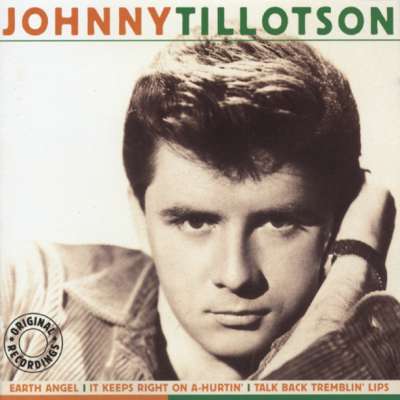 Johnny Tillotson: Poetry In Motion (CD)
Art-Nr.: CD905025


Sofort versandfertig, Lieferzeit** 1-3 Werktage
(2002/Pure Gold) 12 Tracks - Original Cadence and MGM recordings, 1960-1963!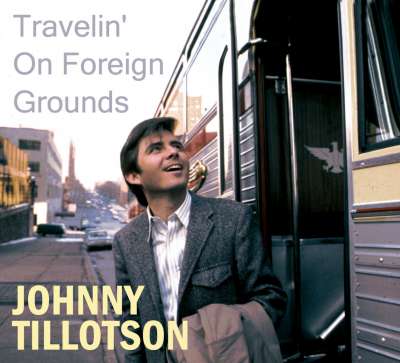 Johnny Tillotson: Travelin' On Foreign Grounds
Art-Nr.: BCD17379


Sofort versandfertig, Lieferzeit** 1-3 Werktage
1-CD Digipak (4-seitig) mit umfangreichem Booklet, 24 Einzeltitel, Gesamtspieldauer ca. 60 Minuten. Rock 'n' Roll • Album mit allen fremdsprachigen Aufnahmen in Italienisch, Spanisch, Deutsch und Japanisch aus der MGM-Zeit von Johnny...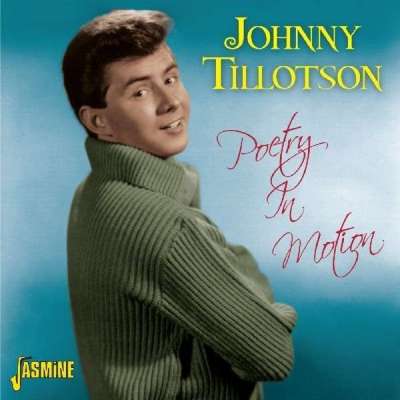 Johnny Tillotson: Poetry In Motion
Art-Nr.: CDJAS266

(2013/Jasmine) 29 tracks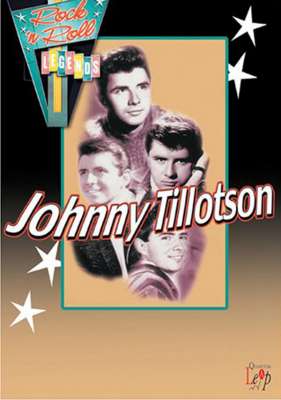 Johnny Tillotson: Rock'n'Roll Legend
Art-Nr.: DVDMVD6600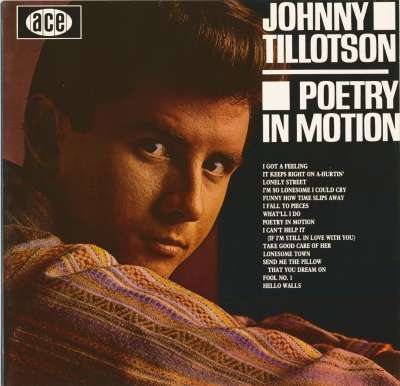 Johnny Tillotson: Poetry In Motion (LP Album)
Art-Nr.: LPCH74

(1984/Ace) 14 Titel - Reproduktion der 1962er Cadence LP! Die Linernotes sind von Adam Komorowski geschrieben!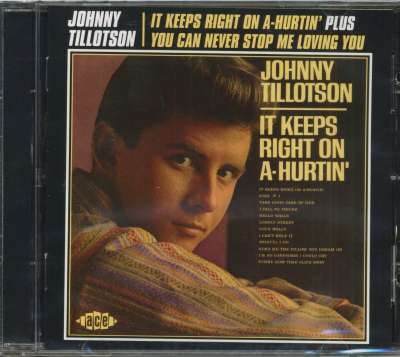 Johnny Tillotson: It Keeps Right On A-Hurtin - You Can Never Stop...
Art-Nr.: CDCHD1177


Sofort versandfertig, Lieferzeit** 1-3 Werktage
(ACE Records) 24 Tracks - Cadence 1962-1963 - Diese neueste Folge in Ace's Serie von 2-on-1-Paarungen von Original-Alben von Johnny Tillotson vereint das zweite und dritte der drei Alben, die er auf Cadence veröffentlichte, dem Label,...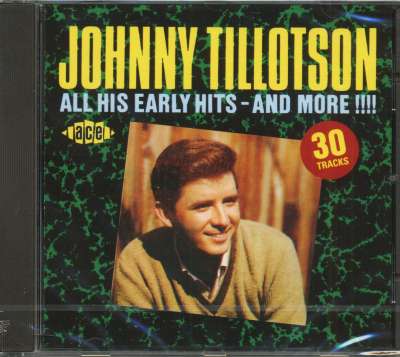 Johnny Tillotson: All His Early Hits And More! (CD)
Art-Nr.: CDCHD946

(ACE Records) 30 Tracks - Hier finden wir die guten Leute von Ace, die ihren Überblick über alles, was auf schwarzem Vinyl großartig und groovig war, fortsetzen und auf das kleine, glänzende Format übertragen. Das Vinylalbum Poetry In...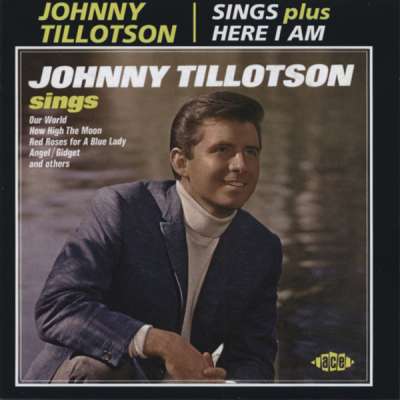 Johnny Tillotson: Sings & Here I Am
Art-Nr.: CDCHD1162


Sofort versandfertig, Lieferzeit** 1-3 Werktage
(2007/ACE) 24 tracks MGM 1965/67 with 12 page booklet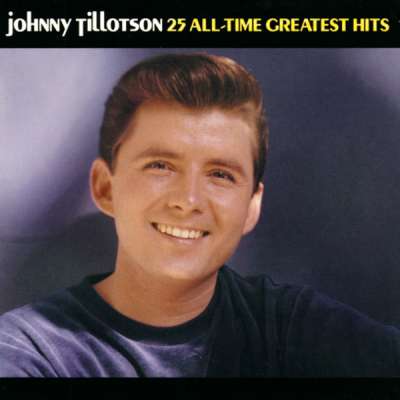 Johnny Tillotson: 25 All Time Greatest Hits
Art-Nr.: CDVSD66210

(2001/VARESE) 25 tracks Johnny Tillotson has always been more than just a teen idol. That might not have been easy to discern as he sauntered carefree across the airwaves in late 1960 with 'Poetry in Motion,' or cried into his pillow two...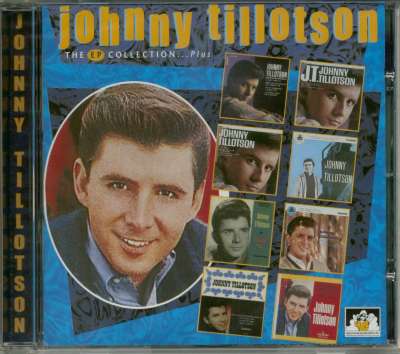 Johnny Tillotson: EP-Collection (CD)
Art-Nr.: CDSEE698


Sofort versandfertig, Lieferzeit** 1-3 Werktage
(See For MIles) 30 tracks - very rare compilation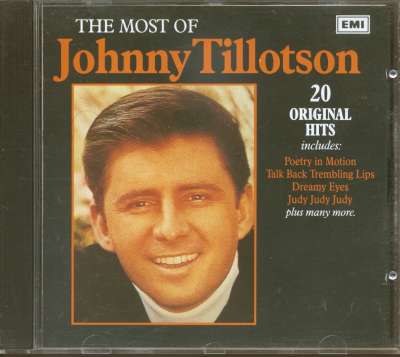 Johnny Tillotson: The Most Of Johnny Tillotson (CD)
Art-Nr.: CD8142132

(1994/EMI) 20 tracks - original recordings!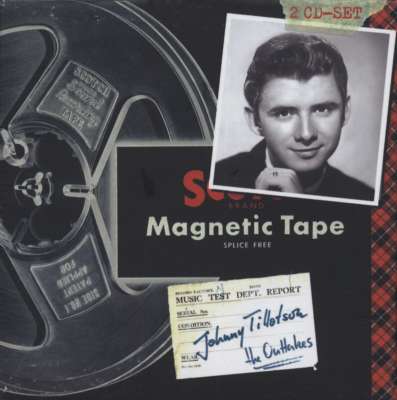 Johnny Tillotson: The Outtakes (2-CD)
Art-Nr.: BCD16815

2-CD Cap-Box mit 60-seitigem Booklet, 58 Einzeltitel. Spieldauer ca. 2 Stunden 47 Minuten. Exzellente 2-CD-Edition mit Alternativ-Versionen von Johnny Tillotson für Cadence Records. Tolle Gelegenheit für Johnny Tillotson-Fans und...