Der Artikel wurde erfolgreich hinzugefügt.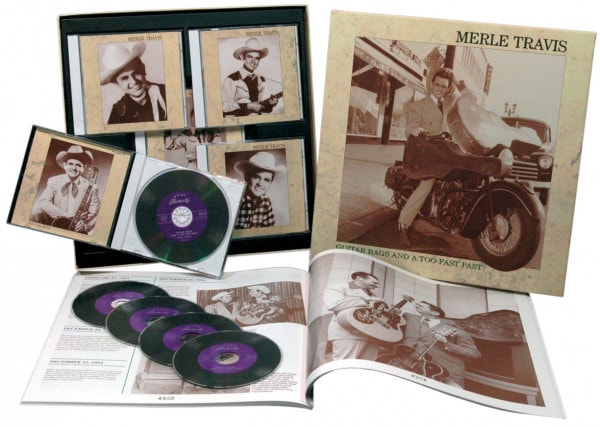 89,95 € *
94,95 € *
(5,27% gespart)
inkl. MwSt. / zzgl. Versandkosten
Sofort versandfertig, Lieferzeit** 1-3 Werktage
Artikel-Nr.:

BCD15637

Gewicht in Kg.:

1.5
5-CD Box (LP-Format) mit 80-seitigem Buch, 145 Einzeltitel. Spieldauer ca. 387 Minuten. Was für...
mehr
Merle Travis: Guitar Rags And A Too Fast Past (5-CD)
5-CD Box (LP-Format) mit 80-seitigem Buch, 145 Einzeltitel. Spieldauer ca. 387 Minuten.

Was für ein Typ! Was für ein Musiker! Was für eine Zusammenstellung! Eine fabelhafte Edition zu Ehren eines der einflussreichsten Musikers der Country Music. Sie enthält nicht nur all seine Capitol-Aufnahmen von 1946 bis 1955, die Zeit seiner größten Erfolge, sondern auch die unglaublich seltenen Aufnahmen, die Merle Travis für King, Bel-Tone und andere kleine Labels, einige davon unter Pseudonymen wie Tem Martin und the Shepherd Brothers, aufgenommen hat. Die berühmte Travis-Gitarre dominiert auf den seltenen, puren Gitarrenalben. Als Gitarrist machte er das Picking mit Daumen und Finger zu einem der meistbenutzten Gitarrenstile in der Country Music. Er lernte diese Technik in den Kohlengruben seiner Heimat Muhlenberg County in Kentucky. Chet Atkins, sein erster Schüler, gab einmal zu, dass er wahrscheinlich 'Bauer geworden wäre', hätte es Travis nicht gegeben. Damit stand er nicht allein. Jerry Reed, Doc Watson, Paul Yandell, Scotty Moore, Eddie Cochran und Duanne Eddy waren alle von Merle Travis inspiriert, und Marty Stuart bezeichnet ihn als seinen größten Einfluss. Zu den hier vertretenen Hits zählen u.a. Divorce Me COD, Steel Guitar Rag, No Vacancy und Cincinnati Lou. Wie immer steckt auch hier die wahre Geschichte in den seltenen Singles, den Albumtiteln und den unveröffentlichten Aufnahmen, bei denen Merle Travis' Gitarre und sein gewinnender Humor stets im Mittelpunkt stehen. Den CDs liegt ein 80-seitiges Buch mit vielen seltenen Fotos bei. Einige davon stammen von zwei Aufnahmesessions für Capitol. Autor Rich Kienzle beschreibt in seinem Begleittext die komplexe Persönlichkeit von Travis. Das Buch beinhaltet zudem eine Diskografie und die kompletten Aufnahmedaten. Die wahre Größe von Merle Travis ließ sich bisher nur an einzelnen Alben oder Zusammenstellungen erahnen. Diese Bear Family-Box zeigt zum ersten Mal den gesamten Merle Travis zu seiner besten Zeit. Ein Fest für jeden Fan der Finger-Style Gitarre.
Artikeleigenschaften von

Merle Travis: Guitar Rags And A Too Fast Past (5-CD)
Albumtitel:

Guitar Rags And A Too Fast Past (5-CD)

Genre

Country

Edition 2

Deluxe Edition

Preiscode

EI

Artikelart

Box set

EAN:

4000127156372

Gewicht in Kg:

1.5
Travis, Merle - Guitar Rags And A Too Fast Past (5-CD)

Box set 1
01
The Steppin' Out Kind (SHEPPARD BROS)
02
When Mussolini Laid His Pistol Down(McCARTHY)
03
Two Time Annie (BOB McCARTHY)
04
What Will I Do
05
So Long, Farewell, Goodbye (& GRANDPA JONES)
06
God Put A Rainbow In The Clouds (& W. TUTTLE)
07
It May Be Too Late (& WESLEY TUTTLE)
08
Be On Your Way (& WESLEY TUTTLE)
09
Rainin' On The Mountains (& WESLEY TUTTLE)
10
Give Me Your Hand (& WESLEY TUTTLE)
11
Out On The Open Range (& W.TUTTLE & S.FISHER)
12
Ridin' Down To Santa Fe (SHUG FISHER)
13
Hominy Grits
14
I Used To Work In Chicago (& TIN EAR TANNER)
15
Boogie Woogie Boy (PORKY FREEMAN TRIO)
16
Boogie Woogie Boy (alt.) (PORKY FREEMAN TRIO)
17
Merle's Buck Dance (& HANK PENNY)
18
Steel Guitar Stomp (& HANK PENNY)
19
That's All
20
I Used To Work In Chicago (DUSTY WARD)
21
I'm All Thru Trusting You (DUSTY WARD)
22
Weary Lonesome Me
23
No Vacancy
24
Cincinnati Lou
25
Two Is A Couple (And Three Is A Crowd)
26
What A Shame
27
T For Texas (Blue Yodel #1)
Travis, Merle - Guitar Rags And A Too Fast Past (5-CD)

Box set 2
01
Divorce Me C.O.D.
02
A Fool At The Steering Wheel
03
Nine Pound Hammer
04
Sixteen Tons (false start)
05
Sixteen Tons
06
Dark As A Dungeon
07
Over By Number Nine
08
That's All
09
John Henry
10
Muskrat
11
I Am A Pilgrim
12
This World Is Not My Home
13
The Covered Wagon Rolled...(& JOHNNY MERCER)
14
Oh Why, Oh Why Did I Ever...(& JERRY COLONNA)
15
A Little Too Fer
16
When Rosie Riccoola Do The...(&JERRY COLONNA)
17
Steel Guitar Rag (alt)
18
Honey Bunch (alt)
19
Sweet Temptation/Don't Hang Me That Old Line
20
Steel Guitar Rag/Honey Bunch
21
So Round! So Firm! So Fully Packed!
22
Alimony Bound
23
Follow Thru
24
Three Times Seven
25
I'm Sick And Tired Of You, Little Darling
Travis, Merle - Guitar Rags And A Too Fast Past (5-CD)

Box set 3
01
The Devil To Pay
02
Steel Guitar Rag
03
Lawdy, What A Gal
04
Sioux City Sue
05
Muskrat
06
Fat Gal (false start)
07
Fat Gal
08
I Like My Chicken Fryin' Size
09
Merle's Boogie Woogie (alt.)
10
Merle's Boogie Woogie
11
Dapper Dan
12
When My Baby Double Talks To Me
13
I'm Pickin' Up The Pieces Of My Heart
14
Information Please
15
Any Old Time
16
Kentucky Means Paradise
17
Leave My Honey Bee Alone
18
I'm A Natural Born Gamblin' Man
19
Get Along Blues
20
A Too Fast Past
21
Crazy Boogie
22
You Better Try Another Man
23
Deck Of Cards
24
Wabash Cannon Ball (& KAY STARR)
25
Blues Stay Away From Me
26
Philosophy
27
I Got A Mean Old Woman
Travis, Merle - Guitar Rags And A Too Fast Past (5-CD)

Box set 4
01
Petticoat Fever
02
Start Even
03
Guitar Rag
04
Cane Bottom Chair
05
I'm Knee Deep In Trouble
06
Little Miss Sherlock Holmes
07
Too Much Sugar For A Dime (& BROWN & HAYDEN)
08
Spoonin' Moon (& GEORGIA BROWN & JUDY HAYDEN)
09
Trouble, Trouble (& THE WHIPPOORWILLS)
10
El Reno (& GEORGIA BROWN & JUDY HAYDEN)
11
Won't Cha Be My Baby
12
Dry Bread/Lost John Boogie (& WHIPPOORWILLS)
13
Deep South (& THE WHIPPOORWILLS)
14
Boogie In Minor (& THE WHIPPOORWILLS)
15
Let's Settle Down(&WHIPPOORWILLS)/Done Rovin'
16
Faithful Fool/Love Must Be Ketchin'
17
Kinfolks In Carolina
18
Kinfolks In Carolina
19
Rainy Day Feelin'
20
A Too Fast Past
21
Knee Deep In Trouble
22
Ain't That A Cryin' Shame
23
I'll See You In My Dreams
24
Cannon Ball Rag
25
I'll Have Myself A Ball
26
Bayou Baby (A Cajun Lullaby)
27
Green Cheese
Travis, Merle - Guitar Rags And A Too Fast Past (5-CD)

Box set 5
01
Guitar Rag
02
Saturday Night Shuffle
03
The Waltz You Saved For Me
04
Crazy 'Bout You
05
Re-Enlistment Blues
06
Dance Of The Golden Rod
07
Gambler's Guitar
08
Shut Up And Drink Your Beer
09
Seminole Drag
10
Jolie Fille (Pretty Girl)
11
I Can't Afford The Coffee
12
Blue Bell
13
Memphis Blues
14
The Sheik Of Araby
15
On A Bicycle Built For Two (Daisy Belle)
16
Black Diamond Blues
17
Blue Smoke (remake)
18
Walking The Strings
19
Saturday Night Shuffle
20
Sleepy Time Gal
21
Tuck Me To Sleep In My Old 'Tucky Home
22
Rockabye Rock
23
Bugle Call Rag
24
Cuddle Up A Little Closer, Lovey Mine
25
Beer Barrel Polka
26
Turn My Picture Upside Down
27
If You Want It, I've Got It
28
Lazy River
29
Hunky Dory
Merle Travis Geb. 29. 11. 1917 in Rosewood - Kentucky Gest. 20. 10. 1983 Record Labels:...
mehr
"Merle Travis"
Merle Travis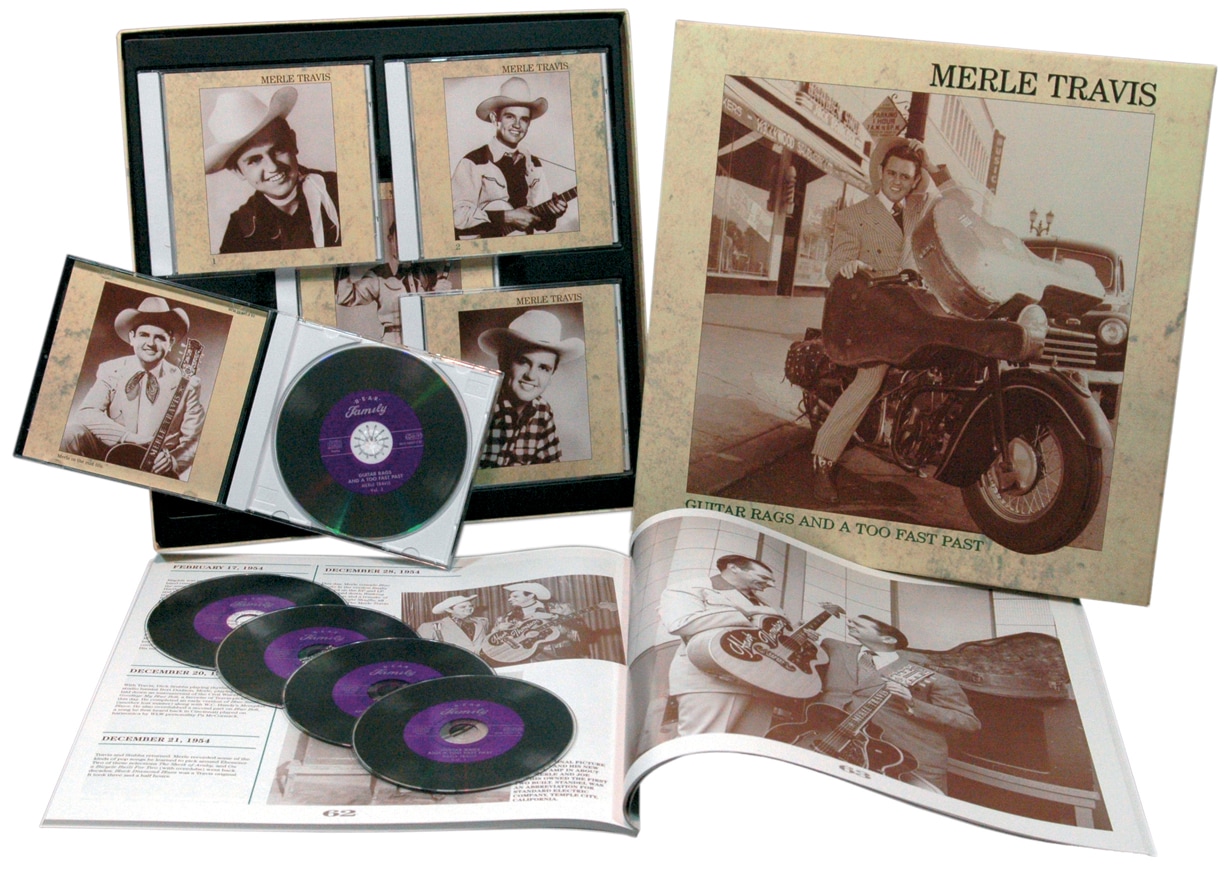 Geb. 29. 11. 1917 in Rosewood - Kentucky
Gest. 20. 10. 1983
Record Labels: Capitol, Pickwick, RCA, CMH, Stetson
Erster Top Ten Hit: Cincinnati Lou (1946)

Merle Travis, Songwriter, Sänger und Gitarrenstilist, erlernte das Gitarrenspiel von Mose Rager, der wiederum von dem farbigen Gitarristen und Eisenbahnarbeiter Arnold Shultz beeinflusst worden war. Auf dieser Grundlage entwickelte Travis im Laufe der Zeit einen jumpenden Finger-Picking-Stil, wie man ihn bis dahin noch nicht gehört hatte. Damit wurde er zum Vorbild für Chet Atkins und viele andere Gitarristen, die alle diesen Stil pflegten und sogar weiterentwickelten.

Merle Travis spielte in zahl- reichen Bands, darunter die Tennessee Tomcats", die "Brown's Ferry Four", die "Drifting Pioneers" und "Clayton McMichen's Georgia Wildcats". Daneben war er immer ein gefragter Sessionmann, der bei sehr vielen Schallplatten- aufnahmen mit dabei war, zum Beispiel spielte er bei den Aufnahmen von Grandpa Jones oft eine wichtige Rolle. An der Westküste schloss sich Merle Travis den Bands von Cliffie Stone, Ray Whitley, Jimmy Wakely, Wesley Tuttle und Tex Ritter an und spielte in dem Film "Verdammt In Alle Ewigkeit" in der Rolle eines G.I.s den "Re-Enlistment Blues". Als Komponist war er verantwortlich für eine ganze Reihe großer Hits, darunter "Dark As A Dungeon" und "Sixteen Tons", beides Bergarbeitersongs und Jugenderinnerungen von Travis, der aus dem berüchtigten Muhlenberg County in Kentucky stammt.

Die eigenen Versionen seiner Songs, mit denen er Mitte der 40er Jahre Erfolg hatte, sind heute gesuchte Sammlerstücke. Viele davon hat er später auf dem CMH-Label, teilweise zusammen mit seinem Freund Joe Maphis, noch einmal aufgenommen. Die Eleganz der frühen Versionen wurde jedoch nie mehr erreicht."
Merle Travis Folksongs Of The Hills
Read more at: https://www.bear-family.com/travis-merle-folksongs-of-the-hills.html
Copyright © Bear Family Records
Bewertungen lesen, schreiben und diskutieren...
mehr
Kundenbewertungen für "Guitar Rags And A Too Fast Past (5-CD)"
Von:
COURTIAL
Am:
11.06.2014
very good music as I expected, but first CD of the box is defective ; the last tracks of this first CD, from track 24, have more and more parasite sounds, and can't be heard at all for the 4 latest ones
Bewertung schreiben
Bewertungen werden nach Überprüfung freigeschaltet.
Weitere Artikel von Merle Travis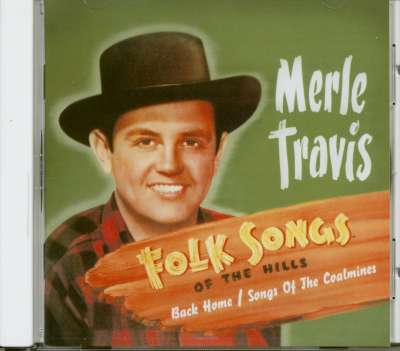 Merle Travis: Folksongs Of The Hills: Back Home - Songs Of...
Art-Nr.: BCD15636


Sofort versandfertig, Lieferzeit** 1-3 Werktage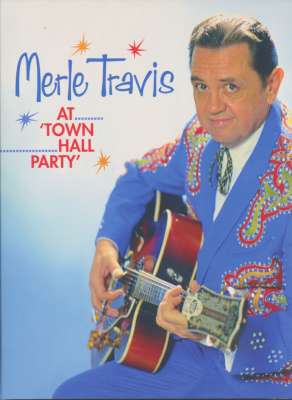 Merle Travis: Merle Travis At Town Hall Party (DVD)
Art-Nr.: BVD20008


Sofort versandfertig, Lieferzeit** 1-3 Werktage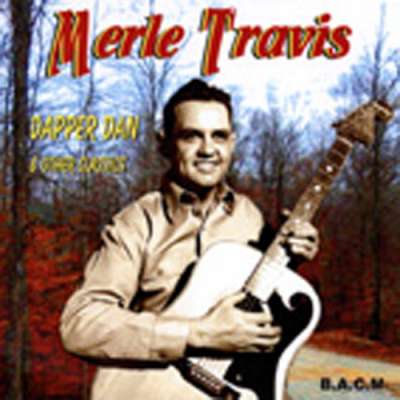 Merle Travis: Dapper Dan 1946-56
Art-Nr.: CDD253


Artikel muss bestellt werden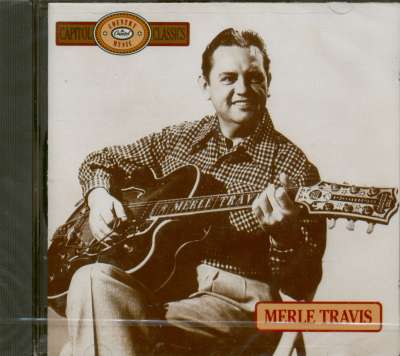 Merle Travis: Capitol Country Music Classics Series (CD)
Art-Nr.: CDP780676


Sofort versandfertig, Lieferzeit** 1-3 Werktage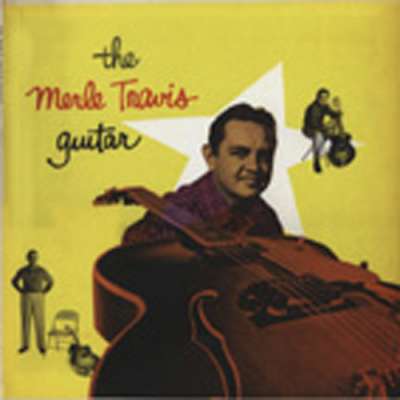 TRAVIS, Merle: The Merle Travis Guitar...plus
Art-Nr.: CDPSALM2302


Artikel muss bestellt werden