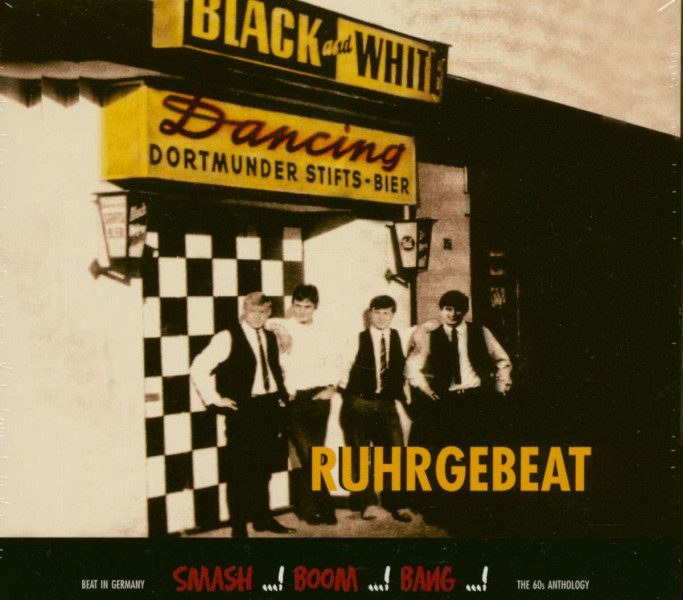 Beat in Deutschland, die 60er Jahre - Die Ruhrgebeat Szene - BCD 16474 AR
von Hans-Jürgen Klitsch
Teil 5
THE NEWCOMERS
Jürgen Triebel reklamiert für sich, den Underground und die eher intellektuellere Musik im Umfeld von Frank Zappa schon ganz früh entdeckt und dies auch entsprechend provozierend kundgetan zu haben. Musikalisch aber war die Band, in der er den Sänger machte, eher konventionell gestrickt und durch die feinsinnige Beatlesmusik geprägt - wenigstens war sie es, nachdem sie ihre Lehrjahre absolviert hatte. Ulrich Wietz: "Jürgen Triebel war ein Frontman, eher extrovertiert, und darum genau der richtige Sänger. Musikalisch war ich, ohne jetzt unbescheiden klingen zu wollen, der Kopf." Schließlich hatte Wietz seit dem 10. Lebensjahr Klavierunterricht erhalten, bevor er so nebenbei mit 14 zur Gitarre griff. Ulrich Wietz: "Das war aber autodidaktisch." Heute ist er Leiter der Städtischen Musikschulen in Mülheim/Ruhr.
Vor den Newcomers gab es 1964 ein paar Schülerbands, alle am Staatlichen Gymnasium Oberhausen, bevor dann mit Ulrich 'Uli' Wietz, Sologitarre, Gesang, Schüler, Albert Reith, Bass, Gesang, Schlosserlehrling, Peter 'Pitta' Meiners, Schlagzeug, Schüler, Günter Freikamp, Rhythmusgitarre, Gesang, Geselle, und Jürgen Triebel, Gesang, und gelegentlich die Orgel befingernd, Schüler, The Newcomers entstanden. Ulrich Wietz: "Wir hatten vorher einen anderen Namen, ich weiß nicht mehr welchen, aber 1965 wurden wir The Newcomers." Den Namen hatte Wietz' ältere Schwester Christa vorgeschlagen, die als Au-Pair-Mädchen in England gewesen war. Die Jungs waren alle so um die 17, als sie die Band gründeten, allein Freikamp war ein wenig älter. Ulrich Wietz: "Günter Freikamp hat sich um die Band außerordentlich verdient gemacht. Er hatte ein wenig Geld gespart, und so finanzierte er unsere Anlage. Die vorgestreckten Gelder hat er dann mit eiserner Hand von der Gage eingetrieben. Das war auch richtig so."
Wegen ihrer Beatles-Ausrichtung wurden sie auch als die 'Oberhausener Beatles' bekannt. Ulrich Wietz: "50 Prozent unserer Nummern waren Beatles-Stücke, später spielten wir dann Bee-Gees-Sachen, ein paar Animals-Stücke, ein paar Stones, was man eben so bringen mußte." Die Band traute sich sogar, Yellow Submarine live zu bringen - mit allen Geräuschen und Effekten, und "es gelang ihr prächtig, Blasmusik, Meeresrauschen und Möwengeschrei zu improvisieren" (General Anzeiger, 12. September 1966). Der Chronist hält fest, daß zum damaligen Newcomers-Set auch Folksongs gehörten. Ulrich Wietz: "Aber keine Beach Boys, die Nummern lagen uns stimmlich zu hoch." Gisela And The Spirits hatten da weniger Skrupel. Ulrich Wietz: "Aber wir fanden uns besser!"
In der Stadthalle Mülheim veranstaltete die Junge Union am Sonntagmorgen Beatkonzerte, und da traten dann The Newcomers gegen die Mülheimer Lokalgrößen The New an. In der Duisburger Mercatorhalle brachten sie den Saal zum Kochen. Die Gaststätte Hackfort in Dinslaken war regelmäßig ausverkauft, wenn das Quintett antrat. Beim Oberhausener Beatfestival am 14. Mai 1966 im Kaiserhof, Oberhausen-Sterkrade, hatten die Newcomers den 1. Platz belegt, und als Sieger waren sie eingeladen worden, im August im Kölner Ariola-Studio Plattenaufnahmen zu machen. Es war für eine dieser Billig-LPs mit Cover-Versionen bekannter Hits. Ihre vier Stücke fanden sich kurze Zeit später auf der LP 'Beat Beat Beat' wieder - zur Zierde des Samplers. Der Sieg in Oberhausen bedeutet gleichzeitig die Qualifikation für die deutschen Beatmeisterschaften, ausgetragen am 26. Dezember 1967 in Saarbrücken. Die Band kam auf Platz 3 hinter den Siegern The Beatniks (Schleswig) und The Wallflowers (Trier). Von nun an zierte der Zusatz 'Deutschlands Beatband Nr. 3' die Newcomers-Plakate. Ulrich Wietz: "Natürlich wollten wir damit suggerieren: Nr. 3 hinter Lords und Rattles."
Mittlerweile hatten sich die Newcomers einen Manager namens Hegemann zugelegt, der rührig bemüht war, der Band weiter nach vorn zu helfen. So traten sie in Dieter Pröttels 'Talentschuppen' live im Fernsehen auf und wurden von der CBS für eine Schallplattenaufnahme vorgesehen. Triebel und Wietz drängten darauf, daß die Band sich vom reinen Nachspielen löste und eigenes Material präsentierte. Und tatsächlich, es waren zwei Eigenkompositionen, die sie in den Walldorf-Studios einspielten. Auf der Aufnahme ist bereits Ulrich Reek (Gitarre und Baß) zu hören, der kurz vorher Günter Freikamp ersetzt hatte.
Ulrich Wietz: "Produzent der beiden Single-Songs war ein Holländer, ich erinnere mich nicht an seinen Namen, aber wir waren ziemlich sauer auf ihn, weil er bei 'You And Me' das Ende versaute. Wir hatten ein sauberes Finale für die Nummer gefunden, Schlußakkord auf der Eins. Als dann die Platte rauskam, entdeckten wir, daß er noch zweimal mit dem Schellenkranz dahinter gehauen hatte." Wie beim Um-ta-ta! "Das hat uns wahnsinnig geärgert."
Anschließend durften sie bei Ilja Richter in '4-3-2-1 Hot and Sweet' auftreten, die Anmoderation machte Richter am Klavier. Dann gingen sie zusammen mit Barry Ryan und The Marbles auf Tournee. Bei der Europawelle Saar waren Triebel und Wietz Manfred Sexauers Interviewgäste. Ulrich Wietz: "Das war ein Süßer. Aber er war locker, und das ganze fand in entspannter und fröhlicher Stimmung statt. Seine Fragen waren humorvoll - es hat Spaß gemacht."
Die Band war durch die drei Schüler intellektuell geprägt. Jürgen Triebels Mutter war die Schauspielerin Eva Triebel. So macht es doppelt Sinn, daß sie mit Peter Handke zusammenkamen - selbst ein überzeugter Beat-Fan – um ihn im Rahmen eines 'Beatings' musikalisch im Oberhausener Theater zu begleiten. Neben einer Lesung der Autoren Uwe Herms und Peter Handke wurde sein Einakter 'Weissagung' aufgeführt, und die Newcomers musizierten dazu. Mit diesem Konzept gingen sie auch auf Reisen und präsentierten es im Forum Theater, Berlin. Jürgen Triebel: "Handkes kurze Sätze waren ja wie Texte für Songs, Beatsprache sozusagen." Der Kulturkritiker Werner Tamms schloß seine Rezension in der 'Westfälischen Allgemeinen Zeitung' am 24. Oktober 1966 mit dem Satz: "Die sogenannten 'Newcomers', Beatles wie der Autor, vollführten einen Lärm, bei dem einem angst und bange wurde."
Auch an das bereits erwähnte 'Beating Nr. 1' erinnert sich Ulrich Wietz äußerst positiv: "Das war schon etwas ganz Besonderes, dort auf der Drehbühne. Die Bands haben, glaube ich, abwechselnd eine Viertelstunde gespielt."
Ende 1968 gaben sich die Newcomers einen neuen Namen: Count Down. Nun machten sie sich an progressivere Klangwelten, obgleich zumindest die A-Seite der Polydor-Single Georgia/Alexandrina (The Great) eine reichliche Schnulze ist. Triebel versuchte sich später als Solosänger, bevor er beim WDR anheuerte und an der Seite von Jürgen von der Lippe mit dem 'WWF-Club' zu Ehren kam.
Diskographische Angaben
1966
'Beat Parade 1966' LP: Hansa 74 999 ZT
Paperback Writer/Pretty Flamingo/Nowhere Man/Sunny Afternoon
1967
'Beat Beat Beat' LP: Gong 74 999
Paperback Writer/Pretty Flamingo/Nowhere Man/Sunny Afternoon
You And Me/Have You Seen My Baby CBS 3282
'Beat Of The Groups' LP: S*R International 92 382
Pretty Flamingo (als: Newcomer)
1968
Georgia/Alexandrina (als: Countdown) Polydor 53 110

THE RICKETS
1966 war das Jahr der 'Weissagung', ein von Peter Handke (Autor der Gruppe 47) konzipiertes, avantgardistisches Bühnenspektakel mit Röcheln und Stöhnen, aus einer Aneinanderreihung von Sprichwörtern bestehendem Text und Performance. The Rickets waren dabei, abwechselnd mit The Newcomers – um den musikalischen Teppich zu legen. Da waren sie schon aus Buddy Hollys Anzug herausgewachsen. Im Jahre 1960 hatten sie, The Buddies aus Bottrop, diesen noch etwas stramm sitzenden Anzug anprobiert - Dieter Köster, der Schlagzeuger, Hans J. Million, der Melodiegitarrist, René de Jong und Ernst Krichel, Rhythmusgitarren, Wolfgang Müsken, der Mann am Klavier, sowie Diether Thelen, der Vorsänger. Dem Sound fehlte noch ein wenig die Tiefe, denn einen Bassisten hatten sie nicht auftreiben können.
Bald wurden de Jong, Million und Müskens in die Wüste geschickt und Roland Hirsch, Rhythmusgitarre und Hintergrundgesang, und Karl Prudel, Melodiegitarre, an Bord geholt. Ernst Krichel bekam eine Baßgitarre verpaßt – basta! Und ein neuer Name sollte her, aber bitte, voll auf dem Holly-Trip… The Crickets, "nee", The Rickets, "dat is et, Jungs!"
Hans Beukenburg in Gelsenkirchen hatte eine Tasche mit Geld auszugeben, und deshalb erwarb er die Geräte für ein Tonstudio, und hussa! Auf ging's, Spulen aufgelegt und Beatgruppe her! Die German Blue Flames hatten eine Nasenspitze Vorsprung, dann kamen The Rickets. Was für ein Meisterwerk lieferten sie ab! Rickets Special, ein Griff in die Mottenkiste. Die B-Seite, My Dear, mit Thelen zum ersten Mal am Saxophon. Ernst Krichel: "Der wußte gar nicht, daß es Harmoniewechsel gab. Der hat die ganze Nummer in einer Harmonie durchgespielt. Das haben wir selber gar nicht mehr festgestellt, weil wir die Nummer so oft wiederholt hatten. Als die Platte dann fertig war, fiel uns das auf, und wir haben ihn darauf angesprochen. Seine Antwort war: Na und? Weiß ich doch nicht! Die 250 Stück von der Single haben wir dann bei unseren Konzerten verkauft. Wir waren froh, als die alle waren! Wir hatten nämlich festgestellt, daß die Musik Kappes war. Wir entwickelten uns ja wahnsinnig schnell zu der Zeit."
Im Ruhrgebiet tummelten sich die Bands, im Dutzend um jeden Quadratmeter Bühne rangelnd. Die Rickets kaprizierten sich folgerichtig auf die Regionen jenseits des Ruhr- und Emscherschnellwegs. Ernst Krichel: "In Richtung Norden und im norddeutschen Raum waren wir populärer als zu Hause. Wir haben bestimmt drei- bis viermal jede Woche gespielt. Und wir wußten oft gar nicht, wo wir waren. Dann fragte mal jemand: Wo sind wir eigentlich? Und bekam als Antwort: Rüsselsdorf. - Ach so, dann weiß ich Bescheid. Rüsselsdorf war so ein fiktiver Name, den wir uns ausgedacht hatten."
Schnell hatten die Rickets gemerkt, daß die härtesten Beatbands die meiste Publicity bekamen, darum drehten sie tüchtig an den Justierschrauben und stellten den Motor auf Pretty Things und The Yardbirds ein! Ernst Krichel: "Mich würde heute mal interessieren, wie gut wir wirklich waren. Wir hatten ja nie die Möglichkeit, das zu überprüfen. Wir bauten auf, gingen raus und gaben unser Bestes. Ansonsten zogen wir uns in den Übungskeller zurück, um an unserem Repertoire zu arbeiten. So richtig objektive Vergleiche gab es ja nicht. Man fragt sich im Nachhinein, hat man wirklich etwas geboten oder ist man einfach von der Woge getragen worden? Eigentlich war immer die Frage, wo ist der große Sänger, wo ist der große Show-Mann? Diether Thelen war ein hervorragender Frontmann, der das Publikum ansprechen konnte. Selbst Mick Jagger war in den Mittsechzigern ja nicht der große Sänger, obwohl er schon außergewöhnlich phrasierte und intonierte, aber er war eben ein begnadeter Entertainer. Und genau das wollten die Leute. Auf dieser Schiene lag auch Diether, dem natürlich auch mal was in die Hose ging. In der Stadthalle Coesfeld wirbelte er das Mikrophon am längeren Kabel über seinem Kopf herum, und irgendwie hat er da einen Knoten in die Hände bekommen, und das Mikrophonkabel wickelte ihn ein wie einen Rollbraten. Von dem Schwung war das so stramm, daß wir ihm helfen mußten. Die Who und deren Bühnenshow war ja auch ganz groß in Mode gekommen. Und da die immer ihre Anlage zerschlugen, dabei so Funkeneffekte lieferten, als ob die Kabel blank gescheuert waren, kam uns die Idee, als Showeinlage einen elektrischen Stromschlag vorzutäuschen. Ich wurde ausgeguckt. Als Organist war gerade Wolfgang Müsken [wieder] bei uns eingestiegen, leider hatten wir vergessen, ihm von unserem Plan zu erzählen. 'Alles klar?' Riesenaction auf der Bühne, nun war meine Einlage dran. Die Elektroschocknummer! Müsken sieht mich, wie ich auf den Boden falle und zu zittern beginne, läßt seine Orgel Orgel sein, läuft zum Hauptstecker und zieht alles raus! Mit einem Schlag - Totenstille!"
1966 gibt es wieder mal neue Rickets: Prudel, das Mädchen für alles, besetzt den Schlagzeugstuhl, Jürgen Grescesik übernimmt die Melodiegitarre und ein weiteres Saxophon. Wolfgang Müsken, Diether Thelen, Ernst Krichel und Roland Hirsch bleiben. Das Management der Rickets hatte Carsten Helmke aus Bottrop übernommen, und der machte die Sache ziemlich professionell, im Gegensatz zu den meisten Laiendarstellern in diesem Job. Später kamen dann Pit Frey und Udo Heinze, die auch die German Blue Flames und Percy And The Gaolbirds vertraten. Das waren dann richtige Vollprofis, 1. Liga sozusagen. Frey und Heinze brachten die Band auch in das 'Beating No. 1' (siehe oben) und auf eine 'Beat und Prosa'-Tournee mit dem Schriftsteller Peter Handke. Dann verbeateten die Rickets Kinderlieder und spielten als Beatband die moderne Version von 'Kiss Me Kate' unter dem Regisseur Günter Büch an den Städtischen Bühnen Oberhausen. Das firmierte unter 'Beating Nr. 3'. Ja, kulturell war Oberhausen 1966 und 1967 überaus progressiv. Büch ließ die Band fünf Titel erarbeiten, die sie mit dem musikalischen Leiter des Musicals unter Vorlage der Noten einstudierten. Die Beatadaptionen stammten von den Rickets selbst. Zu Beginn des Musicals kam die Band musizierend aus dem Orchestergraben auf die Bühne. Dort wurde sie in das Szenario integriert. In den Pausen sang Jürgen Triebel (The Newcomers) Cole-Porter-Songs mit Orchesterbegleitung. 56 Mal durften die Rickets Cole Porters Musical auf moderne Weise interpretieren. Die Kulturämter zahlten deutlich bessere Gagen als die Jugendämter, und so fanden sich The Rickets bald mehr auf den Feuilleton-Seiten der Zeitungen als in den Regionalseiten.
The Rickets hatten einen Ausrüstungsvertrag mit Blackfield Music in Gladbeck. Eine vollständige Anlage stand da auf der Bühne, und vertraglich war fixiert worden, die Anlage mußte auch benutzt werden. Ernst Krichel: "Die Dinger waren riesengroß, nur... da kam nichts raus! Unsere Gitarristen gingen dann her und haben sich Vox-Verstärker dahinter gestellt. Im Burger Landhaus fiel das letztendlich auf. Da kam es zu einem Prozeß, den wir verloren. Am Anfang waren wir froh gewesen, diesen Ausrüstungsvertrag zu haben, am Ende waren wir dann glücklich, daß wir den wieder los waren."
1967 waren The Rickets mit Drafi Deutscher in einer Soulbesetzung unterwegs. Jürgen Grescesik, Dieter Thelen und Erich Kaluza spielten die Saxophone, Peter Kisters legte noch einen Orgelteppich darunter. Roland Hirsch war an die Sologitarre gewechselt, Ernst Krichel, Bass, und Dieter Köster, Schlagzeug, waren ganz die alten. Aber in der Band begann es zu bröckeln. Für eine LP 'Wir im Scheinwerfer' wurden noch fünf Titel eingespielt, und mit Drafi landete man in Berlin. Aber da war die Band meistens auf sich gestellt und wollte eigentlich gar nicht mehr.
Als die Band sich aufgelöst hatte, zerrten noch einige Musiker an dem Namen herum, mit neuen Besetzungen. The Rickets konkurrierten mit The Ricketts, und die wiederum standen im Wettbewerb mit The New Rickets. Thelen versuchte sich als Schlagersänger, und heraus kam Marc André. The Ricketts gingen ein letztes Mal ins Studio, doch kommerzieller Erfolg blieb ihnen versagt. 1971 wurde die wichtigste Seite Bottroper Beatgeschichte geschlossen.
Diskographische Angaben
1964
My Dear/Rickets Special Format 002, 1964
1969 (als Ricketts)
'Wir im Scheinwerfer' LP: Resono 13003
How Long/My Life/Purple Haze/Action Painting/Heidi-Ho (plus: Proud Flesh und Concentric Movement)
1971
Land Of Rainbow/Weekend Deutsche Vogue DV 11180
Hey Hey Remember/I Stay Myself BASF 05-11537-7

THE RAG DOLLS
Als Christel Hermann und ihre beste Freundin Renate 'Dixie' Wassermeir die Liverbirds auf der Bühne erlebten, waren sie hin und weg - und sie wußten: "sowas wollen wir auch machen!" Nun waren die Liverbirds ja wirklich etwas Besonderes. In einem von Jungs dominierten Geschäft hielten sie sich wacker, die vier Mädels aus Liverpool. Pamela Birch mit ihrer rauchigen Stimme und diesem viel versprechenden Wippen in den Knien traute man alles zu. Das war so eine Frau, die grundsätzlich oben lag. Dann Valerie Gall mit der kecken Sologitarre, immer mittig zwischen Bo Diddley und Chuck Berry. Am Schlagzeug ein Energiebündel, Sylvia Saunders, breit lächelnd, und einen geraden Beat klopfend, aber mit Wumms. Die Bassdrum allerdings war nur Zierde. An der Baßgitarre die kleine Zierliche, der man ansah, daß sie eigentlich Nonne werden sollte – Mary McGlory, heute Frau Dostal.
Nun waren auch The Dollies und The Mission Belles als Mädchenbands durch Deutschland getourt, aber gegen die Liverbirds waren sie ein laues Lüftchen. Letztere hatten in Hamburg Fuß gefaßt, waren durch den Vertrag mit dem Star-Club immer präsent und durch die Star-Club-Records-Veröffentlichungen in vielen Jugendzimmern auf den Plattentellern. Sie inspirierten eine Reihe von Mädchen, und so hatten wir bald The Beat Hearts, Pitty And The Beatchicks, Mandy And Her Girlfriends, The Ruby Rats, The Honeys, The Lightnings und The Ruby Rats. Ja, und The Rag Dolls.
Als die Single der Rag Dolls (unter dem Namen Rag Doll's) auf den Markt kam, da rissen sie ihnen die Kunden zwar nicht aus den Händen, aber die wenigen, die ein Exemplar erstanden oder aufs Auge gedrückt bekamen, warf es aus den Sesseln. Sie hörten eine Band, der es tatsächlich gelungen war, den Bo-Diddley-Beat weiter zu simplifizieren. Und bitte, das war kein Gag, wie wir ihn von Frank Zappa gelegentlich dargereicht bekamen, aus den Rillen sprachen Ernst und Aufrichtigkeit. Mit ihrer Platte hatten die Rag Dolls den Endsiebziger-Punk vorweggenommen. Aber das war ihnen, logisch, nicht bewußt.
The Rag Dolls kamen aus Duisburg: Renate 'Dixie' Wassermeir (†), Schlagzeug, Marianne Orlowski, Sologitarre, Hilde 'Hilla' Pantenburg, Rhythmusgitarre, und Rita Fontein, Baß. Eigentlich sollte Christel Hermann den Baß – von den Duisburger Swinging Scouts preiswert erworben - spielen, aber Friedhelm Misiejuk, ihr späterer Ehemann, war zu eifersüchtig, um derartiges ohne Widerstand zu erlauben. Die Rolle der Frau war damals klar fixiert – so strich Christel die Segel bei den Rag Dolls, und aus war es mit den Baßgitarrestunden beim befreundeten Baßgitarristen. Der Schlagzeugerin Dixie Wassermeir hatte Misiejuk sein altes Schlagzeug verkauft - und ihr Unterricht zu erteilen, war ihm Ehrensache.

Als Marianne Orlowski 1967 die Rag Dolls verließ, suchte man per Inserat nach Ersatz, Orgel oder Sologitarre müsse die neue Beaterin können, doch gefunden hat sich niemand. So erledigten sich die Lumpenpuppen.
Es ist heute nicht mehr herauszufinden, wie es zur Plattenproduktion kam. Auch Bildmaterial von der Band zu bekommen, ist unmöglich, denn der einzige Kontakt zu den ehemaligen Musikerinnen, eine Mutter, erwies sich als verschlossen und geradezu furchtsam, es könne etwas Negatives über ihre Tochter publiziert werden. Selbst die Teilnahme der Rag Dolls (angekündigt als Reg Dolls) beim 'Beating Nr. 1' hat keine Spuren hinterlassen - Fotomaterial ist nicht zu beschaffen.
Interessant, daß sich 1967 ein Kreis schloß; denn als die Liverbirds auf Japantournee gingen, vertrat Renate Wassermeir die schwangere Sylvia Saunders. Es war die Abschiedstournee der Liverbirds, nur wußten sie es noch nicht, als sie mit dem Flugzeug gen Osten starteten.
Diskographische Angaben
1966
Yakety Yak/He Has Gone Beat Records 05 125

THE STARFIGHTERS
Die Band aus Essen streckte sich schon 1960 nach der Decke, denn neben einem Skiffle-Repertoire hielten sie zusätzlich ein wenig Jazz bereit, um auch in die einschlägigen Jazz-Clubs gebucht zu werden. Das machte sich positiv auf der Einnahmenseite bemerkbar. The Starfighters Skiffle Group stand im Ruhrpott in Konkurrenz zu den Export Bakers und Railways Skiffle Group (die 1961 Landesmeister im Skiffle wurde).
Lutz Stoekius: "Wir haben uns schnell ein Schlagzeug zugelegt, denn unsere Vorbilder waren eh Lonnie Donegan und The Vipers Skiffle Group, und die hatten ja ein Schlagzeug. Hier im Pott kriegten wir dann den Ruf, keine richtige Skiffle Group mehr zu sein. Aber unserem Washboarder war das zu blöd, auf dem Ding 'rumzuschrubben, und so hat er sich ein Schlagzeug zugelegt. Da konnten wir auch Tanzmusik spielen, und man bekam mehr Veranstaltungen, auf denen man spielen konnte."
Die Setlist der Starfighters Skiffle Group las sich wie ein dadaistisches Gedicht: Lost John, My Old Man's A Dustman, Stagger-Lee, Battle Of New Orleans, Basin Street Blues, Das Wolgalied, Am Sonntag will mein Süßer mit mir Segeln gehen, Auf der schwäb'schen Eisenbahne und Schlaf, Kindlein, schlaf. Eine recht seltsame Mischung, wie man gestehen muß, aber typisch für die Zeit, da in etwa jeder Geschmack abgedeckt werden mußte. Lutz Stoeckius: "Womit sollte man denn anfangen, außer Skiffle?! Am Anfang kannte ich nur zwei Griffe auf der Gitarre, oder drei, aber damit konnte man schon Skiffle spielen! So wie die Beatles, mit sechs oder sieben Harmonien, das kam doch erst später."
The Starfighters 1961 bestanden aus Michael Conrad, Teekistenbaß, Manfred Menne, Waschbrett, Schlagzeug, Manfred Menz, Gitarre, Klaus Schmidt, Lutz 'Jimmy' Stoeckius, Banjo, und Uwe Thoden, akustische Gitarre. Gerd Dorbandt, Baß, und Hans-Martin Clauss, waren zu diesem Zeitpunkt bereits ausgestiegen. Die Band erarbeitete sich schnell den Ruf, eine gute Wahl bei Tanzveranstaltungen zu sein, da sie variabel im Sound, in der Auswahl des Liedmaterials und bei der Besetzung war. Wenn es Sinn machte, spielten sie auch zu dritt: Lutz Stoeckius, Gitarre, Manfred Menne, Schlagzeug, Gerd Dorbandt, Baß. Als Solist mit seinem Banjo wurde Lutz Stoeckius bei einem Twistfestival 1963 in der Niederrhein-Halle Sieger. In diesem Jahr stießen Wolfgang Schubert, Baß, und August Scharf, Klavier, zu den Starfighters.
Wie üblich kam die Beat-bedingte Straffung der Bandbesetzung, von sechs auf fünf, von fünf auf vier: Wolfgang Schubert, Bass, Manfred Menne, Schlagzeug, Lutz Stoeckius, Gesang, Rhythmusgitarre, Jürgen Goitowski, Sologitarre. Diese vier bringen es zu einem Auftritt im Star-Club. Aber in welchem, das verraten sie uns nicht. Ich tippe auf Bochum.
Hans Beukenburg ermöglichte es den Starfighters, auf seinem Label Format eine Platte zu veröffentlichen, die alsbald für weiteren Schub sorgte. So kamen sie zu ihrem einzigen Fernsehauftritt - in der 'Aktuellen Schaubude' beim NDR. Lutz Stoeckius: "Die haben uns angerufen, kommt her, ihr kriegt 1000 Mark. 'Ich will Dich vergessen' haben wir gespielt, um die Single zu promoten." Auf der Single-Hülle ist der fünfte Mann nur noch abgekürzt als MM vertreten. "Ja, Manfred Menz war noch dabei, aber er brachte es nicht."
Persönliches Höhepunkt in der Karriere der Starfighters war der Auftritt in der Lichtburg, Essen, als sie zur Premiere des Beatles-Films 'Yeah Yeah Yeah' (A Hard Day's Night) aufspielen durften. Anschließend schleppten sie die Beatles nach Hause – leider nicht die leibhaftigen, aber immerhin die lebensgroßen Pappkameraden, die im Foyer aufgestellt worden waren. Zu Hause überklebten sie die Köpfe mit ihren eigenen Porträts, und so hatten sie eine prima Kulisse für ihre Auftritte. The Starfighters als doppelte Lottchen.
Das Starfighters-Repertoire während der Beatzeit war nicht unbedingt durch die Beatles geprägt. Lutz Stoeckius: "Natürlich haben wir die üblichen Beatles-, Stones-, Casey-Jones-Titel gespielt, aber auch viel Johnny And The Hurricanes, Tielman Brothers, Benny Quick, Rock 'n' Roll-Zeugs halt."
Im wirklichen Leben fielen damals ja die Starfighter vom Himmel wie Kastanienblätter im Herbst. Im Sommer 1966 hatten bereits 60 der von Verteidungsminister Franz-Josef Strauß angeschafften Flieger F104G irgendwo den Acker geküßt, und die fiktiven Starfighters bekamen ein Problem. Lutz Stoeckius: "Die Presse wollte nicht mehr über uns schreiben - wegen des Namens, die wollten keine negativen Assoziationen wecken. Wir sollten uns umbenennen, dann bekämen wir auch wieder große Berichterstattung. Ich weiß jetzt nicht mehr, ob der Name direkt ein Nachteil war. Wir hießen halt so. Wir wollten ja damals auch so eine Benefizveranstaltung machen, um für die Frauen, die Hinterbliebenen der Absturzopfer, zu spielen." Das haben sie aber doch nicht getan – zu ihrem Vorteil wahrscheinlich.
Diskographische Angaben
1965
I Like Trouble/Ich will Dich vergessen Format 008

JOHNNY MOHR AND THE YELLOW STONES
Das war Iserlohner Urgestein, bereits 1959 benetzte man sich die Lippen auf Tanzveranstaltungen ganz konventionellen Zuschnitts, und es brauchte eine Zeit, bis sie zur Beatcombo mutierten. So richtig waren sie eigentlich nie involviert in Sachen Pilzkopf- und Power-Pop, denn von Haus aus waren sie alle ganz konservative Rock 'n' Roller.
Auf der Suche nach dem Ursprung ihres Namens stoßen wir auf den Yellow Stone National Park in den USA, der Bandleader Klaus 'Johnny' Mohr faszinierte.
1959 hatten Johnny und seine Jungs als Quintett angefangen: Klaus 'Johnny' Mohr, Gitarre, Gesang, Peter Richter, Schlagzeug, Hartmut Fricke, Orgel und Klavier, und dem Musikstudenten Bernd Camatta, Baß. Klaus Mohr: "Peter Richter konnte nicht mithalten, deshalb suchten wir uns im Herbst 1960 einen neuen Schlagzeuger, Klaus Baetke, 'Mozart' genannt. Kurz darauf kam ein Melodiegitarrist, der unseren Sound gewaltig nach vorn bringen sollte, Rainer Mahnke. Und noch vor Weihnachten holten wir auch einen Saxophonisten in die Band, Dieter Bruckmann. Wir wechselten dann mehr zum Rock 'n' Roll. Dem sind wir eigentlich ziemlich treu geblieben, obwohl mit den Beatles natürlich auch Beatsongs in unser Repertoire kamen."
Als eine der instrumental und gesanglich versierteren Bands blieb es nicht aus, daß die Yellow Stones sich ihr Terrain eroberten, auch als der Rock 'n' Roll weniger interessant wurde. Man kam herum. Unter anderem in den Funny Crow Club in Schötmar, und da waren unsere Jungs doch ziemlich geplättet ob der gnadenlosen Arbeitsbedingungen. Es leuchteten Lichter seitlich der Bühne, fast wie Verkehrsampeln, und wehe, man hielt sich nicht daran, dann gab es Gagenabzug. Weiß! Los geht's! Gelb! Pause! Rot! Sofort zurück auf die Bühne!
Als sich 1963 die finanziell interessanten Angebote häuften, liebäugelten die Yellow Stones mit einer Existenz als Profiband. Rainer Mahnke aber war Finanzbeamter und wollte auf seinen Job nicht verzichten. Klaus Mohr: "Er hat dann einen Antrag auf Beurlaubung vom Dienst gestellt, dem wurde aber nicht stattgegeben. Da haben wir überlegt, einen neuen Melodiegitarristen zu holen. Doch der hätte erst mal eingespielt werden müssen, und da wir viele Engagements hatten, hätten wir die für eine Zeit sausen lassen müssen. Das Abenteuer wollten wir dann doch nicht eingehen."
So blieben sie Amateure, doch immerhin konnten sie sich in schwarzen Rillen verewigen. 1964 trat der Verkäufer Peter Winkler aus dem Musikhaus Muck in Iserlohn an die Musiker heran, ob sie nicht Lust hätten, für einen befreundeten Musikboxenaufsteller eine Platte aufzunehmen. Klaus Mohr: "Das hörte sich nicht gerade viel versprechend an, und wir waren ziemlich skeptisch. Irgendwie siegte aber unsere Eitelkeit, denn wer wollte damals keine Platte machen? Der Freund von Peter Winkler, der Schallplattengroßhändler Peter Albrecht aus Dortmund, kam dann mit einem Zweispurtonband und einem Mikro nach Hemer, und wir machten ein paar Aufnahmen: live, kein Studio, kein Playback für den Gesang. Und so klingt das denn auch." Also kamen auf Alwin Records - der Name setzte sich aus den Nachnamen der involvierten Herren zusammen - zwei Singles von Johnny Mohr And The Yellow Stones heraus. Nicht gerade der Weisheit letzter Schluß, aber zumindest selten! Sie wanderten in irgendwelche Automaten, doch beide sind mit Bildumschlag erschienen, und so kann wohl gefolgert werden, daß sie auch in den freien Verkauf gekommen sind. Klaus Mohr: "Dann passierte was Tolles. Dieser Großhändler ließ seine Platten in Holland pressen, und eine davon ist wohl da liegen geblieben, und kam in die Hände von Jack Bultermann. Wir kriegten dann einen Anruf, ob wir nicht Platten in Holland aufnehmen wollten. Wir haben einen Vertrag aufgesetzt, daß 'Johnny Mohr und Band' für die tätig werden und unter anderem für Plattenaufnahmen zur Verfügung stehen sollten. In Hilversum in den Philips-Studios angekommen, stellte sich dann raus, wir sollten so Walzermusik aufnehmen. Das haben wir aber strikt abgelehnt und die waren ziemlich sauer. Wir haben dann darauf bestanden, A Whole Lotta Shakin' von Jerry Lee Lewis einzuspielen. Daraus entstand dann ein Streit, und die wollten uns diese Niederlage heimzahlen. Da im Vertrag nur 'Johnny Mohr und Band' stand, wollten sie alle Yellow Stones entlassen und mit mir solo arbeiten, mich auch mit einer anderen Band auf Tour schicken. Ich habe dann versucht, denen klarzumachen, daß es nur eine Band Johnny Mohr And The Yellow Stones gäbe, und daß sie alles andere vergessen könnten. Kurz nach diesen Plattenaufnahmen kam das ZDF auf uns zu, um uns für die 'Drehscheibe' live zu filmen. Das war am 26. Januar 1965. Wir baten das ZDF dann, uns mitzuteilen, wann dies gesendet würde. Da kriegten wir auch tatsächlich einen Brief mit dem Datum. Und wir erfuhren, daß wir eine Auftrittsgage bekommen hatten, aber wußten bis dahin nichts von irgendeiner Bezahlung, die hatten wohl andere eingesteckt. Ich sagte der Band, daß wir diese Information sicher noch mal gut würden gebrauchen können, und daß wir uns erstmal still verhalten sollten. Als dann das Management wieder Anstalten machte, auf Bestehen unseres Vertrages zu pochen und Johnny Mohr von den Yellow Stones zu spalten, da hat uns das Wissen um diese kleine Unredlichkeit - mit dem gewissen Nachdruck vorgebracht - Ruhe verschafft. Und so war unsere Liaison zu Ende."
Nach dem Auftritt in der 'Drehscheibe' interessierte sich Polydor für die Band. Jimmy Bowien höchstpersönlich bat die Band ins Studio. Doch wegen der kurzfristigen Einladung konnten sie den Termin nicht wahrnehmen. Damit erlosch auch das Interesse von Polydor. Die Band spielte sich weiterhin die Finger wund, und sie blieb bis 1968 in unveränderter Besetzung zusammen. Dann stieg Johnny Mohr aus und ging zu den konkurrierenden Starfighters. Klaus Mohr: "Da hatte es Spannungen in unserer Band gegeben, und ich war sauer, da wollte ich ihnen dann eins auswischen. Und weil zu der Zeit der Leadsänger der Starfighters, Johnny Böhm, bei der Bundeswehr war, bin ich dann bei denen eingestiegen." Die Yellow Stones holten sich Martin Gröning als Sänger und Bassisten, weil Bernd Camatta sich auf seinen Beruf als Musiklehrer konzentrieren mußte und längst nach Essen umgezogen war. 1972 lösten sich die Yellow Stones, mittlerweile wieder mit Klaus Mohr, endgültig auf.
Diskographische Angaben
1963
Souvenir der Seligkeit/Gelbe Steine Alwin 52100
Shu-bi-du-bop-Twist/Warum bist du nicht mein Alwin 52101
(auf dem Cover steht auf der Vorderseite Johnny Mohr, auf der Rückseite Hartmut; auf dem Plattenetikett steht Yellowstones)
1964
Johnny Mohr und sein Orchester
Ich tanz den Shake/A Whole Lotta Shakin' Goin' On Alwis AW 4691-103

SIR JOHN AND THE STARFIGHTERS
Fünf Monate nach der Entlassung aus der Realschule treffen sich im Herbst 1961 in einem Kellerraum in Iserlohn drei Sechzehnjährige um einem Kistchen Iserlohner Pils den Garaus zu machen. Zwei Stunden später gab es eine (noch akustisch operierende Band), die den am Haus vorbeigehenden Passanten ein Kopfschütteln abnötigte, den anwesenden Mädchen jedoch mächtig imponierte.
Johannes 'Johnny' Böhm, Achim Kriesel und Reinhard Lukas veranstalteten von nun an regelmäßige Probeabende, mal mit Trompete, dann mit Akkordeon, hier ein Banjo, dort eine Gitarre. Ob Rock 'n' Roll oder Walzer, nichts war vor ihnen sicher. Zufällig benötigte ein kleiner Stadtteil-Schützenverein für Silvester eine Band, und die Jo-Jos stürzten sich ins kalte Wasser und waren im Geschäft. Die Gäste zeigten sich begeistert - diese Jo-Jos spielen außer Umtata auch die neuen englischen Stücke.
Es wurde klar, daß elektrische Verstärkungen den erzeugten Klängen den notwendigen Druck verleihen würden, und so wurden die Erkenntnisse aus dem Physikunterricht im praktischen Tun angewandt. Dann stand plötzlich ein junger Herr mit Silberblick im Raum, entlockte seiner Wanderklampfe den Apache und Quartermaster's Stores. Klaus Marksmeier (†) wurde auf der Stelle engagiert. Ein kleingewachsener Engländer, Buddy Allen genannt, offerierte sich als Sänger, damit war man komplett. Johannes Böhm: "Der Buddy sang damals schon wie Rod Stewart - vielleicht war er's ja! Oder wie Elvis oder Buddy Holly!" Durch ihn bekamen die Jo-Jos Kontakt zu den Bands der englischen Besatzungsarmee, und sie hielten die Augen und Ohren offen. Mehr und mehr wurden sie zu den großen Partys in den kanadischen und englischen Camps engagiert. Johannes Böhm: "Wir spielten bis zum Umfallen, mal vor Müdigkeit, mal von zu viel 'Canadian Club', und mal von beidem. Einmal vor Weihnachten endete unser Auftritt, als ich in den Weihnachtsbaum fiel und dort gleich zum Schlafen liegen blieb."
Im Herbst 1962 wurde eine musikalische Lücke geschlossen: Karl Deubelius kam mit seinem Höfner-Baß! Bis dahin hatte man bei den Jo-Jos den Baß-Part auf den tiefen Saiten der Gitarre gespielt. In der Folge reduzierte sich die Besetzung auf die engagiertesten unter den Musikern, und das waren Johannes Böhm, Gesang, Rhythmusgitarre, Klaus Marksmeier, Gesang, Sologitarre, Karl Deubelius, Bass, und Achim Kriesel, Schlagzeug. Und Jo-Jos klang ja nun nicht gerade nach großer, weiter Welt, und so wurde Kriegsrat gehalten. Nun, den Starfighter kannte jeder aus der Zeitung, und diese Popularität beabsichtigte man zu nutzen - unwissend, daß sie nicht die einzigen waren, die ihre Band The Starfighters nannte. Die Jugendlichen in einschlägigen Iserlohner Tanzlokalen waren froh, daß die Starfighters fleißig die Hitparaden des kanadischen Soldatensenders CAE abhörten, denn so wurden ihnen die neuesten Stücke der Searchers, der Beatles und anderen Hitparadeninstitutionen aus der damaligen Zeit offeriert.
Jener von Johnny Mohr And The Yellow Stones schon bekannte Verkäufer kam auch auf die Starfighters zu, weil sie seines Ermessens reif für eine Platte waren. Dies geschah nun in der post-Alwin-Phase, d. h. unser Verkäufer hatte gecheckt, dass mit Platten nicht unbedingt Geld zu verdienen war. So gab er die Ehre, die Starfighters auf Platte zu bannen, an die Fa. Tonstudio Engelsmann und Burghardt in Castrop-Rauxel weiter. Eines ihrer Hauslabel hieß Team.
Die Band reiste keineswegs in den Kern des Ruhrgebiets hinein, sondern die Herren bemühten sich heraus. Johannes Böhm: "Herr Engelsmann kam mit seinem 4-Spur-Tonband nach Iserlohn zur Gaststätte Sommer in der Bremke, in unseren Stammsitz sozusagen. Dort wurden dann die Stücke aufgenommen - an einem Sonntagmorgen. Live und ohne jeden Schnickschnack. Die Platte wurde zu einem Musikbox-Hit in der Region. Fans berichteten auch, daß man mal in Hamburg oder Frankfurt das gute Stück gehört hat." Die Single war in der Tat nicht schlecht: Starfighters' Theme war ein fetziges Instrumental, welches ein wenig an amerikanische Bands wie die Atmospheres erinnerte; auf der B-Seite, Lost John, griffen sie ihre Skiffle-Band-Tradition auf, aber der Einfluß des Beat war deutlich, und der Schrubb-Sound überzeugte.
Im kanadischen Rundfunk wurde die Platte öfter gespielt, und bald hatten Engelsmann oder Burghardt die Bellaphon überzeugt, die Single in Lizenz zu nehmen. Ich denke, sie hat sich nicht öfter verkauft als die Originalpressung.
Anfang 1965 wurden Kriesel und Deubelius aus der Band komplimentiert, weil Otto Reinecke, Bassist, und Armin Dressler, Drummer, mehr zu beaten hatten. Und mit der neuen Rhythmusgruppe kam auch die Namenserweiterung: Sir John And The Starfighters. Um in den bürgerlichen Berufen und im Familienkreis nicht aufzufallen, hielt man die Haare kurz und das Erscheinungsbild akkurat. Also lobte die örtliche Presse nach dem Motto: Wenn schon Beat, dann aber bitte mit bürgerlichem Äußeren.
Ein Höhepunkt der Starfighters-Auftritte waren ihre mehr als eine Viertelstunde dauernden Vorführungen von Skinny Minnie. Und die 'Jack-The-Ripper-Show', die man, wie viele deutsche Bands, bei Casey Jones And The Governors abgeguckt hatte, der wiederum hatte sie bei Screamin' Lord Sutch (R.I.P.) abgekupfert. Für Sir John And The Starfighters folgten Dauer-Engagements im Barbina-Starpalast Dortmund, Gastspiele in Norddeutschland und den Niederlanden sowie Tournee-Abschnitte mit den Lords und den Rattles.
Bei einem Beatbandwettstreit am 11. Dezember 1966, veranstaltet von der Stadtjugendpflege in Lüdenscheid unter Stadtjugendpfleger Schumann, waren Sir John And The Starfighters ganz vorn gelandet, und ganz nebenbei fällt der Band der Gitarrist der Black Jets (Platz 2) auf. Hans Fritzsch aus Lüdenscheid nimmt die Herausforderung an, und Klaus Marksmeier muß gehen. Johannes Böhm: "Mit der neuen 66er-Besetzung waren wir auch einer überregionalen Konkurrenz gewachsen." Ihren Höhepunkt erreichten die Starfighters am 18. Dezember 1966 in Recklinghausen mit dem 3. Platz in der Endrunde der Deutschen Beatmeisterschaften 1966: mit 10,3 Punkten hinter den Lokalmatadoren The Rangers aus Recklinghausen (10,4 Punkte!). Sieger wurden die Vampires aus Ludwigshafen mit 11,3 Punkten.
Der Herbst 1967 gestaltete sich für Johannes Böhm weniger sonnig, denn die Bundeswehr bestand darauf, daß er die Gitarre mit der Knarre vertausche. Die Starfighters holten sich den in Unfrieden geschiedenen Johnny Mohr von den Yellow Stones. Als dort wieder alles beim alten war, übernahm Richard Nagel den Gesang. Nagel hatte bereits einige Bands aus der Region bereichert (The Lonelys, Die Molendos, The Mods, The Tombstones, The Outlaws) und war als der lokale Mick Jagger bekannt. Doch nicht einmal ein Jahr lang hielt es ihn bei den Starfighters, dann formte er Tibet. Nach einer kurzen Episode als Taras Bulba strichen auch die Reststarfighters die Segel.
Diskographische Angaben
1964
Starfighters' Theme/Lost John Team 100 / Bellaphon BL 1007
Fortsetzung folgt....