Der Artikel wurde erfolgreich hinzugefügt.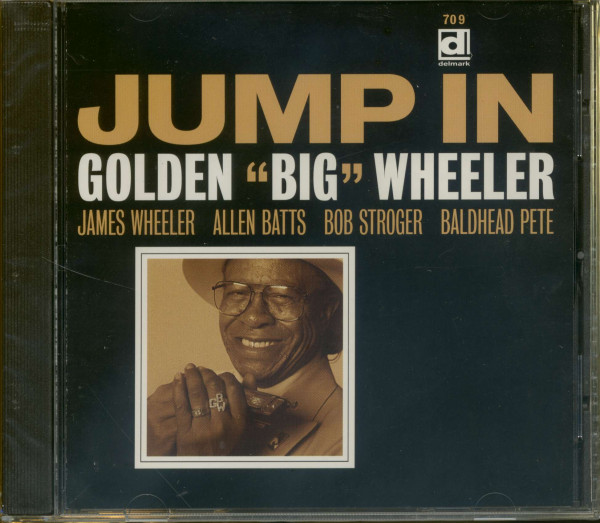 inkl. MwSt. / zzgl. Versandkosten - Abhängig vom Lieferland kann die MwSt. an der Kasse variieren.
nur noch 1x verfügbar
Sofort versandfertig, Lieferzeit** 1-3 Werktage
Artikel-Nr.:

CDDE709

Gewicht in Kg.:

0.107
(1997 'Delmark') (70:11/12) Sehr traditionelles Harmonicablues-Album, das nicht von...
mehr
Big Golden Wheeler: Jump In
(1997 'Delmark') (70:11/12) Sehr traditionelles Harmonicablues-Album, das nicht von ausgefeilter Technik, Lautstärke und Geschwindigkeit lebt. Höhepunkte sind die intensiven, eher ruhigen Momente in Wheelers Blues, bei denen der Großvater Songs mit viel Tiefgang vorträgt. Für Bluesfreunde mit Ohren zum Hören / very traditional style harmonica blues. No high-speed gimmicks, no volume turned up. Intense songs. This grandfather's got something to tell. For fans with ears! BIG WHEELER - hca/voc, JAMES WHEELER - gtr, BOB STROGER - bass, BALDHEAD PETE - drums.
Golden 'Big' Wheeler was a young man when he left Beaconton, Georgia. He ended up in
Chicago
in
July
'54 where he heard
Little Walter
playing at 38th and State. They soon became friends but Walter taught him more about the streets than about music. By '56 Wheeler had his own band but was in and out of music for the next 35 years, working to feed his family.
Now he's into music full-time and the result, Jump In , is full of vibrant traditional blues. One listen to Wheeler's swooping and soaring harmonica, new compositions, uique voice and wonderful accompaniment will make you feel what a groovy date this was. Whereas Wheeler's first album, Bone Orchard (Delmark 661), featured a '50s-styled two-guitars-and-drums setting Jump In   features Golden 'Big' Wheeler, vocals and harmonica;
James Wheeler
, guitar; Allen Batts, piano;
Bob Stroger
, bass; and Baldhead Pete, drums. This is a personal album from a personable blues gentleman so jump in!
Artikeleigenschaften von

Big Golden Wheeler: Jump In
Albumtitel:

Jump In

Genre

Blues

Preiscode

VCD3

Artikelart

CD

EAN:

0038153070922

Gewicht in Kg:

0.107
Big Wheeler - Jump In

CD 1
01
Gotta-Have Will Jump In
Big Golden Wheeler
02
Fire On The Mountain
Big Golden Wheeler
03
Chicago Winter Weather Blues
Big Golden Wheeler
04
Connie
Big Golden Wheeler
05
Just To Be With You
Big Golden Wheeler
06
Bad Situation Worse
Big Golden Wheeler
07
Guilty
Big Golden Wheeler
08
Big Wheeler's Christmas Bells
Big Golden Wheeler
09
Big Mishap
Big Golden Wheeler
10
Young Generation
Big Golden Wheeler
11
Jelly, Jelly, Jelly
Big Golden Wheeler
12
You're So Fine
Big Golden Wheeler
TRADITION IS A SOLID FOUNDATION used to create quality music. At 68, Golden Wheeler is steeped...
mehr
"Big Golden Wheeler"
TRADITION IS A SOLID FOUNDATION
used to create quality music. At 68, Golden Wheeler is steeped in traditional blues. Now 40 years after he first began to play, his foundation still holds strong. "Big" Wheeler was born in 1929 and came to Chicago in 1954 when he was 25 years old. Though he knew how to blow the harp it was not his primary concern at the time.
He did not pursue a full scale musical career until after rais-ing his children. "Buster Brown tried to influence me back in the early fifties to play harmonica. I bought me a harmonica on the way to Jersey in 1951. That didn't last long, but I did learn how to play 'That's All Right'. I didn't care too much for harp 'cause you saw too many of them. It was too many of them out there. You had (the) Walter's, Little Walter and Big Walter. You had Junior Wells, you had James Cotton. I had five kids to raise and I couldn't raise them out there in them streets with that harmonica. So I made up my mind that I gotta work." Jump In features original material that is as comfortable as the well worn classic blues of the fifties. Wheeler's rich, warm tones are complimented by his younger brother, James Wheeler on guitar. Brother James is the guitar players gui-tarist. His knowledge of the fret board and ability to incorporate any style into blues is uncanny and fits in perfectly with his brothers work.
Allen Batts' crisp clear piano work solidifies the smoky, unforgettable sound of tradition. Cleo "Baldhead Pete" Williams is the right man for the job of time keeper. Perennial bass man Bob Stroger appears as the rhythm master. Stroger and Williams create a solid wall of sound that Wheeler uses to weave his tapestry of classic blues. Throughout the CD you hear him pulling, tugging, urging and encouraging the band. Wheeler is laughing and having general conversa-tion with the group, giving the impression of a live performance. He has submitted a mini autobiog-raphy, painted with lyric and sound. The songs are personal and detailed. This CD is not only great sounding, but it gives you insight on the artist. "Young Generation" shows the concerns of a grandfather worried about the future. In 1993 Wheeler recorded "Honey Connie", which was a reprimand of a lovers actions. Here, "Connie" is a statement to the same lover who has been discovered double dealing.

"Mostly this is about me, this is my life. 'Chicago Winter Weather Blues', well I had my house up for sale. I'm going somewhere warm. It ain't like it use to be, I use to could take it. Now, it's just too cold here in the winter. I got to get out of here. On 'Bad Situation Worse', what I'm saying is the truth. When you dealing with somebody, you should deal with somebody you trust or you may as well forget it. And 'Gotta—Have Will Jump In' says when you need something it don't mean much. But when you got to have it, that's all of it! That done made a fool out of whatever 'need-more' wants. Got to have takes over. There's a big difference in need and got to have." Though Wheeler did not focus on a musical career, he kept his chops up by making the rounds at various clubs on the weekend and in 1973 made his recorded debut. "Nobody ever knew that much about me, I kept a low profile.
When I had a chance to go out in the streets I did that. I didn't hang out through the week and did-n't drink through the week, but I'd hit it on the weekend." It was inevitable that he would plunge him-self in the music, it was all around him. The aforementioned Buster Brown played harmonica and was a regular customer in Wheeler's cab. Music also runs in the family. Not only does Wheeler's younger brother have musical talent, so does a cousin and his parenting line is made up of musicians. "When I got to Youngstown (Ohio) it was a guy there, they called him harp playing Shorty. Boy he could really blow. Oh yeah, he was really good. Then my cousin came, his name was McCoy. Now them two boys, well you couldn't tell which one was the best, both of them was good.
My grandfather was a harmonica player. My mother's daddy and her mother was harmonica players. damn good ones. James played piano, he was a little toddler. He'd sneak around in the church and play boogie and all that. I brought him here in 1956, it was in January and I turned him loose!" In times when everything that's shiny and new is in high demand it's important to reflect on the importance of tradition. "Now days everybody is trying to outplay everybody. They just trying to see how loud they can play, they not trying to put nothing in it. Tradition, I think, is the original. It's the beginning of it, where it started." SANDRA POINTER-JONES


Bewertungen lesen, schreiben und diskutieren...
mehr
Kundenbewertungen für "Jump In"
Bewertung schreiben
Bewertungen werden nach Überprüfung freigeschaltet.
Weitere Artikel von Big Golden Wheeler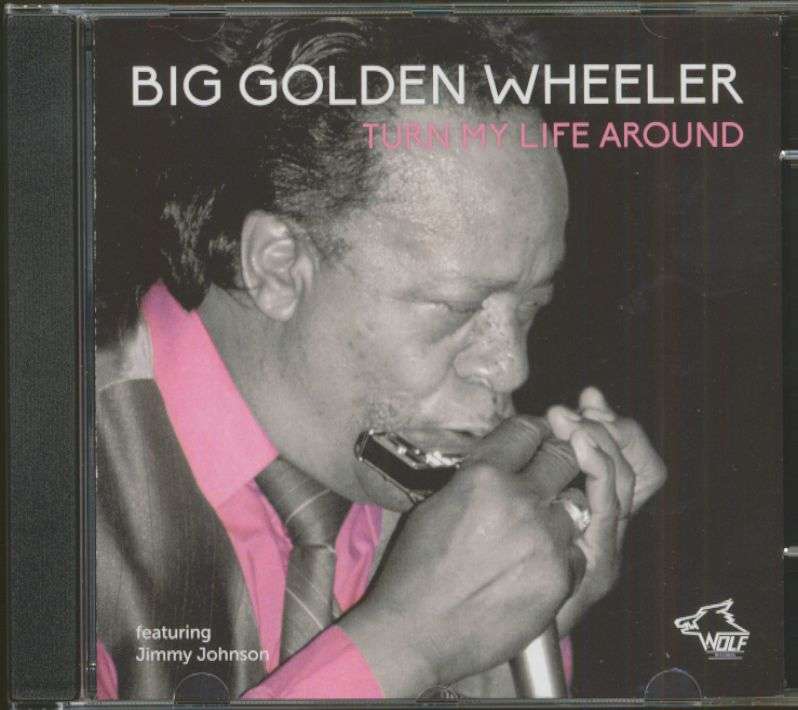 Big Golden Wheeler: Turn My Life Around (CD)
Art-Nr.: CD120837


nur noch 1 verfügbar
Sofort versandfertig, Lieferzeit** 1-3 Werktage