Der Artikel wurde erfolgreich hinzugefügt.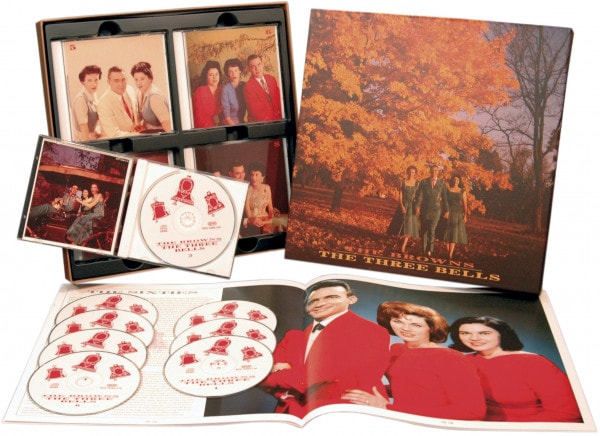 129,95 € *
139,95 € *
(7,15% gespart)
inkl. MwSt. zzgl. Versandkosten
Sofort versandfertig, Lieferzeit** 1-3 Werktage
Artikel-Nr.:

BCD15665

Gewicht in Kg.:

1.7
8-CD Box (LP-Format) mit 40-seitigem Buch, 258 Einzeltitel. Spieldauer ca. 616 Minuten. Die...
mehr
The Browns: The Three Bells (8-CD)
8-CD Box (LP-Format) mit 40-seitigem Buch, 258 Einzeltitel. Spieldauer ca. 616 Minuten.

Die Browns, Jim Ed und seine Schwestern Maxine und Bonnie, erreichten die Spitzen der Country- und Pop-Hitparaden 1959 mit 'The Three Bells'. Als eine der besten Harmoniegesang-Gruppen in der Country Music spielten die Browns eine wesentliche Rolle beim Übergang von der Hillbilly Music zum Nashville Sound (mit einem Schuss Rock'n'Roll). Dieser Rückblick beschreibt die Geschichte der Browns seit ihren allerersten Aufnahmen für Fabor mit dem Hit Looking Back To See und verfolgt ihre RCA-Karriere mit solch großartigen Hits wie I Heard The Bluebirds Sing, I Take The Chance, The Old Lamplighter, Scarlet Ribbons und natürlich The Three Bells.
Video von The Browns - The Three Bells (8-CD)
Artikeleigenschaften von

The Browns: The Three Bells (8-CD)
Albumtitel:

The Three Bells (8-CD)

Genre

Country

Preiscode

HI

Edition 2

Deluxe Edition

Artikelart

Box set

EAN:

4000127156655

Gewicht in Kg:

1.7
Browns - The Three Bells (8-CD)

Box set 1
01
Rio De Janeiro
02
Looking Back To See
03
Itsy Witsy Bitsy Me
04
Why Am I Falling
05
Draggin' Main Street
06
Your Love Is As Wild As The West Wind
07
Cool Green
08
Do Memories Haunt Me
09
It's Love I Guess
10
I'm Your Man, I'm Your Gal
11
Set The Dawgs On `Em
12
Jungle Magic
13
You Thought, I Thought
14
Here Today And Gone Tomorrow
15
The Grass Is Green
16
Lookin' On
17
I Take The Chance
18
I Can't See For Lookin'
19
I'm In Heaven
20
Goo Goo Dada
21
Just As Long As You Love Me
22
Getting Used To Being Lonely
23
A Man With A Plan
24
(Just As Lot Of) Sweet Talk
25
Don't Tell Me Your Troubles
26
The Last Thing That I Want
27
Preview Of The Blues
28
My Isle Of Golden Dreams
29
I'm In Heaven
30
I Guess I'm Crazy
31
Sky Princess
32
I'll Hold You In My Heart
Browns - The Three Bells (8-CD)

Box set 2
01
How Can It Be Imagination
02
I Heard The Bluebirds Sing
03
It Takes A Long,Long Train With A Red Caboose
04
Don't Use The Word Lightly
05
Waltz Of The Angels
06
The Table Next To Me
07
Money
08
You'll Always Be In My Heart
09
Behave Yourself, Jose
10
Just In Time
11
The Man In The Moon
12
Ain't No Way In This World
13
Crazy Dreams
14
True Love Goes Far Beyond
15
Only One Way To Love You
16
Be My Love
17
Land Of Golden Dreams
18
Love Is In Season
19
Would You Care?
20
The Trot
21
Beyond The Shadow
22
This Time I Would Know
23
The Three Bells
24
Wake Up Jonah
25
Be My Love
26
Heaven Fell Last Night
27
Your Pretty Blue Eyes
28
Unchained Melody
29
Indian Love Call
30
Blues Stay Away From Me
31
Dream On (She'll Break Your Heart)
32
Where Did The Sunshine Go?
33
We Should Be Together
Browns - The Three Bells (8-CD)

Box set 3
01
Bye Bye Love (false )
02
Bye Bye Love (false )
03
I Still Do
04
Only The Lonely
05
Hi De Ank Tum
06
Love Me Tender
07
Put On An Old Pair Of Shoes
08
Blue Bells Ring
09
Scarlet Ribbons (For Her Hair)
10
Red Sails In The Sunset
11
That's My Desire
12
That Little Boy Of Mine
13
Halfway To Heaven
14
Teen-Ex
15
Oh! My Papa
16
Margo (The Ninth Of May)
17
Cool Water
18
True Love
19
The Enchanted Sea
20
The Old Lamplighter
21
Billy McCoy
22
Am I That Easy To Forget?
23
The Whiffenpoof Song
24
Streamlined Cannonball
25
My Adobe Hacienda
26
Pledge Of Love
27
Wabash Blues
28
Who's Gonna Buy You Ribbons (When I'm Gone)
29
Margo (The Ninth Of May)
30
Chandelier Of Stars
31
Eternally
32
Brighten The Corner Where You Are
33
The Blue Skirt Waltz
34
Have You Ever Been Lonely
Browns - The Three Bells (8-CD)

Box set 4
01
Lonely Little Robin
02
The Wayward Wind
03
The Old Village Choir
04
High Noon
05
Lavender Blue
06
Blues In My Heart
07
Chandlier Of Stars
08
The Whiffenpoof Song
09
Blue Christmas
10
This Land Is Your Land
11
In The Pines
12
Brighten The Corner Where You Are
13
Greenwillow Christmas
14
Remember Me
15
The Twelfth Of Never
16
Nevada
17
Where I Was (When We Became Strangers)
18
You're So Much A Part Of Me
19
Revenge
20
The Bandit
21
Send Me The Pillow You Dream On
22
Down In The Valley
23
Shenandoah
24
Columbus Stockade Blues
25
Clementine
26
Poor Wayfaring Stranger
27
Ground Hog
28
Poor Wildwood Flower
29
Who's Gonna Shoe Your Pretty Little Feet
30
John B Sails
31
My Pretty Quadroon
32
Down On The Old Plantation
Browns - The Three Bells (8-CD)

Box set 5
01
My Baby's Gone
02
Alpha And Omega
03
Foolish Pride
04
Angel's Dolly
05
Alpha And Omega
06
My Baby's Gone
07
Whispering Wine
08
Remember Me
09
Lord I'm Coming Home
10
How Great Thou Art
11
Child Of The King
12
Just As I Am
13
The Church In The Wildwood
14
An Evening Prayer
15
In The Garden
16
Whispering Hope
17
When They Ring Those Golden Bells
18
Where No One Stands Alone
19
My Latest Sun Is Sinking Fast
20
Faith Unlocks The Door
21
It's Just A Little Heartache
22
No Love At All
23
Buttons And Bows
24
The Old Master Painter
25
They Call The Wind Maria
26
Forty Shades Of Green
27
Is It Make Believe
28
Everlasting
29
The Twelfth Rose
30
Watching My World Fall Apart
31
Oh, No!
32
Dear Teresa
Browns - The Three Bells (8-CD)

Box set 6
01
The Rhumba Boogie
02
The Great Speckled Bird
03
Don't Let The Stars Get In Your Eyes
04
Sugarfoot Rag
05
Fair And Tender Ladies
06
Tragic Romance
07
Four Walls
08
You Nearly Lose Your Mind
09
Mansion On The Hill
10
Wondering
11
Mommy Please Stay Home With Me
12
Looking Back To See
13
Anna
14
Pirogue
15
The Happy Fool
16
The Grass Is Red
17
Circuit Ridin' Preacher
18
Halfbreed
19
The Young Land
20
The Gun, The Gold, The Girl
21
Mister And Mississippi
22
Blowin' In The Wind
23
Tobacco Road
24
Then I'll Stop Loving You
25
You're Easy To Remember
26
I Know My Place
27
My Baby Doesn't Love Me Anymore
28
Love Didn't Pass Me By
29
The Outskirts Of Town
30
Tangled Web
31
My Destiny
32
Johnny, I Hardly Knew You
Browns - The Three Bells (8-CD)

Box set 7
01
Three Hearts In A Tangle
02
I Take The Chance
03
Everybody's Darlin' Plus Mine
04
Meadowgreen
05
One Take Away One
06
No Sad Songs For Me
07
I Feel Like Crying
08
The Big Blizzard
09
Watch The Roses Grow
10
A Little Too Much To Dream
11
Little Boy Blue
12
Maybe Tomorrow
13
I Can Stand It (As Long As You Can)
14
Gone
15
This Heart Of Mine (Can Never Say Goodbye)
16
I'm So Lonesome I Could Cry
17
Yesterday's Gone
18
You Can't Grow Peaches On A Cherry Tree
19
Two Of A Kind
20
Springtime
21
When I Stop Dreaming
22
Too Soon To Know
23
Now I Can Live Again
24
I Will Bring You Water
25
June Is As Cold As December
26
I'd Just Be Fool Enough
27
Maker Of Raindrops And Roses
28
Making Plans
29
Born To Be With You
30
A Million Miles From Nowhere
31
Bid Daddy
Browns - The Three Bells (8-CD)

Box set 8
01
Where Does A Little Tear Come From
02
Coming Back To You
03
(I Prithee) Do Not Ask For Love
04
Gigawackem
05
Rhythm Of The Rain
06
Greener Pastures
07
After Losing You
08
The Tip Of My Fingers
09
Four Strong Winds
10
Sorry I Never Knew You
11
The Old Country Church
12
They Tore The Old Country Church Down
13
Though Your Sins Be As Scarlet
14
He Will Set Your Fields On Fire
15
The Night Watch
16
When I Lift Up My Head
17
Taller Than Trees
18
The Mocking Bird
19
Jezebel
20
A Rusty Old Halo
21
The Weapon Of Prayer
22
I Hear It Now
23
Ride, Ride, Ride
24
Country Boy's Dream
25
All Of Me Belongs To You
26
Where Does The Good Times Go
27
I'm A Lonesome Fugitive
28
Once
29
Walk Through This World With Me
30
Happy Tracks
31
Misty Blue
32
If The Whole World Stopped Lovin'
Mitglieder: Bonnie Brown, Maxine Brown, Jim Edward Brown Record Labels: Fabor, RCA Erster...
mehr
"The Browns"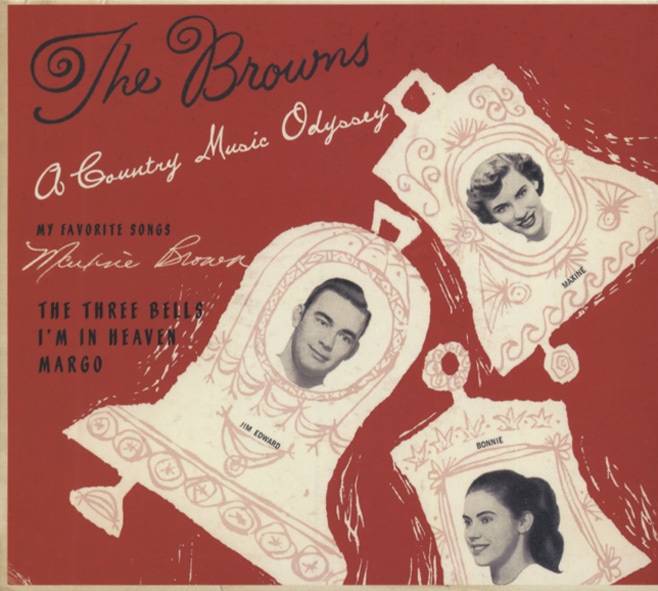 Mitglieder: Bonnie Brown, Maxine Brown, Jim Edward Brown Record Labels: Fabor, RCA Erster Hit: I Take The Chance (1956) Erster No. 1 Hit: The Three Bells (1959) Das Trio ,The Browns" mit Bonnie, Maxine und Jim Edward Brown war 1955 aus dem Duo (Maxine und Jim Edward Brown) durch den Beitritt von Maxine Brown entstanden. Das Duo wie auch das Trio hatte ein paar Platten für Fabor Records eingespielt und war dann mit Hilfe von Jim Reeves zur RCA über gewechselt. Das Trio arbeitete sehr erfolgreich, hatte einige Hits, darunter den Millionseller ,The Three Bells", und war für viele Jahre die Sensation an der Grand Ole Opry. 1967 löste sich die Gruppe auf. Jim Edward Brown konzentrierte sich auf eine recht erfolgreiche Solo-Karriere und Maxine Brown schaffte noch einen Solo-Hit bei Chart Records.
Der erste Song auf dieser CD ist so, wie er sein sollte....'Number One'. Der 3. Juli 2009 ist der 50. Jahrestag von The Three Bells. Die Browns verdanken 50 Jahre Dankbarkeit unseren treuen Fans auf der ganzen Welt, dass sie diesen Song #1 in ihren Herzen behalten haben. Mit dieser Hilfe wird das Lied vielleicht weitere 50 Jahre überleben.
Maxine Braun
Am 1. Juni 1959, als wir in das Studio in Nashville gingen, um The Three Bells aufzunehmen, hätten wir nie gedacht, dass wir es noch fünfzig Jahre später auf allen Radiosendern hören würden. Und nicht nur die Country-Stationen, sondern auch die Pop-Stationen. Nachdem die Sitzung an diesem Abend vorbei war, sagte uns unser A&R Direktor, Chet Atkins, dass er dachte, wir hätten einen Hit. Wir hätten nie gedacht, dass es so ein großer Erfolg wird. Am 3. Juli wurde das Album veröffentlicht und in wenigen Wochen wurde es zur Nummer 1 der Country, Pop und Rhythm & Blues Charts. Wir konnten es also nicht glauben und finden es immer noch schwer zu glauben, wenn wir es auf Radiosendern hören. Wir sind so dankbar für unsere Fans und Freunde, die es immer noch hören wollen. Obwohl wir uns nicht mehr oft zum Singen treffen, ist es immer wieder spannend, die Reaktionen des Publikums auf unsere Songs von vor fünfzig Jahren zu hören. Ich danke Ihnen allen.
Bonnie Brauner Ring
Seit vielen Jahren haben Jim Ed und die Browns eine großartige Beziehung zu RCA Victor Records und unser Dank und unsere Dankbarkeit gilt all unseren Freunden dort.
Bear Family hat jetzt eine neue Zusammenstellung einiger unserer gefragtesten Songs veröffentlicht. Ich liebe es, jedem einzelnen von ihnen zuzuhören. Hoffentlich werden Sie jetzt, da Sie dieses Set haben, genauso viel Spaß haben, wie ich es immer noch tue.
Jim Ed Brown
Während der Disc Jockey Convention im Oktober 1967 verblüffte eine weinerliche Bonnie Brown das Grand Ole Opry Publikum, als sie den Rücktritt der Browns ankündigte und die zwölfjährige Partnerschaft von Maxine, Jim Ed und Bonnie Brown offiziell beendete - ohne die Jahre zu berücksichtigen, in denen ihre älteren Geschwister als Duett arbeiteten
Für diejenigen, die Bescheid wissen, war die Nachricht kaum unerwartet. In den letzten zwei Jahren hat RCA Victor Jim Ed Brown erfolgreich als Solist ins Leben gerufen. Sein Karriere-Hit Pop A Top beendete gerade einen 20-wöchigen Lauf in den'Billboard's' Country Charts und erreichte Platz 3. In Wahrheit war Bonnie bereits halbpensioniert. Als die Grand Ole Opry im Juni 1963 die Browns zu ihrer Liste hinzufügte, entschied sie sich, bei ihrem Ehemann und zwei kleinen Kindern in Dardanelle, Arkansas, zu bleiben, während Jim Ed und Maxine nach Nashville zogen. Für Opry-Auftritte und Road-Dates arbeiteten Maxine und Jim Ed als Duo oder rekrutierten andere Sänger, um sie zu ersetzen.
Relativ wenige kannten die wahre Geschichte hinter der Entscheidung des Trios. Die Browns waren lange Zeit im Streit mit RCA Victor, vor allem über seine kommerzielle Ausrichtung. Sieben Jahre zuvor baute das Trio mit seinen bahnbrechenden Crossover-Singles The Three Bells, Scarlet Ribbons und The Old Lamplighter eine internationale Fangemeinde auf. Division Vice President of Popular Artists and Repertoire Steve Sholes erwartete von ihnen, dass sie dem Mainstream-Pop-Publikum gerecht werden: ein choreographierter Nachtclub-Act mit bissigem Geplapper, üppigen Orchesterarrangements und kostspieliger formaler Kleidung. Aber im Herzen sehnten sich die Browns danach, für ein dankbares ländliches Publikum zu singen, unterstützt von Jim Ed's Gitarre und vielleicht ein paar anderen Musikern.
Produzent Chet Atkins kannte die Browns als das, was sie wirklich waren: ein harmonisches Country-Trio - wahrscheinlich das Beste, was es je gab. Aber Atkins' Vision der Browns brachte ihn in direkten Konflikt mit Sholes und dem New Yorker Büro von RCA. Der Versuch, eine Balance zu finden, führte zu unbequemen Studiokompromissen, die die Browns als zu'Pop' und städtische Radioprogrammierer, die sie als zu ländlich betrachteten, abwiesen.
Weniger wussten noch, dass Bonnies Ankündigung auf der Bühne tatsächlich das dritte Mal war, dass die Browns beschlossen, es zu beenden. Das erste Mal war 1955, als das Trio in einen ausbeuterischen, eisernen Vertrag mit Fabor Robison, einem der am meisten verachteten Produzenten und Förderer der Musikindustrie, eingebunden wurde. Das zweite Mal kam vier Jahre später, als sich alle drei Mitglieder fragten, ob die kleinen finanziellen Belohnungen all die Jahre auf der Straße wirklich gerechtfertigt waren. Trotz zahlreicher Auszeichnungen aus der Industrie sahen sie ihre Rekordumsätze schrumpfen, als der Rock'n' Roll die Wellen beherrschte. Und dann gab es noch Familienangelegenheiten. Maxine war mit ihrem zweiten Kind schwanger. Ihre Mutter Birdie erlitt einen Schlaganfall und brauchte Hilfe beim Betrieb ihres erfolgreichen Restaurants und Clubs in Pine Bluff, Arkansas. Ihr behinderter Vater brauchte Hilfe beim Betrieb seines Sägewerks, eine Aufgabe, die Jim Ed immer annahm, wenn er nicht auf Tour war. Natürlich haben die Three Bells das alles geändert.
Aber im Oktober 1967 wollte niemand, dass die Browns ihre eigenen Wege gehen. Wenige Harmoniegruppen in der amerikanischen Musik waren so beliebt wie Jim Ed, Maxine und Bonnie Brown aus Pine Bluff, Arkansas. Wenn ihre Saga von Frustration, Enttäuschung und Herzschmerz durchzogen war, bleibt die Musik, die sie machten, immer noch bestehen. Diese Bärenfamilie erinnert an den fünfzigsten Jahrestag von The Three Bells. Einige Tracks hier sind langjährige Fan-Favoriten, aber die meisten sind musikalische Benchmarks, die Maxine Brown Russell aus der jahrzehntelangen Besetzung der Browns mit RCA Victor ausgewählt hat.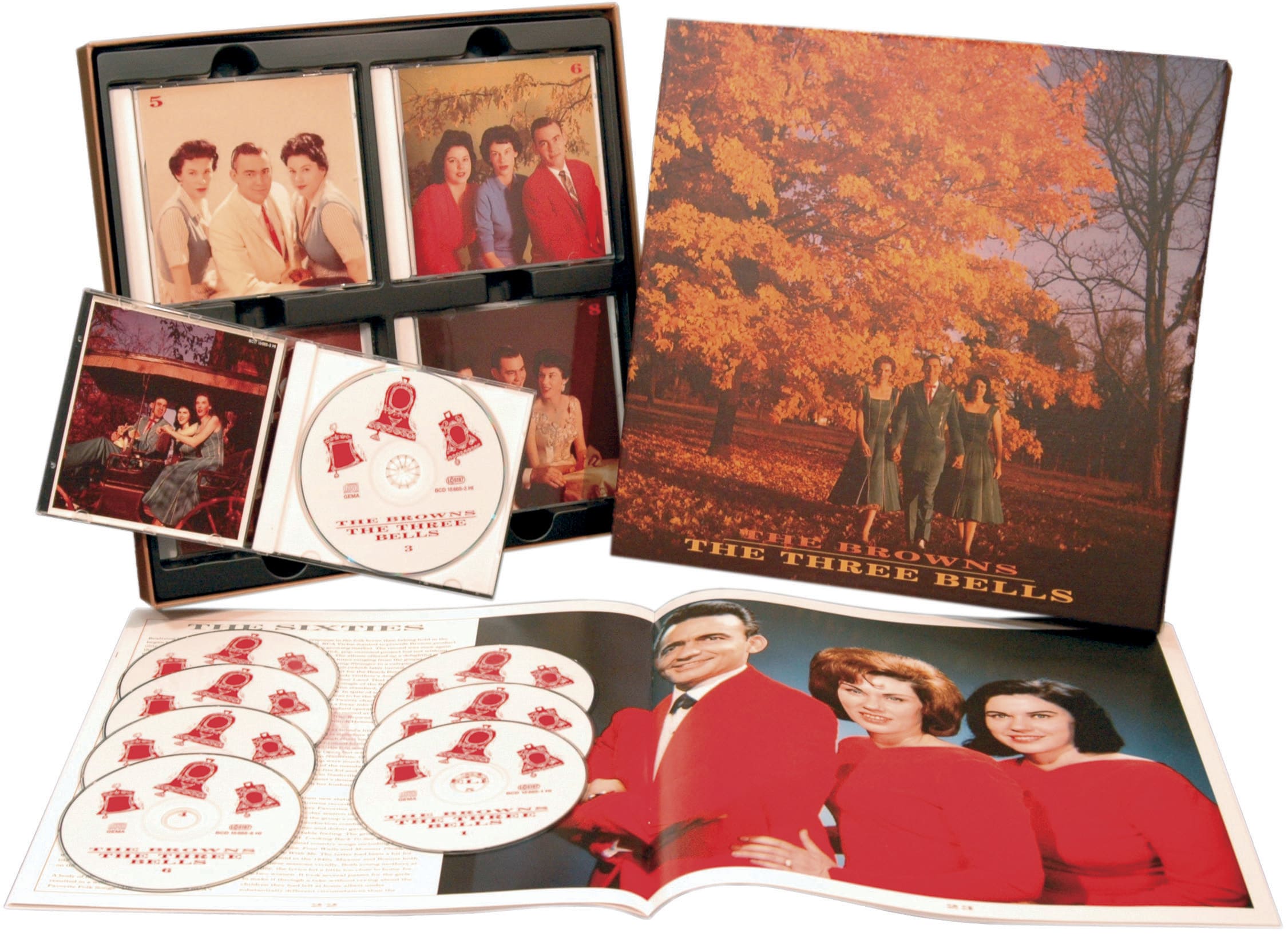 Die Geschichte der Browns beginnt am 11. August 1930, als Floyd Brown, ein armer Landwirt aus Arkansas, Birdie Lee Tuberville in Holly Springs, Arkansas, einer Gemeinde in der Nähe von Sparkman, heiratete. Musik war von Anfang an ein wichtiges Thema in der Familie Brown. Floyd's Bruder Wilburn spielte Geige bei lokalen Tänzen und gesellschaftlichen Veranstaltungen, meist mit Floyd und einem anderen Bruder, Cecil, auf Gitarren.
Da es zu Hause kaum landwirtschaftliche Arbeitsplätze gibt, zogen die Frischvermählten 1930 nach Campi, Louisiana, um. Ihr erstes Kind, Ella Maxine, wurde dort am 27. April 1931 geboren. Später in diesem Jahr kehrte die Familie nach Arkansas zurück und ließ sich in den holzreichen Hügeln von Sparkman nieder. Floyd hoffte, einen Sägewerksjob zu landen, aber die Depression löschte die Nachfrage nach lokalem Holz fast aus. Er unterstützte seine Frau und seine Tochter durch Landwirtschaft, Jagd und Fallenjagd. Schließlich bot ihm eine Mühle eine feste Arbeit als Lkw-Fahrer an.
Während der nächsten sieben Jahre gebar Birdie drei weitere Kinder: Jim Edward am 1. April 1934, Raymond am 29. Dezember 1936 und Bonnie Gean am 31. Juli 1938. Kurz darauf sparte Floyd genug Geld, um
eine Farm in Holly Springs zu kaufen, obwohl er weiterhin im Sägewerk arbeitete.
Am Samstagabend versammelte sich die Familie um das Radio, um die Grand Ole Opry zu hören. Als Jim Ed neun Jahre alt war, träumte er davon, ein Sänger zu werden, wie er es im Radio gehört hatte. Da eine Handverletzung die Fähigkeit seines Vaters, Gitarre zu spielen, beendete, bat der Junge seinen Onkel Cecil, ihm ein paar Akkorde beizubringen. Bald darauf erwarben er und Maxine 25-Cent-Liederbücher von Radiosängern und rekrutierten den sechsjährigen Raymond, um mit ihnen zu harmonieren. Allerdings war dieses aufkeimende Trio nur von kurzer Dauer; Raymond wurde am Tag der Arbeit 1943 bei einem verrückten LKW-Unfall getötet.
Im April 1944 erlitt die Familie eine....
The Browns A Country Music Odyssey
Read more at: https://www.bear-family.com/browns-a-country-music-odyssey.html
Copyright © Bear Family Records
Bewertungen lesen, schreiben und diskutieren...
mehr
Kundenbewertungen für "The Three Bells (8-CD)"
was für Talent
sehr schönes Set wunderbare Musik
schade das viele Sachen nie in Deutsch gesungen wurden
Bewertung schreiben
Bewertungen werden nach Überprüfung freigeschaltet.
Weitere Artikel von The Browns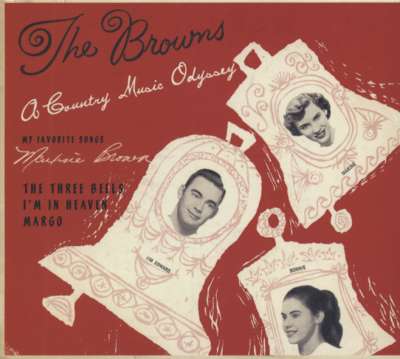 The Browns: A Country Music Odyssey
Art-Nr.: BCD16533


Sofort versandfertig, Lieferzeit** 1-3 Werktage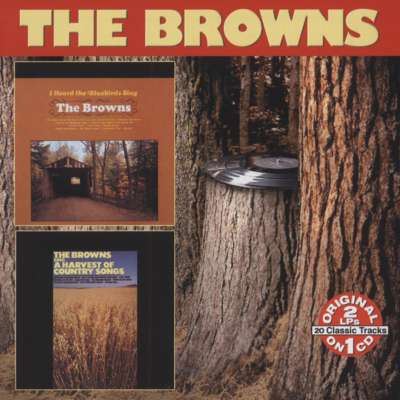 The Browns: I Heard The Bluebirds Sing - A Harvest Of..
Art-Nr.: CDCOL7309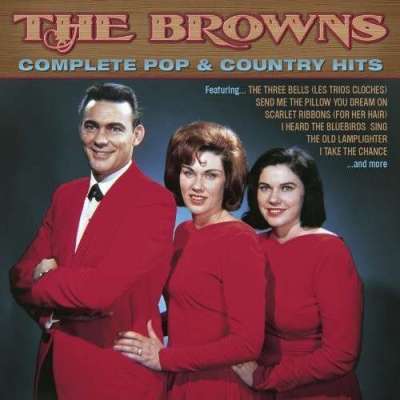 The Browns: Complete Pop & Country Hits
Art-Nr.: CDRGM0165