Der Artikel wurde erfolgreich hinzugefügt.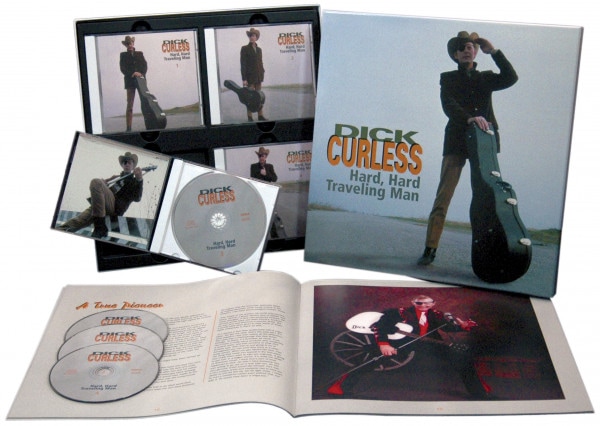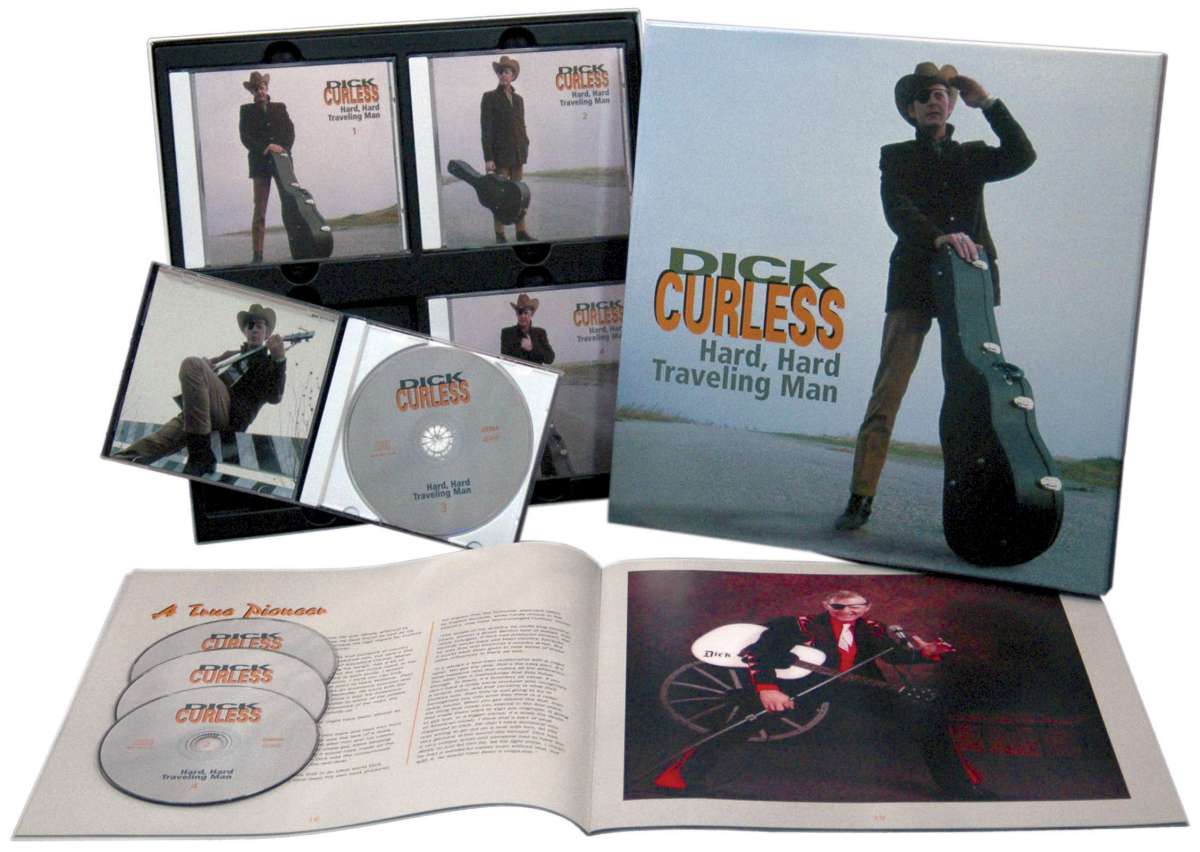 72,95 € *
79,95 € *
(8,76% gespart)
inkl. MwSt. / zzgl. Versandkosten
Sofort versandfertig, Lieferzeit** 1-3 Werktage
Artikel-Nr.:

BCD16171

Gewicht in Kg.:

1.2
4-CD Box (LP-Format) mit 48-seitigem Buch, 97 Einzeltitel. Spieldauer ca. 246 Minuten. Man...
mehr
Dick Curless: Hard, Hard Traveling Man (4-CD)
4-CD Box (LP-Format) mit 48-seitigem Buch, 97 Einzeltitel. Spieldauer ca. 246 Minuten.
Man kennt
Dick Curless
wegen seines Mega-Hits
A Tombstone Every Mile
und seiner anderen Trucker-Songs, die er zwischen 1950 und 1973 aufnahm. Diese Box nimmt den Faden seiner Geschichte dort auf, wo Folge 1 (BCD 15882) endete: mit seiner ersten Session für Capitol im Jahre 1970. Seine kompletten Songs, inklusive unveröffentlichter Aufnahmen für Capitol, sind hier enthalten. Hinzu kommt sein Live-Album aus dem Jahre 1972, das vor einer begeisterten Hörerschaft auf einem Trucker-Treffen in Wheeling, West Virginia, entstanden ist.
Das Glanzlicht dieser Box ist aber sicherlich die CD-4, die komplett aus Privataufnahmen von
Dick Curless
besteht, die nie zur Veröffentlichung gedacht waren. Diese Aufnahmen zeigen die ganze Bandbreite von Dicks künstlerischem Vermögen: Seine kraftvolle, schöne Stimme und seine Songwriter-Qualitäten. Zusammen mit der Folge 1 (BCD 15882) bietet diese Sammlung einen umfassenden Blick auf Maines grössten Beitrag zur Country Musik. Das Buch der Box enthält zahlreiche unveröffentlichte Fotos und die neuen, von
Hank Davis
geführten Interviews liefern interessante Einblicke in
Dick Curless
Leben.
Artikeleigenschaften von

Dick Curless: Hard, Hard Traveling Man (4-CD)
Albumtitel:

Hard, Hard Traveling Man (4-CD)

Genre

Country

Preiscode

DI

Edition 2

Deluxe Edition

Artikelart

Box set

EAN:

4000127161710

Gewicht in Kg:

1.2
Curless, Dick - Hard, Hard Traveling Man (4-CD)

Box set 1
01
A Pinch O' Powder
02
Big Wheel Cannonball
03
I Miss A Lot Of Trains
04
Six Days On The Road
05
A Tombstone Every Mile
06
Carter Boys
07
Hard, Hard Traveling Man
08
Long Lonesome Highway
09
Drop Some Silver In The Jukebox
10
Truck Stop
11
Goin' Down The Road Feeling Bad
12
Winter's Comin' On Again
13
Golden Girl
14
Drag 'em Off The Interstate, Sock It To 'em,
15
Please Buy My Flowers
16
Juke Box Man
17
Leaving It All Behind
18
Rocky Top
19
Juke Box Man
20
Watermelon Man
21
The Lonesome Road
22
Coastline Charlie
23
Waiting For A Train
24
Homing Pigeon
25
Come Sundown
26
Snap Your Fingers
27
Swingin' Preacher
Curless, Dick - Hard, Hard Traveling Man (4-CD)

Box set 2
01
Woman, Don't Try To Sing My Song
02
I Gave Up Getting Over You Today
03
Loser's Cocktail
04
Old Ramblin' Alabama Me
05
Sweeter Than The Honey
06
Hot Springs
07
Bully Of The Town
08
Darby's Castle
09
I'll Be A Hero
10
Wait A Little Longer
11
Stonin' Around
12
Lay Your Hands On Me (And Heal Me)
13
January, April And Me
14
Travelin' Light
15
You've Really Got A Hold On Me
16
China Nights (Shina No Yoru)
17
The Best Is Yet To Come
18
(Drinkin' Beer And) Singing A Country Song
19
Chick Inspector (That's Where My Money Goes)
20
She Called Me Baby
21
For The Life Of Me
22
Old Bob Burton
23
The Last Blues Song
24
Born In Country Music
25
Room Full Of Roses
26
Been There People
27
Country Music Man
28
Lazy Bones
Curless, Dick - Hard, Hard Traveling Man (4-CD)

Box set 3
01
Swingin' Preacher
02
Country Soul
03
Get On Board My Wagon
04
Intro
05
Chick Inspector (That's Where My Money Goes)
06
Intro
07
Truck Stop
08
Intro
09
I've Come Awful Close
10
Intro
11
The Lonesome Road
12
Intro
13
15 Gears And 14 Wheels
14
Drag 'em Off The Interstate, Sock It To 'em,
15
Big Wheel Cannonball
16
Intro
17
Sixty Minute Man
18
Intro
19
Evil Hearted Me
20
(I'm Gonna Move To) The Outkirts Of Town
21
Interruption
22
(I'm Gonna Move To) The Outskirts Of Town
23
Intro
24
(Drinkin' Beer And) Singing A Country Song
Curless, Dick - Hard, Hard Traveling Man (4-CD)

Box set 4
01
Cottage In The Pines
02
Down By The Riverside
03
Heart Talk
04
My Side Of The Night
05
Then I'll Get Over You
06
Cupid's Arrow
07
When Dad Was Around
08
Rocky Mountain Queen
09
So Little And Lovely
10
Memories, An Old Picture And A Ring
11
His Mountain
12
Nobody
13
Steel Rails
14
Steel Rails
15
In The Middle Of A Tear Drop
16
Changin' Times
17
Remember Me
18
Remember Me
DICK CURLESS Hard, Hard Traveling Man Die ersten 20 Jahre der Karriere von Dick Curless,...
mehr
"Dick Curless"
DICK CURLESS
Hard, Hard Traveling Man
Die ersten 20 Jahre der Karriere von Dick Curless, einschließlich der ersten Aufnahmen von'The Tumbleweed Kid', werden in der 5-CD-Box (BCD 15882) ausführlich vorgestellt. Diese zweite Box knüpft dort an, wo die erste endete, und setzt sich bis zur letzten von Curless' Aufnahmen für Capitol Records im Jahr 1973 fort. Es endet mit einer unerwarteten Sammlung von Heimaufnahmen, die eine Offenbarung für die Fans von Curless sein wird, und eine Visitenkarte für diejenigen, die seine Musik kaum kannten oder verstanden haben.
Mit den Fakten von Dick Curless' Leben und Karriere auf BCD 15882 haben wir mehr Spielraum, um über den Mann selbst und seine Musik nachzudenken. Curless' Stimme hat schon immer Aufmerksamkeit erregt. Schon früh war klar, dass er mehr als nur ein Country-Sänger war. Zum einen war er aus Maine. Das bedeutete kein Country-Drawl; nichts von dem vertrauten Twang, der mit Country-Musik assoziiert wird. Seine Stimme selbst war eine Einladung an Kritiker, die eine Herausforderung liebten. "Denk an Ray Price mit viel mehr Seele", beobachtete der Kritiker Matt Nozzolio. "Stellen Sie sich Johnny Cash mit Merle Haggards Kontrolle und Reichweite vor", schlug Jon Johnson vor. Es gab Elemente der Wahrheit in beiden Vergleichen, und andere auch. In der Tat, je tiefer man sich in Curless' aufgenommenes Werk vertiefte, desto offensichtlicher wurde es, dass dieser Sänger nicht nur ein Ein-Trick-Pony war.
Die Musik auf diesem Set beginnt im Januar 1970, nachdem Curless' Plattenvertrag von Tower Records, der heute nicht mehr existierenden Tochtergesellschaft, auf Capitol, die Muttergesellschaft, übertragen wurde. Die Suche nach dem Zauber des unerwarteten Treffers von Curless aus dem Jahr 1966 ging weiter, ja war bereits seit 1966 im Gange. Wie die meisten Hit-Platten schien der Prozess mühelos, während er stattfand. Erst nachdem sich der Staub gelegt hatte, begann die eigentliche Arbeit - den Erfolg von A Tombstone Every Mile wieder einzufangen.
IN EINEM LASTWAGEN STECKEN GEBLIEBEN
In den fünf Jahren zwischen Curless' Mega-Hit und der letzten Tower-Session 1969 war klar geworden, dass Dick Curless ein von einer Formel gefangener Künstler war. Er wurde fast überall als "Lkw-Fahrer" wahrgenommen, als "Reisender". Das war seine Heimat, sein Weg zum Erfolg und sein zuverlässigster Zahltag.
In den Filmen nennt man es Typ Casting. Die meisten Künstler, die in einer solchen Kraft gefangen sind, genießen eine Hassliebe zu ihrem Image, ebenso wie die Produzenten, die es durchsetzen. Curless war nicht anders, und das aus gutem Grund. Jede Session, die er 1970 machte, und es gab sieben davon, enthielt mindestens ein Lied mit einem direkten Bezug zur Straße, zu Lastwagen oder auf Reisen. Obwohl er sich durch solches Material schlafgewandelt haben mag, hat sich Curless weiterhin wie ein Profi verhalten und selbst das alltäglichste Material mit Würde inspiriert. Zumindest wusste er, dass Hit-Rekorde das Lebenselixier seiner Karriere waren. Zu diesem Zeitpunkt schrieb oder adaptierte Curless nicht sein eigenes Material, so dass sich seine Einnahmen auf Rekordverkäufe und persönliche Auftritte beschränkten. Beide von denen, die Ihren Namen in den Charts haben wollten, und der beste - oder zumindest sicherste - Weg in die Charts war, indem sie sich wieder einmal als der hart reisende Mann ausga
ben, müde von den Interstates und Truckstops, aber dennoch glatt in ihren Wegen.
Und so nahm Dick Curless weiterhin in einem vertrauten Stil auf. Im Gegenzug, die Öffentlichkeit weiterhin ihren Teil zu tun und kaufen seine Singles. Big Wheel Cannonball, von der ersten Session 1970, schaffte es in die Charts und blieb dort für 11 Wochen und erreichte Platz 27. Curless' nächste Single (Hard, Hard Traveling Man), die drei Monate später aufgenommen wurde, fand ebenfalls die Mitte der Charts (#31) und blieb dort für 10 Wochen. Und wie ein Uhrwerk landete die nächste Platte (Drag 'Em Off The Interstate, Sock It To 'Em, J.P. Blues) auf Platz 29 und blieb 9 Wochen auf den Charts. Das Muster setzte sich fort mit seiner nächsten Single, Juke Box Man, aufgenommen im November 1970. Auch sie blieb 9 Wochen lang in den Charts und erreichte Platz 41.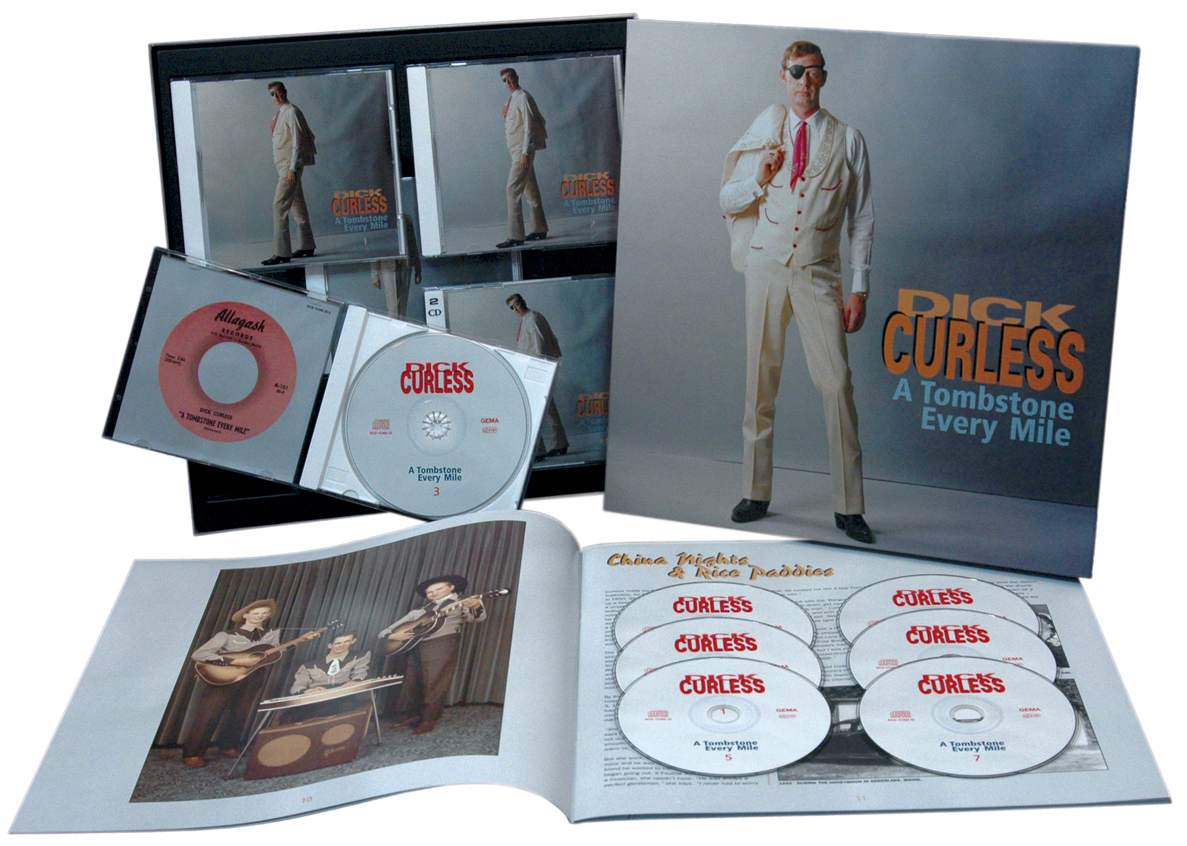 Auch im folgenden Jahr setzte sich das Muster des mittleren Erfolgs fort. 1971 begann mit Curless' nächster Single Loser's Cocktail auf Platz 36 der Charts und 9 Wochen Aufenthalt. (Die gleiche Session produzierte I Gave Up Getting Over You Today, ein vollkommen konventionelles Stück aus den 1970er Jahren, das jeder, ohne Curless' besondere Geschenke, aufgenommen haben könnte. Am folgenden Tag (4. Februar 1971) verwöhnte Curless wieder das Gewöhnliche mit Old Ramblin' Alabama Me, doch schon auf dem nächsten Track in der Session (Sweeter Than Honey) wandte er sich dem Material mit starkem Blues-Effekt zu. Leider wurde das Material als Albumfüller veröffentlicht. Als nächstes war es der alte Joe Henderson R&B Song von 1962 Snap Your Fingers, der auf Platz 40 stand und 10 Wochen in der Nähe blieb. (Während die Ergebnisse für Curless mäßig erfolgreich waren, waren sie nichts im Vergleich zu Randy Travis mehrere Jahre). Das Jahr ging weiter mit zwei weiteren Chart-Singles, Januar, April und ich, die ihren Höhepunkt bei #34 erreichten und 11 Wochen dauerten, und dem easy going, aber letztendlich trite Stonin' Around, das mit einem 9-Wochen-Chartlauf #31 erreichte.
Dick Curless Hard, Hard Traveling Man (4-CD)
Read more at: https://www.bear-family.com/curless-dick-hard-hard-traveling-man-4-cd.html
Copyright © Bear Family Records
Bewertungen lesen, schreiben und diskutieren...
mehr
Kundenbewertungen für "Hard, Hard Traveling Man (4-CD)"
Von:
Hermann
Am:
26.07.2017
Super Ergänzung
Nun bin ich zu frieden :)
Bewertung schreiben
Bewertungen werden nach Überprüfung freigeschaltet.
Weitere Artikel von Dick Curless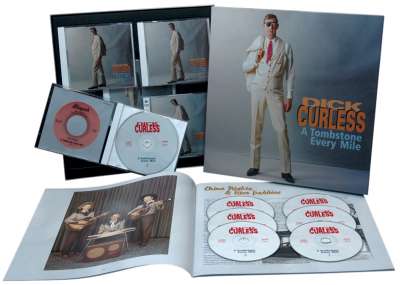 Dick Curless: A Tombstone Every Mile (7-CD)
Art-Nr.: BCD15882


Sofort versandfertig, Lieferzeit** 1-3 Werktage