Der Artikel wurde erfolgreich hinzugefügt.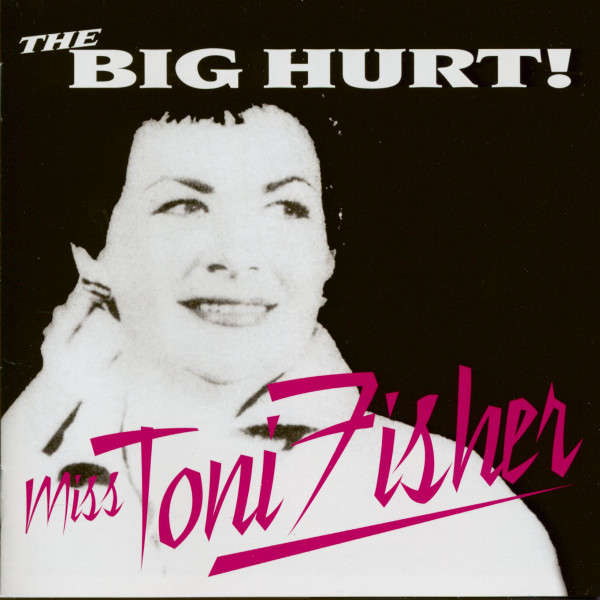 Benachrichtigen Sie mich, sobald der Artikel lieferbar ist.
inkl. MwSt. / zzgl. Versandkosten - Abhängig vom Lieferland kann die MwSt. an der Kasse variieren.
Artikel derzeit nicht verfügbar, Lieferfristen von bis zu 2-3 Wochen sind zu erwarten. (soweit verfügbar beim Lieferanten - kann schneller gehen, manchmal aber leider auch nicht)
Artikel-Nr.:

CDHRK8225

Gewicht in Kg.:

0.107
(Harkit Records) 30 Titel 1959-67 Eine versierte Sängerin, die mit Produzent Wayne Shanklin mit...
mehr
Toni Fisher: The Big Hurt! (CD)
(Harkit Records) 30 Titel 1959-67

Eine versierte Sängerin, die mit Produzent Wayne Shanklin mit "The Big Hurt" einen großen Welthit erzielte. Die Platte erregte Aufsehen mit ihrem einzigartigen Phasengang oder falsch ausgerichteten Sound (aufgrund des phasenverschobenen Phänomens, das auftrat, als der Twin-Tracking-Effekt "schief ging").

Das ist die Geschichte des Hits! Trotz der Bemühungen, mit "West Of The Wall" (einer der ersten Protestsongs), der ihr einziger weiterer Hit war, sprang Toni leider ohne weitere Gewinner von Label zu Label.

Nichtsdestotrotz fügt diese überarbeitete Version unseres früheren Releases nun weitere Tracks hinzu, die bisher nicht verfügbar waren. Die über 76-minütige CD enthält seltene Archivfotos aus dem Shanklin-Archiv und sehr informative Notizen des Musikwissenschaftlers Austin Powell aus den sechziger Jahren.
Artikeleigenschaften von

Toni Fisher: The Big Hurt! (CD)
Albumtitel:

The Big Hurt! (CD)

Genre

Pop

Artikelart

CD

EAN:

5055055902255

Gewicht in Kg:

0.107
Toni Fisher Toni Fisher Geboren 1931 in Los Angeles. Sängerin, über deren...
mehr
"Toni Fisher"
Toni Fisher
Toni Fisher
Geboren 1931 in Los Angeles. Sängerin, über deren Biographie trotz dreier US-Hits kaum etwas bekannt geworden ist. Schon in jungen Jahren trat sie mehrfach in der Marco Juvenile Review auf, einer dreimal pro Jahr veranstalteten Gesangsshow für Studenten in einer Bühnen-Schule namens Fanchon & Marco. Sie gehörte ferner zu den Fanchonettes, gastierte im Fernsehen und absolvierte Auftritte in Clubs wie dem 'Silver Slipper' (Las Vegas), "Coconut Grove' (Los Angeles) und 'Big Top' (Long Beach). Im November 1959 landete sie mit "The Big Hurt' (auch Titel ihrer LP) einen Nr.-3-Treffer für das kleine Signet-Label.
Komponist und Produzent: Fishers Ehemann Wayne Shanklin, der außerdem Song-Klassiker wie 'Chanson d'amour', 'Jezebel' und 'Primrose Lane' geschaffen hat. Fisher nahm bis 1967 weitere Singles für Columbia, Smash und Capitol auf, danach verliert sich ihre Spur. 'How Deep Is The Ocean' von Irving Berlin war 1960 der zweite Hit auf Signet. Ein Abstecher zum Big-Top-Label bescherte ihr im Mai 1962 Chart-Erfolg Nr. 3, 'West Of The Wall'. Die textlich in Berlin angesiedelte Liebesgeschichte kam in den Billboard-Charts bis auf Rang 37, geschrieben hatte sie erneut Wayne Shanklin. Weltweit unveröffentlicht geblieben, fand sich auf einem amerikanischen Master-Tape Fishers deutsche Version der Mauer-Romanze.
Titel laut Bandkarton: 'Dort in Berlin'. Bei der GEMA ist der Song (deutscher Subtexter: Bob Rei, ein Pseudonym für Hermann Lüth [T921 - 1978]) unter dem Titel 'Grüß mir Berlin' gemeldet. Mit diesen drei Worten beginnt Fisher auch ihren Gesang. Eine dritte Variante ergab die Recherche über den hiesigen Musikverlag: In der Papiertasche des Fisher-Azetats der Originalfassung steckte ein Textblatt der deutschen Version unter der Bezeichnung 'In West-Berlin' - allerdings mit völlig anderem, mitverwendetem, aber thematisch passendem Wortlaut. Für zusätzliche Verwirrung sorgt ein weiteres 'Grüß mir Berlin'. Autoren: Horst Ramthor - Fred Liese.
Diese Nummer ist jedoch bereits seit 1955 bei der GEMA registriert und hat mit 'West Of The Wall' von Wayne Shanklin - Bob Rei nichts zu tun. Eine Veröffentlichung der Toni-Fisher-Einspielung auf dem hiesigen Heliodor-Label war möglicherweise geplant, zustande gekommen ist sie nicht- lediglich das Original "West Of The Wall' erschien mit der Katalognummer um 453 125 am 16.7.1962. Toni Fisher (der anfangs bei ihr übliche Zusatz 'Miss' fehlte auf "West Of The Wall') verstarb am 12. 2. 1999 nach einem Herzanfall im 5000-Einwohner-Städtchen Hyrum, US-Staat Utah. Sieben Jahre zuvor war die Interpretin in einem Song der texanischen Rock-Band Drain verewigt worden, 'The Ballad Of Miss Toni Fisher' (Trans Syndicate TR 11). Aus dem Bear Family Buch - 1000 Nadelstiche von Bernd Matheja - BFB10025 -
Weitere Informationen zu Toni Fisher auf de.Wikipedia.org
Bewertungen lesen, schreiben und diskutieren...
mehr
Kundenbewertungen für "The Big Hurt! (CD)"
Bewertung schreiben
Bewertungen werden nach Überprüfung freigeschaltet.