Sundazed CDs und Vinyl-Schallplatten
Das Sundazed Records Label und Modern Harmonic


Das amerikanische Platten-Label Sundazed wurde 1989 von Bob Irwin als CD-Wiederveröffentlichungs-Label gegründet, nachdem er seinen Job als Manager und Einkäufer für eine Kette verschiedener Musikhändler an den Nagel gehängt hatte. Mit der Gründung hatte er genaue Vorstellungen und legte seinen Fokus auf die interessanteren und zumeist schwer erhältlichen Seitenprodukte neben den Pop Charts, also hauptsächlich Pop Raritäten, Garage, Psychedelia, Surf und Rockabilly.
Der Gründer von Sundazed Records fand seine eigene Nische im Heer der weltweiten Wiederveröffentlichungs-Labels.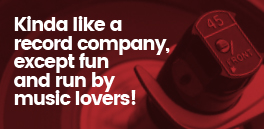 Das Roster der Künstler auf den Sundazed Wiederveröffentlichungen liest sich wie das 'Who is who' der großen Namen aus der Geschichte der Musik, von Lou Reed und Iggy Pop, Simon & Garfunkel und Janis Joplin, über Stevie Ray Vaughan, Dick Dale, Buck Owens und Link Wray, zu legendären 60er Jahre Garagen-Rockern, The Shadow Of Knight, The Trashmen und The Remains, ebenso, wie große Produktionen von Skip Spence, Roger McGuinn und The Lovin' Spoonful.
Sundazed begann auch während der langen erfolgreichen Label-Geschichte, Vinyl-Platten wieder neu aufzulegen, im LP-, Ten-inch (25cm) und Single-Format. Ob es eine exakte Reproduktion eines original Johnny Cash Albums ist, die Mono-Pressungen von Bob Dylans frühen Alben, oder unveröffentlichtes Material in Neu-Produktion, alle sind auf qualitativ hochwertigem, teilweise farbigem oder 180g Vinyl gepresst.
Und es ist auch in Zukunft von Sundazed viel zu erwarten!