Der Artikel wurde erfolgreich hinzugefügt.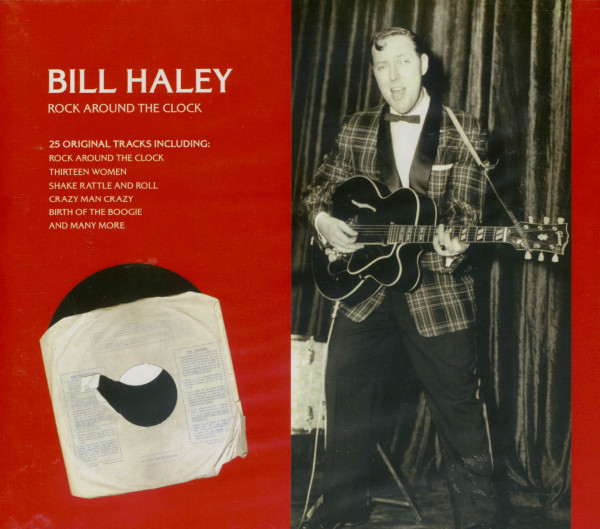 9,95 € *
14,95 € *
(33,44% gespart)
inkl. MwSt. / zzgl. Versandkosten - Abhängig vom Lieferland kann die MwSt. an der Kasse variieren.
Sofort versandfertig, Lieferzeit** 1-3 Werktage
Artikel-Nr.:

CD26487

Gewicht in Kg.:

0.1
25 original tracks - total playing time - 64:33 On 12 April 1954. Bill Haley and his Comets...
mehr
Bill Haley & His Comets: Rock Around the Clock (CD)
25 original tracks - total playing time - 64:33 On 12 April 1954.
Bill Haley
and his
Comets
crowned their first session in New York for Decca Records with a recording of Rock Around The Clock, a novelty song co-written by Haley's manager
Dave Myers
(under his pseudonym Jimmy Denight) and Tin Pan Alley veteran Max Freedman. It had been recorded without success by Sunny Dae in 1952, but Haley's version benefitted considerably from Decca A & R man Milt Gabler's previous association with Jump Jive star
Louis Jordan
, and Gabler brought in a sharper sound featuring boldly arranged rim shots from drummer Billy Guesack and a memorable guitar break by Danny Cedrone. Nevertheless it was the follow-up, a cleaned-up version of Big
Joe Turner
's lascivious Shake, Rattle And Roll, which eclipsed the song initially and its Top Ten impact forced the re-release of Rock Around The Clock. Strongly promoted in the controversial teenage delinquency movie The Blackboard Jungle - on which Myers acted as technical advisor - it went to No.1 worldwide, was adopted as an instant youth anthem and eventually sold over 22 million copies. Haley. though apparently lacking the good looks and charisma of a genuine teen idol, became a star overnight, together with his trademark kiss-curl. Born near Detroit, Michigan in 1925. Bill Haley grew up in Chester, Pennsylvania where his parents bought a farm. In the early 1940s he started out as a hillbilly act inspired by
Elton Britt
, trying to launch himself with a yodelling cowboy image. and he played guitar for two years with Cousin Lee's band before joining Shorty Cook's Downhomers in 1944. He made his first solo record Candy Kisses in 1945 and toured the Midwest up to the late 40s: 'The style we played way back in 1947, 1948. 1949.' he reflected later' was a combination of country and western, Dixieland and the old-style rhythm and blues.' He returned to Chester worked as a DJ on the new local radio station WPWA, and formed his own band
The Four Aces
Of
Western
Swing to continue playing in conventional Northern country-boogie showband style. By 1949 Haley was looking for different directions. and had noticed the success of local bandleader Jimmy Preston whose Rock The Joint was a national hit in the same year. White dance hands like Haley's generally drew somewhat staid audience reaction but Preston, in common with the R& B-influenced bands led by Lionel 'Flying Home' Hampton and Paul 'Hucklebuck' Williams, often elicited wildly enthusiastic crowd responses, encouraged by extrovert soloists playing their instruments lying on their backs or climbing up pianos. Haley began his progression towards this more full-on entertainment by forming the Saddlemen. who added a stronger rhythm, a slap bass and a distinctive jive-talking vocabulary, and came to be billed as The
Cowboy
Jive Band. Most significantly, the Saddlemen covered
Jackie Brenston
's explosive
Rocket 88
in 1951, a thrilling chart-topper often cited as the first real Rock & Roll record. Haley's powerful rockabilly treatment only sold 10.000 copies however, and it was his next record, a convincing cover of Rock The Joint, which really started to kick in on sales, reaching over 75,000. In 1953 Haley took a further leap forward by changing his band's name to the Comets and recording Crazy Man Crazy, his first national Top Twenty hit with a forceful sound, hip lyrics and the clearest yet forerunner of the dynamism just around the corner Haley then made Rock Around The Clock, of course. starring bassist Al Rex from the original Comets reinforced by two crucial additions in the shape of hot soloists Frank Beecher on guitar and Rudy Pompilli on saxophone. Both contributed instrumental expertise and the vital element of athletic showmanship on stage, which cemented the acfs appeal. The eponymous movie provoked notoriety through teenage riots and Don't Knock The Rock, another musical vehicle which starred
Little Richard
and seminal DJ Alan Freed. was an attempt to play down alleged delinquency by equating youthful enthusiasm with previous dance crazes for the Charleston and the Jitterbug. Bill Haley became the biggest attraction in the pre-Presley world of 1955, particularly popular in the UK where he had no competition and where every record he released on Brunswick up to March 1957 reached the Top Twenty His British tour of that year presented him just as he was - married, slightly overweight and rather sedate, in complete contrast to the young Elvis - and therefore cut short his reign as inspirational youth leader despite always retaining his musical integrity. This album surveys the period in his career from 1948 to 1954, opening up with the great Rock & Roll records which will forever be remembered, it also takes in the transitional era with the Saddlemen and delves right back to his raw country roots with the Four
Aces
Of Western Swing. Neil Kellas 2005
Artikeleigenschaften von

Bill Haley & His Comets: Rock Around the Clock (CD)
Albumtitel:

Rock Around the Clock (CD)

Genre

Rock'n'Roll

Artikelart

CD

EAN:

4006408264873

Gewicht in Kg:

0.1
Bill Haley Geboren am 6.7.1925 in Highland Park, US-Staat Michigan, gestorben am...
mehr
"Bill Haley & His Comets"
Bill Haley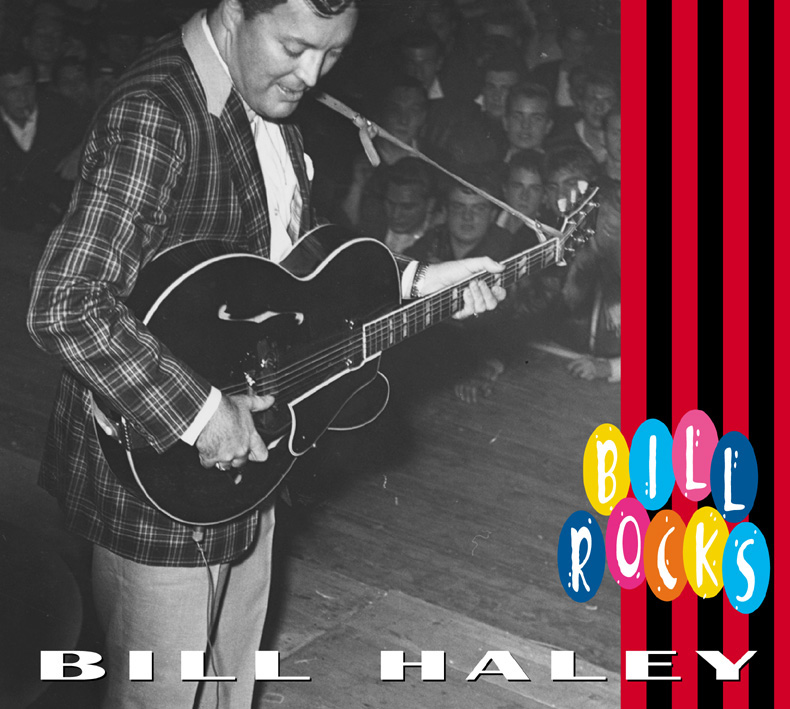 Geboren am 6.7.1925 in Highland Park, US-Staat Michigan, gestorben am 9.2.1981 in Harlingen, Texas. Der Rock'n'Roll-Pionier kam aus der Country- und Western-Swing- Szene. 1953 formierte Bill Haley die Comets (später unter anderem mit dem exzellenten Saxophonisten Rudi Pompilli, verstorben am 5.2.1976), im Jahr darauf unterschrieb er einen Plattenvertrag bei Decca.
Bill Haley & The Comets
Bis 1960 spielten Bill Haley & The Comets über ein Dutzend US-Hits und Klassiker ein, darunter Unvergängliches wie "Rock Around The Clock', 'See You Later Alligator", 'Rock-A- Beatin'-Boogie', 'R-O-C-K' und 'Rip It Up'. Die Crew wirkte ferner in Musikfilmen jener Zeit mit. 1958 war der Altmeister mit der deutschen Sprache in Kontakt gekommen.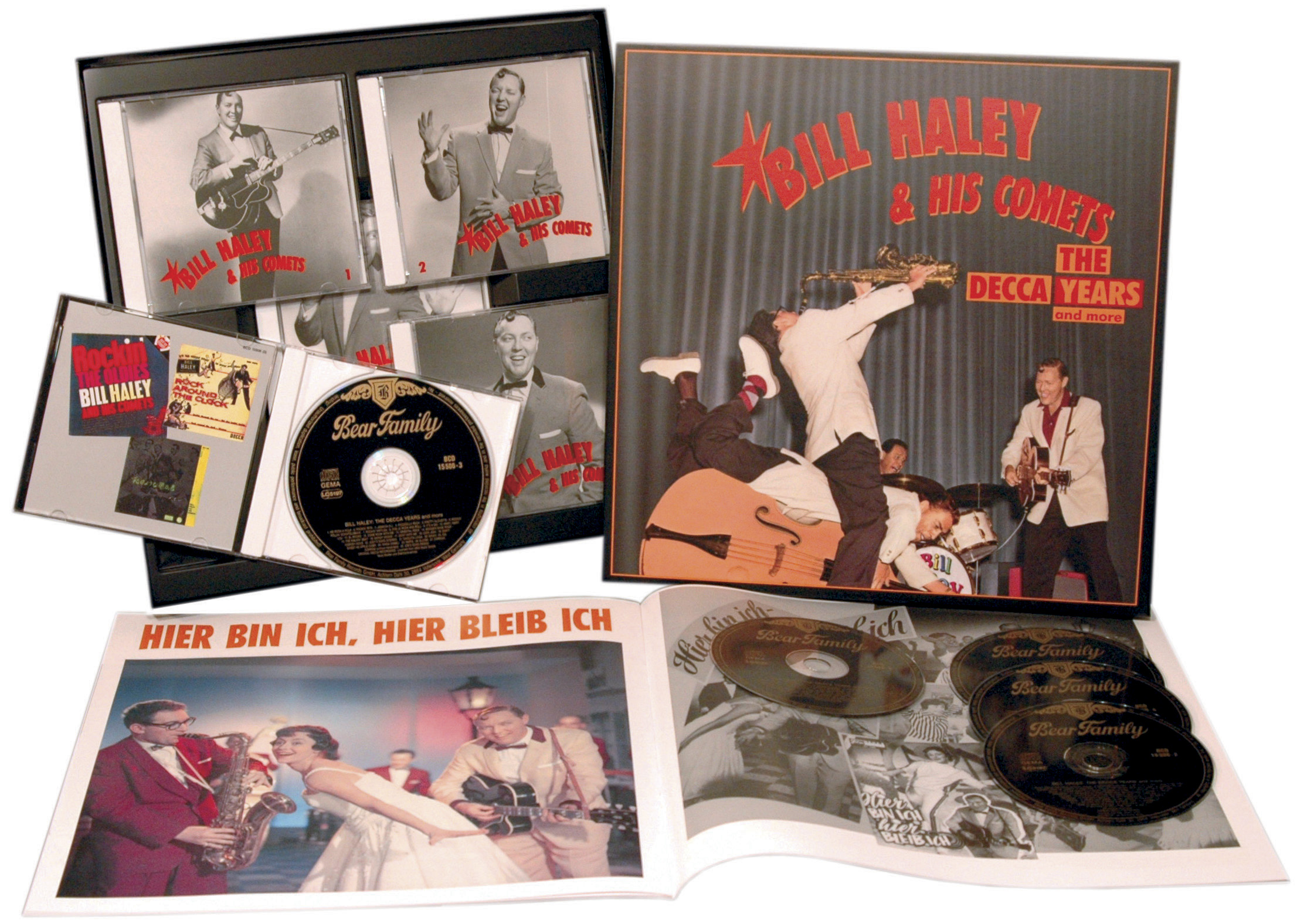 Für seine LP 'Rockin' Around The World' (Decca 8692 - USA) spielte Bill Haley Tracks wie 'El Rocko', 'Vive la Rock'n'Roll', "Me Rock-A-Hula', - 'Piccadilly Rock' und 'Wooden Shoe Rock' ein. Die zumindest im Titel internationales Flair signalisieren sollten. Was lag da näher, als für den deutschen Abstecher ein so ungemein gebräuchliches Wort wie 'Schnitzelbank' in den Text zu integrieren? Ebenfalls im Angebot: 'ja', ' - Fraulein' und 'Ach, du lieber Augustin'. . .
Aus dem Bear Family Buch - 1000 Nadelstiche von Bernd Matheja - BFB10025 -
Bewertungen lesen, schreiben und diskutieren...
mehr
Kundenbewertungen für "Rock Around the Clock (CD)"
Bewertung schreiben
Bewertungen werden nach Überprüfung freigeschaltet.
Weitere Artikel von Bill Haley & His Comets