Der Artikel wurde erfolgreich hinzugefügt.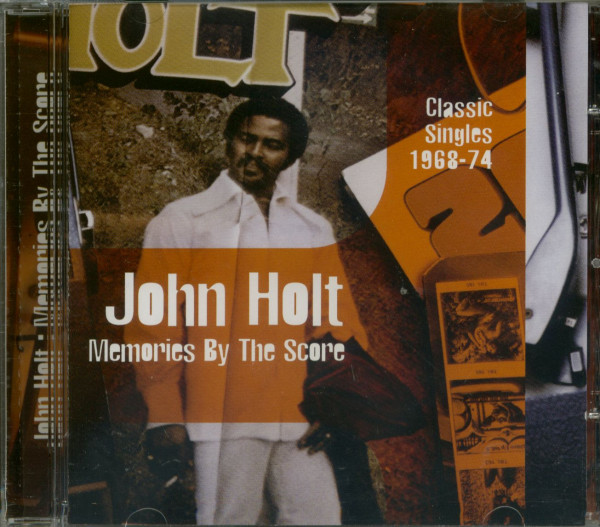 9,95 € *
17,95 € *
(44,57% gespart)
inkl. MwSt. / zzgl. Versandkosten - Abhängig vom Lieferland kann die MwSt. an der Kasse variieren.
Sofort versandfertig, Lieferzeit** 1-3 Werktage
Artikel-Nr.:

CDWESA852

Gewicht in Kg.:

0.1
(Westside/2000) 18 tracks John Holt ....Of course, technically this album should be called...
mehr
John Holt: Memories By the Score (CD)
(Westside/2000) 18 tracks
John Holt
....Of course, technically this album should be called "Memories By Not-Quite-The-Score", as it only contains 18 tracks, rather than that number plus the two that would give us 20! But joking aside, Westside's second dip into the vast catalogue of essential John Holt masters has yielded another vital selection of classics and rarities that have been unavailable for far too long. It seems unthinkable in the CD age that there's still scope for a compilation such as this, when its performer has Compact Discs By The Score on sale wherever reggae is stocked. But even when an artist is as anthologised as Holt has been. there's always going to be an amount of valuable material that has slipped through the cracks due to its scarcity-on-vinyl. Most of the "Memories" featured herein have such rarity value, all but the most ardent Holt completists that they've been little more than that for the past 25+ years! The hard-to-find status of this material isn't a reflection of its quality, though - these are among the finest recordings of John Holt's 37-year career...
We'd hope that most of you who are buying this CD will have already acquired Westside's earlier Holt anthology "Like A Bolt" (WESA 810). That package carried a fulsome biography of John. which we'll forego further repetition of here in an effort to put greater focus on the music. For those that don't own it, here's a brief recap on the man's personal details, Born 1947 in Kingston, Jamaica, starts as a boy singer, cuts his first sides for Leslie Kong's Beverley's imprint at age 16, teams up briefly with
Alton Ellis
as a duet before co-founding the Paragons with Bob Andy in 1965. Andy quits for a solo career, the remaining group members go on to become one of the most successful vocal acts of the Rocksteady era. The
Paragons disband in 1969 John continuing on his own having already released some solo sides while still a member of the group. After working with Duke Reid and Coxsone Dodd, he cuts his first sides for Edward "Bonnie" Lee as the 60s draw to a close. Up to speed? Good, now read on...
John's association with Lee was by far his most prolific during the years covered by this CD. Indeed, as I've already noted in the booklet of "Like A Bolt", "
Between
1971 and 1973 it seemed like barely a week went by without a new (Lee-produced) John Holt 45 appearing". Many of the best Lee-Holt collaborations have been collected and reissued elsewhere in the CD format, but this particular package is happy to add to what's already available by bringing you Holt's lively revival/adaptation of
Frankie Ford
's Rock 'n' Roll classic "Sea Cruise" (with producer Lee cheekily appropriating the bells-and-foghorn intro straight off the original Ford 45!), and his more leisurely do-overs of the late
Johnny Ace
's "Anymore" and - somewhat bizarrely - UK better
Dorothy Squires
' 40s schmaltzer "A Tree In The Meadow" (US Chanteuse
Margaret Whiting
had the simultaneous North American hit).
From a further reunion of the pair we happily add to this tally with a quartet of cuts that John voiced slightly later in the decade, at the studios of the late and legendary Osbourne Ruddock - better known as
King Tubby
's. Only one of these was a revival, and a fine revival at that, of The
Cliques
' mid-50s dreamy Doo-Wopper "My Desire". The others are Holt originals, "I'll Be Yours" originally appeared as the flip of Vin Gordon's horns cut to the "None Shall Escape The Judgement" rhythm "Magnum Force", and the strong "I've Been Admiring You"- featuring John adding new words to the strong Rocksteady rhythm of the
Uniques
'"The Beatitude" a.k.a. "Blessed Are The Meek" - was also a b-side, to then-upcoming DJ Dillinger's "Crankie Bine". But the rambunctious "Don't Give Up The Fight" was very much its own song and single, and is one of John's best of the period even though it has somehow eluded a UK release until now.
Even after he made it big internationally with the MOR-aimed "Volts" series, Holt would periodically work with Lee when he wanted to cut sides that held more 'roots' appeal for his core audience. Their non-exclusive association may well have been the most rewarding of Holt's 37-year career to date - but even though they worked well together, there were also many other producers ready, willing and able to get excellent results out of whatever studio time they could get with John. Successful liaisons with Clement "Coxsone" Dodd and
Arthur
"Duke" Reid have previously been appraised and praised in the notes to "Like A Bolt" - and the cream of Holt's output for some of Jamaica's other important producers comprises the rest of "Memories By The Score"...
That gorgeous title track and its flip "Number One For Me" are both the oldest tracks herein and the end product of Holt's only liaison with the soulfully inclined Derrick Harriott. These two super sides feature vocal support from Tyrone Evans and Howard Barrett, John's two fellow Paragons, and were among the last recordings released by the Paragons before Barrett, Evans and Holt dissolved the group so that John could forge ahead with his solo career and Tyrone and Howard could migrate to the U.S.A - where both lived for many years, before reviving the group name in the mid 70s and cutting a further selection of classic tracks.
All other cuts here date from the height of Holt's popularity and creativity, i.e. 1971-73. In a single 1971 session for Phil Pratt, John laid down a trio of his finest recordings over some of the hardest rhythms he'd ever voiced.
The track of "Strange Things" later saw service as the groove behind Big Youth's Negusa Nagast rarity "Miss Lou Ring Ding" but, strangely, no DJ ever saw fit to adapt the menacing "Give Me Justice" -which is a shame as its doomy, unrelenting plod should have made it ideal for one of the (then) 'new breed' of banton, such as Big Joe or the aforementioned Dillinger. Few would dispute that its message and performance make it one of the absolute highlights in a set that's fair brimming over with 'em. The other cut here revived
Ken Boothe
's Studio One hit "My
Heart
Is Gone", an adaptation of an obscure Four Tops flipside "Just As Long As You Need Me". Despite the fact that Holt also versioned himself on this one by cutting a simultaneously-released version for Coxsone (which even recycled Boothe's original 1967 rhythm track), this is the take that everyone remembers and that is rightly acclaimed as a highpoint in Jamaican vocal music. Its strident rhythm was later used to good effect on Dennis Alcapone's DJ'd "Picture Or No Picture" and a lively horns cut ascribed to 'Carl Moore', "Our Forefathers Died In The Sand"...
An equally brief liaison with Alvin "GS" Ranglin resulted in one of John's most popular hits of late '71, "Keep It Up" (later made over, DJ Style, by Dennis Alcapone as "Milk And Honey"). That's been on CD before - but less well known, and new to this format, is its original flip "A
Love
Like Yours" which uses the same rhythm track to equally potent effect. At almost the same time, a one-off with Lloyd Daley yielded the short-but-sweet lickover of the Capris' early Doo-Wop lilter "Let's Linger Awhile". Those who turned the record over to check out the simply titled "Linger Version" would have found a rare "version excursion" featuring John's own attempts to emulate the likes of Messrs. Alcapone, Stitt and
Boys
U- and I-. While its fair to say that none needed to lose any sleep over the outcome, it's a nice little period piece and we're happy to give it what might just be its first-ever reissue on this package...
The three remaining tracks here were originally released on various labels owned by Eddie Wong of the family that operated what, for a long time, was one of the best record stores in downtown Kingston - Wong Brothers. It's rather more likely that they were produced by Holt himself and either financed by, or later sold to, the Chinese-Jamaican. The jaunty "Part Of Life" and "LovMg Memories" (the latter with a rhythm that bears a strong resemblance to that of the
Tony
Brevitt classic "So Ashamed") were originally released back-to-back on the same 45 - unusually for a time when most Jamaican 45s merely carried a "version" on the flip. Both are good songs, entirely typical of the artist's written output of the period. The lively "My Happiness" (this time not the 40s oldie!) was a later Holt-Wong enterprise, and one further single came from these sessions. Although it's not included here, "A Man I Am" - a weird half-sung, half-recited variation on
Jimmy Holiday
's soul gem 'The Turning Point" - is worth mentioning as it gives this set a form of closure by utilising the rhythm from Slim Smith's more straightforward revival of the song - which was produced, inevitably, by
Bonnie Lee
! And which, in effect, is where we came in...
As has been already noted, John Holt was inordinately prolific in the early years of his solo career - but as these 18 sides demonstrate, the quality of the near-overwhelming amount of music he laid down did not deteriorate at any point during this period. In spite of the already-mentioned fact that there are numerous Holt CD's out there which spotlight this period in a more than acceptable manner, there can be very little doubt that this is among the finest representations of John's work in his pre-international years...
"Memories By The Score"? Fi true, fi true....
DENNIS LYONS - JUNE 2000
Artikeleigenschaften von

John Holt: Memories By the Score (CD)
Bewertungen lesen, schreiben und diskutieren...
mehr
Kundenbewertungen für "Memories By the Score (CD)"
Bewertung schreiben
Bewertungen werden nach Überprüfung freigeschaltet.