Der Artikel wurde erfolgreich hinzugefügt.
14,95 € *
17,95 € *
(16,71% gespart)
inkl. MwSt. / zzgl. Versandkosten - Abhängig vom Lieferland kann die MwSt. an der Kasse variieren.
Sofort versandfertig, Lieferzeit** 1-3 Werktage
Artikel-Nr.:

LPSCUB8003

Gewicht in Kg.:

0.2
(MGM Australien) 12 Titel - Kult Doo Wop Band aus Brooklyn, New York. Neuauflage der legendären...
mehr
The Impalas: Sorry (I Ran All The Way Home) (LP)
(MGM Australien) 12 Titel - Kult Doo Wop Band aus Brooklyn, New York. Neuauflage der legendären 1959 LP (das Original wird bis zu 200 Dollar gehandelt).
Sehr gute Pressqualität - Kleiner Restbestand dieser echten (und einzigen) Alternative!
An diesem Nachmittag in Brooklyn geschah nicht viel Ungewöhnliches. Die High School hatte gerade für den Tag freigelassen und drei Jungen trafen sich zusammen zu ihrem täglichen Koks. Sie begannen damit, "die Brise zu schlagen", in der üblichen Art und Weise von Freunden, die sich in der Schule für ein paar Begriffe gekannt hatten - Klassenzimmer-Klatsch, die Vorzüge neuer Rekorde, Mädchen, mit denen sie zusammen waren. Aber bald wurde das Gespräch etwas ernster. Sie hatten gerade erst ihr Abschlussjahr in der Schule begonnen und die letzten Tage waren den Gesprächen mit Lehrerberatern gewidmet, die versuchten, sie in Fächer zu führen, die sie auf das Studium oder die weitere Arbeit nach dem Abschluss vorbereiten sollten. Jeder der Jungs hatte seine eigene Vorstellung von der Art der Karriere, die er gerne hätte, aber was jedem noch mehr gefiel, war das Singen.
Die Idee, Karrieren zu singen, schien zunächst dumm zu sein, aber als die Diskussion weiterging und Idee für Idee herauskam, fragten sich alle drei Jungen, ob der Begriff wirklich so "weit draußen" sei. Wie einer von ihnen sagte: "Wenn wir es jetzt nicht versuchen, werden wir uns später immer selbst treten." Und so entschieden sich drei scheinbar durchschnittliche Brooklyner Teenager mit Geschmack - und was sich später als großartiges Talent erwies - für die Musik, ein Trio zu gründen. Ihre Namen - Dick Wagner,
Tony
Carlucci und Lenny Renda, letztere mit der Unterscheidung, sowohl Gitarre zu spielen als auch zu singen. Mehrere Wochen lang arbeitete das Nachbarschaftstrio jeden Nachmittag hart zusammen. Aber etwas fehlte. Sie brauchten noch eine andere Stimme, schien es. Plötzlich erinnerten sie sich an einen Freund, Joe Frazier, der auch sang. Er schien genau richtig zu sein, aber natürlich lag er weit über dem Fluss in Manhattan. Aber sie haben es mit der Idee versucht.
Joe passte die Gruppe wie der sprichwörtliche Handschuh an - und das neue Quartett arrangierte schnell einen Terminplan für Proben, der für jeden geeignet war. Als sie immer ausgefeilter wurde, war die Gruppe immer mehr nach Nachbarschafts- und Schultänzen gefragt. Es war an der Zeit, bei einem professionellen Vorsingen einen Stich zu machen. Nun wurde es notwendig, einen guten Namen für das Quartett zu bekommen. Nachdem sie Dutzende von Titeln abgelehnt hatten, kam ihr letzter Tag von
The Impalas
an dem Tag, an dem Lennys Vater einen neuen Chevrolet Impala kaufte. Die Jungs fanden einen Manager, der sich mit überraschender Geschwindigkeit für sie interessierte - und noch schneller eine Plattenfirma, die ihre Art zu singen mochte: Cub Records, ein Produkt von MGM Records. Die erste Wachsarbeit, die The Impalas für Cub-"Sorry( I Ran All The Way Home)" machte, zonierte sie innerhalb weniger Wochen zu einem Höhepunkt in den "Top Ten" Bestsellerlisten. Und, das Wachsen blieb dort für Monate, mit anderen Hit-Platten, die hart auf den Fersen folgen. Seitdem haben sich die Impalas auf eine lange Karriere gefasst, die mit immer mehr Versprechen gefüllt ist. Vier ehrgeizige, fleißige und talentierte Jungs haben eine Nische gefunden - das, wovon sie geträumt haben, zu tun und es wirklich sehr gut zu machen, wie diese ausgezeichnete erste Albumkollektion von ihnen für Cub Records zeigt, dass sie perfekt sind!
Video von The Impalas - Sorry (I Ran All The Way Home) (LP)
Artikeleigenschaften von

The Impalas: Sorry (I Ran All The Way Home) (LP)
Albumtitel:

Sorry (I Ran All The Way Home) (LP)

Genre

Rock'n'Roll

Geschwindigkeit

33 U/min

Plattengröße

LP (12 Inch)

Record Grading

Mint (M)

Sleeve Grading

Mint (M)

Artikelart

LP

EAN:

4000127765154

Gewicht in Kg:

0.2
The Impalas Sorry (I Ran All The Way Home) Unlike The Falcons, The Impalas started out...
mehr
"The Impalas"
The Impalas
Sorry (I Ran All The Way Home)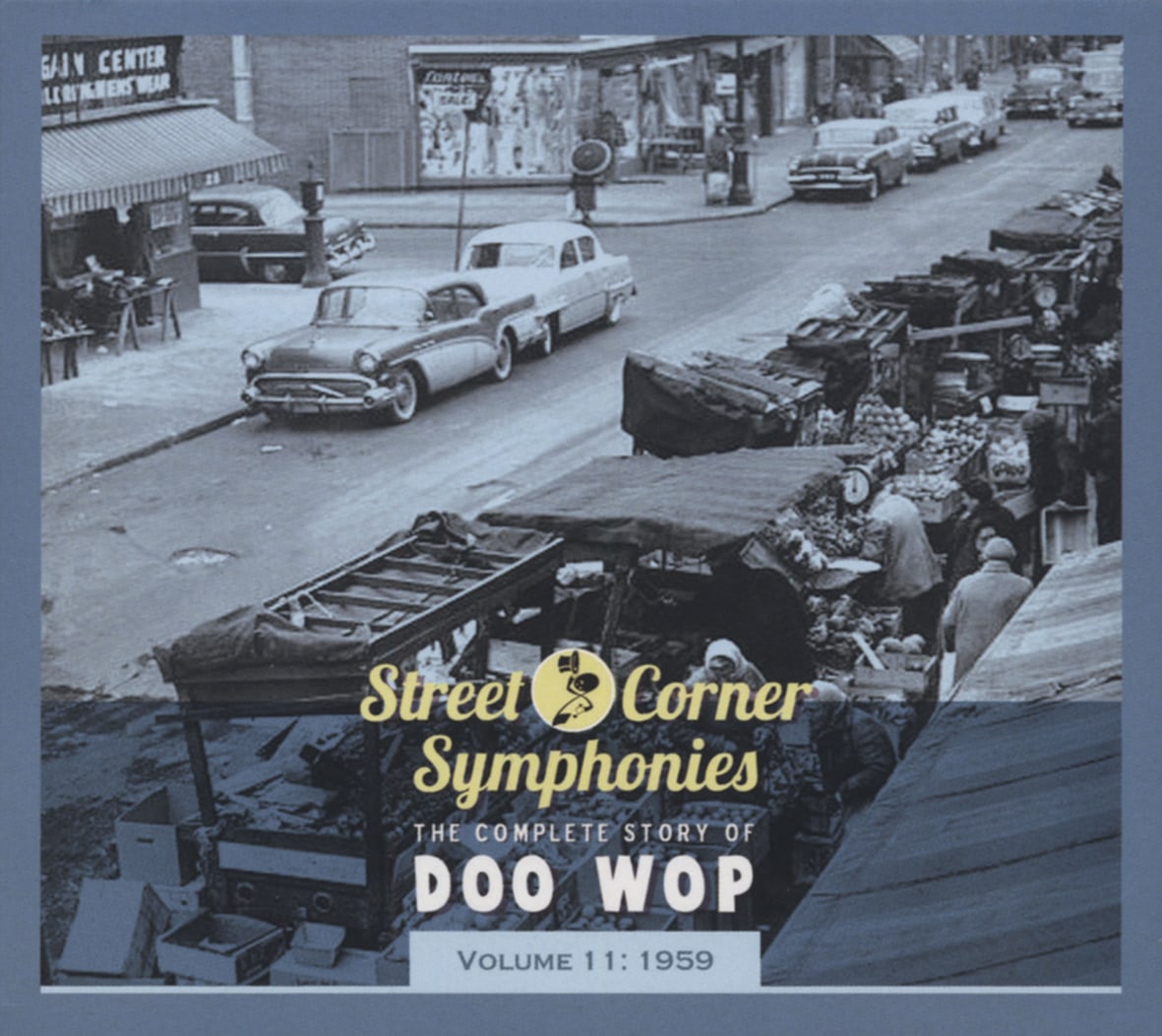 Unlike The Falcons, The Impalas started out integrated and stayed that way. The Caucasian three-quarters of the group (first tenor Tony Carlucci, second tenor Lenny Renda, and baritone Richard Wagner) came together in the Canarsie section of Brooklyn. Their rehearsals in a local candy store and on neighborhood street corners attracted the attention of African-American tenor Joe 'Speedo' Frazier, who came in as lead singer. Depending on your source, their moniker stemmed from either the fleet animal or the Chevrolet model of the same name.
The Impalas' 1958 debut single for Dot-affiliated Hamilton Records, pairing First Date and I Was A Fool, went nowhere. Songwriters Aristides Giosasi (the male half of the Brooklyn-based brother-sister duo Gino & Gina, whose [It's Been A Long Time] Pretty Baby was a Top 20 hit in the spring of '58 on Mercury) and Artie Zwirn gave them the catchy, upbeat Sorry (I Ran All The Way Home). Through deejay Alan Freed, who grabbed the publishing for his Figure Music, the quartet landed a pact with MGM's Cub subsidiary.
They waxed Sorry and its Giosasi/Zwirn-penned B-side ballad Fool, Fool, Fool at New York's Metropolitan Studios on October 30, 1958, Leroy Holmes conducting the orchestra. Released the following January and boasting a splendid acappella intro, Sorry vaulted to #2 pop and #14 R&B that spring. The quartet's breath of rarified chart air was brief. Oh, What A Fool, another Giosasi/Zwirn copyright that was their first Cub encore, peaked at #86 pop with Sandy Went Away on the flip. Peggy Darling b/w Bye Everybody went nowhere before year's end. Billing them as Speedo and The Impalas didn't help All Alone b/w When My Heart Does All The Talking in 1960. Cub pressed up an LP named after the group's greatest hit.
Apart from a 1966 45 for the tiny Red Boy logo, that would do it for The Impalas.
- Bill Dahl -
Various Street Corner Symphonies 1959 Vol.11
Read more at: https://www.bear-family.de/various-street-corner-symphonies-1959-vol.11.html
Copyright © Bear Family Records
Bewertungen lesen, schreiben und diskutieren...
mehr
Kundenbewertungen für "Sorry (I Ran All The Way Home) (LP)"
Von:
Gerhard
Am:
22.04.2019
Hümmer
Doo Wop vom Feinsten!
Bewertung schreiben
Bewertungen werden nach Überprüfung freigeschaltet.