Der Artikel wurde erfolgreich hinzugefügt.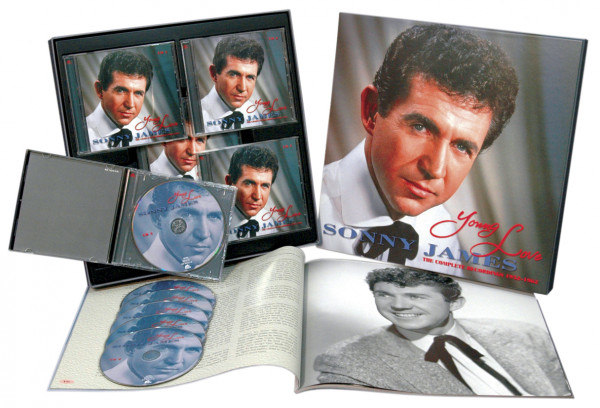 111,95 € *
119,95 € *
(6,67% gespart)
inkl. MwSt. / zzgl. Versandkosten - Abhängig vom Lieferland kann die MwSt. an der Kasse variieren.
Sofort versandfertig, Lieferzeit** 1-3 Werktage
Artikel-Nr.:

BCD16373

Gewicht in Kg.:

1.7
6-CD-Album Box Set (LP-Format) mit 68-seitigem Buch, 147 Einzeltitel, Spieldauer 358:24 Minuten....
mehr
Sonny James: Young Love (6-CD Deluxe Box Set)
6-CD-Album Box Set (LP-Format) mit 68-seitigem Buch, 147 Einzeltitel, Spieldauer 358:24 Minuten.
Sonny James
' komplette Aufnahmen von 1952 bis1962!
Die ersten zehn Jahre von
Sonny James
' Plattenkarriere werden oftmals mit nur einem Hit gleichgesetzt,
Young Love
. Kein Wunder, da nur wenige seiner frühen Singles auf LPs zusammengefaßt wurden – und noch seltener auf CDs.
Das vorliegende Album Box-Set mit 6 CDs von Sonny James korrigiert diese Schieflage. Sie präsentiert jede verfügbare Aufnahme des 'Southern Gentleman' aus den Jahren 1952 bis 1962 . Die beiden ersten CDs enthalten
Sonny James
' seltene Country-Einspielungen, darunter das Original von
I Forgot More Than You'll Ever Know
und Chart-Singles wie
That's Me Without You
,
She Done Give Her Heart To Me, For Rent
(
One Empty Heart
),
Twenty Feet Of Muddy Water
und
The Cat Came Back
. Im Mittelpunkt der Box stehen Teenpop-Tracks wie
Young Love, You're The Reason I'm In Love, First Date, First Kiss, First Love, Uh-Huh-mm,
You've Got
That Touch
und
Talk Of The School
sowie drei Original-Alben für Capitol. Häufig überhörte Aufnahmen für NRC, RCA Victor und Dot beschließen das Album Box-Set, inklusive
Jenny Lou
und eine Gesangs-Version des Instrumental-Klassikers
Apache
.
Wer den Sänger bisher nur mit
Young Love
und einer Reihe erfolgreicher Country-Hits aus den 60s und 70s in Verbindung brachte, lernt auf diesem CD-Album Box-Set einen einnehmenden Künstler kennen, dessen Vielseitigkeit vielleicht sogar viele seiner Fans bisher nicht angemessen registriert haben. Das Album-Set entstand unter Mitwirkung von
Sonny James
, es enthält ein 68-seitiges Buch von
Dave Samuelson
, das auf
Sonny James
' frühe Radio-Jahre mit der Loden
Family
bis hin zu seiner Rückkehr zum Capitol-Label konzentriert ist.
Video von Sonny James - Young Love (6-CD Deluxe Box Set)
Artikeleigenschaften von

Sonny James: Young Love (6-CD Deluxe Box Set)
Albumtitel:

Young Love (6-CD Deluxe Box Set)

Genre

Country

Edition 2

Deluxe Edition

Preiscode

FK

Artikelart

Box set

EAN:

4000127163738

Gewicht in Kg:

1.7
Sonny James Sonny James Nach mehr als vier Jahren als...
mehr
"Sonny James"
Sonny James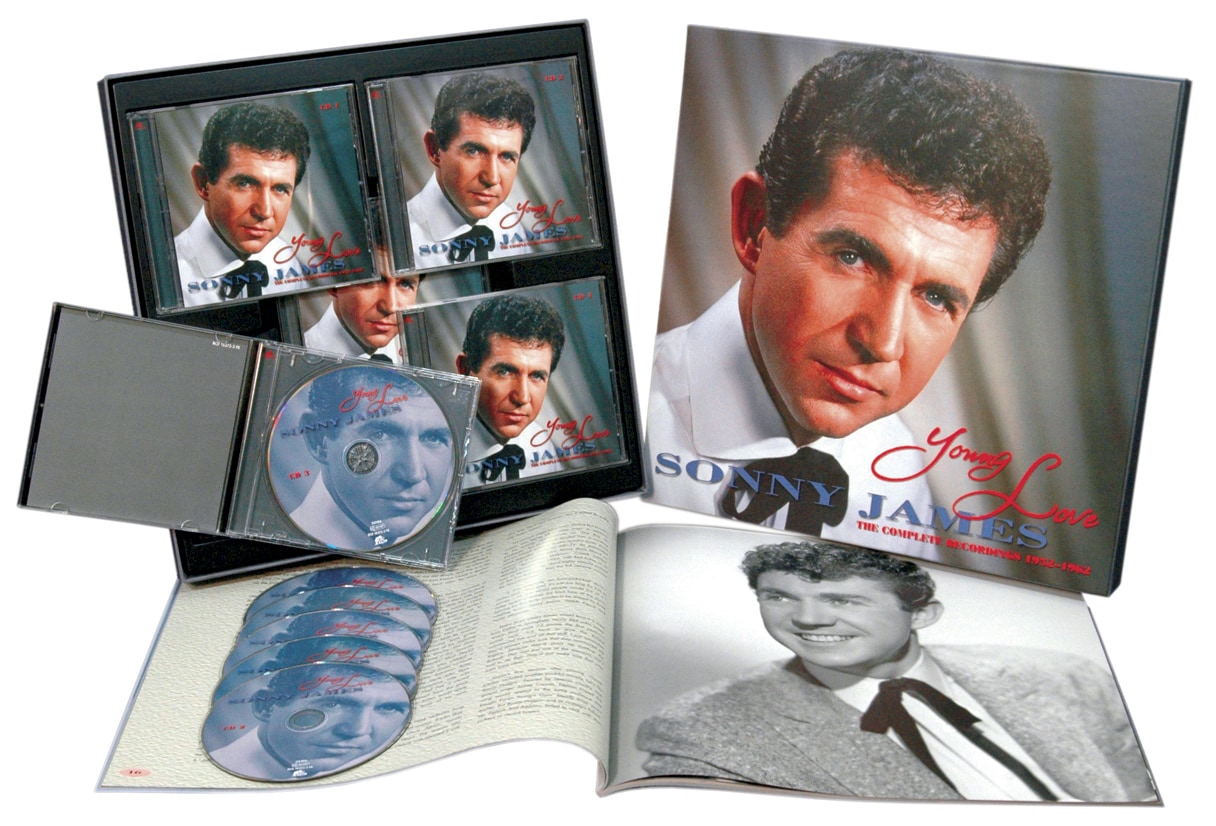 Sonny James
Nach mehr als vier Jahren als Capitol Country Artist brauchte Sonny James einen Breakout-Hit. Nicht, dass seine Karriere ins Stocken geraten wäre - im Herbst 1956 wurde der jugendliche Alabama-Balladesänger regelmäßig von Küste zu Küste auf "Ozark Jubilee", der wöchentlichen Country-Musikshow von ABC-TV aus Springfield, Missouri, gesehen. Auch Capitol war nicht unzufrieden mit James' Rekordumsatz. Seine erste Veröffentlichung des Jahres, For Rent (One Empty Heart), kletterte auf Platz 12 der'Billboard'-Liste der Bestseller des Landes, und sein bluesiger Nachfolger, Twenty Feet Of Muddy Water, landete auf Platz 11 unter den Country-Discjockeys. Tatsächlich brachte Produzent Ken Nelson James im August nach Hollywood, um eine LP aufzunehmen - ein Privileg, das Capitol selten auf sein Land oder westliche Künstler ausdehnte.
Aber nichts von James' ersten dreizehn Sessions brachte etwas nahe an einem Signature-Song - ein Karrieremacher wie You Are My Sunshine, Walking The Floor Over You, I'm Movin' On, Lovesick Blues oder Crazy Arms. Mit einer Sitzung in Nashville Ende Oktober musste James auch etwas mehr in Synchronisation mit einer neuen Generation von Plattenkäufern finden. Jugendliche gaben Millionen für Singles von Elvis Presley und Pat Boone aus. Obwohl sein enger Zeitgenosse Marty Robbins mit Rockabilly flirtete, entschied sich James für etwas, das besser zu seinem warmen, intimen Stil passt.
James und Dallas-Area-Songwriter Jack Morrow, der James' jüngsten Country-Hit For Rent mitgeschrieben hat, arbeiteten an einer eingängigen Liebesballade mit großem Erfolgspotenzial. Mit seinem Begleiter Harland Powell entwarf James ein hüpfendes Background-Vocal-Arrangement, das an den Kontrapunkt der Easy Riders zu Dean Martins Hit Memories Are Made Of This erinnert.
You're The Reason I'm In Love hatte das Potenzial, Pat Boone in seinem eigenen Revier zu treffen - wenn nicht sogar zu schlagen - und James war sicher, dass Nelson seine Begeisterung teilen würde. Der erfahrene Produzent vertraute in der Regel den musikalischen und kommerziellen Instinkten seiner Künstler. Die einzige andere Sache, die James für die kommende Session brauchte, war eine passende'B'-Seite.
Aber Nelson war ihm weit voraus. Bevor James und sein langjähriger Steel Player/Bassist Harland Powell in Nashville ankamen, traf Nelson den Atlanta Musikverleger und Talentsucher Bill Lowery. Seit der Gründung seiner Firma im Jahr 1951 platzierte Lowery erfolgreich zahlreiche Songs auf Capitol, zuletzt Gene Vincents Chart-topping-Rocker Be-Bop-A-Lula. Diesmal hat der Verleger einen Rock'n' Roll Act auf seinem Stars-Label veröffentlicht: Ric Cartey und die Jiv-a-Tones. Ooh-Eee, eine Rockabilly-Nummer des Lowery-Schützlings und Capitol-Künstlers Jerry Reed, begann in Atlanta Action zu erzeugen. Lowery hoffte, dass Nelson die Cartey Single für den nationalen Vertrieb erwerben würde.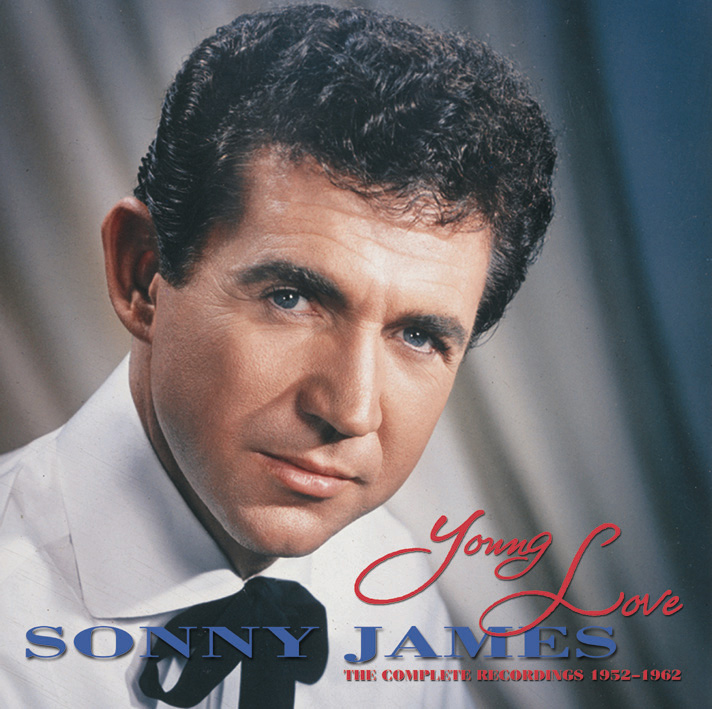 Obwohl er Lowerys Vorschlag höflich ablehnte, spürte Nelson etwas Besonderes an seiner Kehrseite, eine Ballade, die Cartey mit seiner Freundin Carole Joyner schrieb. "Das ist dein Hit", sagte er zu Lowery. Nelson bot Sonny James an, Young Love zu spielen, als er nach Nashville kam.
"Ich ging ins Andrew Jackson Hotel und wir gingen die Songs durch, die wir machen wollten", erinnerte sich James später. "Er sagte: "Ich habe dieses Lied." Ich glaube, er sagte mir, Bill hätte es ihm gebracht oder so."
Die Platte, die Nelson spielte, war weit entfernt von allem, was James aufgenommen hatte. Gut gemeint, aber amateurhaft, war es selbst für die frühen Tage des Rock'n' Roll primitiv. "Egal, was es auch war, Ken spielte es für mich und ich sagte: "Bist du sicher, Ken?" oder so ähnlich. Er sagte: "Ja."
Obwohl Lowery wollte, dass James beide Seiten der Cartey-Single abdeckt, bat Nelso
n James, ein Arrangement für Young Love vorzubereiten. "Er sagte: "Du kannst deine Arrangements bearbeiten, deine Herren aus dem Süden, die du benutzen willst, singen", erinnerte sich James. "Du kannst Harland arbeiten, und damals wollte ich Gordon Stoker benutzen und ich denke, es war Neal Matthews als die einzigen beiden anderen Stimmen und Harland dort."
Unter Verwendung von Carteys Platte als Leitfaden hat James die Ballade umgestaltet, indem er fremde Akkordwechsel entfernte und stilistische Akzente setzte, die Linien kompensierten, die nicht lang genug waren, um in die Melodie zu passen. "Das Lied auf dem Demo, das ich gehört habe - nach all den Jahren ist es nicht so frisch in meinem Kopf - aber ich erinnere mich, wie ich meine Stimme mache, und ich überbetone die Art und Weise, wie ich es mache, weil Ken dachte, dass ich wahrscheinlich den Weg finden würde, es zu singen", sagte James. "Sie werden bemerken, dass es auf dem Demo nie so war, aber meine Platte war: "Man sagt, für jeden Jungen und jedes Mädchen gibt es nur.... und ich-hi weiß-ho, ich-hi-hi-hi fand meine". Nun, ich betone es zu sehr. Ich zeige dir die Pause, sie ist ganz anders. Es klingt nicht das Gleiche.
"Ich arbeitete mit meiner Gitarre und hatte diese wiederholte Intonation auf meiner früheren Platte "Till The Last Leaf Shall Fall" verwendet. Wenn du dich erinnerst, wie ich sie singen ließ, dann tat ich das, als ich zum Chor von "Young Love" kam. Das ist nur eine der Änderungen. Young Love (you're my love) First Love (you're my love)....' Siehe, mit anderen Worten, es ist nur ein Stil, den ich bei Till The
Sonny James Young Love (6-CD)
Read more at: https://www.bear-family.com/james-sonny-young-love-6-cd.html
Copyright © Bear Family Records
Bewertungen lesen, schreiben und diskutieren...
mehr
Kundenbewertungen für "Young Love (6-CD Deluxe Box Set)"
Bewertung schreiben
Bewertungen werden nach Überprüfung freigeschaltet.
Weitere Artikel von Sonny James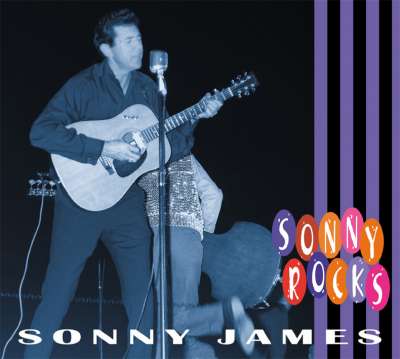 Sonny James: Sonny James - Sonny Rocks
Art-Nr.: BCD16679


Sofort versandfertig, Lieferzeit** 1-3 Werktage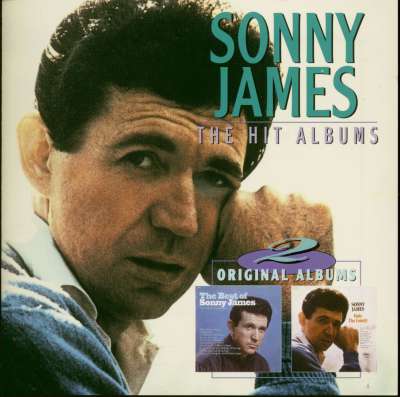 Sonny James: The Best Of Sonny James- Only The Lonely (CD)
Art-Nr.: CD860532


Sofort versandfertig, Lieferzeit** 1-3 Werktage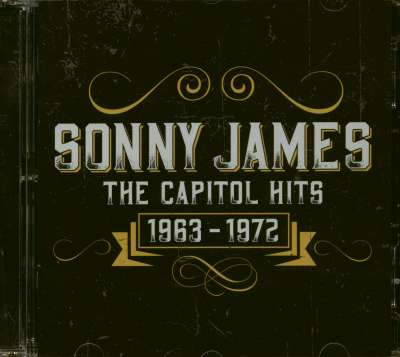 Sonny James: The Capitol Hits 1963-1972 (2-CD)
Art-Nr.: CDHUMP221


nur noch 1 verfügbar
Sofort versandfertig, Lieferzeit** 1-3 Werktage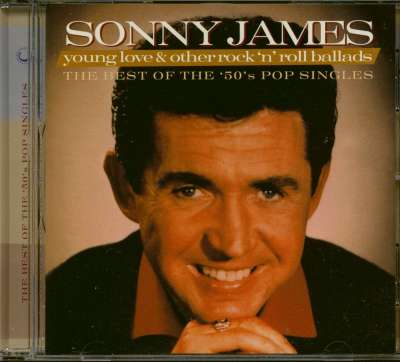 Sonny James: Young Love And Other Rock & Roll Ballads (CD)
Art-Nr.: CDCOLL102


Sofort versandfertig, Lieferzeit** 1-3 Werktage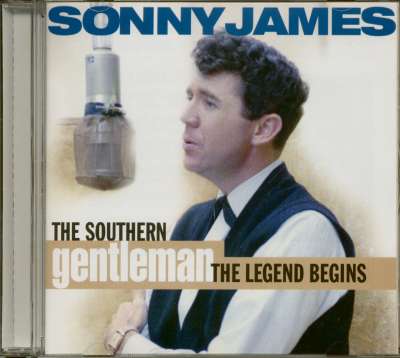 Sonny James: The Southern Gentleman - The Legend Begins (CD)
Art-Nr.: CDCTS55550


nur noch 2 verfügbar
Sofort versandfertig, Lieferzeit** 1-3 Werktage