Der Artikel wurde erfolgreich hinzugefügt.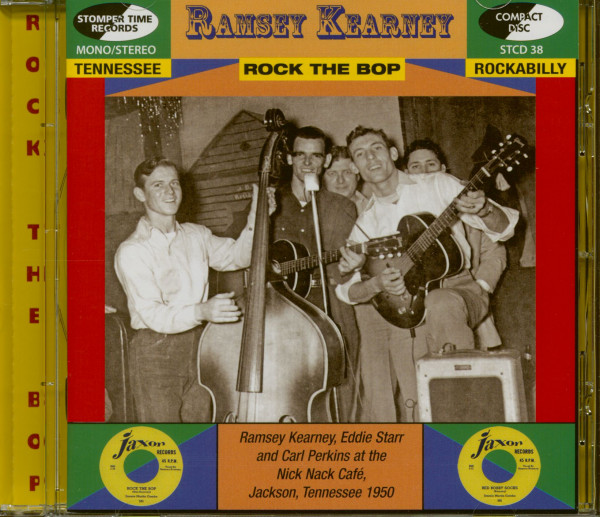 inkl. MwSt. zzgl. Versandkosten
Artikel derzeit nicht verfügbar, Lieferfristen von bis zu 2-3 Wochen sind zu erwarten. (soweit verfügbar beim Lieferanten - kann aber auch schneller gehen)
Artikel-Nr.:

CDST038

Gewicht in Kg.:

0.1
(Ridgetop) 32 Tracks mit einem 20-seitigen Booklet mit der Story sowie seltenen Fotos und...
mehr
Ramsey Kearney: The Cat Bug Bit - Rockabilly Collection (CD)
(Ridgetop) 32 Tracks mit einem 20-seitigen Booklet mit der Story sowie seltenen Fotos und Diskographie.

Alle heißen Rocking-Songs von Ramsey sind auf dieser Sammlung, zusammen mit einigen sehr feinen Honky-Tonk-Country-Songs in exzellenter Klangqualität. Ramsey wurde nie ein großer Star, aber diese endgültige CD-Sammlung von Vintage Tennessee Music ist ein schönes Vermächtnis.

Die Rockabilly- und Hillbilly-Musik von Ramsey Kearney wurde noch nie auf CD veröffentlicht. Ramsey nahm erstmals 1953 auf und setzte sich bis ins neue Jahrhundert fort. Diese CD enthält die besten Aufnahmen von Ramsey aus den Jahren 1953-1962 mit nur 7 Einspielungen nach 1962. Von den Original-Masterbändern von Nick Robbins von Sound Mastering gemastert, was eine hervorragende Klangqualität gewährleistet.



Video von Ramsey Kearney - The Cat Bug Bit - Rockabilly Collection (CD)
Artikeleigenschaften von

Ramsey Kearney: The Cat Bug Bit - Rockabilly Collection (CD)
Albumtitel:

The Cat Bug Bit - Rockabilly Collection (CD)

Genre

Rock'n'Roll

Artikelart

CD

EAN:

5024620113815

Gewicht in Kg:

0.1
Kearney, Ramsey - The Cat Bug Bit - Rockabilly Collection (CD)

CD 1
01
The cat bug bit
02
Red bobby sox
03
Don't tease
04
Love me strong
05
Home of the blues
06
Doin' hard time
07
Tennessee saturday night
08
Goodbye train
09
Western union (take 1)
10
Rock the bop
11
Betty
12
Thinking about my baby
13
But what'cha gonna do
14
I get the blues
15
Go tell your heart
16
Bluesday
17
Picture window
18
Nine little teardrops
19
The blues keep hanging on
20
Red bobby sox (take 2)
21
Everyday i love you just a little bit more
22
Knock on wood
23
That's how much i love you
24
Western union (take 2)
25
The white man's blues
26
My thoughts always turn to you
27
Dixie rose
28
The country singer
29
A boy with a dream
30
I've never stopped loving you
31
If i'm blue
32
Red bobby sox (take 3)
Ramsey Kearney US Rockabilly and Country Singer & Songwriter Ramsey...
mehr
"Ramsey Kearney"
Ramsey Kearney
US Rockabilly and Country Singer & Songwriter
Ramsey Kearney was born in Bolivar,Tennessee and, like many of his generation, grew up on the family farm helping with the chores and picking cotton. Singing whilst picking. helped to pass the long hours and, with the purchase of a guitar aged 13, Ramsey was on his way to being quite an entertainer.

By the time he was 15, he was hosting his own 30 minute radio show in Jackson, Tennessee, playing country records and featuring 'live' acts. One of his regular guests was a teenage Carl Perkins. Moving on to live in Memphis,in 1954 Ramsey recorded a session for Sam Phillips at Sun, but shortly after was called up for Army Service and was shipped out to Korea. Returning to Memphis, Ramsey found that nothing had been released by Sun because Sam was putting his limited funds into a couple of new boys - Elvis Presley and Johnny Cash.

Ramsey went back to Bolivar and joined up with a local band - The Jimmie Martin Combo. Jimmie and Ramsey pooled their resources and built a small recording studio, where Ramsey would record his 1st. single 'Rock the Bop/Red Bobby Sox' for Jimmie's newly formed Jaxon records. Released in 1955, Ramsey's 1st. try at Rockabilly probably sold it's pressing run around Jackson and then disappeared. From 1955 to 1961, Ramsey kept recording, but was unable to secure any new releases. Even the great 1956 recording of 'The Cat Bug Bit', a Rockabilly Classic if ever there was one, failed to pick up a release.

In 1961, Ramsey's luck changed,when he wrote the classic 'Emotions' with Mel Tillis,which became a world wide hit for Brenda Lee. At that point, Acuff-Rose offered Ramsey a new song-writing and recording contract, which saw him recording 6 singles for Hickory during 1961-1963,as well as writing songs cut by Carl Perkins,Ricky Nelson,Eddy Arnold,Warner Mack and Mel Tillis. After the Acuff-Rose period ended,Ramsey soldiered on until,in 1974, he began to take charge of his destiny by forming his own Safari Records & Japonicia Music, through which all of his recordings and songs have been channelled since 1974. In addition, he opened a hugely successful song demo business.
(Dave Travis)
Bewertungen lesen, schreiben und diskutieren...
mehr
Kundenbewertungen für "The Cat Bug Bit - Rockabilly Collection (CD)"
Bewertung schreiben
Bewertungen werden nach Überprüfung freigeschaltet.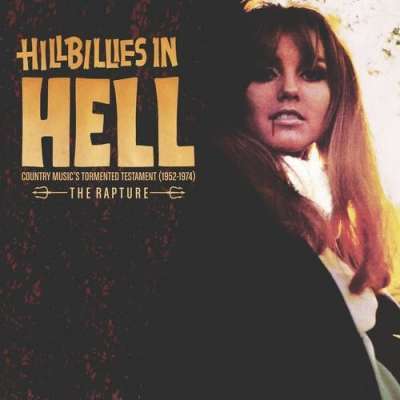 Various: Hillbillies In Hell - The Rapture (CD)
Art-Nr.: CDOMNI196


Sofort versandfertig, Lieferzeit** 1-3 Werktage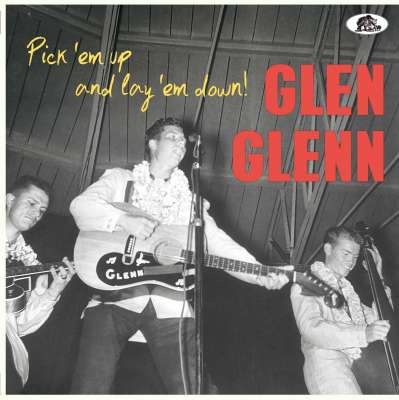 Glen Glenn: Pick 'Em Up And Lay 'Em Down (LP, 10inch)
Art-Nr.: BAF14001


Sofort versandfertig, Lieferzeit** 1-3 Werktage