Der Artikel wurde erfolgreich hinzugefügt.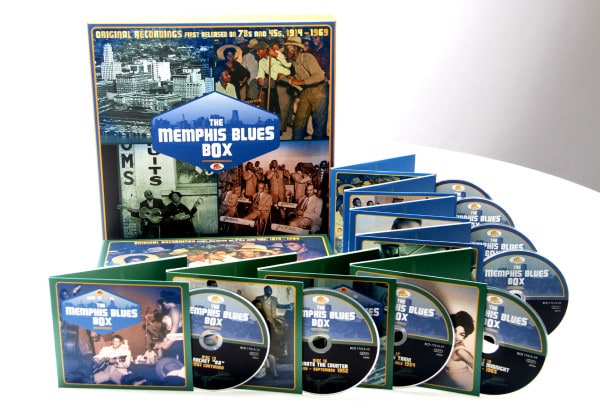 inkl. MwSt. / zzgl. Versandkosten - Abhängig vom Lieferland kann die MwSt. an der Kasse variieren.
Sofort versandfertig, Lieferzeit** 1-3 Werktage
20-CD Box (32 x 32 x 4,5 cm) mit 360-seitigem gebundenen Buch, 534 Einzeltitel....
mehr
Various: The Memphis Blues Box - Original Recordings 1914–1969 (20-CD Deluxe Box Set)
20-CD Box (32 x 32 x 4,5 cm) mit 360-seitigem gebundenen Buch, 534 Einzeltitel. Gesamtspieldauer ca. 25 Std. 20Min.
Memphis - eine Stadt mit Kultstatus. Der Blues - eine unvergleichliche Musik. Und jetzt - die Memphis Blues Box von Bear Family Records® - das Beste vom Besten vom Besten.
Unglaubliche 534 einzelne Tracks auf 20 CDs, verpackt in einer Box im LP-Format - Gesamtgewicht fast 5 kg.
Aufnahmen aus Memphis von 1914 bis 1969 mit Musikern aus der Stadt und der Region.
Einführung durch den Blues-Mundharmonika-Star und Grammy®-GewinnerCharlie Musselwhite.
Biografien zu jedem Interpreten, viele davon neu recherchiert; Anmerkungen zu jedem Song und jeder Aufnahme, Index und Tracklisting.
Viele zuvor unveröffentlichte Fotos.
Produziert und mitverfasst von Martin Hawkins.
Diese großartige neue 20-CD-Box mit 534 Titeln und einem 360-seitigen Begleitbuch beschreibt den Blues, wie er in Memphis und von Musikern und Sängern aus Memphis und Umgebung aufgenommen wurde. Das
Set
beginnt vor 100 Jahren mit W.C. Handys Memphis Blues und umfasst den klassischen Blues, den Jug Band Blues und den Blues umherziehender Musiker der 1920er und 30er Jahre, die R&B-Bands und kleinen Combos der 1940er und 50er Jahre sowie die härteren Blues-Stile, die bis zum Ende der 1960er Jahre aufgenommen wurden.
Die Box präsentiert den in Memphis aufgenommenen Blues, wie er von den Interpreten und ihren Plattenfirmen in den Jahren 1914 bis 1969 geprägt wurde - der Zeit, in der der Blues in seinen verschiedenen Formen auf Schallplatten mit 78 U/min und später mit 45 U/min veröffentlicht wurde, die hauptsächlich vom angestammten Publikum konsumiert wurden - den Menschen, die an Straßenecken, in
Juke
Joints, auf lokalen Hauspartys oder in den Bars, Nachtclubs und Theatern von Memphis zugehört haben.
Die Box untersucht, wie sich die einzelnen Platten in das sich entwickelnde Bild einfügen, indem sie entweder etwas Neues beisteuern, aktuelle Trends verstärken oder auf Traditionen zurückgreifen. Mindestens eine Seite jeder relevanten 78er Schelllackplatte oder 45er Single, die in jener Zeit veröffentlicht wurde, ist vertreten und vermittelt einen Eindruck vom Memphis Blues, wie er Jahr für Jahr von Künstlern und Plattenfirmen präsentiert wurde.
Zu den Hunderten von Künstlern, die hier vertreten sind, gehören: W. C. Handy, Beale Street Frolic Orch,
Memphis Jug Band
, Memphis Stompers, Gus
Cannon's Jug Stompers
, Jim Jackson,
Frank Stokes
, Minnie Wallace, Robert Wilkins,
Furry Lewis
, Jed Davenport,
Memphis Minnie
,
Kansas
Joe, Fleming and Townsend,
Jimmie Lunceford
, Douglas Williams, Allen Shaw,
Charlie
Burse, James DeBerry, Buddy Doyle,
Memphis Slim
, Jack Kelly,
Bukka White
,
Joe Hill
Louis,
Rufus Thomas
, Al Jackson Band,
Rosco Gordon
,
Howlin' Wolf
, B. B. King, Bonita Cole und Bill Harvey, Ford Nelson,
Willie Nix
, Junior Parker, Harmonica Frank,
James Cotton
,
Doctor Ross
,
Elvis Presley
,
Little Milton
, Tuff Green,
Willie Mitchell
, Bobby Bland,
Willie Cobbs
,
Albert King
, Willie Sanders, Big Amos, Cliff Jackson und schließlich Tracks von Ike und
Tina Turner
auf ihrem Weg nach oben, als der auf Singles veröffentlichte Blues auf dem Rückzug war.
Welche Art von Blues Sie auch immer bevorzugen, diese CD-Box bietet Ihnen die Möglichkeit, alle Facetten des Blues aus Memphis - der Stadt des Blues - zu entdecken oder wiederzuentdecken.
Bedeutende Beiträge stammen von anerkannten Autoren und Forschern wie ...
David Evans
, John Broven,
Hank Davis
,
Colin Escott
, Chris Smith, Guido Van Rijn,
Tony Russell
, Bob Eagle, Dave Sax, Cilla Huggins, Brian Baumgartner, Joel Roberts, Jim O'Neal, Dave Booth, Bill Millar, Bill Greensmith, Dick Spottswood und vielen anderen.
Video von Various - The Memphis Blues Box - Original Recordings 1914–1969 (20-CD Deluxe Box Set)
Artikeleigenschaften von

Various: The Memphis Blues Box - Original Recordings 1914–1969 (20-CD Deluxe Box Set)
Albumtitel:

The Memphis Blues Box - Original Recordings 1914–1969 (20-CD Deluxe Box Set)

Genre

Blues

Edition 2

Deluxe Edition

Preiscode

LM

Artikelart

Box set

EAN:

4000127175151

Gewicht in Kg:

3.65
Various Artists - The Memphis Blues Box - Original Recordings 1914–1969 (20-CD Deluxe Box Set)

Box set 1
01
Mr Crump And The Memphis Blues
W C Handy
02
The Memphis Blues / One Step
Victor Military Band
03
Yellow Dog Blues
Handy's Memphis Blues Band
04
Sun Brimmers
Memphis Jug Band
05
Memphis Jug
Memphis Jug Band
06
What Makes A Bow-Legged Woman Crazy 'Bout Her Knock-Kneed Man?
Sadie James
07
Drop Down
Baby' Moore
08
Midnight Frolic Drag
Williamson'S Beale Street Frolic Orchestra
09
Rock Away
Sadie Mckinney
10
I Raised My Window And Looked At The Risin' Sun
Ollie Rupert
11
Wouldn't Mind Dying If Dying Was All
Blind Mamie Forehand
12
Ain'T Gonna Be Your Low Down Dog
Ollie Rupert
13
Memphis Scronch
Williamson'S Beale Street Frolic Orchestra
14
Everybody's Blues
Furry Lewis
15
Sunshine Blues
Memphis Jug Band
16
Memphis Boy
Memphis Jug Band
17
It'S A Good Thing
Beale Street Sheiks
18
Beale Town Bound
Beale Street Sheiks
19
Mr Crump Don'T Like It
Beale Street Sheiks
20
Billy Lyons And Stack O Lee
Furry Lewis
21
Kansas City Blues
Memphis Jug Band
22
I Packed My Suitcase, ed To The Train
Memphis Jug Band Vocals Jennie Clayton
23
Beale Street Mess Around
Memphis Jug Band
24
Turpentine Blues
Will Weldon
25
Vol Stevens Blues
Vol Stevens
Various Artists - The Memphis Blues Box - Original Recordings 1914–1969 (20-CD Deluxe Box Set)

Box set 2
01
My Money Never Runs Out
Banjo Joe
02
Rock Island Blues
Lewis Black
03
The Crowing Rooster
Walter Rhodes With 'pet' And 'can'
04
Corn Liquor Blues
Lewis Black
05
Twelve Pound Daddy
Pearl Dickson
06
Minglewood Blues
Cannon'S Jug Stompers
07
I Heard The Voice Of A Pork Chop
Jim Jackson
08
Madison Street Rag
Cannon'S Jug Stompers
09
Springdale Blues
Cannon'S Jug Stompers
10
My Monday Woman Blues
Jim Jackson
11
Snitchin' Gambler Blues
Memphis Jug Band
12
Bedtime Blues
Frank Stokes
13
My Mobile Central Blues
Jim Jackson
14
Memphis Stomp
Memphis Stompers
15
Jake Bottle Blues
Lemuel Turner
16
Coal Oil Blues
Memphis Jug Band
17
Peaches In The Springtime
Memphis Jug Band
18
Mooch Richardson'S Low Down Barrel House Blues
'Mooch' Richardson
19
Bootlegging Blues
Jim Jackson
20
Policy Blues
Jim Jackson
21
Two Time Blues
Arthur Petties
22
Dill Pickles Rag
Mclaughlin's Old Time Melody Makers
23
Keghouse Blues
Keghouse
24
Labor Blues
Tom Dickson
Various Artists - The Memphis Blues Box - Original Recordings 1914–1969 (20-CD Deluxe Box Set)

Box set 3
01
Helena Blues
'Mooch' Richardson
02
Happy Blues
Tom Dickson
03
Burying Ground Blues
'Mooch' Richardson
04
Jasper Taylor Blues
Original Washboard Band
05
Mistreatin' Blues
Frank Stokes
06
It Won'T Be Long Now
Frank Stokes
07
Nehi Mamma Blues
Frank Stokes
08
I Got Mine
Frank Stokes
09
This Morning She Was Gone
Jim Jackson
10
I Will Turn Your Money Green
Furry Lewis
11
Furry'S Blues
Furry Lewis
12
Stomp That Thing
Frank Stokes
13
Kassie Jones Pt 1
Furry Lewis
14
Cannon Ball Blues
Furry Lewis
15
Judge Harsh Blues
Furry Lewis
16
I'M Gonna Move To Louisiana
Jim Jackson
17
'Tain'T Nobody'S Business If I Do
Frank Stokes
18
Take Me Back
Frank Stokes
19
Kyle'S Worried Blues
Charlie Kyle
20
Walking Blues
Charlie Kyle
21
Traveling Man
Jim Jackson
22
Pig Ankle Strut
Cannon'S Jug Stompers
23
Ripley Blues
Cannon'S Jug Stompers
24
Hollywood Rag
Cannon'S Jug Stompers
Various Artists - The Memphis Blues Box - Original Recordings 1914–1969 (20-CD Deluxe Box Set)

Box set 4
01
Bye, Bye, Policeman
Jim Jackson
02
Rolling Stone
Robert Wilkins
03
Jail House Blues
Robert Wilkins
04
Feather Bed
Cannon'S Jug Stompers
05
Lindberg Hop
Memphis Jug Band
06
Sugar Pudding
Memphis Jug Band
07
A Black Woman Is Like A Black Snake
Memphis Jug Band
08
On The Road Again
Memphis Jug Band
09
Whitewash Station Blues
Memphis Jug Band
10
Stealin' Stealin'
Memphis Jug Band
11
Jug Band Waltz
Memphis Jug Band
12
Viola Lee Blues
Cannon'S Jug Stompers
13
Riley'S Wagon
Cannon'S Jug Stompers
14
Better Leave That Stuff Alone
Will Shade
15
She Stabbed Me With An Ice-Pick
Will Shade
16
Canned Heat Blues
Keg House
17
Nobody Knows (What The Good Deacon Does)
Hambone Willie Newbern
18
Shelby County Workhouse Blues
Hambone Willie Newbern
19
Roll And Tumble Blues
Hambone Willie Newbern
20
Fourth And Beale
Cannon And Woods
21
Last Chance Blues
Cannon And Woods
22
What'S The Matter?
Memphis Jug Band
23
John Henry Part 1
Furry Lewis
24
Black Gypsy Blues
Furry Lewis
25
The Dirty Dozen
Speckled Red
Various Artists - The Memphis Blues Box - Original Recordings 1914–1969 (20-CD Deluxe Box Set)

Box set 5
01
South Memphis Blues
Frank Stokes
02
Dirty Butter
Minnie Wallace
03
The Old Folks ed It
Minnie Wallace
04
Cottonfield Blues Pt 1
Garfield Akers
05
Cow Cow Blues
Jed Davenport
06
Whiskey Drinkin' Blues
Jenny Pope
07
Alabama Blues
Robert Wilkins
08
Long Train Blues
Robert Wilkins
09
That's No Way To Get Along
Robert Wilkins
10
Jim Jackson'S Jamboree Pt 1
Jim Jackson, Tampa Red, Georgia Tom, Speckled Red
11
You Wouldn'T, Would You, Papa?
Hattie Hart
12
Right Now Blues
Frank Stokes
13
Diving Duck Blues
John Estes
14
Undertaker Blues
Douglas Williams Orchestra
15
Little Sarah
John Estes And James Rachel
16
Broken Hearted, Ragged And Dirty Too
John Estes
17
I Can Beat You Plenty (That Hand You Tried To Deal Me)
Memphis Jug Band
18
Number Nine Blues
Blind Clyde Church
19
I'M Going Away Blues
Frank Stokes
20
Frank Stokes' Dream
Frank Stokes
21
Memphis Rounders Blues
Frank Stokes
22
Going To Germany
Cannon'S Jug Stompers
23
Last Chance Blues
Cannon'S Jug Stompers
24
Walk Right In
Cannon'S Jug Stompers
25
He Got Better Things For You
Memphis Sanctified Singers
Various Artists - The Memphis Blues Box - Original Recordings 1914–1969 (20-CD Deluxe Box Set)

Box set 6
01
Leaving Blues
Mel Parker With Douglas Williams Orchestra
02
The Beale Street Sheik
Douglas Williams Orchestra
03
Thrill Me
Douglas Williams Orchestra
04
Chickasaw Special
Noah Lewis
05
The Rooster'S Crowing Blues
Cannon's Jug Stompers
06
Jonestown Blues
Cannon's Jug Stompers
07
Memphis Yo Yo Blues
Memphis Jug Band
08
K C Moan
Memphis Jug Band
09
I Whipped My Woman With A Single Tree
Memphis Jug Band
10
I Will Meet You At The Station
Brother Williams' Memphis Sanctified Singers
11
Beale Street Breakdown
Jed Davenport & His Beale Street Jug Band
12
Jug Blues
Jed Davenport & His Beale Street Jug Band
13
I'M Gonna Bake My Biscuits
Memphis Minnie
14
Mister Tango Blues
Memphis Minnie
15
You Ought To Move Out Of Town
Jed Davenport & His Beale Street Jug Band
16
Save Me Some
Jed Davenport & His Beale Street Jug Band
17
Fare Thee Well Blues
Joe Calicott
18
Traveling Mama Blues
Joe Calicott
19
What Fault You Find Of Me? Part 1
Kansas Joe & Memphis Minnie
20
Can I Do It For You ? Part 1
Kansas Joe & Memphis Minnie
21
She Wouldn'T Give Me None
Kansas Joe & Memphis Minnie
22
I'll Go With Her Blues
Robert Wilkins
23
Nashville Stonewall Blues
Robert Wilkins
24
Tennessee Workhouse Blues
Jennie Pope
25
What'S The Matter Now? Part 1
Bozo' Nickerson
Various Artists - The Memphis Blues Box - Original Recordings 1914–1969 (20-CD Deluxe Box Set)

Box set 7
01
Rent Man Blues
Jenny Pope
02
Bedside Blues
Jim Thompkins
03
Hesitation Blues
Jim Jackson
04
Bumble Bee
Memphis Minnie
05
I'M Talking About You
Memphis Minnie
06
Down The Big Road Blues
Mattie Delaney
07
Tallahatchie River Blues
Mattie Delaney
08
Dough Roller Blues
Garfield Akers
09
Stinging Snake Blues
Madelyn James
10
Long Time Blues
Madelyn James
11
Everybody'S Talking About Sadie Green
Memphis Jug Band
12
Milk Cow Blues
John Estes
13
Oh Ambulance Man
Memphis Jug Band
14
Cocaine Habit Blues
Memphis Jug Band
15
Cave Man Blues
Memphis Jug Band
16
It Won'T Act Right
Memphis Jug Band
17
Jim Strainer Blues
Memphis Jug Band
18
Fourth Street Mess Around
Memphis Jug Band
19
What'cha Doin'?
John Estes
20
I'M Going Back Home
Minnie Mccoy & Joe Johnson
21
Bumble Bee Blues
Memphis Jug Band
22
Meningitis Blues
Memphis Jug Band
23
The New Frisco Train
White And Hairiston
24
I Am In The Heavenly Way
Washington White
25
I Never Told A Lie
Mccoy And Johnson
Various Artists - The Memphis Blues Box - Original Recordings 1914–1969 (20-CD Deluxe Box Set)

Box set 8
01
Don'T Want No Woman
Mccoy And Johnson
02
Georgia Skin
Minnie Mccoy & Joe Johnson
03
Aunt Caroline Dyer Blues
Memphis Jug Band
04
Stonewall Blues
Memphis Jug Band
05
Stack O' Dollars
John Estes
06
Sweet Mama
John Estes & James Rachel
07
Cash Money Blues
Kaiser Clifton
08
She'Ll Be Back Someday
Kaiser Clifton
09
Spider'S Nest Blues
Carolina Peanut Boys
10
Papa'S Got Your Bath Water On
Memphis Jug Band
11
Going Back To Memphis
Charley Nickerson
12
I'M Blue And Lonesome
Fleming And Townsend
13
She'S Just That Kind
Fleming And Townsend
14
In Dat Mornin'
Jimmie Lunceford & His Chickasaw Syncopators
15
I'M Sittin' On Top Of The World
Beale Street Rounders
16
Talking 'Bout Yo Yo
Beale Street Rounders
17
North Memphis Blues
Memphis Minnie
18
He's In The Jailhouse Now
Memphis Sheiks
19
Wolf River Blues
Gus Cannon With Jug Stompers
20
Bring It With You When You Come
Cannon Jug Stompers
21
Like I Want To Be
Noah Lewis's Jug Band
22
Ticket Agent Blues
Noah Lewis's Jug Band
23
New Minglewood Blues
Noah Lewis's Jug Band
24
Round And Round
Memphis Sheiks
25
This Will Bring You Back
Carolina Peanut Boys
26
Move That Thing
Carolina Peanut Boys
Various Artists - The Memphis Blues Box - Original Recordings 1914–1969 (20-CD Deluxe Box Set)

Box set 12
01
Get Ready To Meet Your Man
James (Beale Street) Clark
02
Killer Diller
Memphis Minnie
03
Fish Man Blues
Memphis Minnie
04
Come To Me Baby (What Evil Have I Done)
James (Beale Street) Clark
05
Rockin' The House
Memphis Slim
06
Long About Three
Al Jackson Band
07
Miss Martha King
BB King
08
Let's Go To The Liquor Store
Tuff Green Orchestra
09
I Love My Baby
Tuff Green Orchestra
10
Got The Blues
BB King
11
She Ain't No Good
Tuff Green Orchestra
12
A Jumpin' And A Shufflin'
Joe Hill Louis
13
Don't Trust Your Best Friend
Joe Hill Louis
14
I'm So Worried
Rufus Thomas
15
Highway 61
Memphis Eddie
16
Cool Down Mamma
Lost John Hunter
17
Y M & V Blues
Lost John Hunter
18
Gotta Let You Go
Joe Hill Louis
19
Beer Bottle Boogie
Mr Swing With Bobby Plater's Orchestra
20
B B Boogie
BB King
21
The Other Night Blues
BB King
22
I Feel Like A Million
Joe Hill Louis
23
Boogie In The Park
Joe Hill Louis
24
Dark Skin Woman Blues
Tippo Lite's All Stars
25
Jumping This Morning
Tippo Lite's All Stars
26