Der Artikel wurde erfolgreich hinzugefügt.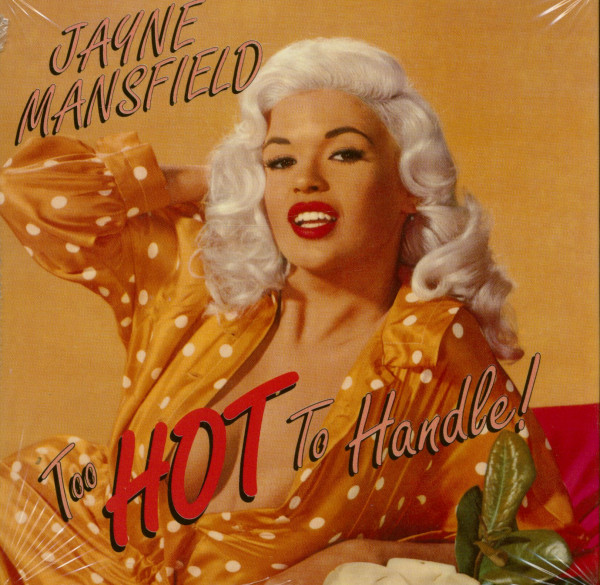 inkl. MwSt. / zzgl. Versandkosten - Abhängig vom Lieferland kann die MwSt. an der Kasse variieren.
die letzten 2 verfügbar
Sofort versandfertig, Lieferzeit** 1-3 Werktage
Artikel-Nr.:

CDLEG6008

Gewicht in Kg.:

0.12
(Legend) 12 tracks (70:28) Pop-Up Digipak with 24-seitiges Begleitheft mit Informationen und...
mehr
Jayne Mansfield: Too Hot To Handle (Pop-UP Digipak) (CD)
(Legend) 12 tracks (70:28) Pop-Up Digipak with 24-seitiges Begleitheft mit Informationen und seltenen Fotos

Es war Mitte der 1950er Jahre,
Marilyn Monroe
war der letzte Schrei, und jedes Studio eilte, um seine eigene blonde Bombe zu entdecken, die die neue Antwort auf sie sein könnte. Marilyn selbst versuchte jedoch verzweifelt, dieses Bild fallen zu lassen und als ernsthafte Schauspielerin genommen zu werden, so dass ihr eigenes Studio, 20th Century-Fox, eine eigene Antwort fand - Jayne Mansfield.
Ironischerweise ist Jaynes Hollywood-Karriere trotz aller Publicity, die sie erzeugt hat, nie so verlaufen, wie sie es sich erhofft hatte, und nach einigen A-Filmen, die fehlschlugen, wurde sie darauf reduziert, alles zu nehmen, was sie bekommen konnte, einschließlich einiger europäischer Bilder, die nicht einmal veröffentlicht wurden. Sie schaffte es jedoch, die eine Sache zu tun, nach der sich Marilyn selbst sehnte, die sie aber nie erreichen konnte - ein Hit am Broadway,'Will Success Spoil Rock Hunter 7', der ironischerweise zuvor von
Mamie Van Doren
abgelehnt worden war.
Van Doren, die Universal's Antwort auf Monroe war, sollte einige Jahre später tragischer in Jayne's Leben erscheinen, als sie in einer Bühnenproduktion von'Gentlemen Prefer Blondes' festgehalten wurde und ein Club-Date in Biloxi, Miss, absagen musste. Jayne hat für sie eingesprungen und hatte ihren tödlichen Autounfall auf dem Weg. Es ist interessant, im Nachhinein festzustellen, dass, obwohl alle Blondinen der 50er Jahre zu dieser Zeit als Kopien von Monroe zusammengelegt wurden, viele von ihnen tatsächlich ihre eigenen einzigartigen Qualitäten hatten. Während Marilyn ihre Sexualität mit einer Unschuld und Verletzlichkeit verband, war Mamie hart und in voller Kontrolle und sollte sich einige Jahre später mit einer Reihe von Rock'n'Roll-Filmen durchsetzen, die ihren wahren Kultstatus begründeten.'
Jayne, der jedoch schon damals ein extrem hoher IQ zugeschrieben wurde, übertrieb die Rolle der dummen Blondine jenseits der Realität mit einer übertriebenen Figur. Sie schuf die perfekte Parodie der sexy dummen Blondine und hatte genug angeborene Intelligenz, um sie zum Laufen zu bringen. Was auch immer ihrer Karriere an soliden Helfern fehlte, sie glich es mit einem stetigen Strom von Publicity aus, der ihr Image vor der Öffentlichkeit hielt. Sie war ein beliebter TV-Gast, sie hatte genügend Witz, um den Zeitungskolumnisten der Nation clevere Zeilen zu geben, und genug Dekolleté, um die Titelseiten aller populären Männermagazine zu machen - von denen einige als unter der Würde eines bonafiden Filmstars betrachtet worden wären.
Sie konnte nicht wirklich singen, posierte aber für die Cover mehrerer LP-Alben, auf denen ihre Stimme nie zu hören ist 1 Sie unternahm auch einen Versuch an Pop-Singles, die kaum veröffentlicht wurden und möglicherweise zum ersten Mal auf dieser CD zu hören sind. Sie schuf auch eine Nachtclubnummer, die wegen ihrer Bekanntheit in Las Vegas gebucht werden konnte. Jayne Mansfield war eine wahre Ikone ihrer Zeit und sie war zu einzigartig, um als eine weitere Kopie von Monroe abgetan zu werden Dieses Album fängt etwas von dieser besonderen Qualität ein und beweist den ultimativen Test eines guten Künstlers -- dass man sie nicht sehen muss, um sie zu genießen 1 -- Alan Eichler
Artikeleigenschaften von

Jayne Mansfield: Too Hot To Handle (Pop-UP Digipak) (CD)
Albumtitel:

Too Hot To Handle (Pop-UP Digipak) (CD)

Genre

Pop

Artikelart

CD

EAN:

8427328460088

Gewicht in Kg:

0.12
Jane Mansfield It was the mid-I950's, Marilyn Monroe was all the rage, and every studio was...
mehr
"Jayne Mansfield"
Jane Mansfield

It was the mid-I950's, Marilyn Monroe was all the rage, and every studio was rushing to discover its own blonde bombshell who could be the new answer to her. Marilyn herself, however, was desperately try-ing to drop that image and be taken as a serious actress, so her own studio, 20th Century-Fox, came up with an answer of its own --Jayne Mansfield. Ironically, despite all the publicity that she generated, Jayne's Hollywood career never took off the way she had hoped, and after a few "A" films that flopped, she was reduced to taking anything she could get,including, several European pictures that weren't even released. She did manage, however, to do the one thing that Marilyn herself craved for but was never able to accomplish -- a smash hit on Broadway, "Will Success Spoil Rock Hunter 7", which ironically had been turned down previously by Mamie Van Doren.

Van Doren, who was Universal's answer to Monroe, was to figure in Jayne's life more tragically several years later, when she was held-over in a stage production of "Gentlemen Prefer Blondes" and had to cancel a club date in Biloxi, Miss. Jayne filled in for her and had her fatal car accident on the way. It's interesting to note in retrospect that even though all the 50's blondes were lumped together at the time as copies of Monroe, many of them actually had some unique qualities of their own. While Marilyn combined her sexuality with an innocence and vulnerability, Mamie was tough and in full control, and was to come into her own a few years later with a series of rock and roll movies that established her true cult status. Jayne, however who was credited even then with an extremely high I.Q., exag-gerated the role of the dumb blonde beyond reality, with an over-stated figure to match. She created the perfect parody of the sexy dumb blonde and had enough innate intelligence to make it work.

Whatever her career lacked in solid accomp-lishments, she more than made up for with a steady flow of publicity that continually kept her image before the public. She was a popular TV guest, she had sufficient wit to feed clever lines to the nation's newspaper columnists, and enough cleavage to make the covers of all the popular men's magazines -- several of which would have been considered to be beneath the dignity of a bonafide movie star. She couldn't really sing, but posed for the covers of several LP albums on which her voice is never heard 1 She also made an attempt at pop singles, which were scarcely released at all and are heard possibly for the first time on this CD. She also created a nightclub act, which because of her notoriety, was able to get her booked in Las Vegas . Jayne Mansfield was a true icon of her time and she was too unique to be dismissed as just another copy of Monroe This album captures some of that special quality and proves the ultimate test of a good performer -- that you don't have to see her to enjoy her -- Alan Eichler


Bewertungen lesen, schreiben und diskutieren...
mehr
Kundenbewertungen für "Too Hot To Handle (Pop-UP Digipak) (CD)"
Bewertung schreiben
Bewertungen werden nach Überprüfung freigeschaltet.
Weitere Artikel von Jayne Mansfield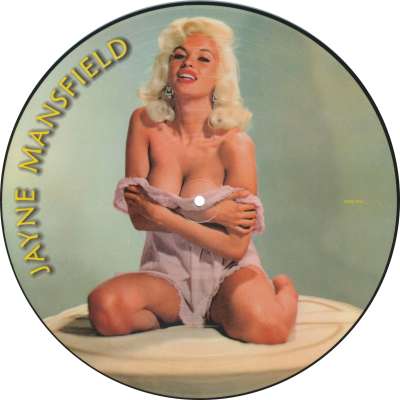 Jayne Mansfield: Too Hot Too Handle - Picture Disc
Art-Nr.: LPMISS005


Artikel muss bestellt werden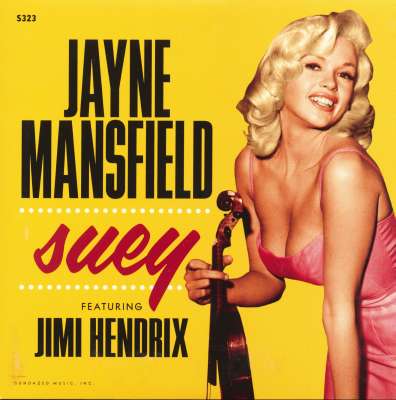 Jayne Mansfield: Suey - Featuring Jimi Hendrix (7inch, 45rpm, PS)
Art-Nr.: 45S323


Artikel muss bestellt werden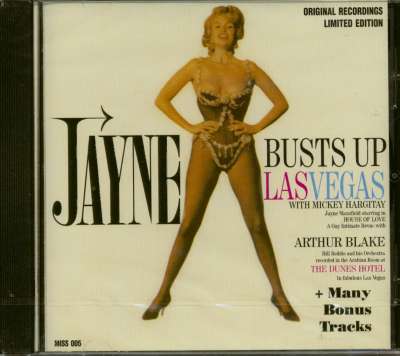 Jayne Mansfield: Busts Up Las Vegas (CD)
Art-Nr.: CDMISS005


nur noch 1 verfügbar
Sofort versandfertig, Lieferzeit** 1-3 Werktage