Der Artikel wurde erfolgreich hinzugefügt.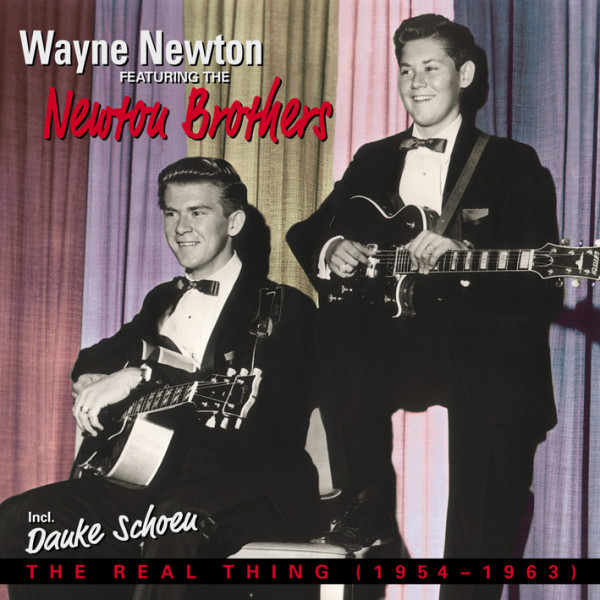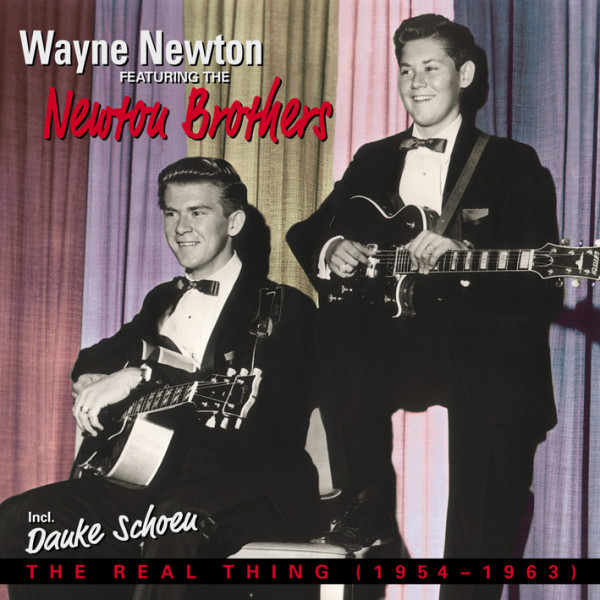 14,99 € *
15,95 € *
(6,02% gespart)
inkl. MwSt. zzgl. Versandkosten
Sofort versandfertig, Lieferzeit** 1-3 Werktage
Artikel-Nr.:

BCD16675

Gewicht in Kg.:

0.115
1-CD mit 48-seitigem Booklet, 32 Einzeltitel, Spieldauer 75:52 Minuten. Es war ein sehr langer...
mehr
Wayne Newton & Newton Brothers: The Real Thing (1954-1963)
1-CD mit 48-seitigem Booklet, 32 Einzeltitel, Spieldauer 75:52 Minuten.

Es war ein sehr langer Weg für Wayne Newton und seinen Bruder Jerry – vom Heukarren, geparkt vor einem Einkaufsladen in Phoenix, Arizona, bis in die glitzernde Neonwelt von Las Vegas.

Diese CD versammelt alle frühen Wayne Newton- bzw. Newton Brothers-Aufnahmen für Ranger, ABC, George, Lama und Capitol aus den Jahren 1954 – 1963; darunter ist natürlich Danke Schoen, sein Riesen-Hit von 1963, sowie sämtliche Singles aus der Zeit davor. Enthalten sind außerdem viele seltene, unveröffentlichte Songs, die erst kürzlich aufgestöbert wurden, zum Beispiel die ersten drei Demos der Brüder von 1954!

Früher Hillbilly-Sound, DooWop, Rockabilly, Standards, Balladen, Hits – in jenen zehn frühen Jahren haben die Newton- Brüder ein sehr umfangreiches stilistisches Spektrum abgedeckt. Bis Wayne Newton 1962 Bobby Darin begegnete, war der Begriff 'Hit' für die beiden allerdings ein Fremdwort – aber im Anschluß an Danke Schoen gab es dann kein Halten mehr.

Wie von Bear Family nicht anders gewohnt, gibt es in dieser CD einen ausführlichen Begleittext und viel Bildmaterial. Die zahllosen Wayne Newton-Fans rund um den Globus kommen an dieser Veröffentlichung einfach nicht vorbei. Jeder kann hier Wayne Newtons faszinierende Entwicklung verfolgen – vom Milchbubi aus Arizona zum Star, der mit Prädikaten wie 'The Midnight Idol', 'Mr. Entertainment' und 'Mr. Las Vegas' gelobt wurde. Diese mit 32 Songs randvolle CD verdient wirklich ihren Titel 'The Real Thing' – sie IST das einzig Wahre in Sachen 'früher' Wayne Newton!
Artikeleigenschaften von

Wayne Newton & Newton Brothers: The Real Thing (1954-1963)
Albumtitel:

The Real Thing (1954-1963)

Genre

Rock'n'Roll

Preiscode

AH

Artikelart

CD

EAN:

4000127166753

Gewicht in Kg:

0.115
Newton, Wayne & Newton Brothers - The Real Thing (1954-1963)

CD 1
01
Out Arizona Way
02
They Don't Know Nothin' At All
03
Rascal Boogie (demo)
04
If The Easter Bunny Knew The Fun He'd Have On
05
Christmas
06
Rascal Boogie
07
I'm Sad, Blue And Lonesome
08
Baby, Baby, Baby
09
I'm Too Young To Fall In Love With You
10
Rock 'N' Roll Lullabye
11
Careless Love
12
I'm No Good Without You
13
Start At The Bottom
14
I Spy
15
Bird Watcher's Ball
16
The Real Thing
17
The Little White Cloud That Cried
18
Calorie Date
19
You're Much Too Lovely To Cry
20
The Wild Irish Rose
21
I Want To Mean Everything To You
22
Little Jukebox
23
I Was Born When You Kissed Me
24
I Still Love You
25
What Does She Do With Him?
26
The Little Whit Cloud That Cried
27
Heart
28
So Long Lucy
29
Better Now Than Later
30
Shirl Girl
31
Someone's Ahead Of You
32
Dream Baby
33
Danke Schoen
The Newton Brothers featuring Wayne Newton The Real Thing 1954-1963 It's a long, long way...
mehr
"Wayne Newton & Newton Brothers"
The Newton Brothers featuring Wayne Newton
The Real Thing 1954-1963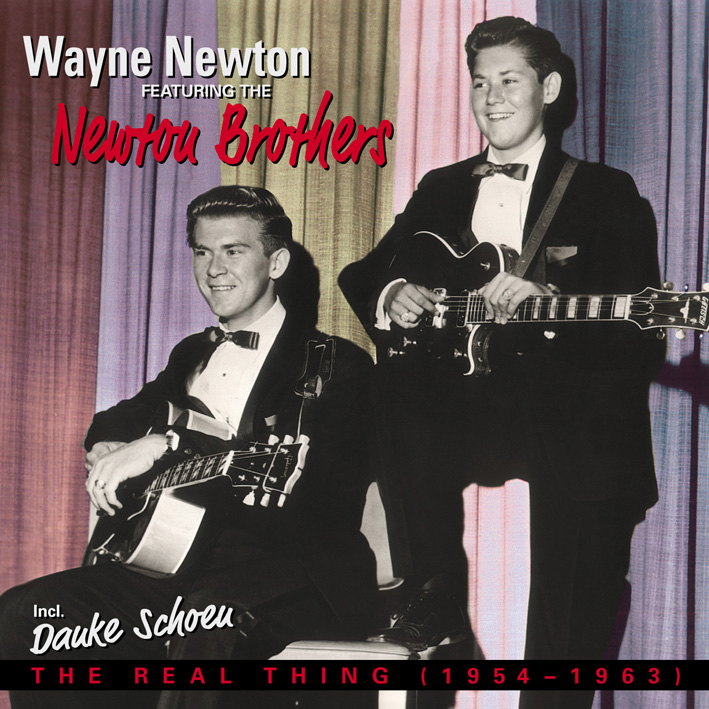 It's a long, long way from the rough, wooden floorboards of a hay wagon, parked outside a grocery store in Phoenix, Arizona, to the glitzy neon lights of Las Vegas. Carson Wayne Newton made that difficult trip … to become one of the highest paid performers on the Strip.
This special compact disc compiles all of his Newton Brothers records through their first three Capitol releases, marking the duo's first decade in the studio. Hear for yourself how Wayne Newton transformed himself from an Arizona milquetoast to 'The Midnight Idol,' 'Mr. Entertainment' and 'Mr. Las Vegas.'
This is the audio story of the hillbilly brothers from the South and those that saw Wayne's potential and wanted to make records with this future superstar. For even as their parents pushed brother Jerry to the microphone, everyone else seemed to know that Wayne was the one to watch, the one with the real talent.
The name on the record labels would change from 'The Newton Rascals' to 'Jerry & Wayne' to 'The Newton Brothers featuring Wayne' and finally, by 1963, 'Wayne Newton and the Newton Brothers.' That same year, singer and producer Bobby Darin finally dropped 'The Newton Brothers' tag off the records and freed Wayne from his brother's musical influence, in the recording studio anyway.
Wayne Newton was able to rise above the guilt of forcing his family to leave their Virginia roots and move to the Arizona desert, not once, but twice, for his health. In the early days, that high-pitched voice was always an excuse for some to smile and yet, as you will hear, those first records prove that Wayne was a talent to be reckoned with even at the start. This album is also an acknowledgement of those who saw that early talent and were willing and able to help the Newtons in the decade before Danke Schoen.
Wayne Newton was born on April 3, 1942 in Roanoke, Virginia. Wayne's dad, Patrick Newton (of Irish and Powatan descent), was an auto mechanic and his mom, Evelyn (who was German-Cherokee), raised chickens on the small family farm. Wayne was a sickly child, with severe bronchial asthma, and missed a lot of school.
In 1946, he saw a touring country music show and Wayne was knocked out by the performances of Hank Williams and Kitty Wells. At four years old, he told his parents, "That's what I want to do." By 1948, the six-year-old dynamo and older brother Jerry had their own early morning radio show on WDBJ in Roanoke. Wayne was playing steel guitar and banjo and Jerry was playing rhythm guitar. But Wayne's health was a chronic concern. "The minute winter would set in, I would get sick," Wayne would recall in his autobiography. "Maybe that's when my parents started to pay more attention to my brother. They may have felt they should show my brother more notice since they spent so much time nursing me."
The Newtons packed up and moved to Phoenix in 1952 because of Wayne's asthma. Evelyn had a brother living there. Guilt weighed heavily on the young Wayne's conscience: "Even though the hurt was never verbalized, I felt it. It was as if I were a burden. At night I would lie in bed and think how they were giving up everything they ever wanted because of me. For my parents, it meant tearing up their roots and leaving everything they had known behind."
In Phoenix, Patrick Newton looked for work for seven weeks and found nothing. The brother act auditioned for The Lew King Ranger Show and played their first shows in Arizona at local drugstores and supermarkets as part of King's show. Soon, Wayne's health had improved and, as there was still no work for Patrick, the family was forced to move back east. This time they went to Newark, Ohio, where Patrick's sister lived.
Everything was fine until winter 1953. Wayne's dad had work, enough money for a down payment on a house, and the brothers were performing regularly at Hill Billy Park on the weekends. Once again, with the chill of winter in the air, Wayne became deathly ill. On the doctor's advice, the family once again sold their belongings, lost the down payment on the house, packed a small trailer with the basics and headed the car back to the warmth of the Phoenix metropolitan area, affectionately known as the Valley Of The Sun.
Reunited with Lew King, the brothers appeared on the very popular Lew King Rangers Saturday night variety show on television and played in-person around Phoenix. King was the major entertainment player in Phoenix. Besides the concerts and the Rangers show on TV and radio, he hosted several daily talk and quiz shows and was even a partner in an advertising agency. At this time, Wayne played a double neck steel guitar and Jerry played rhythm guitar. The duo covered the country and hillbilly hits of the day with a few originals sprinkled in the set.
Lew King is generally considered the man who brought Wayne to the very point of success. He remembered the first time he saw the Newtons. He was doing an outdoors show in the early 1950s. "I'm on stage and we're doing the show, and in the distance, I see this big, old Cadillac," King said. "Vintage-wise, you wondered how they even rolled it onto the lot. Two kids in western outfits got out and weaved their way to the front of the stage. 'Psst!' I leaned down. 'We're Wayne and Jerry Newton. We play the guitar, and sing,' Wayne said."
King tried to put them off but Wayne insisted. "The Newton Brothers were an instant success," King said. "I had always felt that a kid was going to come into my life that was going to make it, who had the definite potential, who had all the ingredients to make it possible." King found what he had been looking for in Wayne Newton. There was a period of training, diction lessons, and exposure. King put them on his show. He set them up with a local TV sponsor, the Valley Furniture Company. He got their father, a job. He did what he could to get the country out of the kid from West Virginia. "At that time, they were doing strictly hillbilly because their parents wouldn't let them go off hillbilly music," King said. "They were raised hillbillies, they were dyed-in the–wool hillbillies and they were going to die hillbillies." Getting them to sing anything else was a battle. Another problem, according to King, was interference from the family. "Jerry was the one they wanted to push when Wayne was the obvious talent," he said.
Wayne Newton & Newton Brothers The Real Thing (1954-1963)
Read more at: https://www.bear-family.com/newton-wayne-und-newton-brothers-the-real-thing-1954-1963.html
Copyright © Bear Family Records
Bewertungen lesen, schreiben und diskutieren...
mehr
Kundenbewertungen für "The Real Thing (1954-1963)"
Von:
Lenny Peters
Am:
01.10.2018
Interesting at best
Wayne, at times sounds like a cross between early Brenda Lee cuts and Jimmy Hodges, being a tenor almost from the get-go. He played a mean steel guitar though. He could have done some straight instrumentals with his brother including some Collins Kids stuff. The early works aren't as interesting as I had thought they would be and the changes started after midway of their sessions. Danke Shoen was a milestone solo for a kid of 13 back then. @ 55 years later, he's still entertaining crowds in Vegas. He's come a long way. Lee and Hodges were early exceptions, I think.
Bewertung schreiben
Bewertungen werden nach Überprüfung freigeschaltet.