Der Artikel wurde erfolgreich hinzugefügt.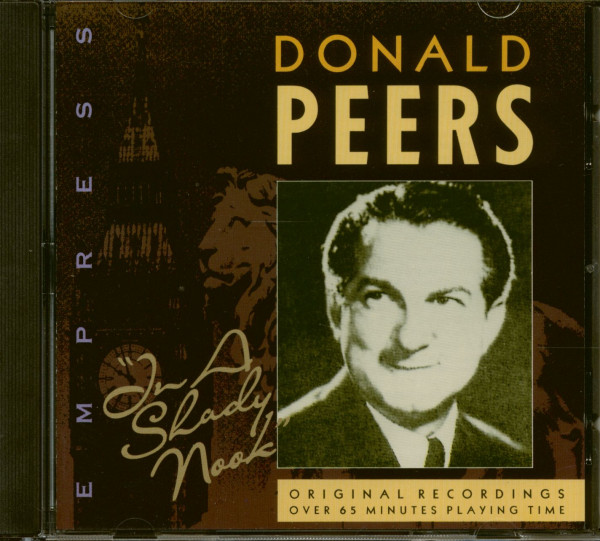 Artikel-Nr.:

CDRAJ846

Gewicht in Kg.:

0.1
(Empress) 23 tracks, Originalaufnahmen In den frühen Tagen seiner Karriere, in den späten...
mehr
Donald Peers: In A Shady Nook (CD)
(Empress) 23 tracks, Originalaufnahmen
In den frühen Tagen seiner Karriere, in den späten vierziger und frühen fünfziger Jahren, war Donald Peers ein echter Herzschlag, der die Art von ohnmächtiger, schreiender Hysterie in seinen vielen weiblichen Fans auslöste, die später mit den jungen Rock-Idolen der sechziger Jahre in Verbindung gebracht wurden. Nachdem er sein Jahrzehnt des Erfolgs genossen hatte, schlüpfte er aus dem Blickfeld der Öffentlichkeit und feierte Ende der sechziger Jahre ein erstaunliches Comeback mit einem großen Hit, als er als eher molliger, grauhaariger Mann mittleren Alters in einem nüchternen Anzug während seiner Auftritte in Fernsehshows wie "Top Of The Pops" neben den jüngeren Darstellern mit ihren langen Haaren und bunten Kleidern seltsam fehl am Platz wirkte.
Es war eine große Hommage an die Qualität seines Gesangs (ganz zu schweigen von der Beharrlichkeit und dem Glauben an seine eigenen Fähigkeiten), dass er in einem Alter, in dem die meisten Künstler an den Ruhestand gedacht hätten, wieder auf die Höhe kam. Passend für einen Sänger war Donald Peers ein Waliser, der 1909 in Ammanford in einer strengen religiösen Familie geboren wurde. Sein Vater arbeitete in der örtlichen Zeche, war aber ein so frommes Mitglied der Sekte "The Plymouth Brethren", bis zu seinem Tod weigerte er sich, ein Theater zu betreten, um seinen eigenen Sohn spielen zu hören. Donald, der sich anfangs dem Druck der Familie beugte, war bereit, Lehrer zu werden, aber er rebellierte und rannte weg, entschlossen, seinen eigenen Weg im Leben zu gehen. Zunächst arbeitete er als Maler und Dekorateur, dann ging er als Steward auf einem britischen Tanker zur See.

Zurück auf dem Festland brach er schließlich ins Showgeschäft ein, als er 1927 als Sänger mit einem Seekonzert in einer Radiosendung mit den Komödianten Clapham und Dwyer debütierte; es sollte ein wichtiger Meilenstein für Donald werden, da er schnell große Popularität "on the air" aufbaute. Im Jahre 1940 kam Donald Peers' aufkeimende Karriere plötzlich zum Erliegen, als er sich für die Armee verpflichtete; schließlich wurde er am D-Day 1944 außer Gefecht gesetzt. Im selben Jahr nahm er einen alten Song In A Shady Nook (By A Babbling Brook) auf, der bereits 1927 von E G Nelson und Harry Pease geschrieben worden war.

Ein sofortiger Hit, das Lied wurde zu Donalds lebenslangem Titelsong und unauslöschlich mit ihm verbunden. Es war nur die erste einer langen Reihe von Bestsellern, die bis in die frühen fünfziger Jahre andauerte und viele Jahre später neue Impulse erhielt. Nicht nur durch das Medium des Grammophons wurde Donald Peers populär.

Artikeleigenschaften von

Donald Peers: In A Shady Nook (CD)
Albumtitel:

In A Shady Nook (CD)

Genre

Pop

Artikelart

CD

EAN:

5001940084636

Gewicht in Kg:

0.1
Peers, Donald - In A Shady Nook (CD)

CD 1
01
In A Shady Nook By A Babbling Brook
02
Don't Sweetheart Me
03
You're In Love
04
It's Love Love Love
05
By The River Of The Roses
06
You Fascinating You
07
London Pride
08
I Met Her On A Monday
09
Isabel Loves A Soldier
10
I'm All Right
11
Johnny And Mary
12
Lights Out Till Reveille
13
Forever And A Day
14
Just A Little Cottage
15
Russian Rose
16
St. Mary's In The Twilight
17
Tangerine
18
Moonlight Cocktail
19
Three Little Sisters
20
Hey Little Hen
21
Nevada
22
Sing Everybody Sing
23
Marie Elena
Bewertungen lesen, schreiben und diskutieren...
mehr
Kundenbewertungen für "In A Shady Nook (CD)"
Bewertung schreiben
Bewertungen werden nach Überprüfung freigeschaltet.