Der Artikel wurde erfolgreich hinzugefügt.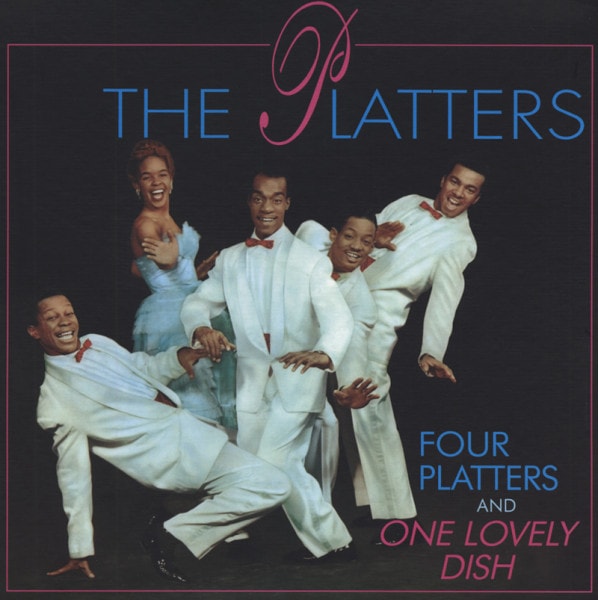 95,97 € *
157,95 € *
(39,24% gespart)
inkl. MwSt. / zzgl. Versandkosten
Sofort versandfertig, Lieferzeit** 1-3 Werktage
Artikel-Nr.:

BCD15741

Gewicht in Kg.:

1.2
9-CD Box (LP-Format) mit 52-seitigem Buch, 254 Einzeltitel. Spieldauer ca. 648 Minuten. Eine...
mehr
The Platters: Four Platters And One Lovely Dish (9-CD)
9-CD Box (LP-Format) mit 52-seitigem Buch, 254 Einzeltitel. Spieldauer ca. 648 Minuten.

Eine längst überfällige Veröffentlichung! Die Platters verkauften mehr Schallplatten, traten in mehr Hallen auf und spielten in mehr Filmen mit als jede andere Gesangsgruppe ihrer Zeit. Sie besaßen wirklich dieses Gewisse Etwas. Bereits 1962 konnten sie die erstaunliche Zahl von 35 Songs in den amerikanischen Pop-Charts platzieren. Tony Williams, ihr Leadsänger, beeinflusste eine ganze nachfolgende Generation von Sängern, egal ob schwarz oder weiß. Diese Aufnahmen der Platters zählen zum größten Vermächtnis afro-amerikanischer Musik. Nahezu sämtliche 'klassischen' Aufnahmen wurden zwischen 1955 und 1964 auf einem einzigen Label, Mercury Records, veröffentlicht. In dieser Box sind sie erstmals und komplett zusammengefasst. Zu den Aufnahmen zählen Only You, The Great Pretender, The Magic Touch, My Prayer, Harbour Lights, You'll Never Know, Twilight Time, Smoke Gets In Your Eyes, I'm Sorry, insgesamt mehr als 250 Songs.
Artikeleigenschaften von

The Platters: Four Platters And One Lovely Dish (9-CD)
Albumtitel:

Four Platters And One Lovely Dish (9-CD)

Genre

R&B, Soul

Edition 2

Deluxe Edition

Preiscode

II

Artikelart

Box set

EAN:

4000127157416

Gewicht in Kg:

1.2
Platters, The - Four Platters And One Lovely Dish (9-CD)

Box set 1
01
I Wanna
02
Why Should I
03
Only You (And You Alone)
04
The Great Pretender
05
I'm Just A Dancing Partner
06
Winner Take All
07
(You've Got) The Magic Touch
08
My Prayer
09
Someone To Watch Over Me
10
I'm Sorry
11
At Your Beck And Call
12
Heaven On Earth
13
Bewitched, Bothered And Bewildered
14
On My Word Of Honor
15
Glory Of Love
16
Have Mercy
17
Remember When
18
You'll Never, Never Know
19
One In A Million
20
I Give You My Word
21
It Isn't Right
22
You've Changed
23
He's Mine
24
I'll Get By
25
I Don't Know Why
26
Heart Of Stone
27
I'd Climb The Highest Mountain
28
Temptation
Platters, The - Four Platters And One Lovely Dish (9-CD)

Box set 2
01
September In The Rain
02
Wagon Wheels
03
You Can Depend On Me
04
Take Me In Your Arms
05
You're Making A Mistake
06
My Dream
07
Lie Low
08
Darktown Strutter's Ball
09
Mean To Me
10
You Are Too Beautiful
11
No Power On Earth
12
I'm Gonna Sit Right Down And Write Myself...
13
Time And Tide
14
Love You, Funny Thing
15
In The Middle Of Nowhere
16
When You Return
17
Let's Start All Over Again
18
Oh Promise Me
19
Don't Forget
20
Only Because
21
Sweet Sixteen
22
The Mystery Of You
23
Indif'rent
24
Sixteen Tons
25
Goodnight Sweetheart, It's Time To Go
26
My Serenade
Platters, The - Four Platters And One Lovely Dish (9-CD)

Box set 3
01
My Old Flame
02
Sleepy Time Gal
03
Don't Blame Me
04
Wish Me Love
05
Helpless
06
I Wish
07
No Matter What You Are
08
Twilight Time
09
Twilight Time
10
My Serenade
11
That Old Feeling
12
I'll Take You Home Again Kathleen
13
It's Raining Outside
14
For The First Time (Come Prima)
15
Whispering Wind
16
But Not Like You
17
Out Of My Mind
18
Don't Let Go
19
You Don't Say
20
Are You Sincere?
21
If I Didn't Care
22
Smoke Gets In Your Eyes
23
Thanks For The Memory
24
I Can't Get Started
25
Somebody Loves Me
Platters, The - Four Platters And One Lovely Dish (9-CD)

Box set 4
01
Love In Bloom
02
Prisoner Of Love
03
Until The Real Thing Comes Along
04
I'll Never Smile Again
05
Remember When
06
A Tisket, A Tasket
07
Hula Hop
08
Wish It Were Me
09
Enchanted
10
Where?
11
Love Of A Lifetime
12
The Sound And The Fury
13
To Each His Own
14
Harbor Lights
15
Lazy River
16
Moonlight On The Colorado
17
Down The River Of Golden Dreams
18
Red Sails In The Sunset
19
On A Slowboat To China
20
Harbor Lights
21
(By The) Sleepy Lagoon
22
By The River Sainte Marie
23
Rainbow On The River
24
Sad River
25
Ebb Tide
26
Reflections In The Water
Platters, The - Four Platters And One Lovely Dish (9-CD)

Box set 5
01
What Does It Matter?
02
Whispering Grass
03
I'll Be With You In Apple Blossom Time
04
Lullaby Of The Leaves
05
Jeannine
06
Tumbling Tumbleweeds
07
Trees
08
Orchids In The Moonlight
09
A Little White Gardenia
10
Honey Suckle Rose
11
Life Is Just A Bowl Of Cherries
12
When You Wore A Tulip
13
Roses Of Picardy
14
Movin' In
15
One Love
16
Immortal Love
17
Love, Your Magic Spell Is Everywhere
18
Love Is Just Around The Corner
19
Love Me Or Leave Me
20
It's Love, Love, Love
21
Let's Fall In Love
22
Advertise It
23
Who Wouldn't Love You?
24
The Masquerade Is Over
25
The Nearness Of You
26
You'll Never Know
27
It's Magic
Platters, The - Four Platters And One Lovely Dish (9-CD)

Box set 6
01
Love Is
02
Love Is The Sweetest Thing
03
Love Is A Many Splendored Thing
04
Don't Let Me Fall In Love
05
True Lover
06
Rear View Mirror
07
I Miss You So
08
I Just Got Rid Of A Heartache
09
Reaching For A Star
10
All The Things You Are
11
Song For The Lonely
12
Say A Prayer
13
How Will I Know?
14
Keep Me In Love
15
If You Only Knew
16
Summertime
17
Embraceable You
18
People Will Say We're In Love
19
Poor Butterfly
20
Stormy Weather
21
Every Little Movement
22
More Than You Know
23
September Song
24
That Old Black Magic
25
My Heart Belongs To Daddy
26
Sometimes I'm Happy
27
But Not For Me
Platters, The - Four Platters And One Lovely Dish (9-CD)

Box set 7
01
Memories
02
Moon Over Miami
03
On The Top Of My Mind
04
In A Little Spanish Town
05
Shine On Harvest Moon
06
Oh, How I Miss You Tonight
07
I'll See You In My Dreams
08
Moonlight Memories
09
Moonlight And Roses
10
My Reverie
11
Full Moon And Empty Arms
12
Once In A While
13
Sentimental Journey
14
It Might As Well Be Spring
15
But Beautiful
16
I Only Have Eyes For You
17
Pennies From Heaven
18
Singin' In The Rain
19
Blues In The Night
20
As Time Goes By
21
My Romance
22
Moonlight And Shadows
23
Sweet Leilani
24
Stay As Sweet As You Are
25
Here Comes Heaven Again
26
Viva Ju Juy
27
Cuando Calienta El Sol
28
Maria Elena
29
Solamente Tu
30
Siboney
Platters, The - Four Platters And One Lovely Dish (9-CD)

Box set 8
01
Aquellos Ojos Verdes
02
Aquarela Do Brazil
03
Tu Dolce Voz
04
La Hora Del Crepusculo
05
Besame Mucho
06
Malaguena Salerosa
07
Strangers
08
Winter Wonderland
09
White Christmas
10
Silent Night
11
Santa Claus Is Comin' To Town
12
I'll Be Home For Christmas
13
For Auld Lang Syne
14
Rudolph, The Red Nosed Reindeer
15
All I Want For Christmas Is My Two Front Teet
16
Come Home For Christmas
17
Jingle Bell Rock
18
Jingle Bells Jingle
19
Blue Christmas
20
Christmas Time
21
Sincerely
22
P.S. I Love You
23
The Hut Sut Song
24
Day-O
25
Mississippi Mud
26
False Hearted Lover
27
Michael, Row The Boat Ashore
28
Crying In The Chapel
29
Java Jive
Platters, The - Four Platters And One Lovely Dish (9-CD)

Box set 9
01
Way Down Yonder In New Orleans
02
The Three Bells
03
Song From Moulin Rouge
04
Little Things Mean A Lot
05
Rock Around The Clock
06
Don't Be Cruel
07
Tammy
08
Volare
09
Mack The Knife
10
Theme From A Summer Place
11
Exodus Song
12
The Twist
13
Love Me Tender
14
The Great Pretender
15
The Anniversary Song
16
The Gypsy
17
When I Fall In Love
18
The Big Forget
19
Soothe Me
20
Easy Street
21
It Could Happen To You
22
A Blues Serenade
23
These Foolish Things
24
Somewhere Along The Way
25
Lover
26
House Of The Rising Sun
27
Hard Hearted Hannah (The Vamp Of Savannah)
The Platters Als Rock-and-Roll in der Mitte der 1950er Jahre in das nationale und globale...
mehr
"The Platters"
The Platters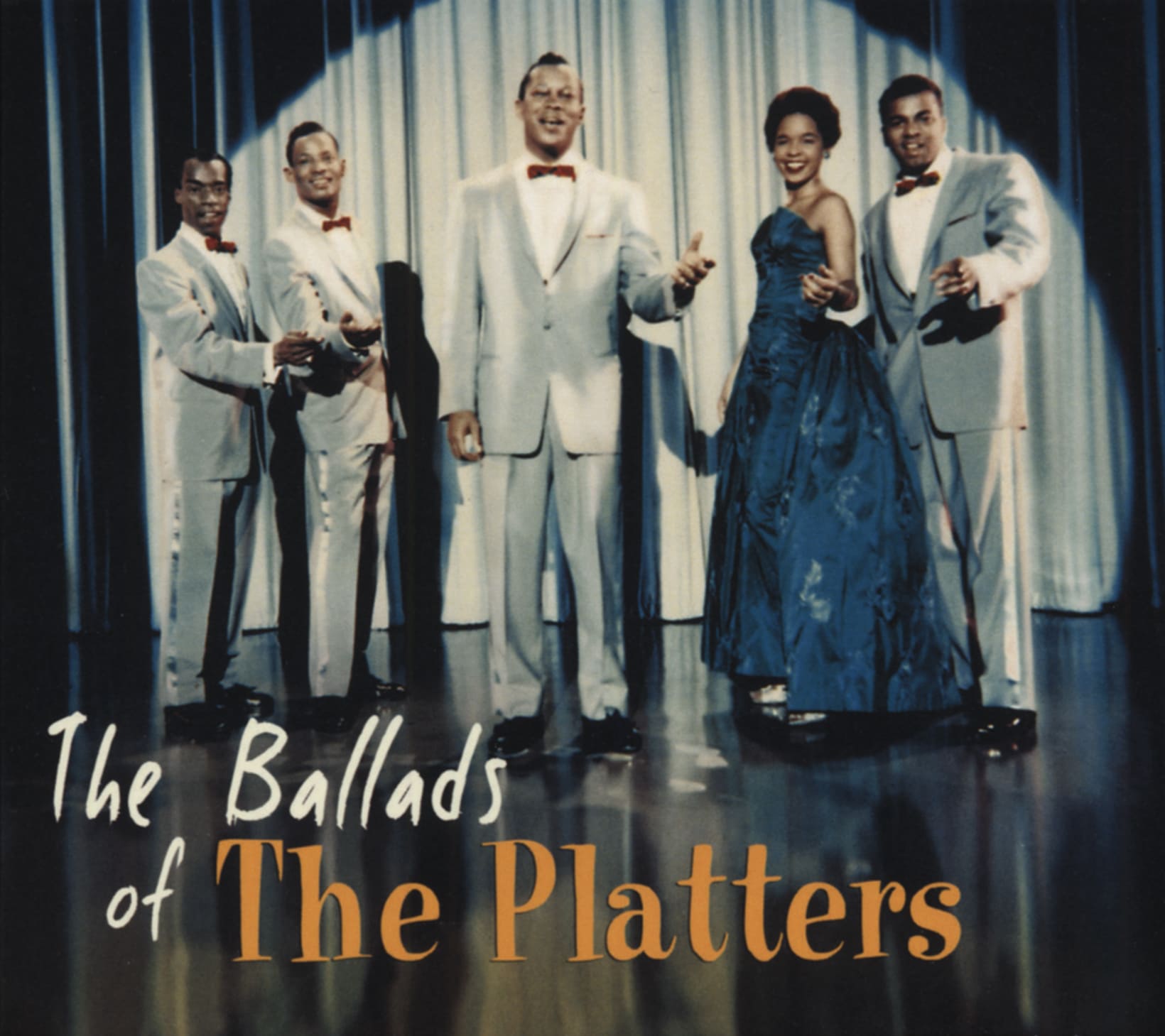 Als Rock-and-Roll in der Mitte der 1950er Jahre in das nationale und globale Bewusstsein überging, half eine Lawine von afrikanisch-amerikanischen Gesangsgruppen mächtig, die Anklage zu führen, auch wenn die Geschichtsbücher nicht immer so berichten.

Die Drifters, Clovers, Moonglows und Midnighters waren an der Spitze dieser langen Linie (sie sind alle prominent auf Bear Family 'Street Corner Symphonies' Serie vorgestellt). Doch die populärsten von ihnen alle aus kommerzieller Sicht war ein fein geschliffenes Quintett von erfahrenen Balladeern, deren Gesangsharmonien so entzückend waren, wie ihr Material verfeinert wurde. Das sorgfältig gearbeitete Polnisch führte zum Pop-Crossover-Status auf einer epischen Skala.

Die Plattenspieler hatten zwei Sachen für sie, die ihre Konkurrenten nicht behaupten konnten: der stratosphärische Lead Tenor von Tony Williams und die Schreib- und Führungsfähigkeiten von Buck Ram. Anstatt mit dem all-männlichen Lineup zu verkleben, mit dem sie begonnen hatten, brachte die Gruppe den Teenager Zola Taylor in die niedlich-as-a-Button, und setzte sie von der großen Mehrheit ihrer Zeitgenossen ab. Sie debütierten in Los Angeles als Standard-Ausgabe-R & B-Outfit, aber nachdem Ram ihre Überwachungszügel übernahm, konzentrierte sich die Gruppe auf die Pop-Vorherrschaft.

Die L.A. R & B Gesangsgruppe war wie keine andere in ihrer extremen Austauschbarkeit. Mitglieder wechseln Gruppen und Gruppen veränderten Namen scheinbar am Tropfen einer Note oder der Komposition eines Liedes. Standouts wie Jesse Belvin, Richard Berry und Cornel Gunter waren an so vielen verwobenen Aggregationen beteiligt, dass es eine große Herausforderung ist, ihre verworrene Linie gerade zu halten. So sollte es nicht als großer Schock kommen, dass die Mannschaft, die in die Platter verwandelte, 1952 mit null Mitgliedern des polierten Quintetts begann, die wir an Bord kennen und verehren.

Die Flamingos (nicht zu verwechseln mit dem Chicago-basierten Quintett des gleichen Monikers, abzüglich der 'e'), die lose-strick-Aggregation zunächst Gunter, bevor er weiter zu bilden, um die Flairs sowie Jody Jefferson, zukünftige Pinguine zu bilden Hauptstütze Curtis Williams und zwei melodische Brüder: Alex und Gaynel Hodge.

Bass-Sängerin Herb Reed war die erste 'echte' Platter, um sich den Reihen anzuschließen. Geboren am 7. August 1928 in Kansas City, Missouri, sang Reed in einem Kirchenchor, bevor er nach LA wagte, als er 15 war. Er diente in der Luftwaffe und berichtete angeblich in einem Los Angeles-Kapitel von The Wings Over Jordan Choir, obwohl er Die endet mit dem Waschen von Autos, dem Pumpen von Gas und dem Fahren einer Jitney-Kabine. Zweiter Tenor David Lynch kam in diesem Bild in diesem Bild. Geboren in St. Louis am 3. Juli 1929, kam er in L.A. im Jahr 1942, später in der Marine.

Reed, Lynch und die Hodge-Brüder nahmen einen Hintergrund Vocal Gig in einem Juni 1953 Session für Federal Records von Tenor Sax Wildman Big Jay McNeely. Präzise Harmonien waren nicht notwendig. Das Quartett enthüllte enthusiastisch den Titel des Liedes, Nervous Man Nervous, immer wieder und lieferte Handclaps, während McNeely grausam hupte und jammerte. Als der Saxophon-Rauch aufhörte, stellte Bundes-A & R-Mann Ralph Bass die Gruppe zu einem Sänger ein, den er in einem angrenzenden Studio geprobt hatte, indem er seine Pfeifen auf etwas Opern ausübte. Sein Name war Tony Williams.

Samuel E. 'Tony' Williams war ein gebürtiger Elizabeth, New Jersey, geboren am 5. April 1928. Ein weiterer Air Force-Tierarzt (er sang für drei Jahre in Special Services und war in Guam, Japan und den Pazifischen Inseln stationiert), Tony Erhielt seine Füße nass singen um Jersey und New York, bis er nach Westen ging. Er hatte eine in: seine ältere Schwester Bertha sang professionell unter dem Griff von Linda Hayes und hatte viel Erfolg dabei. Ja, ich weiß, was Sie nach unten platzieren, ihre bissige Antwort auf den Pianisten Willie Mabons Willy Mabons köstlichen R & B-Chart-Topper Ich weiß nicht, war fast so heiß ein Verkäufer wie sein Vorgänger, Segeln zu # 2 auf 'Billboard' R & B 'Juke Box' Chart über John Dolphins Aufgenommen in Hollywood Label. Sie würde im nächsten Jahr einen weiteren Charter mit Take Me Back erzielen.

Immer auf der Suche nach frischem Talent, das König Records Gründer Syd Nathan, sein Chef zurück in Cincinnati (der Bronx geborene Bass hatte zuvor in ähnlichen A & R Kapazitäten für Black & White und Savoy gedient, Pilot Johnny Otis spektakuläre String von Hits bei Savoy vor der Einweihung des Bundes mit der Domino-Rallye-Sechzig-Minute-Mann im Jahr 1951), Ralph hörte zuerst Tony entfalten seine erstaunlichen Pfeifen an einem der Amateur-Shows, dass Bass und Deejay Hunter Hancock am Montagabend im Club Alabam in Watts, Otis ' Band, das Swinging Backup bietet. Obwohl Williams an diesem Abend nicht die Konkurrenz gewann, unterschrieb ihn ein beeindruckender Bass zu einem Bundesvertrag. Die Entscheidung, dass es am einfachsten wäre, Tony in einem Gruppenkontext zu vermarkten, hat der versierte Produzent den Newcomer mit dem Quartett zusammengetan, mit dem er Big Jay zurückgeholt hat. Es war ein Spiel im musikalischen Himmel
The Platters The Ballads of The Platters
Read more at: https://www.bear-family.com/platters-the-ballads-of-the-platters.html
Copyright © Bear Family Records
Bewertungen lesen, schreiben und diskutieren...
mehr
Kundenbewertungen für "Four Platters And One Lovely Dish (9-CD)"
Von:
David
Am:
04.11.2018
Box Set
Got the box set three days after ordering and well wrapped. The nine cds are wonderful and the sound quality is brilliant. Comes with a well informed book.
Bewertung schreiben
Bewertungen werden nach Überprüfung freigeschaltet.
Weitere Artikel von The Platters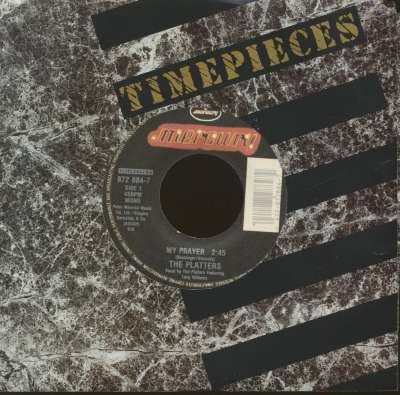 Platters: My Prayer - (You've Got) The Magic Touch...
Art-Nr.: 45MERC872884


Sofort versandfertig, Lieferzeit** 1-3 Werktage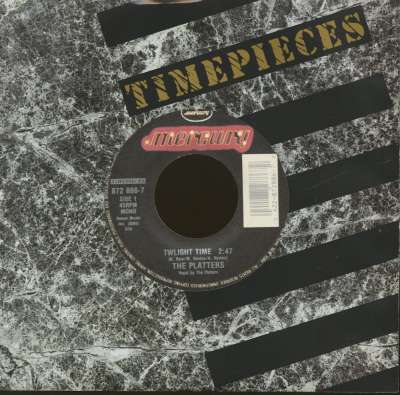 The Platters: Twlight Time - For The Fist Time (7inch, 45rpm)
Art-Nr.: 45MERC872886


Sofort versandfertig, Lieferzeit** 1-3 Werktage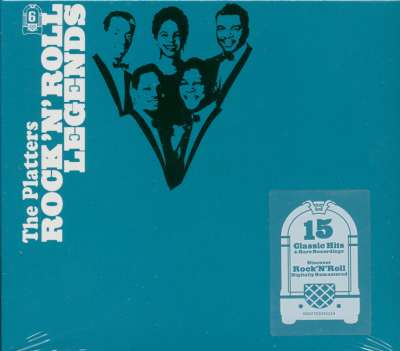 The Platters: Rock & Roll Legends Series (CD)
Art-Nr.: CD3045144


Sofort versandfertig, Lieferzeit** 1-3 Werktage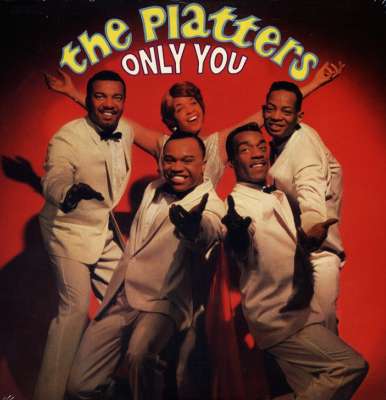 The Platters: Only You...plus - Papersleeve
Art-Nr.: CD3930606


Artikel muss bestellt werden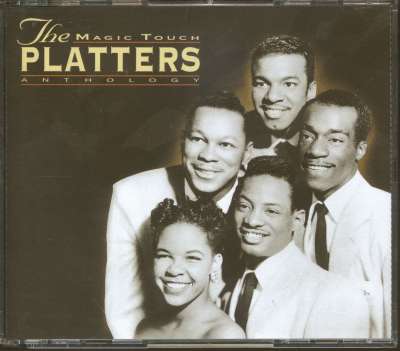 The Platters: The Magic Touch - An Anthology (2-CD)
Art-Nr.: CD510314


Sofort versandfertig, Lieferzeit** 1-3 Werktage