Der Artikel wurde erfolgreich hinzugefügt.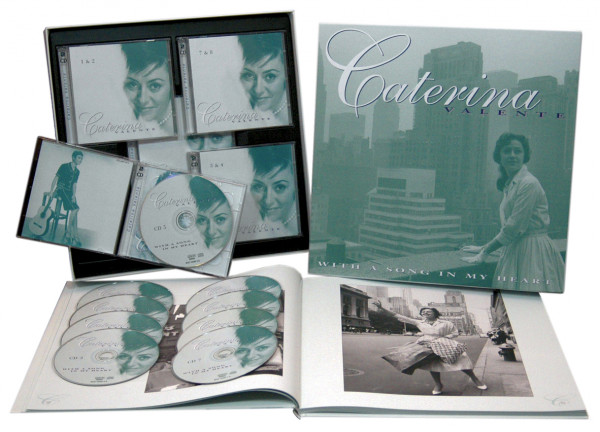 170,95 € *
188,95 € *
(9,53% gespart)
inkl. MwSt. / zzgl. Versandkosten - Abhängig vom Lieferland kann die MwSt. an der Kasse variieren.
Sofort versandfertig, Lieferzeit** 1-3 Werktage
Artikel-Nr.:

BCD16350

Gewicht in Kg.:

2.2
9-CD Box (LP-Format) mit 108-seitigem gebundenem Buch, 217 Einzeltitel, Spieldauer 618:22...
mehr
Caterina Valente: With A Song In My Heart (9-CD Deluxe Box Set)
9-CD Box (LP-Format) mit 108-seitigem gebundenem Buch, 217 Einzeltitel, Spieldauer 618:22 Minuten.
Die neue Box 'With A Song In My
Heart
' enthält alle englischsprachigen Singles und Alben, die
Caterina Valente
für London, Decca und RCA Victor von 1959 bis 1973 aufgenommen hat. Die LPs werden hier komplett wiederveröffentlicht, auch wenn einzelne Titel in anderen Sprachen darunter sind.
Viele bisher unveröffentlichte Aufnahmen, sämtliche Titel der 'With A Song In My Heart'-Session (inklusive 'Ottakes') sowie eine 'Audition Session' machen diese Box besonders interessant. Den überwiegenden Teil der Lieder gibt es hier erstmalig auf CD.
Durchweg Aufnahmen, die zu den Höhepunkten Caterina Valentes Schallplatten-Karriere zählen!
Artikeleigenschaften von

Caterina Valente: With A Song In My Heart (9-CD Deluxe Box Set)
Albumtitel:

With A Song In My Heart (9-CD Deluxe Box Set)

Genre

Pop

Edition 2

Deluxe Edition

Preiscode

IL

Artikelart

Box set

EAN:

4000127163509

Gewicht in Kg:

2.2
Valente, Caterina - With A Song In My Heart (9-CD Deluxe Box Set)

Box set 2
01
Theme From Tchaikovsky's Piano Concerto
MUELLER, Werner
02
Tonight We Love
VALENTE, Caterina
03
My Reverie (instrumental)
MUELLER, Werner
04
My Reverie
VALENTE, Caterina
05
Theme From Rachmaninoff's Piano Concerto (#2)
MUELLER, Werner
06
Full Moon And Empty Arms
VALENTE, Caterina
07
Polonaise # 6 In A-Flat
MUELLER, Werner
08
Till The End Of Time
VALENTE, Caterina
09
Polovetzian Dances
MUELLER, Werner
10
Stranger In Paradise
VALENTE, Caterina
11
Tchaikovsky's Melody (#3)
MUELLER, Werner
12
The Things I Love
VALENTE, Caterina
13
Falling In Love With Love
Caterina Valente
14
The Party's Over
Caterina Valente
15
Boom
Caterina Valente
16
Stella By Starlight
Caterina Valente
17
I've Grown Accustomed To His Face
Caterina Valente
18
Two Ladies In De Shade Of De Banana Tree
Caterina Valente
19
Taboo
Caterina Valente
20
Invitation
Caterina Valente
21
You Stepped Out Of A Dream
Caterina Valente
22
Out Of This World
Caterina Valente
23
Serenata
Caterina Valente
24
Goody Goody
Caterina Valente
Valente, Caterina - With A Song In My Heart (9-CD Deluxe Box Set)

Box set 8
01
At Last
MUELLER, Werner
02
You Go To My Head
MUELLER, Werner
03
Love
MUELLER, Werner
04
Little Hands
MUELLER, Werner
05
How Will I Remember You
MUELLER, Werner
06
As Time Goes By
MUELLER, Werner
07
The Second Time Around
MUELLER, Werner
08
Something Missing
MUELLER, Werner
09
The Look Of Love
MUELLER, Werner
10
How Beautiful Is Night
MUELLER, Werner
11
It Never Was You
MUELLER, Werner
12
Too Soon
MUELLER, Werner
13
Wake Up And Shake Up
VALENTE, Caterina
14
Sun On My Face
Caterina Valente
15
Ching Ching Ching
Caterina Valente
16
Both Sides Now
Caterina Valente
17
What Have They Done To My Song, Ma
Caterina Valente
18
Bala Como Bala (scat)
Caterina Valente
19
Hula Blue
Caterina Valente
20
Flowers Samba
Caterina Valente
21
We All Rise Together
Caterina Valente
22
Misturada (scat)
Caterina Valente
23
The Secret Of Love
Caterina Valente
24
Black Litany (scat)
Caterina Valente
Der 25. Oktober 1929 war für Maria und Giuseppe Valente, die mit ihren drei Kindern Nina,...
mehr
"Caterina Valente"
Der 25. Oktober 1929 war für Maria und Giuseppe Valente, die mit ihren drei Kindern Nina, Pietro und Silvio seit 1924 in Paris lebten, t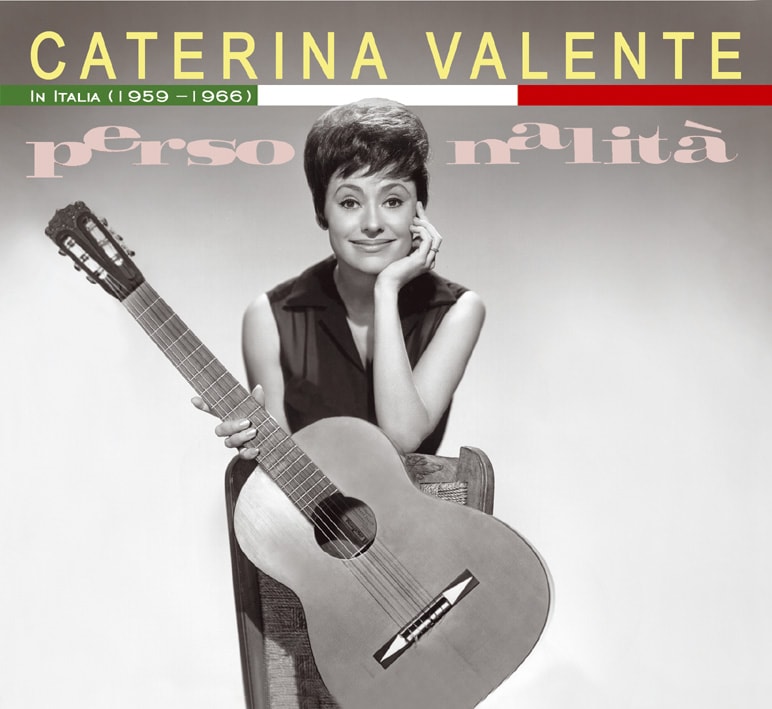 atsächlich ein 'schwarzer Freitag'. Maria Valente hatte als Varieté-Star auf den großen Bühnen der Welt Erfolg und war auch in den USA so bekannt, dass sie mit ihrer Familie dort leben und arbeiten wollte. Der Börsen-Crash verhinderte diese Pläne, denn Familie Valente verlor, wie so viele andere auch, alle Ersparnisse. Sie blieben also in Paris, wo am 14. Januar 1931 die jüngste Tochter von Maria und Giuseppe zur Welt kam: Caterina.
Sie bewunderte die Vielseitigkeit, die Perfektion und das große komödiantische Talent ihrer Mutter. Maria Valente trat mit ihrem Ehemann, einem Akkordeon-Virtuosen, auch in bedeutenden deutschen Varieté-Theatern auf: im Hansa-Theater in Hamburg, in der Berliner Scala und im Friedrichsbau-Theater in Stuttgart. Hier durfte Tochter Caterina zum ersten Mal auf die Bühne. Sie war fünf Jahre alt, tanzte in einem Ballettkostüm - einem weißen Tutu - und sang ein Lied in französischer Sprache.
Als im September 1939 der Zweite Weltkrieg ausbrach, befand sich die Familie Valente anlässlich eines Gastspiels in der Schweiz und wurde, wie alle Ausländer, von den Behörden ausgewiesen. Nach Paris durften die Valentes nicht zurückkehren, denn Maria und Giuseppe Valente waren gebürtige Italiener, die Familie besaß die italienische Staatsangehörigkeit. Die erzwungene Ausreise nach Italien bedeutete für die Kinder, dass sie dort die Sprache des Landes lernten, in dem ihre Eltern geboren wurden. Die anschließenden oft sehr harten Kriegs- und frühen Nachkriegsjahre schildert Caterina Valente sehr eindrucksvoll in ihrer 1985 erschienen Autobiografie 'Bonjour, Katrin!'
Auf dem Weg zu ihrer Solo-Karriere musste Caterina den heftigen Widerstand der Eltern brechen, und sie hatte zusätzliche Enttäuschungen zu verkraften. So scheiterte ein vielversprechendes Projekt mit Bruder Silvio und dem jungen Gilbert Bécaud; und ein Gastspiel in einem Pariser Club endete nach nur einem Abend, weil von der jungen Sängerin auch Animierdienste verlangt worden waren.
Im November 1952 heirateten Caterina Valente und der deutsche Artist Gerd Scholz in Berchtesgaden. Scholz hatte unter dem Namen Eric van Aro erfolgreich als Jongleur gearbeitet, bevor er das Management seiner Frau übernahm. Während einer Tournée mit dem Zirkus des berühmten Clown Grock, in dem sie als Sängerin auftrat, erhielt die Sängerin im April 1953 ein Angebot des Leiters der Unterhaltungsabteilung von Radio Zürich, Walo Linder: Er wollte einige Lieder ihrer Wahl für den Rundfunk produzieren. Caterinas Ehemann schickte die Aufnahmen mit Linders Zustimmung an deutsche Rundfunkstationen. In Baden-Baden hörte der beim Südwestfunk engagierte Bandleader Kurt Edelhagen die Songs und erkannte das Ausnahmetalent der Sängerin. Nach einem Test im Studio war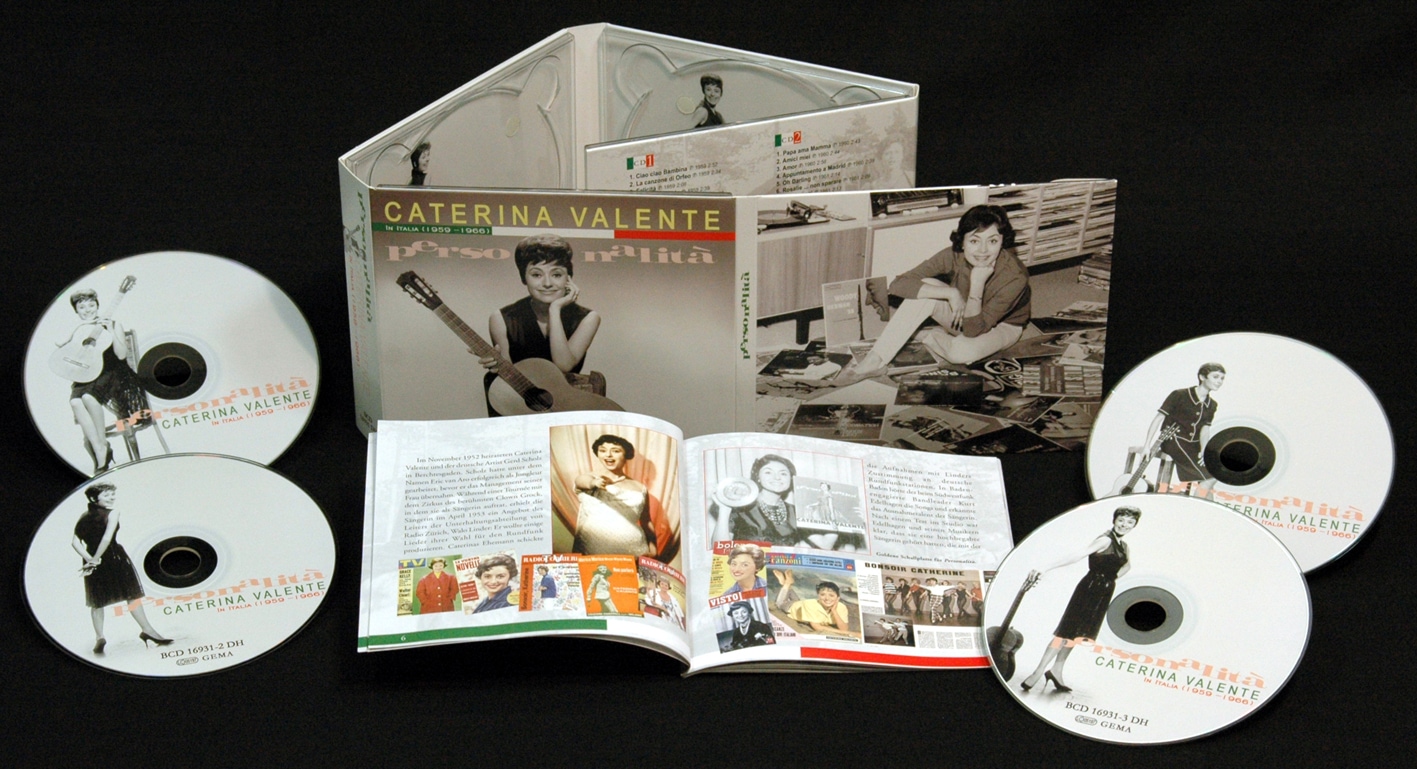 Edelhagen und seinen Musikern klar, dass sie eine hochbegabte Sängerin gehört hatten, die mit der notwendigen Portion Glück eine Riesenkarriere machen würde. Und tatsächlich begann dieser Erfolgsweg im März 1954: Caterina Valente machte im Alter von 23 Jahren ihre ersten Schallplattenaufnahmen für die Hamburger Polydor.
Schon am Ende des ersten Jahres hatte Caterina mit Ganz Paris träumt von der Liebe ihren ersten deutsch gesungenen großen Hit, dem sich viele weitere, bis heute unvergessene Valente-Lieder anschlossen. Auch außerhalb Deutschlands feierte die Künstlerin erste große Schallplattenerfolge. Die Kompositionen Malaguena und The Breeze And I des Kubaners Ernesto Lecuona aus seiner'Adalucia Suite' ebneten ihr den Weg für ihre internationale Karriere.
Zwischen 1954 und 1962 entstanden 12 Kinofilme. Nach drei Nebenrollen übernahm Caterina neunmal die Hauptrolle in Filmen, die den großen Lichtspielhäusern sehr häufig ausverkaufte Säle bescherten. Auch das damals noch neue Medium Fernsehen eroberte sie mit Bravour. 1957 startete 'Bonsoir, Kathrin,' die erste Personality Show im Deutschen Fernsehen. Die Sendung war so erfolgreich, dass immer neue Fortsetzungen entstanden. Viele weitere eigene Show-Serien und Auftritte als Stargast in den Shows großer Kollegen in der ganzen Welt folgten. Auch in den USA eroberte Caterina Valente das Publikum mit künstlerischer Perfektion und Charme. An der Seite von Legenden wie Louis Armstrong, Perry Como, Ella Fitzgerald, Dean Martin und Danny Kaye konnte sie zeigen, was sie war (und ist): eine Entertainerin von Weltklasse-Format. Bing Crosby stellte bei einem ihrer Auftritte verblüfft fest: "Erstaunlich, Caterina, wie Du nicht nur durch die Musik, sondern auch durch den englischen Text gleitest - denn eigentlich bist Du ja Italienerin".
Auszug aus dem Booklet BCD16931 - Caterina Valente Personalita - 1959-1966 (4-CD)
Read more at: https://www.bear-family.de/valente-caterina-personalita-1959-1966-4-cd.html
Copyright © Bear Family Records
Bewertungen lesen, schreiben und diskutieren...
mehr
Kundenbewertungen für "With A Song In My Heart (9-CD Deluxe Box Set)"
Von:
Stephen Whitener
Am:
16.09.2020
Caterina Valente With a Song in My Heart Rating
Excellent box set.
Von:
Katja M.
Am:
22.08.2017
Edles Box Set
Tolle Dokumentation
Bewertung schreiben
Bewertungen werden nach Überprüfung freigeschaltet.
Weitere Artikel von Caterina Valente