Der Artikel wurde erfolgreich hinzugefügt.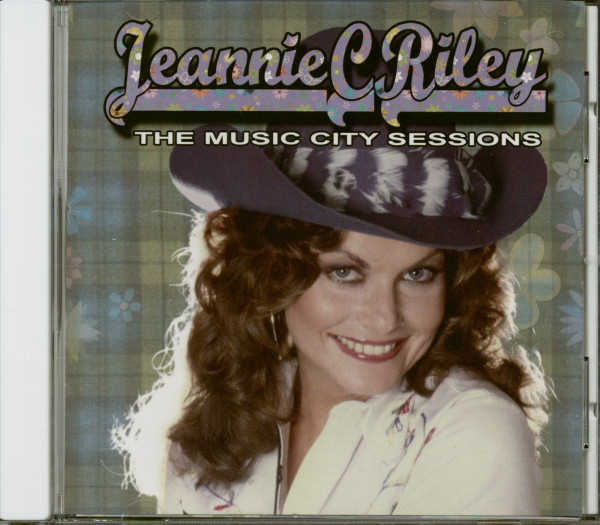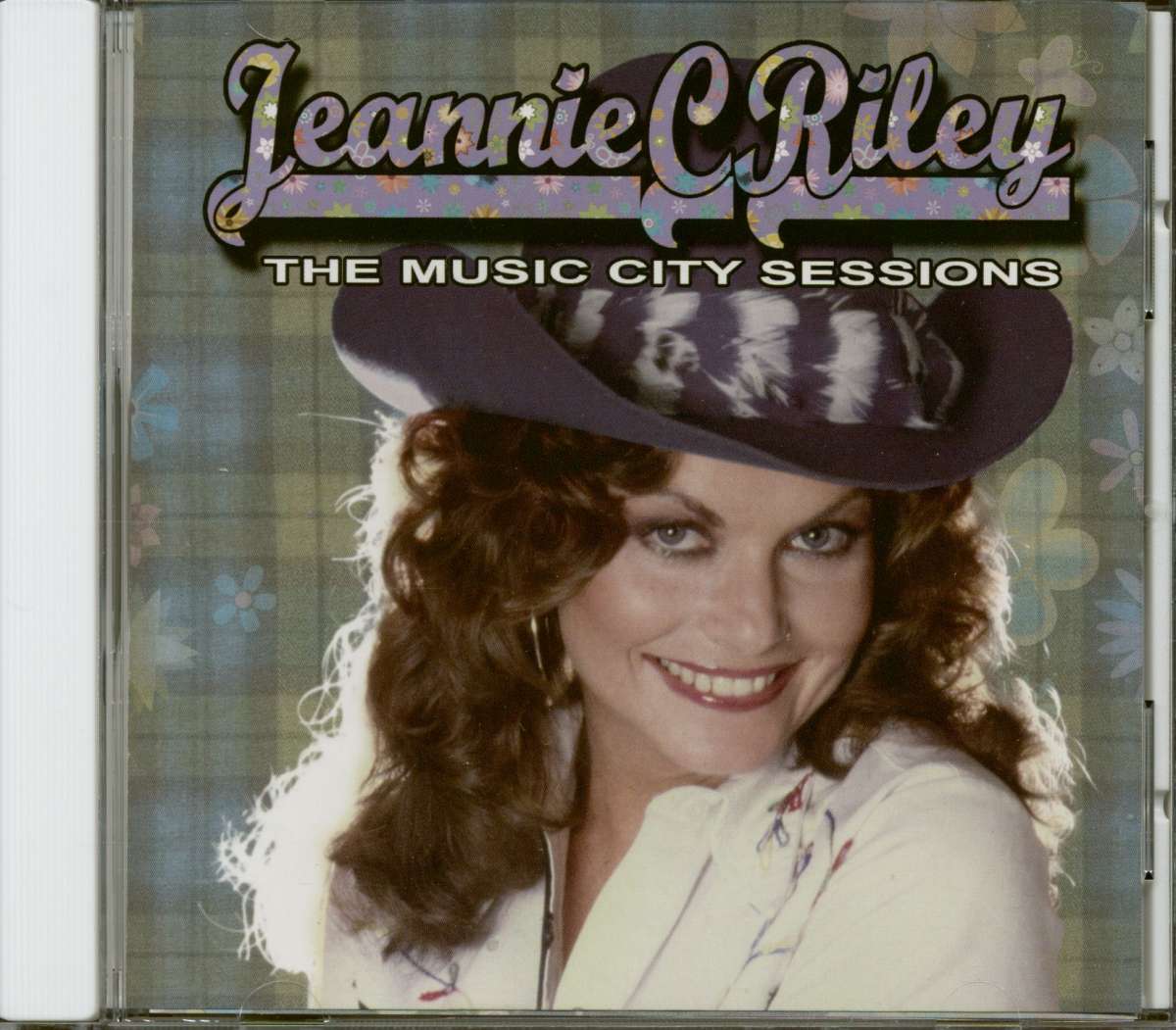 Artikel-Nr.:

CDCRR211

Gewicht in Kg.:

0.1
(Country Rewind Records) 14 Titel Dieses Album ist, wie Jeannie selbst, einzigartig: Keiner der...
mehr
Jeannie C. Riley: The Music City Sessions (CD)
(Country Rewind Records) 14 Titel

Dieses Album ist, wie Jeannie selbst, einzigartig: Keiner der Tracks wurde bisher kommerziell veröffentlicht, obwohl die Titel vieler von ihnen (darunter "Harper Valley P.T.A.") den Country-Fans bekannt sein werden.

Am 15. April 1970 parkte Jeannie vor Scotty Moores Music City Recorders in der 821 19th Avenue South in Nashville und ging hinein. Dort nahm sie einige Episoden einer Show namens'Navy Hoedown' mit dem Ingenieur Mack Evans am Soundboard auf. Natürlich sang sie für die Show ihren Monster-P.T.A.-Hit sowie einige ihrer anderen Hits und Album-Tracks, wie Sie auf dieser Sammlung hören werden.

Diese 15-minütigen Shows zeigten beliebte Country-Künstler, die ein paar Songs sangen und mit dem Gastgeber der Show sprachen. Es blieb wenig oder gar keine Zeit für die Probe und Jeannie hätte die Songs in einem Take gespielt, unterstützt von Studio-Session-Musikern. Die Sendungen wurden dann an rund 2.000 Länderradiostationen als Rekrutierungsaktion für die U.S. Navy verteilt. Die Radiosender verworfen die Aufnahmen in der Regel nach der Ausstrahlung und wurden weitgehend vergessen.

Glücklicherweise entdeckte Country Rewind Records CEO Tom Gramuglia die Original-Mastercassetten dieser Radiosendungen, die lange Zeit für zerstört gehalten wurden. (Zu diesen Meistern gehörten auch Aufnahmen von Waylon Jennings, Connie Smith, Johnny Russell, Mickey Gilley, Ferlin Husky, Faron Young, Conway Twitty und anderen, die aus der gleichen Zeit stammen.

Artikeleigenschaften von

Jeannie C. Riley: The Music City Sessions (CD)
Albumtitel:

The Music City Sessions (CD)

Genre

Country

Artikelart

CD

EAN:

0027779021128

Gewicht in Kg:

0.1
Riley, Jeannie C. - The Music City Sessions (CD)

CD 1
01
Country Girl
02
That's A No-No
03
Harper Valley PTA
04
Crying Time
05
There Never Was A Time
06
Son Of A Preacher Man
07
Things Go Better With Love
08
Me And Bobby McGee
09
The Back Side Of Dallas
10
The Games People Play
11
Wish You Were Here
12
The Girl Most Lonely
13
Okie From Muskogee
14
Rollin' In My Sweet Baby's Arms
Jeannie C. Riley Harper Valley P.T.A. Listener appreciation day at radio station...
mehr
"Jeannie C. Riley"
Jeannie C. Riley
Harper Valley P.T.A.
Listener appreciation day at radio station WENO in Madison, Tennessee, 1967: the station laid on food and called in favors to get some entertainment. Tom T. Hall, newly signed to Mercury Records, was there as were Leon Ashley and his wife, Margie Singleton, joint owners of Ashley Records in nearby Hendersonville. As the food was served, Margie Singleton asked Hall to write a song along the lines of Ode To Billie Joe. Driving south of Nashville, a sign saying Harpeth Valley Utility District triggered a memory of a woman in Hall's home town who had taken on the PTA (Parent Teacher Association) for their indiscretions. He didn't see Harper Valley PTA as a sequel or prequel to Billie Joe, but saw both as musical adaptations of Erskine Caldwell-type stories. "I wrote it sitting at my red checkered tablecloth," Hall wrote later. "I don't recall that it took more than an hour or so, but I had the idea for twenty years." Some of the rhymes were sloppy (…wife/high, …again/gin, etc.) but the story was compelling.
He called Margie Singleton but she was out on tour, so he took the song to his publisher, Jimmy Key, who asked him to play it to Billy Grammer. According to Hall, Grammer took the song home and played it for his kids, who told him it was implausible. Grammer said he'd record it if he could change it, but Hall refused. Meanwhile, Leon Ashley handed the song to Alice Joy, the wife of Texas dee-jay-songwriter Neal Merritt, who'd written May The Bird Of Paradise Fly Up Your Nose. This was probably in 1967 because Harper Valley was copyrighted that year. Somehow, Margie's ex-husband, Shelby Singleton, heard Joy's recording. It sat in his desk for six months, he said.
Singleton had only been in business for himself for a little over a year, focusing on R&B. Soon after relocating to Nashville in May 1968, he branched into country with a new imprint, Plantation. Dee-jay Paul Perry brought Jeannie C. Riley to Shelby's attention. In the two years she'd been in Nashville she'd recorded for Little Darlin' Records, and landed a job as a secretary as Passkey Music. Singleton decided that she had the feistiness to make Harper Valley work, so he booked a session at Columbia. It's part of Nashville folklore that he recorded the song after Riley got off work. Jerry Kennedy, who played Dobro on the session, says they recorded at 6PM on Thursday July 25 but the consensus is 6PM on Friday. Singleton's then-wife, Barbara, changed Hall's original concluding words from "that's the day my mama put down the Harper Valley PTA" to "That's the day my mama socked it to the Harper Valley PTA." Rowan& Martin's Laugh-In was big at the time, and "sock it to me" was one of their trademark lines (some say that Margie Singleton recorded the song before Jeannie C., but Margie used the "socked it to…" line, so that's unlikely).
Jeannie C. strutted through the words with Kennedy echoing every line. The session was over by 9 or 10PM, but the musicians, who'd been working since 10AM, stuck around to hear the Harper Valley song again. Singleton tested his hunch that he was onto something by taking an acetate to WSM's late night dee-jay, Ralph Emery. Over that weekend, Singleton serviced it by Air Express to every country station. "The first guy to play it was Dick Kent at WMAK in Knoxville," Shelby told Walt Trott. Kennedy had spent the weekend in nearby Gatlinburg and by the time he drove back on Monday, he was hearing Harper Valley on the radio. "I sat in the office," Singleton told Trott, "and my sales manager, Colonel Jim Wilson, totaled it up to where I had personally taken orders one day for 900,000 copies." Harper Valley cracked the country and pop charts on August 24 and reached #1 on the pop charts on September 21 and the country charts one week later. It was a career moment for all involved. Hall would never write a bigger song, nor would Riley record one. Singleton sold 7 million copies of the single and another 5 million LPs, 8-tracks, and cassettes. He plowed the profits into building a studio and buying Sun Records, but never scored another major hit. Jerry Kennedy made $91 in session fees.
- Colins Escott -
Various Country & Western Hit Parade 1968
Read more at: https://www.bear-family.de/various-country-und-western-hit-parade-1968.html
Copyright © Bear Family Records
Bewertungen lesen, schreiben und diskutieren...
mehr
Kundenbewertungen für "The Music City Sessions (CD)"
Bewertung schreiben
Bewertungen werden nach Überprüfung freigeschaltet.
Weitere Artikel von Jeannie C. Riley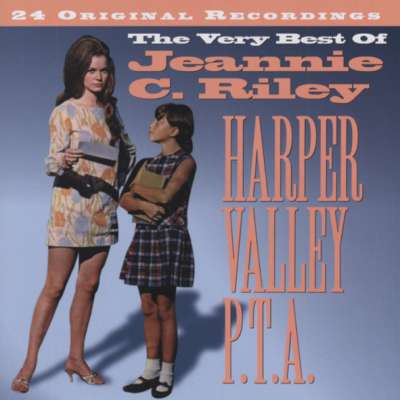 Jeannie C. Riley: Harper Valley P.T.A. - The Very Best Of
Art-Nr.: CDCOL6022


Artikel muss bestellt werden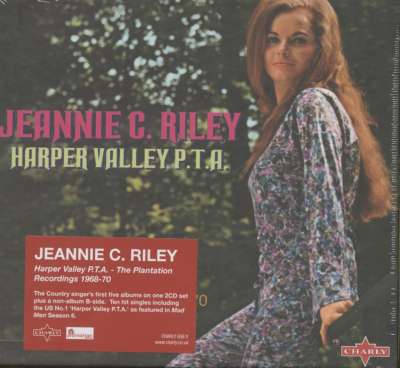 Jeannie C. Riley: Harper Valley P.T.A. (2-CD)
Art-Nr.: CDCR656


Artikel muss bestellt werden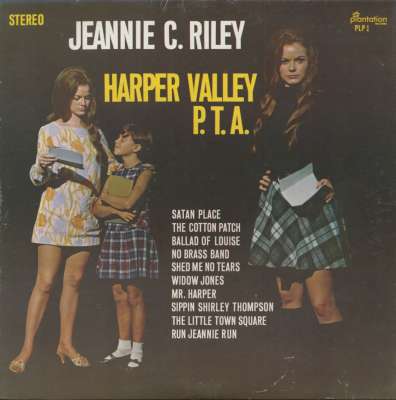 Jeannie C. Riley: Harper Valley P.T.A. (LP)
Art-Nr.: LPPLANT1


Sofort versandfertig, Lieferzeit** 1-3 Werktage