Der Artikel wurde erfolgreich hinzugefügt.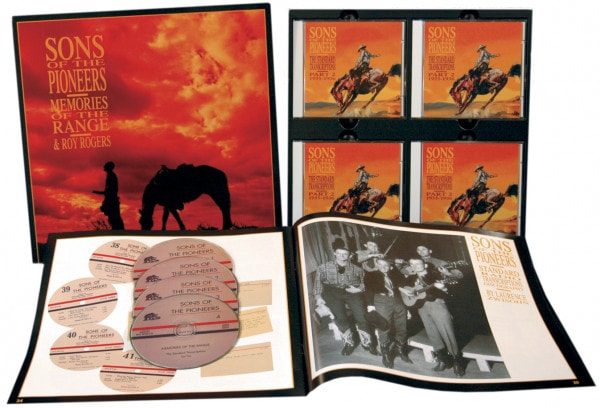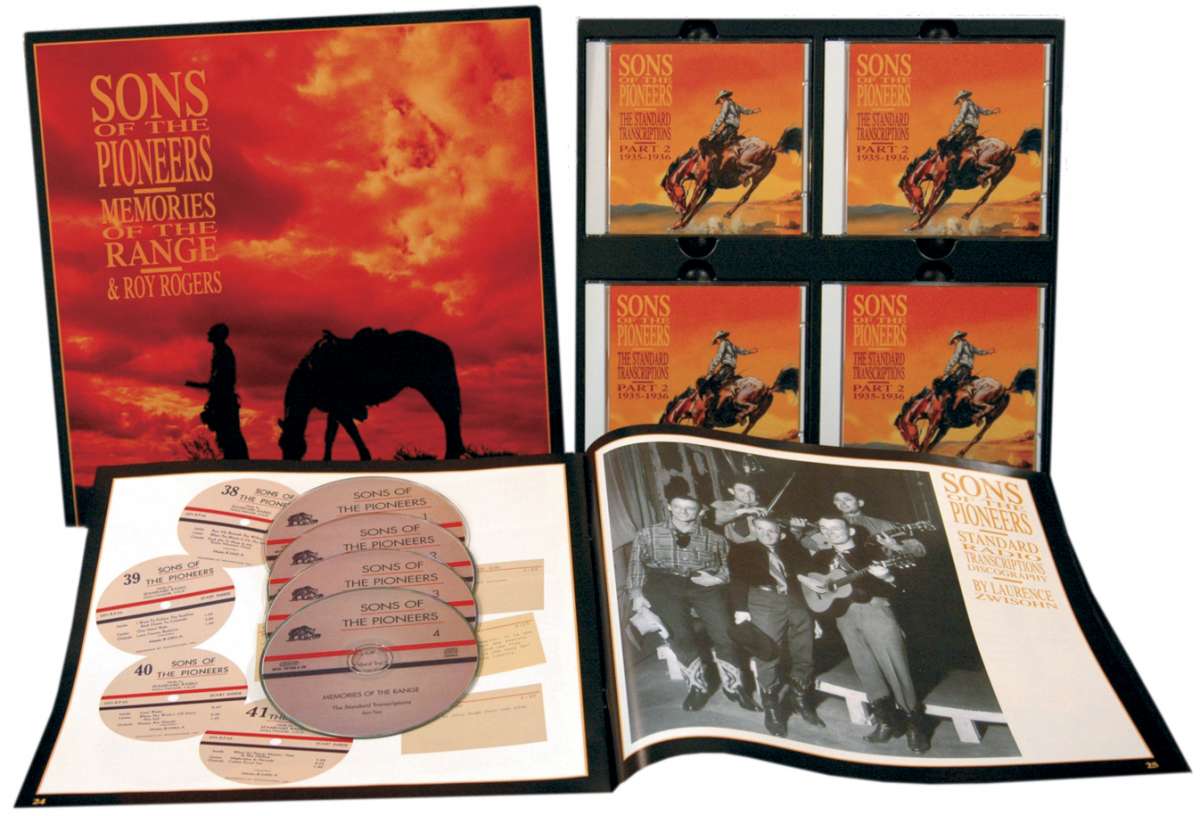 63,96 € *
79,95 € *
(20% gespart)
inkl. MwSt. / zzgl. Versandkosten
Sofort versandfertig, Lieferzeit** 1-3 Werktage
Artikel-Nr.:

BCD16104

Gewicht in Kg.:

1.2
4-CD Box (LP-Format) mit 28-seitigem Buch, 121 Einzeltitel. Spieldauer ca. 310 Minuten....
mehr
SONS OF THE PIONEERS: Memories Of The Range Vol.2 (4-CD)
4-CD Box (LP-Format) mit 28-seitigem Buch, 121 Einzeltitel. Spieldauer ca. 310 Minuten.
Inmitten der Jahre der Depression begannen die
Sons of the Pioneers
Transcriptions für die Standard Radio Company in Los Angeles aufzunehmen. Diese Aufnahmen waren ausschließlich für Rundfunksendungen bestimmt. Nach 60 Jahren sind diese Songs hier wieder zu hören: Es zeigt sich die wohl beste Western-Vokalgruppe in einem neuen Licht.
Roy Rogers
,
Bob Nolan
,
Tim Spencer
,

Hugh
und
Karl Farr
begannen für Standard bereits ein Jahr nach Gründung der Gruppe aufzunehmen. Ein großer Teil des Repertoires, das sie kommerziell nie aufnahmen, vermittelt ein lockeres und spontanes Gefühl. Die Harmonien sind fehlerfrei, die jazzigen Fiddle und Gitarre von
Hugh
und
Karl Farr
tragen zum positiven Gesamteindruck bei.
Diese zweite 4-CD Folge der Standard Transcriptions enthält 121 Songs, inklusive einiger Titel, die Klassiker der Sons of the Pioneers wurden wie
One More Ride
und
Cool Water
. Das Gros waren allerdings alte Pop- und Western-Songs, Hymnen, Folksongs und Improvisationen der Brüder Farr. Diese enthalten
Stephen-Foster
-Favoriten wie
Nelly Bly, Ring Ring De Banjo, Hard Times, Swanee River
und
Old Kentucky Home
, traditionelle Westernballaden wie
When The Work's All Done This Fall, Jesse James, Old Paint, Darling Clementine
und
Billy The Kid
, Hymnen wie
Leaning On The Everlasting Arm
,
Climbing Jacob's Ladder
und
Old Time Religion
sowie innovative Arrangements von traditionellen Folksongs wie
Gambler's Blues, Rosewood Casket, Jack O'Diamonds, Birmingham Jail
und
Rye Whiskey
.
Diese Box enthaelt ein 32-seitiges Buch im LP-Format von
Laurence J. Zwisohn
, das die Geschichte der
Sons of the Pioneers
, die in der ersten Box begann, fortschreibt. Außerdem sind seltene Fotos und eine Diskografie enthalten.
Artikeleigenschaften von

SONS OF THE PIONEERS: Memories Of The Range Vol.2 (4-CD)
Albumtitel:

Memories Of The Range Vol.2 (4-CD)

Genre

Country

Preiscode

DI

Edition 2

Deluxe Edition

Artikelart

Box set

EAN:

4000127161048

Gewicht in Kg:

1.2
Sons Of The Pioneers - Memories Of The Range Vol.2 (4-CD)

Box set 1
01
Me And My Burro
02
Old Sky Ball Paint
03
Outlaw Rag
04
Way Down South
05
De Camp Town Races
06
Old Dog Trey
07
Ragtime Annie
08
Soldier's Joy
09
Oompah Rag
10
Pop Eye's Spiritual
11
West Of The Rio Grande
12
One More River To Cross
13
Bring Roses To Your Mother
14
Dolly Day
15
Cow Across The Road
16
Darling Clementine
17
Black Sheep Blues
18
Railroad Boomer
19
Rocky Mountain Express
20
The Yodeling Cowboy
21
Pride Of The Ball
22
Standin' In Need Of Prayer
23
Cowboy Jack
24
Roll Along Jordan
25
Tom And Jerry
26
Old Madeira Waltz
27
Rye Whiskey Waltz
28
Where The Morning Glories Grow
29
Methodist Pie
30
Seein' Nellie Home (Aunt Dinah's Quilting...)
Sons Of The Pioneers - Memories Of The Range Vol.2 (4-CD)

Box set 2
01
Miss Lucy Long
02
Hard Times Come Again No More
03
Yankee Doodle
04
All God's Chillun Got Wings
05
T For Texas
06
Harvester
07
Custer's Last Battle
08
Goodbye My Lover Goodbye
09
Covered Wagon Roll Me On (Westward Ho)
10
Beulah Land (Dwelling In Beulah Land)
11
Follow The Stream (I Follow The Stream)
12
Darling Nellie Grey
13
Chicken
14
Going Home
15
Blues In E
16
Old Rover
17
Going Home
18
Beautiful Nell
19
Main Street
20
Drifting Sands (Sands Of The Desert)
21
And I Still Do
22
Climb Up Chillun'
23
Falling Leaf
24
I Wish I'd Stayed In The Wagon Yard
25
Some Folks
26
We Are Climbing Jacob's Ladder
27
Dixie
28
Wind
29
Old Paint
30
Tenting Tonight (On The Old Camp Ground)
Sons Of The Pioneers - Memories Of The Range Vol.2 (4-CD)

Box set 3
01
Travelin' With The Sun
02
Roll On (Cowboy's Dream)
03
Old Time Religion
04
Florine Waltz
05
Swanee River
06
Waggoner
07
Big Rock Candy Mountain
08
Little Old Sod Shanty
09
Keep A-Inchin' Along
10
Gambler's Blues
11
Down The Lane To Happiness
12
Coming Through The Rye
13
Ninety And Nine
14
Tom Bigbee River
15
(Down In The) Old Cherry Orchard
16
Jesse James
17
When The Bees Are In The Hive
18
Hifalutin'
19
Rosewood Casket
20
Bum Song (Hallelujah, I'm A Bum)
21
Call Of The South (Come On Home)
22
Song Of The Pioneers
23
Utah Trail
24
The Crawdad Song
25
Old Black Mountain Trail
26
(My) Old Kentucky Home
27
Get Away Old Man, Get Away
28
Eight Of January
29
Jack Of Diamonds
30
Bugler's Blues
31
Fine Time At Our House
Sons Of The Pioneers - Memories Of The Range Vol.2 (4-CD)

Box set 4
01
Oh There's Power (In The Blood)
02
Leaning On The Everlasting Arm
03
I Need Thee
04
Prairie Schooner (Over The Santa Fe Trail)
05
Nelly Bly
06
Oh Lemuel
07
Ring Ring De Banjo
08
Auld Lang Syne
09
Billy Boy
10
Memories Of The Range
11
Birmingham Jail
12
New River Train
13
In The Saddle (Ridin', Ropin')
14
Give My Love To Nell
15
Listen To The Mockingbird
16
Whispering Hope
17
Mellow Mountain Moon
18
Sagebrush Stomp
19
Bury Me Beneath The Willow
20
When The Bloom Is On The Sage
21
Rock Me To Sleep In My Rocky Mountain Home
22
I Want To Follow The Swallow Back Home...
23
One More Ride
24
Lane County Bachelor
25
Cool Water
26
When The Work's All Done This Fall
27
Sleepy Rio Grande
28
When It's Prayer Meetin' Time In The Hollow
29
Nighttime In Nevada
30
Cotton Eyed Joe
The Sons Of The Pioneers Like a braided river the careers of Roy Rogers and the Sons of the...
mehr
"SONS OF THE PIONEERS"
The Sons Of The Pioneers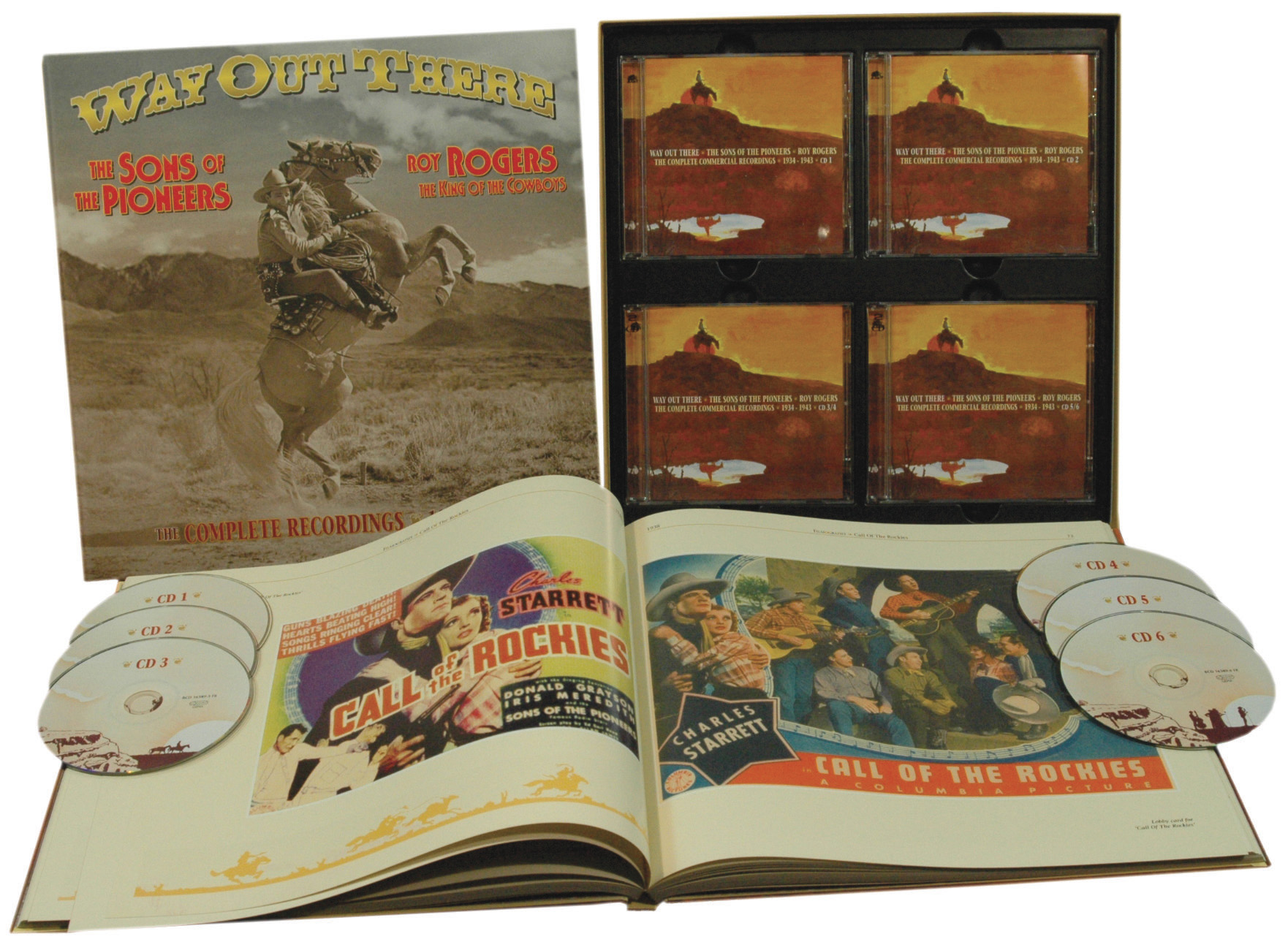 Like a braided river the careers of Roy Rogers and the Sons of the Pioneers flow together, mingle, separate, reunite, diverge, and recombine with the flow of years. Each has secured places of lasting honor in the history of American music, recording, songwriting, and cinema, yet they are forever associated, forever united, in our collective memory.
The complicated history of the Sons of the Pioneers, with and without Roy Rogers, has been well covered in other Bear Family releases of their music, but an overview is useful in this collection, which celebrates their entire commercial recording oeuvre before the World War II recording ban. Many postwar Pioneers have long been represented in Bear Family collections, and it is hoped and planned that the postwar Roy Rogers recordings will, in time, be released in a multidisc set; there are also many fine Pioneers recordings from the late 1950s and early 1960s yet to be re-released.
Here, for the first time, are collected all their remarkable early recordings--including alternate takes--that clearly demonstrate their burgeoning talents and growing confidence as they shaped what was to become the clearly definable sound of western music. At the same time, we can trace the parallel growth and development of the art of Roy Rogers, who was to become one of the handful of iconic figures in American film and popular culture. Together, and separately, they were giants, and it is our privilege to witness the growth and flowering during the years of the Great Depression and the coming of the Second World War.
I. A Brief History, Part One.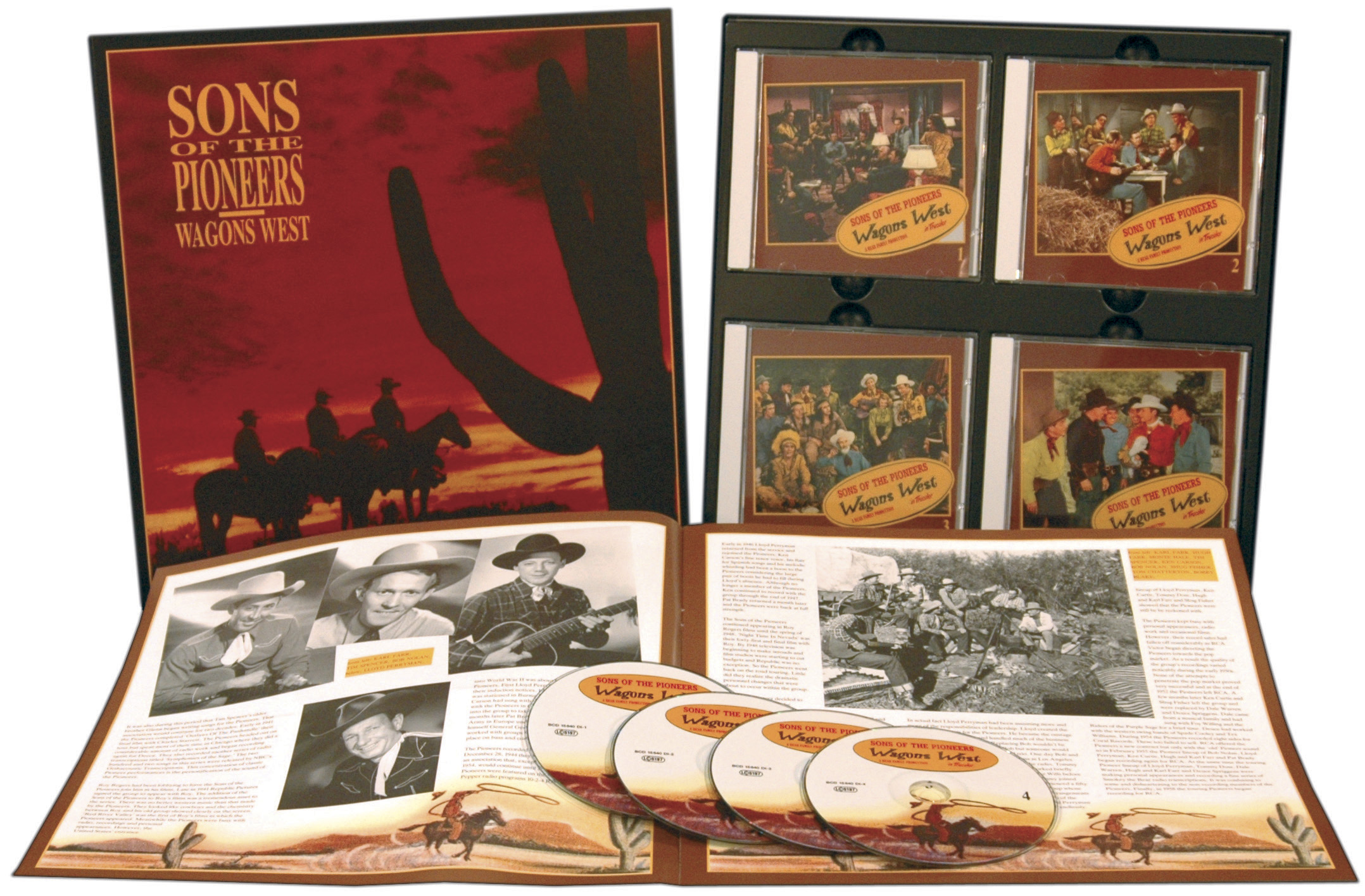 Though as rocked by the hardships of the Depression as any other part of the country, Los Angeles was nevertheless a hotbed of musical energy in the early 1930s. Financial gloom hanging over every American family made the free and easy life of the cowboy an enormously appealing fantasy. Western films were coming back into vogue, some--Ken Maynard's primarily--featured music as an integral part of the story. Western songs like Home On The Range and The Last Roundup were popular with record buyers and western bands flourished on the radio, nowhere more so than in Southern California. The appeal and glamor of western films brought youngsters from all over the country, hoping to make marks as singers, songwriters, actors.
And among them were the three youngsters--Bob Nolan, Tim Spencer, and Len Slye--who would make up the Pioneer Trio, and also among them were the other young men who would later join what became known as the Sons of the Pioneers: Lloyd Perryman, Pat Brady, Hugh Farr, Karl Farr, Ken Carson and the rest.
The market for western music in those early days was large enough to support a number of entertainers, yet small enough that most musicians were familiar with each others' talents, and a number of band shifts, replacements, and bands within bands allowed for the mixing and matching of voices, talents, and personalities that eventually became the Sons of the Pioneers.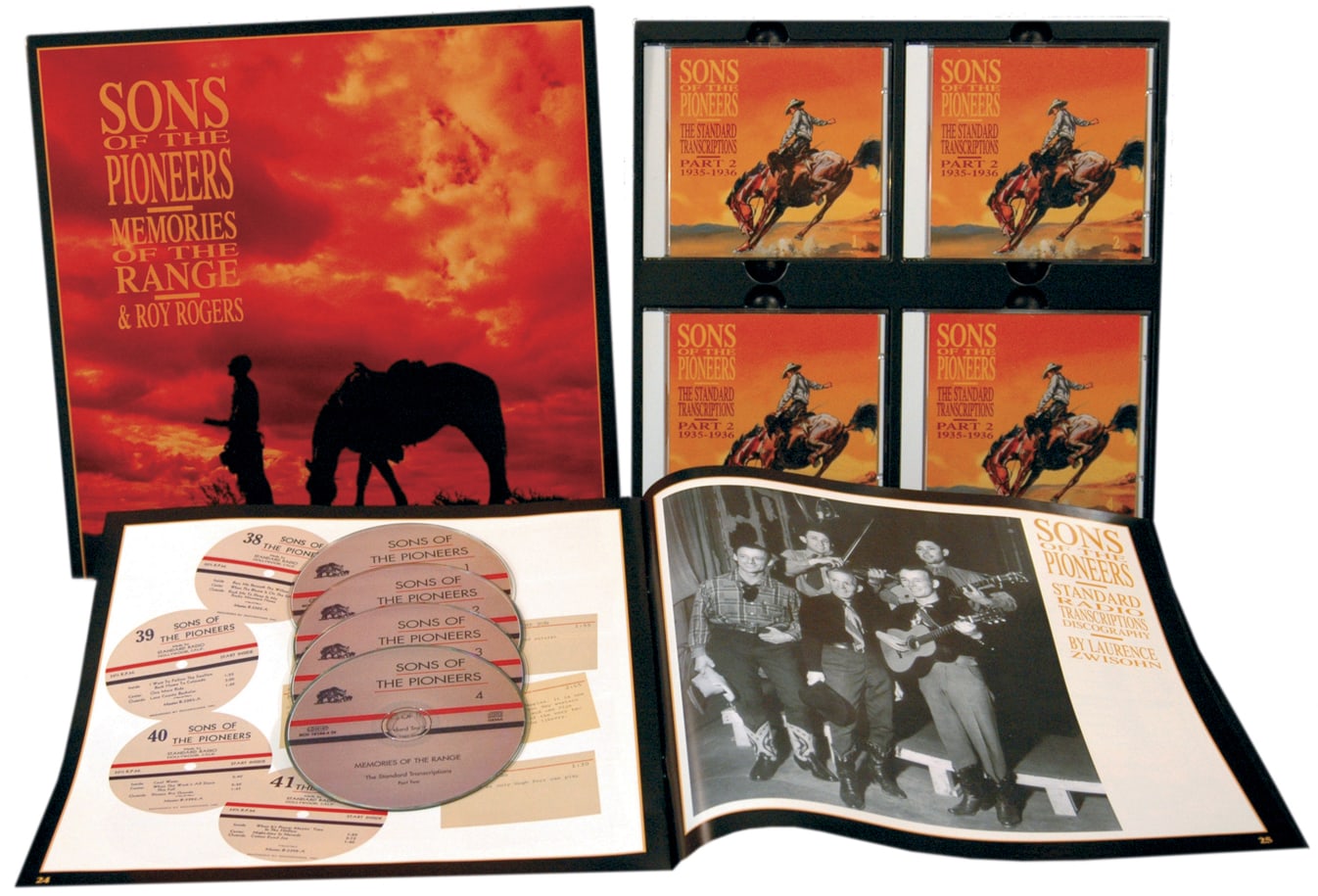 Bob Nolan was the first of the trio to try to conquer California. Born Clarence Robert Nobles in Winnipeg, Manitoba, on April 13, 1908, his father Harry separated from his mother early in Bob's life, and bounced around Canada and then Boston, Massachusetts, before moving to Tucson, Arizona, where he moved his boys Clarence and Earl (1911-1991), a three sport athlete at the University of Arizona and later a professional football player and boxer, around 1921. Upon his discharge from World War I Harry Nobles changed his name to Nolan, and thus young Clarence Robert Nobles in time became Bob Nolan.
Clarence's voyage by train from Boston to Tucson first introduced him to the desert, and the dreamy and imaginative teen began to write poetry, and later songs, based on the endless awe inspiring beauty he found in those trackless barrens. Through high school he studied the art of Shelley, Keats, and the romantic poets, and their echoes can be found in many of his later songs. More importantly, he came to capture more vividly than any other poet the changing, haunting vision of the west, focusing not on the harsh realities of cowboy life or of love lost but the beauty of the west itself.
SONS OF THE PIONEERS Way Out There
Read more at: https://www.bear-family.de/sons-of-the-pioneers-way-out-there-6-cd.html
Copyright © Bear Family Records
Bewertungen lesen, schreiben und diskutieren...
mehr
Kundenbewertungen für "Memories Of The Range Vol.2 (4-CD)"
Von:
Peter Fiedler
Am:
20.08.2015
Sons of the Pioneers
Vor kurzem habe ich mir endlich die CD-Boxen "Wagons West", "Memories Of The Range" und "Way Out There" der Sons of the Pioneers zugelegt. Das ist wirklich Country-Music vom Allerfeinsten! Ganz große Klasse!
Jammerschade, dass die 5-CD-Box "Songs of the Prairie" nicht mehr im Katalog ist!!! Die fehlt mir nämlich noch. Wird diese Box wirklich nicht mehr aufgelegt??? (schluchz...)
Bewertung schreiben
Bewertungen werden nach Überprüfung freigeschaltet.
Weitere Artikel von SONS OF THE PIONEERS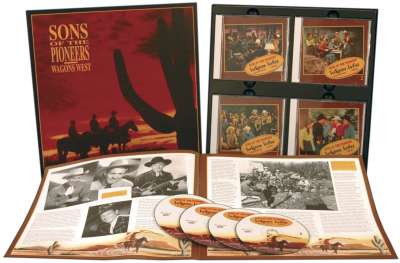 SONS OF THE PIONEERS: Wagons West (4-CD)
Art-Nr.: BCD15640


Sofort versandfertig, Lieferzeit** 1-3 Werktage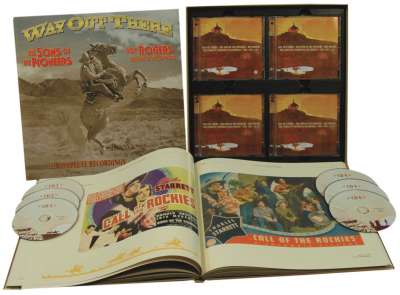 SONS OF THE PIONEERS: Way Out There (6-CD)
Art-Nr.: BCD16389


Sofort versandfertig, Lieferzeit** 1-3 Werktage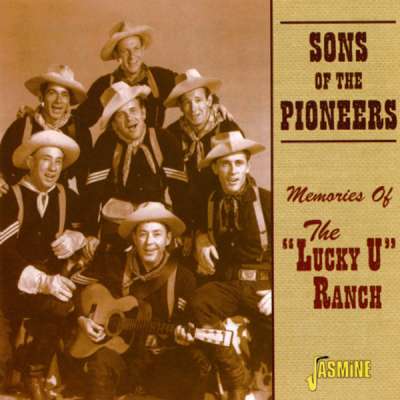 SONS OF THE PIONEERS: Memories Of The 'Lucky U'Ranch'
Art-Nr.: CDJAS3528


Artikel muss bestellt werden
SONS OF THE PIONEERS: Vol.1, Standard Radio Transcriptions
Art-Nr.: CSR5


Sofort versandfertig, Lieferzeit** 1-3 Werktage
SONS OF THE PIONEERS: Vol.3, Radio Transcriptions
Art-Nr.: CSR9


Sofort versandfertig, Lieferzeit** 1-3 Werktage