Der Artikel wurde erfolgreich hinzugefügt.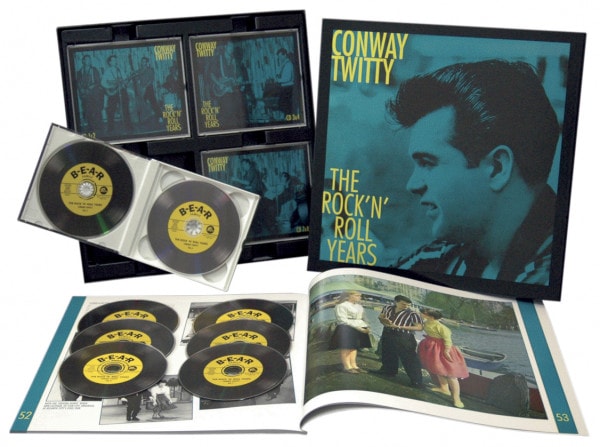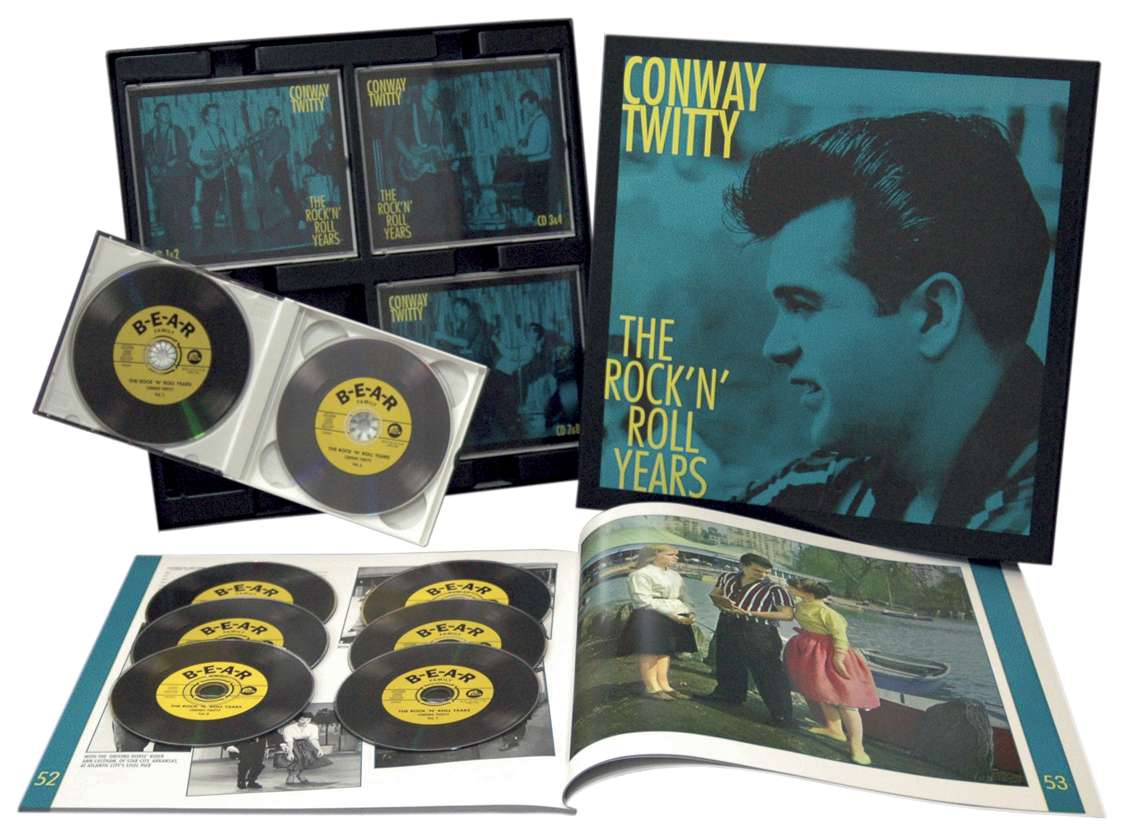 116,95 € *
139,95 € *
(16,43% gespart)
inkl. MwSt. / zzgl. Versandkosten - Abhängig vom Lieferland kann die MwSt. an der Kasse variieren.
Sofort versandfertig, Lieferzeit** 1-3 Werktage
Artikel-Nr.:

BCD16112

Gewicht in Kg.:

1.8
8-CD-Album Boxset (LP-Format) mit 62-seitigem Buch, 202 Einzeltitel. Spieldauer ca. 477 Minuten....
mehr
Conway Twitty: The Rock'n'Roll Years (8-CD Deluxe Box Set)
8-CD-Album Boxset (LP-Format) mit 62-seitigem Buch, 202 Einzeltitel. Spieldauer ca. 477 Minuten.
Dieses CD-Album Boxset erzählt die gesamte Rock 'n' Roll-Geschichte
Conway Twitty's
aus jener Zeit, bevor er zur Country Music wechselte. Nachdem er 1956 bei
Sun Records
begonnen hatte und ein Jahr später zu Mercury gewechselt war, schaffte Conway Twitty im darauffolgenden Jahr bei MGM den Durchbruch mit
It's Only Make Believe
. Auf acht CDs liefern wir Ihnen all diese 'klassischen' Aufnahmen. Und wenn Sie bereits stolzer Besitzer der vor vielen Jahren veröffentlichten LP-Box von Conway Twitty sind? Auch dann brauchen 
Sie diese CD-Album Boxset, denn sie enthält 40 Aufnahmen von Conway Twitty, die vorher unbekannt waren. Alle Rock 'n' Roll-Hits sind dabei wie
It's Only Make Believe
,
Mona Lisa, Lonely Blue Boy, Hey Little Lucy
, dazu das seltene, nur in England veröffentlichte
Rosaleena
. Neu in diesem CD-Album Boxset ist eine doppelseitige Instrumental-Single Highland
Rock/Midnight Creep
von
Conway
Twitty
und seiner Band, dazu alle ABC-Aufnahmen - viele vorher unveröffentlicht, weiter dann zwanzig ebenfalls unveröffentlichte MGM-Aufnahmen von Bändern, die erst unlängst gefunden wurden. Eine enorm wichtige Veröffentlichung zur Geschichte des Rock 'n' Roll.
Artikeleigenschaften von

Conway Twitty: The Rock'n'Roll Years (8-CD Deluxe Box Set)
Albumtitel:

The Rock'n'Roll Years (8-CD Deluxe Box Set)

Genre

Rock'n'Roll

Preiscode

HI

Edition 2

Deluxe Edition

Artikelart

Box set

EAN:

4000127161123

Gewicht in Kg:

1.8
Conway Twitty Geb. 1. 9. 1933 in Friars Point - Mississippi Record Labels: Mercury, MGM,...
mehr
"Conway Twitty"
Conway Twitty
Geb. 1. 9. 1933 in Friars Point - Mississippi
Record Labels: Mercury, MGM, Decca, Coral, MCA, Elektra, Curb, Warner Brothers, Charly, Bear Family
Erster Country Hit: Guess My Eyes Were Bigger Than My Heart (1966)
Erster Top Ten Country Hit: The image Of Me (1968)
Erster No. 1 Country Hit: Next ln Line (1968)

Harold Lloyd Jenkins alias Conway Twitty begann Mitte der 50er Jahre als Rock "n` Roll Sänger die Aufmerksamkeit auf sich zu lenken und hatte 1958 mit "It`s Only Make Believe" in den USA und England einen No. 1 Pop Hit. Er wirkte in ein paar Teenager-Filmen mit und begann Anfang der 60erJahre, als der Rock 'n` RoIl an Anziehungskraft verloren hatte, Country Songs zu schreiben.

Mitte der 60er Jahre nahm ihn Decca`s Produzent Owen Bradley unter seine Fittiche, und damit begann für Conway Twitty eine ganze Serie großer Country Hits, eine Conway-Twitty-Hitliste, die bis heute nicht abgerissen ist, auch wenn die Titel nicht mehr so regelmäßig unter die Top Ten gelangen. Unter seinen großen Erfolgen fand man zwar auch immer wieder sehr schöne Titel, sehr oft jedoch neigte er zu furchtbaren Schnulzen und Tränenziehern. Seine langjährige Duett-Partnerin war Loretta Lynn. Auf Conway Twitty's Konto gehen mehrere CMA-Awards und zahlreiche weitere Auszeichnungen. 1981 wechselte Conway Twitty zu Elektra und setzte dort seine Erfolgsserie fort.
Conway Twitty
Während der letzten Jahre von Conway Twitty hatte er guten Grund, darüber nachzudenken, dass die Countrymusik einen Großteil des Charakters des Rock'n' Roll, wie er ihn in Erinnerung hatte, annahm. Neue Gesichter, unglaublich jung und gut aussehend, kommen und gehen so schnell. Es war wie Rock'n' Roll in den fünfziger Jahren. Twitty wusste wahrscheinlich, dass es nie eine andere Karriere wie seine geben würde. Seine Geschichte umfasste fast dreißig Jahre in den Country-Charts und weitere fünf Jahre in den Pop-Charts davor. Alles in allem gab es fünf Jahrzehnte, in denen eine Conway Twitty-Platte irgendwo in den Charts stand. Es war eine epische Karriere mit allen Zutaten des Films, die wahrscheinlich gemacht werden.
Conway Twittys größtes Geschenk war sein intuitives Verständnis für sein Publikum. Als sich der Rock'n' Roll Mitte der 60er Jahre änderte, wurde ihm klar, dass weder er noch seine Fans ihn mehr hörten, also wechselte er zur Country-Musik. Country sprach zu ihm und seinem Publikum auf eine Art und Weise, wie es der Rock nicht tat. Als Country-Sänger schrieb er Lieder und suchte nach Liedern, die alltägliche Höhen und Tiefen ansprachen. Er folgte einer Generation, als sie ihren oft unbeholfenen Weg ins und durch das Erwachsensein fand. Ob auf Bandstand oder in Branson, Conway Twitty wusste immer, was sein Publikum wollte. Er brauchte keine Marktstudien, Medienberater oder Spin Doctors. Er wusste es einfach.

GROSSER FLUSS
Conway Twitty wurde am 1. September 1933 als ältester Sohn von Floyd und Velma Jenkins in Friars Point, Mississippi, geboren. Velma nannte Harold den bebrillten Slapstick-Comedy-Star der Stummfilme. Friars Point ist eine kleine Stadt am Mississippi, 75 Meilen südlich von Memphis. Damals lebten dort 500 Menschen. In späteren Jahren zog Twitty gerne eine Parallele zwischen sich und Huckleberry Finn, aber die Tatsache bleibt, dass Twitty ein Kind der Depression war. Floyd arbeitete, wann und wo er konnte, und war oft von zu Hause weg in den WPA-Camps. Er war Teil der Crew, die den Damm in Sardis, Mississippi, gebaut hat, und als Velma dorthin ging, um mit ihm zu leben, verließ sie den jungen Harold bei ihrer Mutter. Oma McGinnis arbeitete in Pa Fullers Pension, und es war Pa Fuller, der Twitty seine erste Gitarre gab. Als Twitty acht Jahre alt war, kamen Floyd und Velma zurück nach Friars Point, und Floyd bekam einen Job auf einem der Fährschiffe, die den Fluss überquerten. Zwei Jahre später, 1943, zog die Familie auf die Seite von Arkansas und ließ sich in Helena nieder.
Musik war überall in diesem Teil des Deltas; sie kam von der Grand Ole Opry, dem lokalen Radio, Zeltshows, Geselligkeit, Kirche, Straßenmusikern und fast jeder Veranda. Es war Teil des Lebensgefüges. "Die einzige Musik, die wir je gehört haben, war Country-Musik", sagte Twitty später. "Wir trafen uns am Samstagabend bei meiner Oma und hörten uns die Grand Ole Opry an. Ich wusste nicht, dass es eine andere Station gibt." Als Twitty anfing auszuwählen und zu singen, waren die Opry-Stars seine frühen Vorbilder. Roy Acuff, Ernest Tubb, Red Foley, Robert Lunn 'The Talking Blues Boy', Eddy Arnold....sie alle haben ihre Spuren hinterlassen. Im Jahr 1976 nahm er eine Hommage an die Opry, The Grandest Lady Of Them All, auf, obwohl die Sentimentalität ihn nie dazu brachte, die Mitgliedschaft zu suchen, denn das hätte bedeutet, die lukrativste Nacht der Woche im Tausch gegen das Almosen der Opry aufzugeben....
Bewertungen lesen, schreiben und diskutieren...
mehr
Kundenbewertungen für "The Rock'n'Roll Years (8-CD Deluxe Box Set)"
Von:
Gokhan
Am:
27.05.2022
Hats off ...
I've been listening rock and roll for years, but Conway's musis is really something else. He deserves big respect. Hats off ...
Von:
Guillermo Jimenez
Am:
12.02.2021
real stunning twitty bird collection
Hey Bear Family

rumors say Conway dated Jo Ann Campbell in da days

any inf on this

best b
Von:
Sebastian W.
Am:
13.07.2017
Klasse Box Set
Bewertung schreiben
Bewertungen werden nach Überprüfung freigeschaltet.
Weitere Artikel von Conway Twitty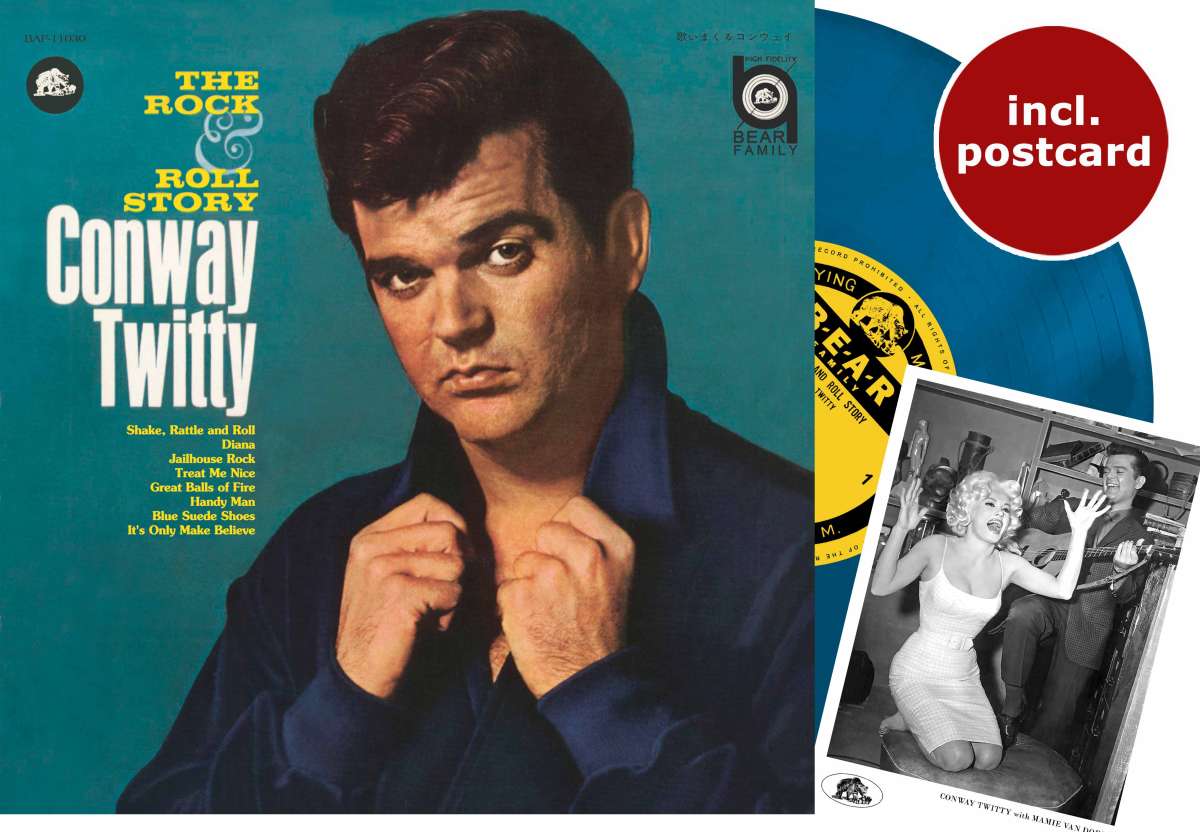 Conway Twitty: The Rock & Roll Story (LP, 10inch, Ltd.)
Art-Nr.: BAF11030


Sofort versandfertig, Lieferzeit** 1-3 Werktage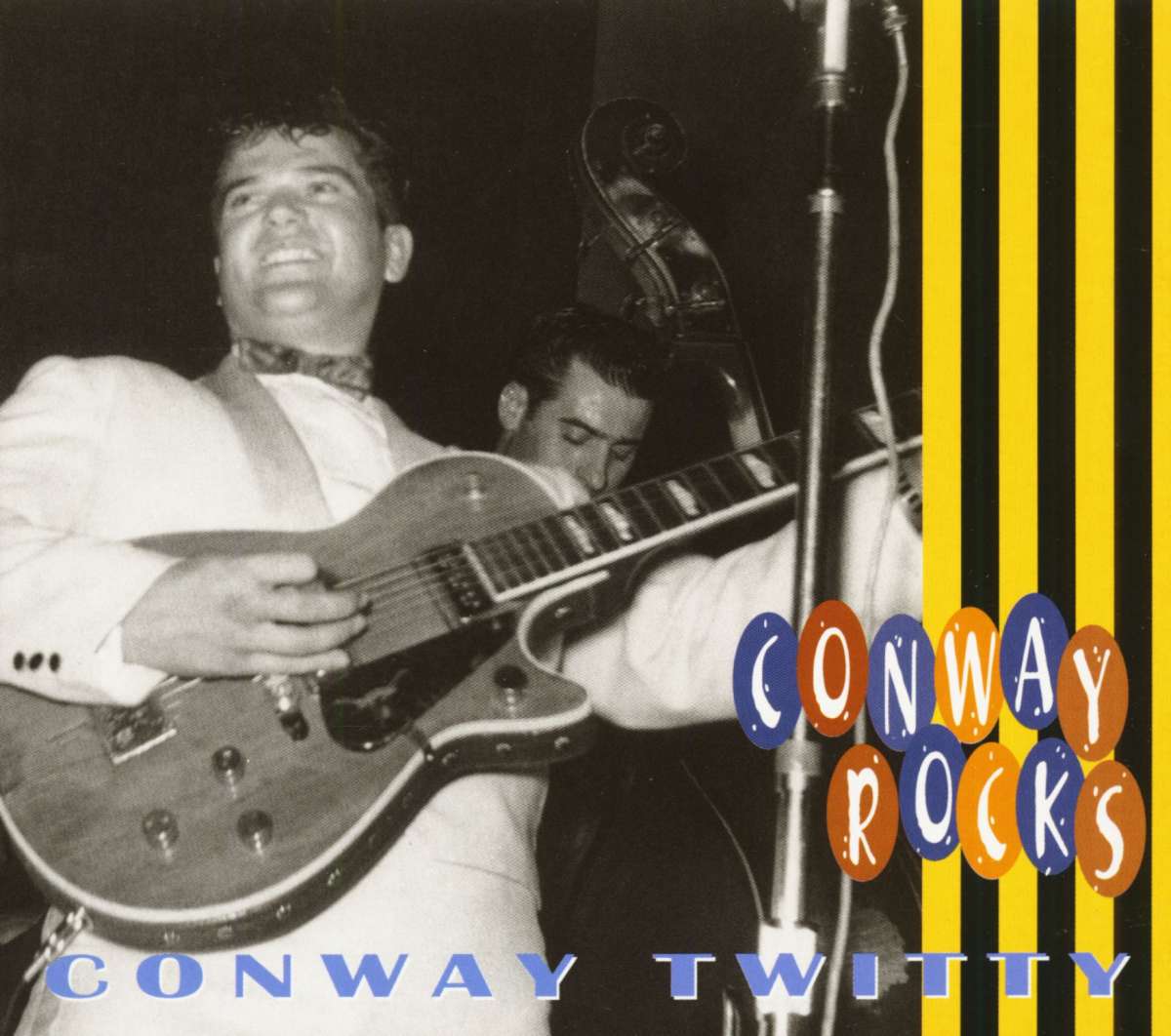 Conway Twitty: Conway Twitty - Conway Rocks (CD)
Art-Nr.: BCD16670


Sofort versandfertig, Lieferzeit** 1-3 Werktage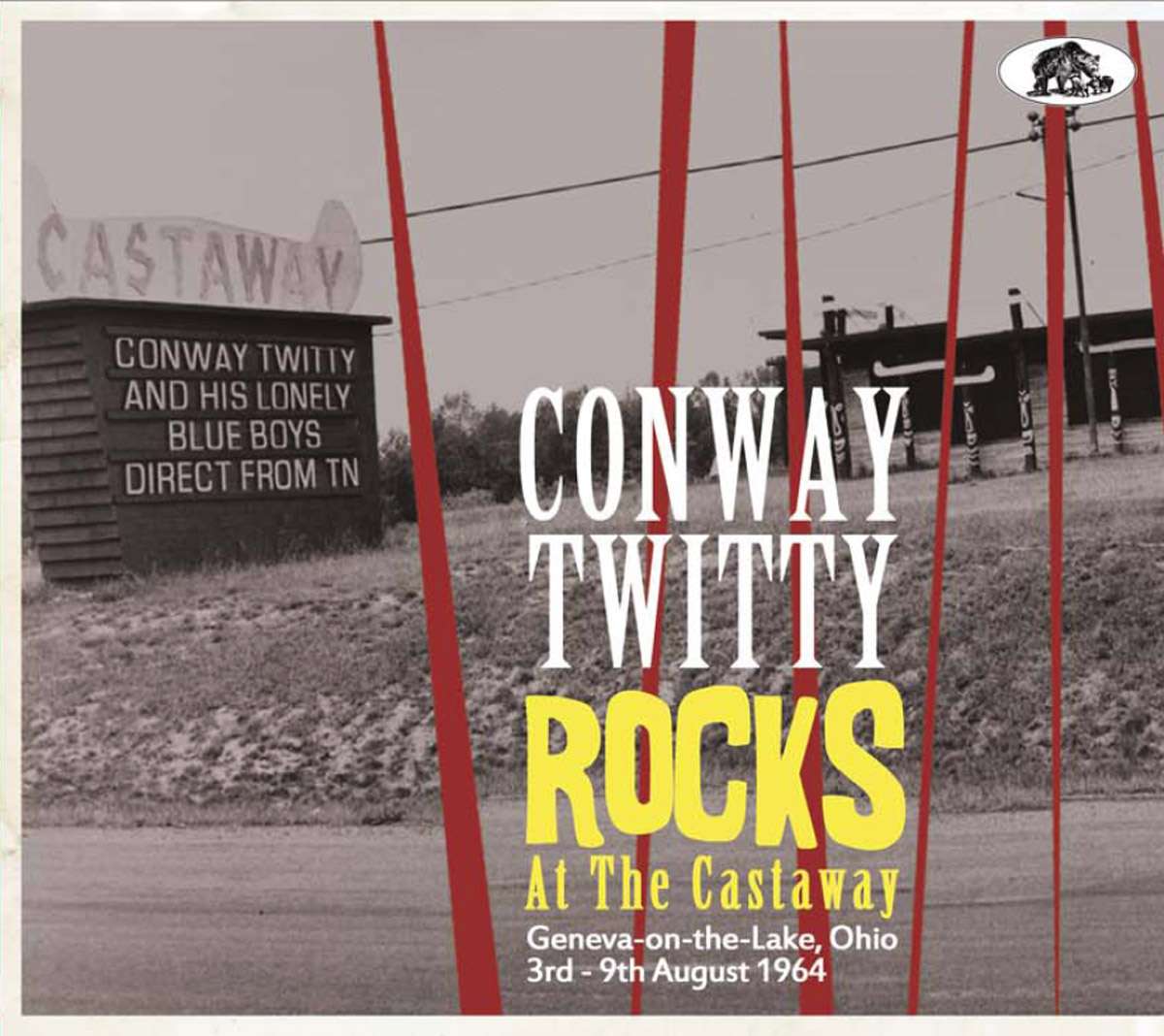 Conway Twitty: Rocks At The Castaway (2-CD)
Art-Nr.: BCD17413


Sofort versandfertig, Lieferzeit** 1-3 Werktage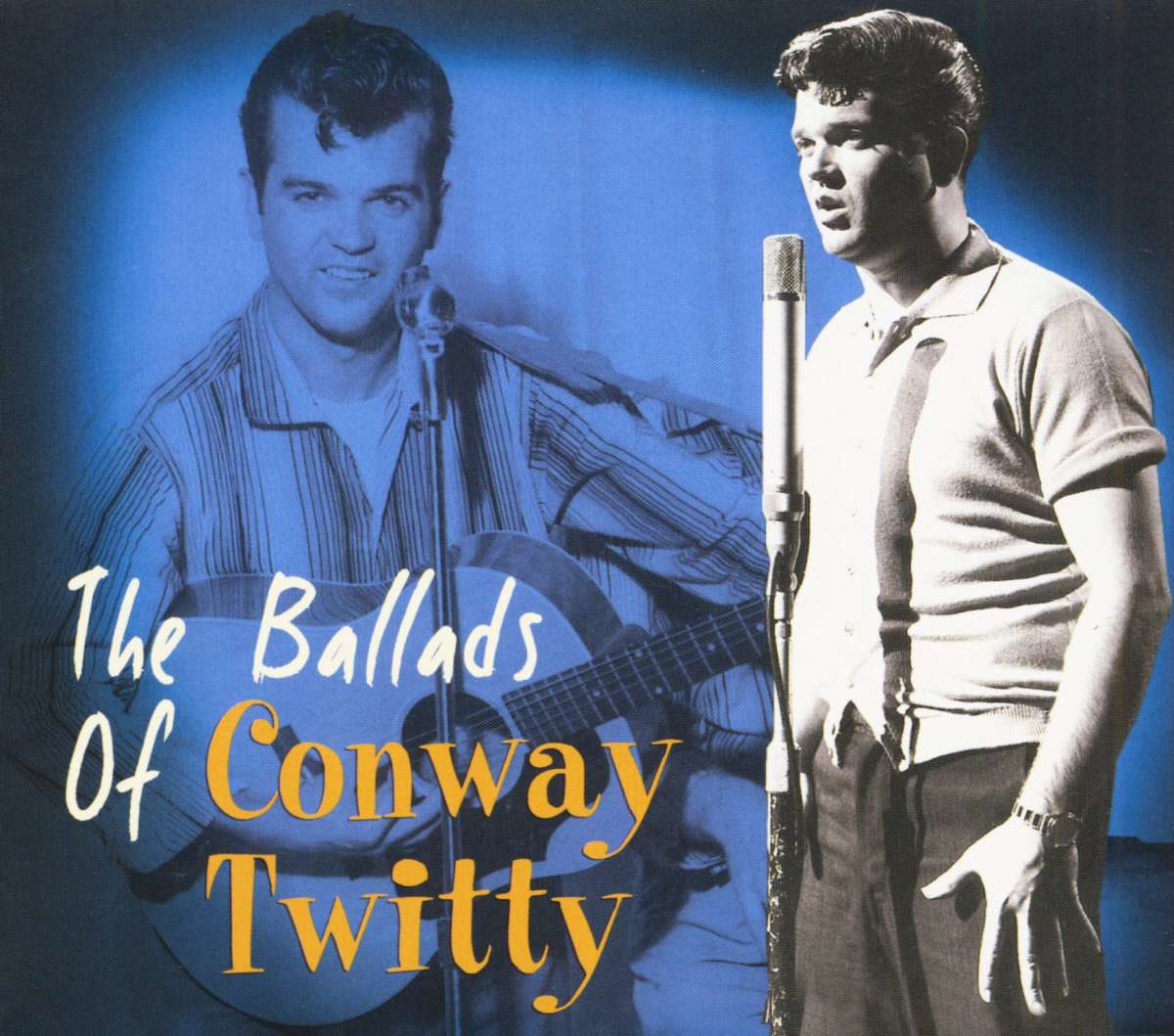 Conway Twitty: The Ballads of Conway Twitty (CD)
Art-Nr.: BCD15982


Sofort versandfertig, Lieferzeit** 1-3 Werktage
Conway Twitty: Rock House (LP, 10inch)
Art-Nr.: LÖPMG2004


Artikel muss bestellt werden