Der Artikel wurde erfolgreich hinzugefügt.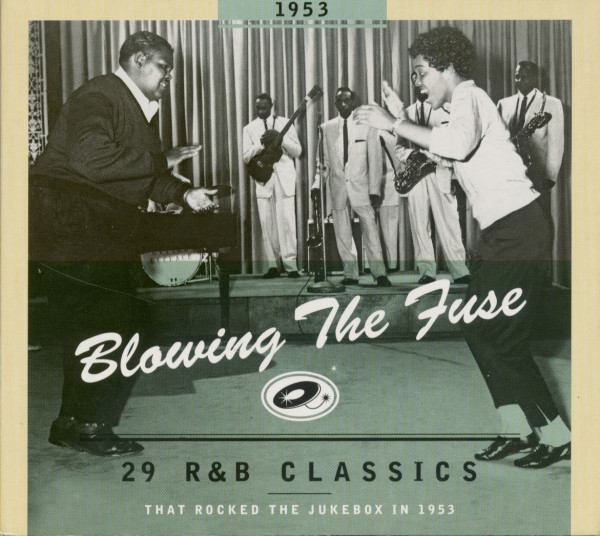 15,16 € *
18,95 € *
(20% gespart)
inkl. MwSt. zzgl. Versandkosten
Sofort versandfertig, Lieferzeit** 1-3 Werktage
Artikel-Nr.:

BCD16708

Gewicht in Kg.:

0.21
1-CD-Album Digipac (4-fach) mit umfangreichem Booklet, 28 Titel. Spielzeit ca. 69 mns. sein...
mehr
Various - Blowing The Fuse: 1953 - Classics That Rocked The Jukebox
1-CD-Album Digipac (4-fach) mit umfangreichem Booklet, 28 Titel. Spielzeit ca. 69 mns.

sein aufregendes CD-Album enthüllt ein völlig unbekanntes Kapitel in der bereits unplausiblen - wenn auch wahren - Geschichte der Prisonaires, der Gefängnisinsassen aus Nashville, die 1953 auf Sun Records in Memphis kamen und deren bester Song, Just Walkin' In The Rain, ein internationaler Pop-Hit für Johnny Ray wurde. Auf dieser CD finden Sie: elf erstaunliche Lieder von einem unveröffentlichten'Konzert', aufgenommen im Tennessee State Penitentiary - mit mehreren Prisonaires-Mitgliedern, die bisher noch nie gehört wurden! Faszinierend gesprochene Einführungen zu den Liedern des zweiten Tenors Alfred Brooks - und eine Botschaft der Gefängnisdirektorin Lynn Bomar! Sechs alternative Versionen von Songs, die für Sun Records aufgenommen wurden! Alle elf Gesangsgruppen-Tracks von The Solotones und den Marigolds (umbenannte Versionen der Prisonaires unter der Leitung von Johnny Bragg). Ein umfangreiches Booklet von Martin Hawkins mit vielen neuen Interviews und Einblicken in die Geschichte der Prisonaires, einer der ersten R&B-Vokalgruppen, die Hits im Süden aufgenommen haben. Es erklärt die Hintergründe der unveröffentlichten Aufnahmen und enthält viele seltene und faszinierende Fotos und Illustrationen. Die neuen Prisonaires-Titel zeigen ein noch breiteres Spektrum an stimmlichen Harmonien und musikalischen Fähigkeiten, Einflüssen und Stilen als die Sun-Aufnahmen. Die Prisonaires rocken mit Caldonia und Bony Moronie, sie singen aufrichtige Versionen von Suppertime und Gentle Hands, sie reprise ihre bekanntesten Liede einschließlich Just Walkin' In The Rain, und sie bilden Spaß mit The Boastin' Texan und anderen Titeln.Wenn Sie dieses CD-Album erhalten, werden Sie die Prisonaires wie nie zuvor hören, Sie werden Ihre Prisonaires-Sammlung vervollständigt haben, und Sie werden die komplette Geschichte der Marigolds/Solotones haben. Dieses Album ist eine von drei CDs, die die komplette Geschichte der Prisonaires und ihres Leadsängers Johnny Bragg erzählen. Der frühe Teil der Geschichte wurde in unserem CD-Album von Sun recordings, BCD 15523: The Prisonaires -'Just Walkin' In The Rain' erzählt. Diese CD'Only Believe.' erzählt den mittleren Teil der Geschichte. Achten Sie später auf unsere geplante CD'World Of Make Believe', die alle seltenen und unveröffentlichten Aufnahmen von Johnny Bragg als Solo-Sänger enthält.
Artikeleigenschaften von

Various - Blowing The Fuse: 1953 - Classics That Rocked The Jukebox
Albumtitel:

1953 - Classics That Rocked The Jukebox

Genre

R&B, Soul

Edition 2

Deluxe Edition

Preiscode

AS

Artikelart

CD

EAN:

4000127167088

Gewicht in Kg:

0.21
Various - Blowing The Fuse - 1953 - Classics That Rocked The Jukebox

CD 1
01
(Mama) He Treats Your Daughter Mean
BROWN, Ruth
02
Baby Don't Do It
5 ROYALES
03
Gabbin' Blues
BIG MAYBELLE
04
Whoopin' And Hollerin'
FOREST, Earl
05
Hound Dog
THORNTON, Willie Mae
06
Big Ten-Inch Record
JACKSON, Bull Moose
07
I'm Gone
SHIRLEY & LEE
08
Please Love Me
KING, B.B.
09
Soft
BRADSHAW, Tiny
10
Dream Girl
JESSE & MARVIN
11
I'm Mad
MABON, Willie
12
I Wanna Know
DU DROPPERS
13
The Clock
ACE, Johnny
14
Get It
ROYALS
15
Please Don't Leave Me
DOMINO, Fats
16
Crying In The Chapel
ORIOLES
17
Hittin' On Me
JOHNSON, Buddy & Ella
18
Good Lovin'
CLOVERS
19
Mess Around
CHARLES, Ray
20
Shake A Hand
ADAMS, Faye
21
One Scotch, One Bourbon, One Beer
MILBURN, Amos
22
Honey Hush
TURNER, Joe
23
Blues With A Feeling
LITTLE WALTER
24
Marie
FOUR TUNES
25
I Had A Notion
MORRIS, Joe
26
Feelin' Good
LITTLE JUNIOR'S BLUE FLAMES
27
T.V. Is The Thing (This Year)
WASHINGTON, Dinah
28
Money Honey
McPHATTER, Clyde & DRIFTERS
29
Drunk
LIGGINS, Jimmy
Blowing The Fuse R&B Classics That Rocked The Jukebox In 1945 - 1960 Jahrespreis der...
mehr
"Various - Blowing The Fuse"
Blowing The Fuse
R&B Classics That Rocked The Jukebox In 1945 - 1960
Jahrespreis der deutschen Schallplattenkritik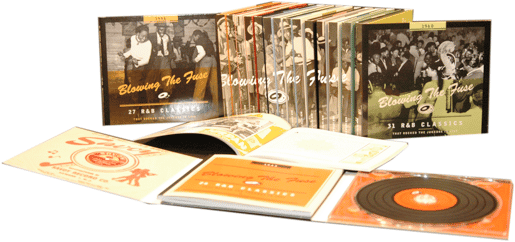 Die Zusammenstellung: von Dave 'Daddy Cool' Booth
Die Booklets: Kommentare zu jedem einzelnen Song, Hintergrund-Geschichten zu den Liedern sowie hervorragende, nie zuvor gezeigte Fotos.
Der Klang: Bear Family verwendet ausschließlich die besten Quellen der Original-Firmen und bearbeitet sie sorgfältig, um ein optimales Klangergebnis zu erzielen.
Pressestimmen:
Eine feurige Mixtur aus Jazz, Blues und Boogie, musikalischer Geschichtsunterricht mit hohem Spaßfaktor. Dafür und für die Booklets mit Top-Texten und faszinierendem Fotomaterial gibt es die 'Note 1 mit Sternchen'. - AudioVideoFoto-BILD
Informativ und gründlich - bei Bear Family Records kann man stolz sein auf diese Serie.(4 Sterne) - Rolling Stone
Diese grandiose Serie zur R'n'B-Historie setzt Maßstäbe. Mit profunder Kenntnis und absoluter Liebe zum Detail sind die Digipacs authentisch gestaltet, mit beinahe enzyklopädischen 72-Seiten Booklets voll rarer Fotos, Plakate und Plattenhüllen plus Kommentaren zu jedem Song und Künstler, und erst die Musik! Die alten Stücke sind klanglich derart penibel restauriert, dass ihr stolzes Alter nur selten auffällt. - Audio
Eine wichtige Serie mit erstklassiger Musik in einer ausgezeichneten Aufmachung - einfach aufregend, mitreißend und emotional!
- Rock'n'Roll-Magazin
Preis Der Deutschen Schallplattenkritik
Der Jahresausschuss des Preises der deutschen Schallplattenkritik e.V. hat die Serie Blowing The Fuse -
R&B Classics That Rocked The Jukebox - Vol. 1-11 mit dem Jahrespreis 2005 ausgezeichnet.
Blowing The Fuse CD-Album-Series by Bear Family

Read more at: https://www.bear-family.com/bear-family/blues-und-rb-series/blowing-the-fuse/
Copyright © Bear Family Records
Bewertungen lesen, schreiben und diskutieren...
mehr
Kundenbewertungen für "1953 - Classics That Rocked The Jukebox"
Von:
Haskell
Am:
16.05.2014
Excellent series of proper Rhythm & Blues, promptly delivered.
Bewertung schreiben
Bewertungen werden nach Überprüfung freigeschaltet.
Weitere Artikel von Various - Blowing The Fuse