Der Artikel wurde erfolgreich hinzugefügt.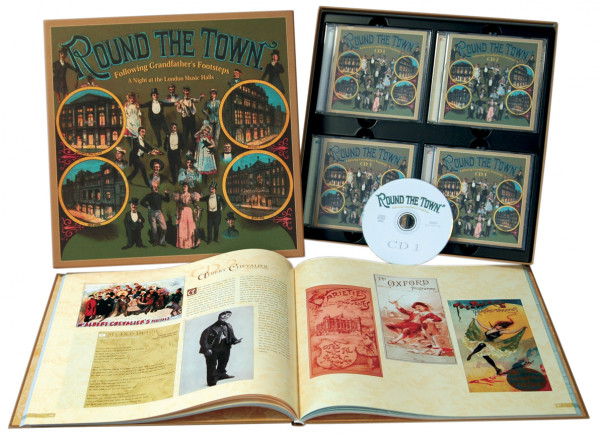 Dieser Artikel ist gestrichen und kann nicht mehr bestellt werden!
Benachrichtigen Sie mich, sobald der Artikel lieferbar ist.
Artikel-Nr.:

BCD16021

Gewicht in Kg.:

2.3
Round The Town - Following Grandfather's Footsteps - A Night at the London Music Halls...
mehr
Various - History: Round The Town (4-CD Deluxe Box Set)
Round The Town - Following Grandfather's Footsteps - A Night at the London Music Halls When Mr. Edison's recording machines arrived in Britain, the industry they would spawn lay undreamed of far in the future, Edison seemingly having little concept of the machine's usefulness other than as an office tool. However, even in those early days, when voices, eminent and otherwise, recited words grand and otherwise, into gramophone horns, occasionally someone would lapse into song. When they did so, as likely as not it would be a music hall song that would issue forth. Paul Tritton has written of the first demonstrations of Mr. Edison's wonderful new invention in his book 'The Lost Voice of
Queen
Victoria' (Academy Books, 1991). 
During one of the first of these demonstrations, before the Physical Society on 2nd March 1878, a Mr. Pidgeon sang a chorus of G. H. Macdermott's contemporary patriotic music hall song, "We don't want to fight but by jingo if we do, the Russians shall not have Constantinople!" into the machine. The voice of Queen Vic herself may or may not be lost – I've read the book and I'm still not sure – but the wonderful new medium of sound recording, then in its infancy, allowed the voices of many of her subjects, the popular performers of their day, to be preserved for posterity.
The aptly named Mr. Pidgeon was not alone in seeing popular comic songs as a suitable subject for recording. His choice of a music hall ditty for his recorded effort was not so surprising for, along with the drawing room ballad, the comic song was the popular song of the day. Music hall had risen from its mid-century beginnings, literally a room attached to a public house, to a huge network of plush Palaces and less magnificent local halls. Bills at these halls included magicians, jugglers, instrumentalists, dancers, short sketches, and some speciality 'turns' rather more difficult to describe. The backbone of any music hall bill, however, was a roster of comic singers. 
Sure enough, as the recording industry developed from minor blip to major business concern, music hall artistes and songs were among the early contributors to companies catalogues. In 'Music Hall' (Issues 2 and 4), Frank Andrews has chronicled early recordings by Charles Coborn and Albert Chevalier made, mainly for demonstration purposes, before 1895. Relatively few people, though, owned phonographs or gramophones until prices were lowered around 1909, when machines shifted from luxury status to affordable accessories and record sales rose significantly. Just as we have seen in our own time, when colour televisions, video recorders and CD players were the possessions of the few until drastic price reductions made them available to the masses, so it was with early recording machines, whose evolution followed the same price equals popularity path.
Recordings were made by music hall artistes in the earlier period (from about 1898) but those who could afford machines tended to be among the rather better heeled with highbrow tastes, more likely to buy classical records than music hall material. As the potential audience for such fare was effectively put off purchasing by prohibitive prices, the recordings made by music hall artistes in the early period are rare to the point, in some cases, of non-existence. Where copies of these early recordings have survived, they need not only to be prized and preserved, but, as with all historic documentation, the music contained within their rare grooves should be made available to those who wish to hear them. While there is probably nothing actually unique in this collection, many of these tracks will have evaded even the long-term collector – who, of course, will have similarly scarce items that have eluded my searches!
Most music hall artistes actively performing in the recording period ventured into a recording studio at some period in their career, although some did not choose, or were not chosen, to repeat the experience. Unfortunately the fruits of some of these sessions, e.g. the five cylinders known to have been issued from T. E. Dunville's 1904 session, remain undiscovered to this day to the best of my knowledge. I would welcome information to the contrary on such scarcities, as there is a distinct danger that some of music hall's most famous voices, known to have been captured by the nascent recording industry, are now stilled for good. It would be good news indeed to find that some, at least, of these items have eluded the dustbins of the world.
Artikeleigenschaften von

Various - History: Round The Town (4-CD Deluxe Box Set)
Albumtitel:

Round The Town (4-CD Deluxe Box Set)

Genre

Pop

Preiscode

DK

Edition 2

Deluxe Edition

Artikelart

Box set

EAN:

4000127160218

Gewicht in Kg:

2.3
Various - History - Round The Town (4-CD Deluxe Box Set)

Box set 1
01
Two Lovely Black Eyes
COBORN, Charles
02
Far Old Times' Sake/Daisy Bell
FORDE, Florrie
03
Nellie Dean/After The Ball
FORDE, Florrie
04
'e Dunna Where 'E Are
ELEN, Gus
05
The Man Who Broke The Bank At Monte Carlo
COBORN, Charles
06
Lily Of Laguna
STRATTON, Eugene
07
The Grass Widower
LENO, Dan
08
Has Anybody Seen Our Cat?
SHEPARD, Burt
09
How Do You Do?
RAFFERTY, Pat
10
Bill Bailey, Won't You Please Come Home
HAMPTON, Pete
11
Can't You Take My Word
FORD, Harry
12
The Galloping Major
KIRKBY, Stanley
13
Bedelia
O'GORMAN, Joe
14
Following In Father's Footsteps
KIRKBY, Stanley
15
The Bull & Bush
FORDE, Florrie
16
Mary Was A Housemaid
SHEPARD, Burt
17
Callers
MOZART, George
18
Waiting At The Church
VICTORIA, Vesta
19
Hello, Hello, Hello! It's A Different Girl
CUNLIFFE, Whit
20
I've Told His Missus All About Him
VICTORIA, Vesta
21
The Boys' Brigade
HILL, Hamilton
22
There's A Girl Inside
MONKS, Victoria
23
You Splash Me And I'll Splash You
LLOYD, Alice
24
I'se A-Waiting For Yer Josie
ELLIOTT, G.H.
25
The Next Horse I Ride On
VICTORIA, Vesta
26
The Taximeter Car
WILLIAMS, Billy
27
She's A Lassie From Lancashire
RETFORD, Ella
Various - History - Round The Town (4-CD Deluxe Box Set)

Box set 2
01
Funicula
FORMBY, George
02
Oh! Oh! Antonio
FORDE, Florrie
03
Sea Shells
BARD, Wilkie
04
Has Anybody Here Seen Kelly
FORDE, Florrie
05
Billy Brown
FRAGSON, Harry
06
My Latchkey
LASHWOOD, George
07
The Suffragette
FIELDS, Happy Fanny
08
I Do Like To Be Beside The Seaside
SHERIDAN, Mark
09
Send For A Policeman
LASHWOOD, George
10
Ship Ahoy! (All The Nice Girl Love A Sailor)
RETFORD, Ella
11
Don't You Think You've Overstepped The Margin
FORD, Harry
12
Boiled Beef And Carrots
CHAMPION, Harry
13
Come Up In My Balloon
BARD, Wilkie
14
Fall In And Follow Me
WHELAN, Albert
15
Come And Be One Of The Midnight Sons
TILLEY, Vesta
16
Henry The Eighth
CHAMPION, Harry
17
Seventeen (My Girl Is Only Seventeen)
RAY, Phil
18
King Ki-Ki
LITTLE TICH
19
I'm Shy, Mary Ellen, I'm Shy
PLEASANTS, Jack
20
If You Should See A Dandy Coon
ELLIOTT, G.H.
21
They Can't Find Kelly
MERSON, Billy
22
When Father Laid The Carpet On The Stairs
JACKSON, Nelson
23
Adam Was A Scotchman
WHITEFORD, Jock
24
The Spaniard That Blighted My Life
MERSON, Billy
25
I'm 21 Today
PLEASANTS, Jack
26
Beauty Of The Guards
BASTOW, George
27
My Old Dutch
CHEVALIER, Albert
Various - History - Round The Town (4-CD Deluxe Box Set)

Box set 3
01
Does This Shop Stock Shot Socks With Spots
GRAVES, George
02
Since I Had A Go At My Dumb Bells
FORMBY, George
03
Won't You Come Dear, Into The Park
DUPREZ, May Moore
04
Tommy Trouble
WHITTLE, Chas R.
05
Every Little Movement Has A Meaning ...
LLOYD, Marie
06
In The Morning
EARLE, Fred
07
I Want A Girl
RETFORD, Ella
08
How Dare They
WOOTTWELL, Tom
09
I'm Going Back To Dixie
RETFORD, Ella
10
That's Philosophy
KNOWLES, R.C.
11
Father's Got A Job
SCOTT, Maidie
12
Casey Joney
WHELAN, Albert
13
Who Were You With Last Night
SHERIDAN, Mark
14
M.A.D.A.M.
LENNARD, Arthur
15
Hullo! Miss London
MONKS, Victoria
16
They All Walk The Wibbly Wobbly Walk
SHERIDAN, Mark
17
Daily Mirror Front Page
SHAND, Ernest
18
Curiosity
LITTLE TICH
19
Hold Your Hand Out, Naughty Boy
FORDE, Florrie
20
Strip The Bed And Have Another Look
D'ALBERT, George
21
What Would The Seaside Be Without The Ladies
TILLEY, Vesta
22
Lloyd Jarge
SHAND, Ernest
23
Pepsy Wopsy
JAMES, Daisy
24
Innocent Bessie Brown
TATE, Beth
25
Waiting For Further Evidence
LEO, Frank
26
The School Strike
SCOTT, Maidie
Various - History - Round The Town (4-CD Deluxe Box Set)

Box set 4
01
Burlington Bertie From Bow
SHIELDS, Ella
02
He's A 'Pro'
WELDON, Harry
03
The Mormon's Song
ROBEY, George
04
Baa Lambs
SHIELDS, Ella
05
How's Your Father?
TATE, Harry
06
The Lads From Our Village
VEVEY, Zona
07
I Will Have A Night To-Night
CASH, Morny
08
The Night Began To Fall
MAYO, Sam
09
That Charlie Chaplin Walk
AYER, Nat D.
10
I Went A Jazzing
PLEASANTS, Jack
11
Three Cheers For The Red, White And Blue
WALLACE, Nellie
12
Archibald Certainly Not!
ROBEY, George
13
What D'Yer Think Of That
MAYNE, Ernie
14
Ma!
FOX, Olive
15
Things Are Worse In Russia
MAYO, Sam
16
Olga Petrovotski
LAURIER, Jay
17
Why Am I Always The Bridesmaid
MORRIS, Lily
18
I Do Like To Sing In My Bath
LESTER, Alfred
19
Wireless On The Brain
MAYNE, Ernie
20
Yes, We Have No Bananas
LESTER, Alfred
21
Show Me The Way To Go Home
SHIELDS, Ella
22
Only A Working Man
MORRIS, Lily
23
He's Moved In A Bigger House Now
TRAVERS, Nat
24
Don't Have Any More, Mrs. Moore
MORRIS, Lily
25
She Was Poor, But She Was Honest
BENNETT, Billy
26
The Laughing Policeman
PENROSE, Charles
Bewertungen lesen, schreiben und diskutieren...
mehr
Kundenbewertungen für "Round The Town (4-CD Deluxe Box Set)"
Bewertung schreiben
Bewertungen werden nach Überprüfung freigeschaltet.
Weitere Artikel von Various - History