Der Artikel wurde erfolgreich hinzugefügt.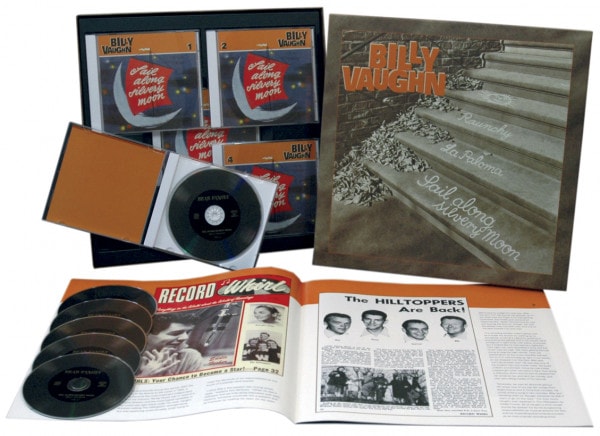 99,95 € *
109,95 € *
(9,1% gespart)
inkl. MwSt. / zzgl. Versandkosten - Abhängig vom Lieferland kann die MwSt. an der Kasse variieren.
Sofort versandfertig, Lieferzeit** 1-3 Werktage
Artikel-Nr.:

BCD15970

Gewicht in Kg.:

1.5
6-CD Box (LP-Format) mit 28-seitigem Buch, 192 Einzeltitel. Spieldauer ca. 451 Minuten. Billy...
mehr
Billy Vaughn: Sail Along Silvery Moon (6-CD Deluxe Box Set)
6-CD Box (LP-Format) mit 28-seitigem Buch, 192 Einzeltitel. Spieldauer ca. 451 Minuten.
Billy Vaughn
war es, der die Sanftheit der Big Bands mit der Energie des Rock 'n' Roll verschmolz. Er war
Pat Boone
s Musikdirektor und A&R-Mann und leitete daneben sein eigenes Studioorchester, das im Laufe von 12 Jahren mehr als 25 Hits hatte, die populärste Big Band der Fünfziger. Die sechs CDs dieser Box enthalten alle Aufnahmen von
Billy Vaughn
aus der Zeit von 1954 bis zum frühen November 1958, darunter so unvergessliche Hits wie
Melody Of Love, The Shifting Whispering Sands, Sail Along Silvery Moon, Raunchy, The Theme From The Threepenny Opera
(
Mack The Knife
),
When The White Lilacs Bloom Again
,
La Paloma, Cimarron
und
Blue Hawaii
sowie alle Alben jener Ära wie '
Sweet
Music And Memories', 'The Golden Instrumentals' und 'Instrumental Souvenirs'. Ebenfalls dabei sind 15 zuvor unveröffentlichte Aufnahmen und ein Buch mit einer neu recherchierten Biographie dieses zurückhaltenden Mannes mit seltenen Fotos der Vaughn Familie.
Artikeleigenschaften von

Billy Vaughn: Sail Along Silvery Moon (6-CD Deluxe Box Set)
Albumtitel:

Sail Along Silvery Moon (6-CD Deluxe Box Set)

Genre

Pop

Edition 2

Deluxe Edition

Preiscode

FI

Artikelart

Box set

EAN:

4000127159700

Gewicht in Kg:

1.5
Billy Vaughn Ein Freund von mir, der sich vor etwa vierzig Jahren mit dem Spielen von...
mehr
"Billy Vaughn"
Billy Vaughn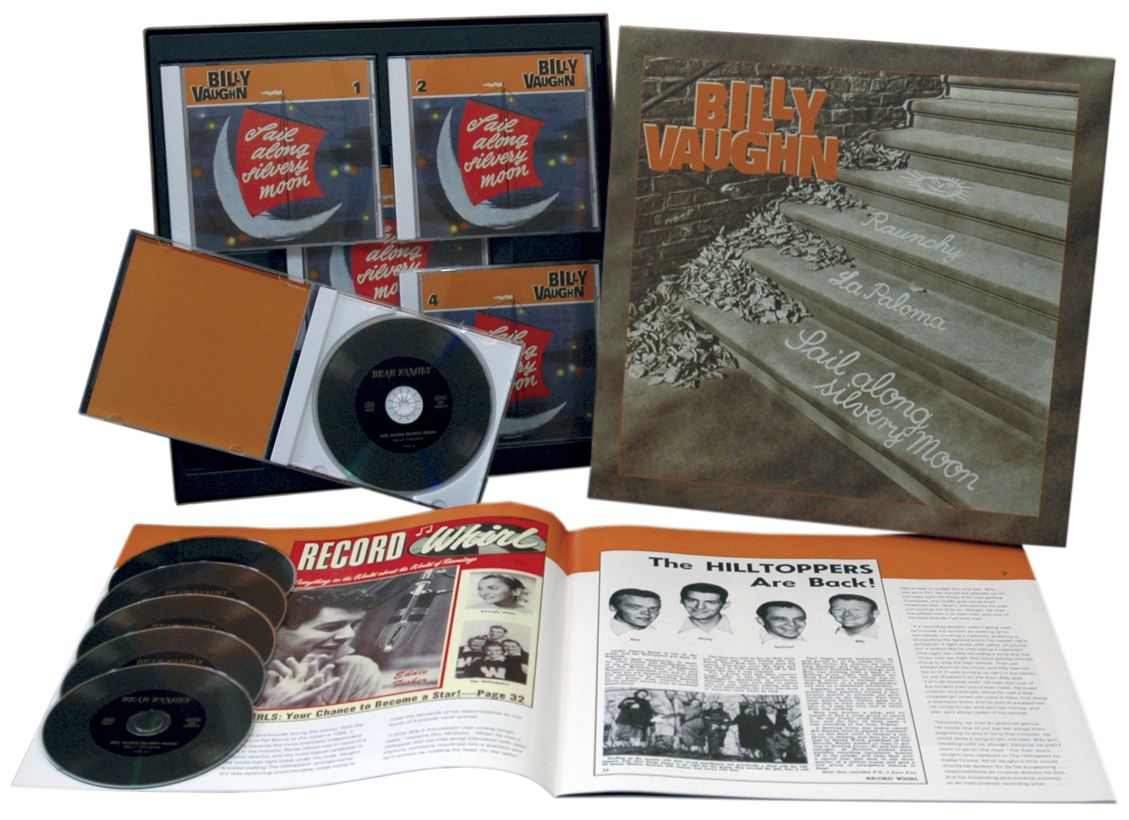 Ein Freund von mir, der sich vor etwa vierzig Jahren mit dem Spielen von Schallplatten bei unzähligen Highschool-Tänzen beschäftigte, oder "sock hops", wie sie in den 50er Jahren oft genannt wurden, lächelte vor kurzem mit nostalgischem Vergnügen bei der Erwähnung von Billy Vaughn. "Damals konnte man ohne einen Haufen Billy Vaughn Platten nicht tanzen", erinnert er sich. "Seine Musik war so sanft, so angenehm und so leicht zu tanzen." Das Billy Vaughn Orchestra war ein direkter Nachfahre so großer, süßer Bands der 1930er und 1940er Jahre, wie die von Guy Lombardo und Jan Garber, aber mit einer Wendung. Durch die geniale Kombination zeitloser romantischer Melodien mit einem subtilen Rock'n'Roll-Beat stieß Vaughn auf eine Zauberformel, die den Generationenunterschied überbrückte und seiner Musik einen beispiellosen Crossover-Erfolg bescherte. Es war ein unverwechselbarer Sound, wie kein anderer in der populären Musik. Nach den ersten Tönen der bekannten Zwillings-Alt-Saxophone, die in Harmonie spielen, wussten Sie sofort, wessen Band das war und was vor Ihnen lag.
Er wurde am 12. April 1919 in einem bescheidenen Haus an der Columbia Avenue in Glasgow, Kentucky, geboren. Seine Mutter, Sally McWherter, nannte das Kind Billy, und es blieb für den Rest seines Lebens stecken. Sein Vater, Alvis Radford Vaughn, war von Beruf Friseur, aber er hatte auch eine große Liebe zur Musik. "Mein Vater war ein guter Country-Geigenspieler und die meisten von uns waren in der Lage, ein Instrument zu nehmen und mit ihm zu spielen. Es gab viele schöne Abende", erinnerte sich Vaughn später. Seine Schwestern Inez, Grace und Charlotte zeigten alle eine gewisse natürliche Begabung, aber es war Billy, der sich als ein Wunderkind herausstellte.
Als er erst drei Jahre alt war und mit den Masern in einer Krippe lag, fing der junge Billy an, Noten auf einer Ukulele auszusuchen. Er entwickelte sich zur Mandoline, doch schließlich wich er von den Saiteninstrumenten ab, die mit seinen kleinen Fingern schwer zu spielen waren. Als seine Schwestern mit dem Klavierunterricht begannen, kletterte Billy auf die Bank, sobald sie fertig waren, um zu versuchen, das Gehörte zu wiederholen. Seine Mutter erinnerte sich später daran, dass Billy es vorzog, zu Hause zu bleiben und Musik zu machen, wenn der Rest der Familie zum Zirkus ging. "Niemand ermutigte ihn je in der Musik, aber er folgte seinem Traum." Ich glaube, die Leute sind bei bestimmten Dingen begabt, und für ihn war es Musik", erklärte sie. Schon bald erlernte der Junge die verschiedensten Instrumente und war auf jedem von ihnen praktisch völlig autodidaktisch. Sein Lieblingsinstrument war das Saxophon.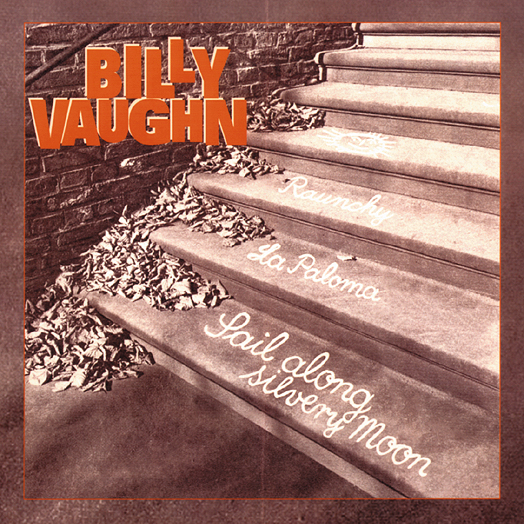 Vaughn entschied früh, dass er Musik zu seiner Karriere machen wollte, aber sein Vater zog es vor, sich für die relative Sicherheit des Familienunternehmens, eines Friseursalons in Glasgow, zu entscheiden. Billy besuchte die Friseurschule in Louisville und später eine Kosmetikschule in Bowling Green. Für eine Weile arbeitete er tagsüber im Friseursalon, während er nachts Musik schrieb, und erinnerte sich später daran, dass er diese Situation so frustrierend fand, dass sie den Beginn eines Geschwürs auslöste. Sein offensichtliches Talent und seine perfekte Tonlage brachten ihm bald ein Musikstipendium für Western Kentucky State ein.
Während seines Studiums war Vaughn auch Mitglied der 123. Cavalry Mounted Band der Nationalgarde. Er war in der 149. Infanterie-Band der US-Armee im Dezember 1941, als Japan Pearl Harbor bombardierte und die Vereinigten Staaten in den Zweiten Weltkrieg gezogen wurden. "Ich traf ihn 1941, vor Pearl Harbor", erinnert sich die Frau des Bandleaders in einem Interview. "Er war in Camp Shelby, Mississippi, stationiert. Das ist in Hattiesburg. Ich lebte in einem patriotischen Städtchen namens Hazlehurst, und wir luden 100 Soldaten für ein Wochenende aus dem Camp ein, die in den Häusern der Menschen wohnten und die Hausmannskost aßen. Wir hatten einen Tanz am Samstagabend, und wir gingen alle am Sonntagmorgen in die Kirche. So lernte ich Billy auf dem Tanz kennen. Er war im Orchester." Vaughn wird von Bekannten heute allgemein als ein schrecklich schüchterner Mann in Erinnerung behalten, aber er fiel schwer auf die junge Marion Smith, die er "Smitty" nannte. Er verkaufte sogar eines seiner Instrumente, ein Saxophon, um die Balz zu finanzieren. "Wir fingen an zu korrespondieren, und er kam zu Besuch", erinnert sich Smitty. "In zwei Jahren waren wir verheiratet, 1943." Ihre lange und glückliche Verbindung brachte drei Kinder hervor: eine Tochter namens Zona, Richard, Jr. und Al.
Vaughn war bestenfalls ein abgelenkter Soldat. Er dachte immer an Musik. Billy war sogar dafür bekannt, dass er im Dienst von KP eine tragbare Tastatur in die Latrine rollt und dort an seinen neuesten Kompositionen arbeitet!
from booklet BCD15970 - Billy Vaughn Sail Along Silvery Moon (6-CD)
Read more at: https://www.bear-family.de/vaughn-billy-sail-along-silvery-moon-6-cd.html
Copyright © Bear Family Records
Bewertungen lesen, schreiben und diskutieren...
mehr
Kundenbewertungen für "Sail Along Silvery Moon (6-CD Deluxe Box Set)"
Billy Vaughn
alles perfekt
Bewertung schreiben
Bewertungen werden nach Überprüfung freigeschaltet.
Weitere Artikel von Billy Vaughn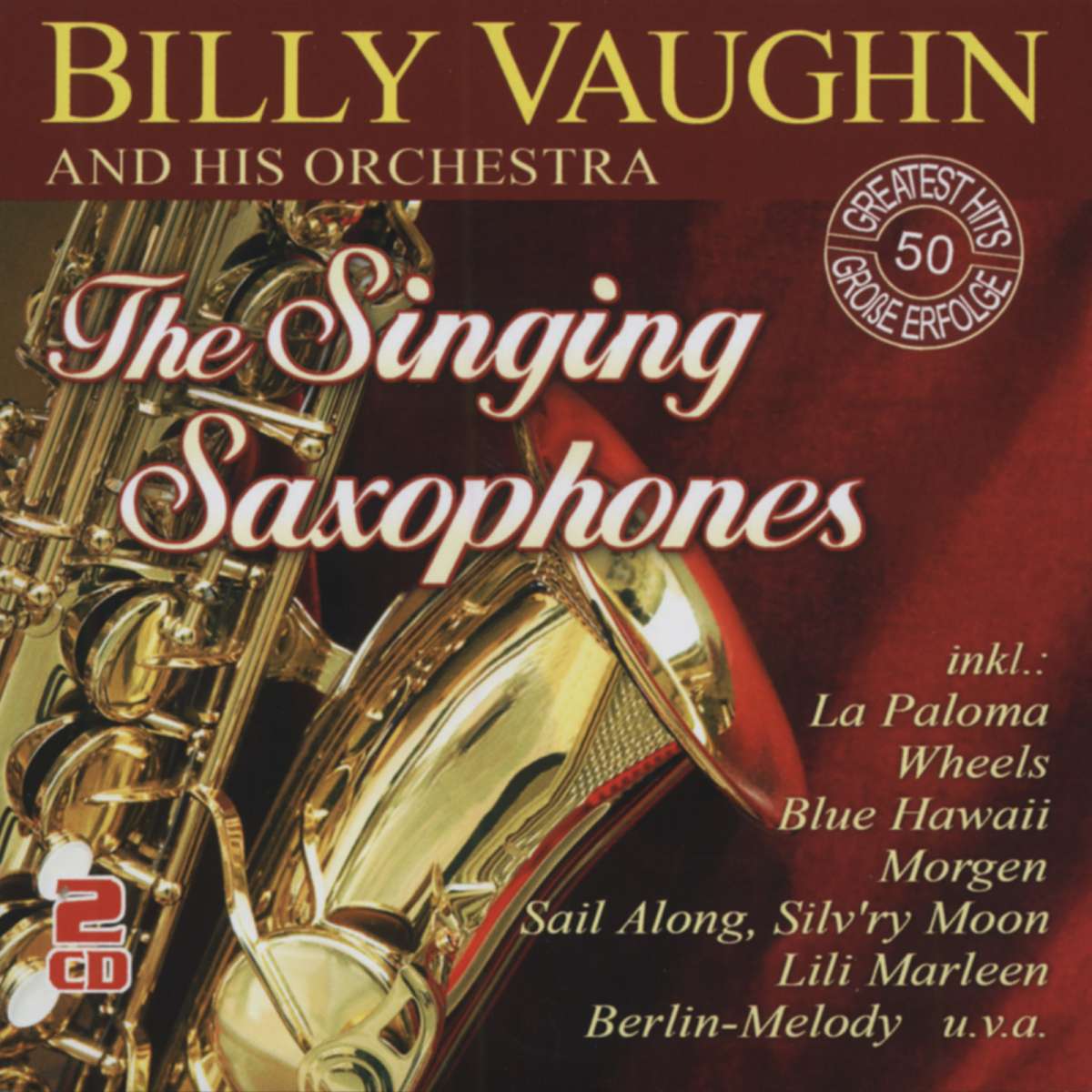 Billy Vaughn: The Singing Saxophones (CD)
Art-Nr.: CD2087046


nur noch 2 verfügbar
Sofort versandfertig, Lieferzeit** 1-3 Werktage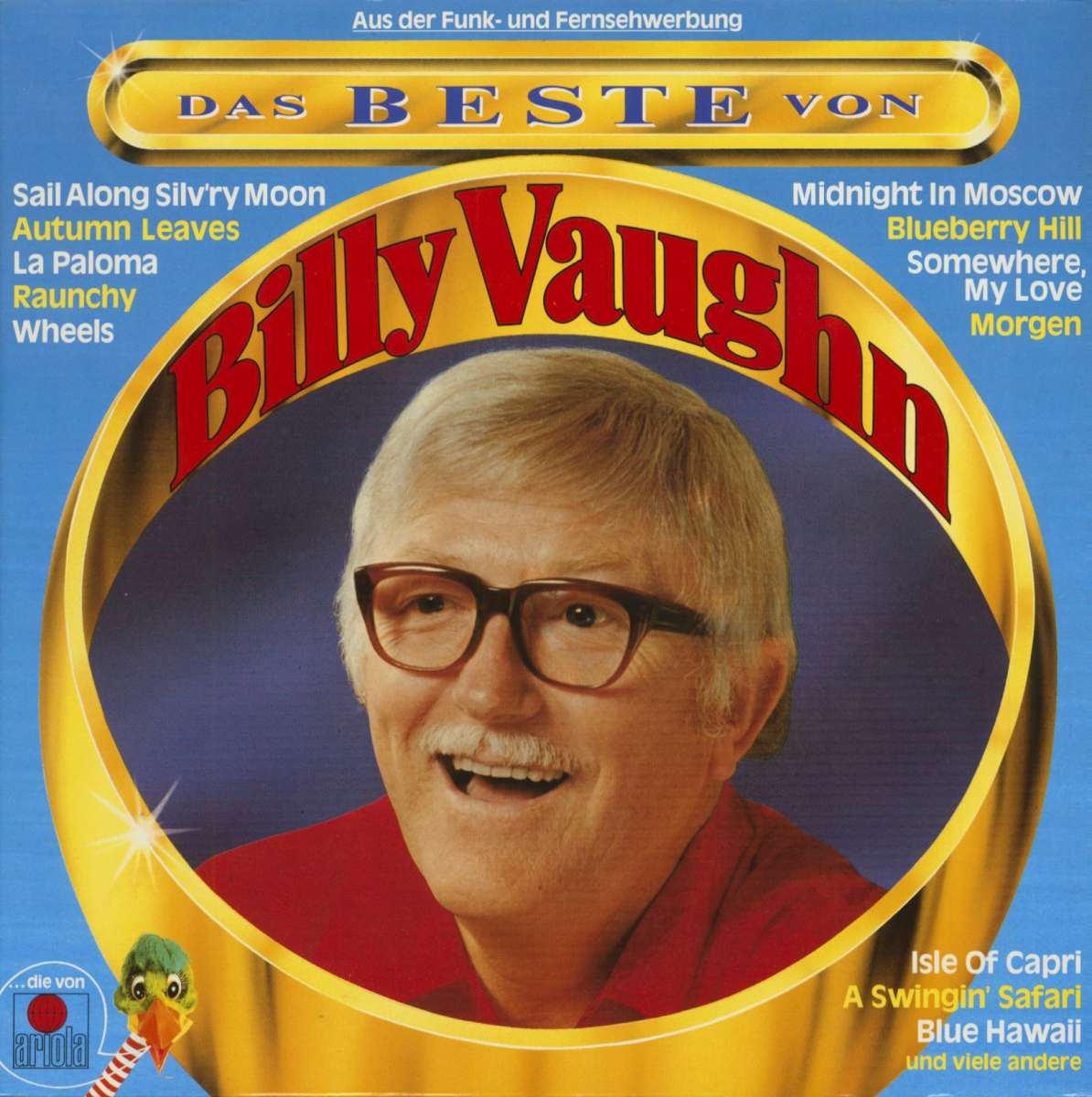 Billy Vaughn: Das Beste Von Billy Vaughn (LP)
Art-Nr.: LP795507


Sofort versandfertig, Lieferzeit** 1-3 Werktage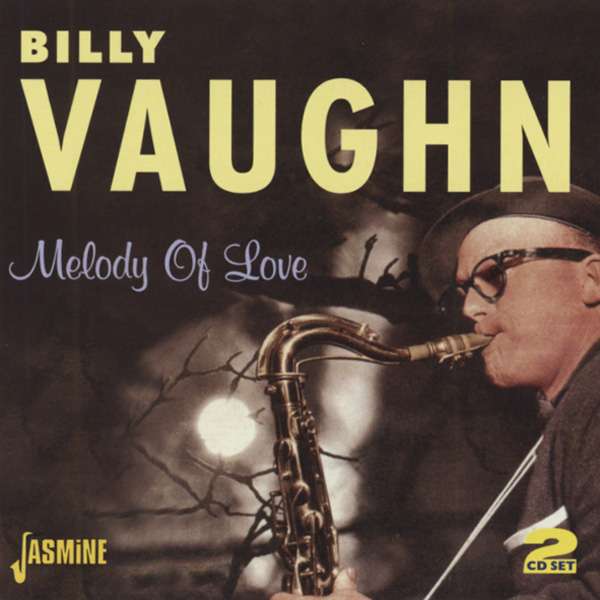 Billy Vaughn: Melody Of Love (2-CD)
Art-Nr.: CDJAS503


Artikel muss bestellt werden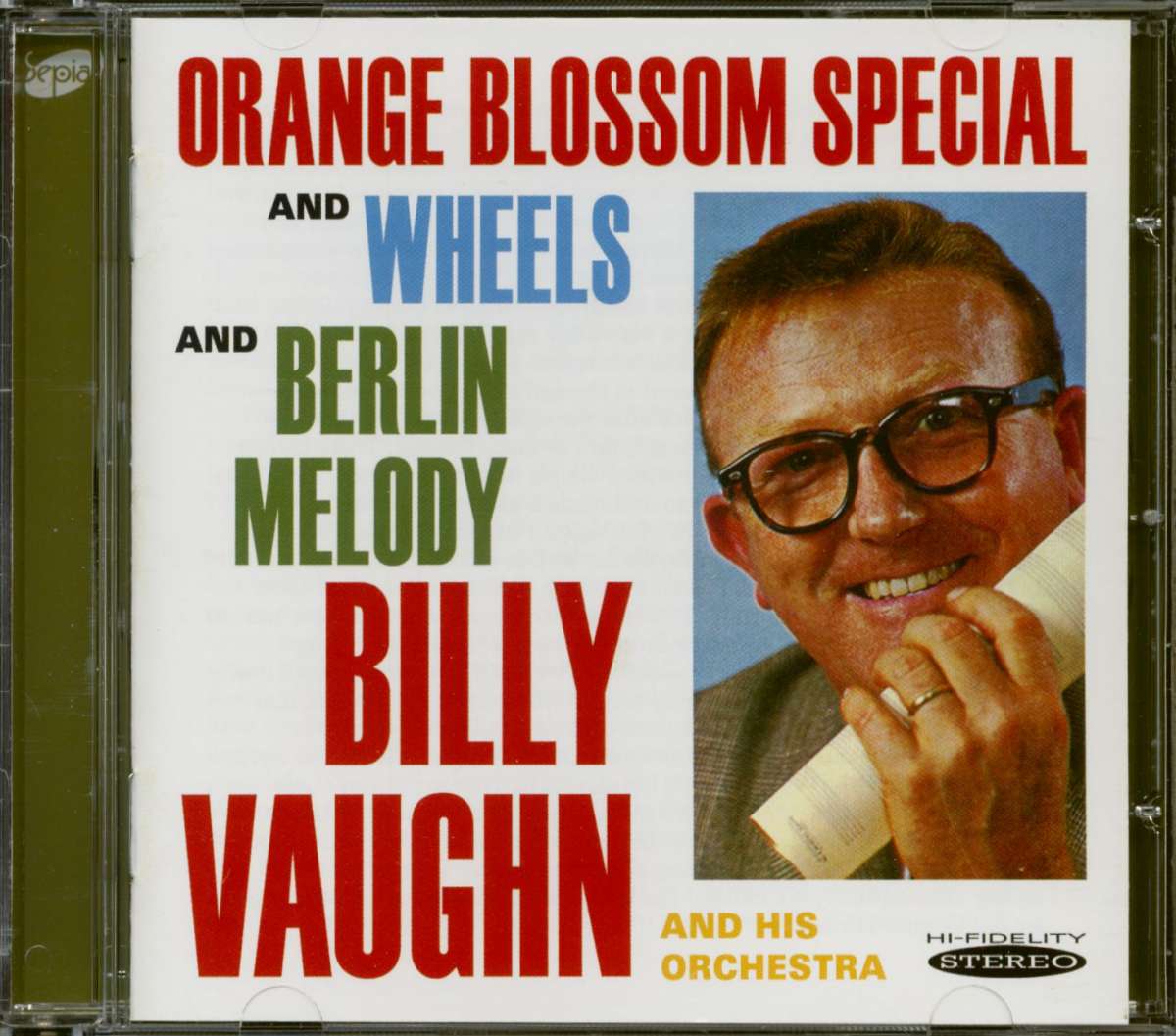 Billy Vaughn: Orange Blossom Special And Wheels And Berlin...
Art-Nr.: CD111832


Artikel muss bestellt werden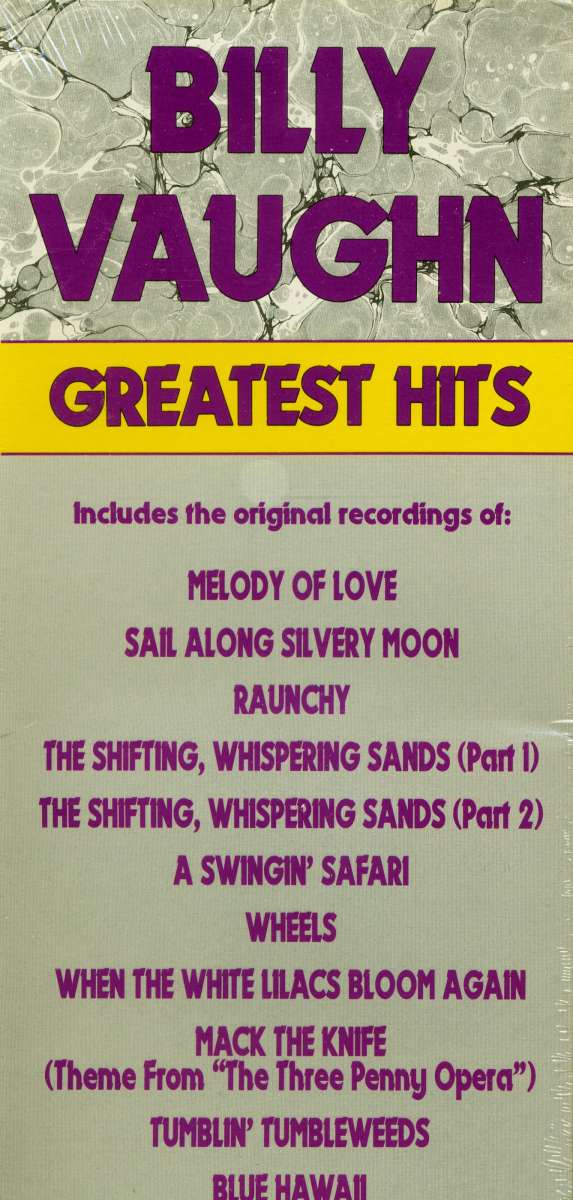 Billy Vaughn: Greatest Hits (CD Longbox)
Art-Nr.: CDP77345


die letzten 1 verfügbar
Sofort versandfertig, Lieferzeit** 1-3 Werktage