Der Artikel wurde erfolgreich hinzugefügt.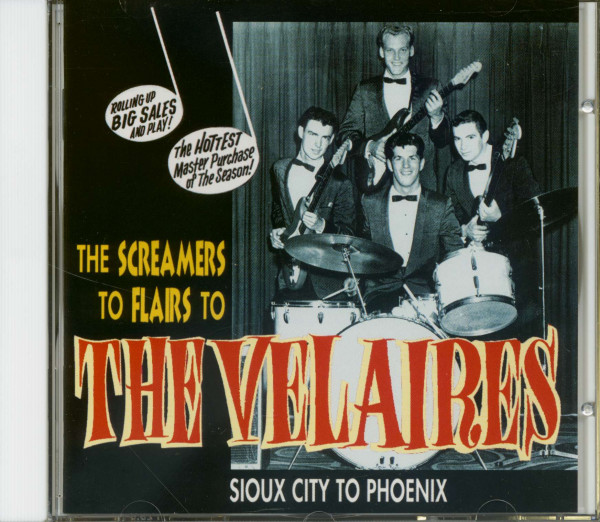 Dieser Artikel ist gestrichen und kann nicht mehr bestellt werden!
Benachrichtigen Sie mich, sobald der Artikel lieferbar ist.
Artikel-Nr.:

BCD16168

Gewicht in Kg.:

0.115
1961 hatten die Velaires einen Hot 100 Hit mit der Neuauflage von Roll Over Beethoven, sonst hat...
mehr
The Velaires: The Screamers To Flairs To Velaires
1961 hatten die Velaires einen Hot 100 Hit mit der Neuauflage von Roll Over Beethoven, sonst hat man wenig anderes von ihnen gehört. Dieser Zet zeigt, daß man von ihnen in einem Atenzug mit
Bobby Fuller
reden sollte. Sie spielten dichten, aggressiven Garagen Rock'n Roll in der Zeit der Teen Idole.
Alle Singles der Velaires für Kay Bank, Palms und Jamie sind hier, dazu 14 unveröffentlichte Stücke. Insgesamt kommen 26 Titel zusammen, darunter ihr großartiges Instrumental Brazil, dann Ubangi Stomp, Sticks And Stones, Scotch & Soda, Mule Train, Tragedy Train, Locomotion und Johnny B. Goode. Alles von 1959 - 1963!
Roll Over Beethoven has been covered by almost every band that started playing Rock and Roll in the 1960s. Some records were not too well done, while others were true to the spirit of the original, and became best selling records. One of these best-sellers that made the Hot 100 was by a band from Sioux
City
, Iowa, the Velaires.
We go back to the beginning, May of 1958. Danny Matousek recalls, "Four of us formed a band called The Screamers. We entered a contest at Shore Acres, Iowa, won, and I've been playing ever since." The original group was made up of Danny on rhythm guitar, Bob Dawdy-lead guitar, Don Bourret-drums, and Jerry DeMers-bass. All four were vocalist although Jerry and Danny did most of the singing on their recordings. These four original members remained together as the Screamers, the Flairs and finally the Velaires. Danny remembers buying an acoustic guitar for $25 and spraying it gold. "Jerry held the mic and Bob taught us how to play."
Their first record was a do-it-yourself effort recorded at Kay Bank studio in Minneapolis by The Screamers in 1959. The titles were I Dig and What Did I Do Wrong? This got some local and regional air play and helped promote bookings for the band. Danny's brother Dick was booking the band through his C & M Enterprises along with a roster of other local talent. "'I Dig' has become a very collectable disc these days', Danny relates. 'We were the Screamers for only a year, and it's funny to think that our first record is the most collectable.' It's very representative of the Midwestern Rockabilly sound of the late 50s.
'Those early days were wild. Our first job was through a booking agent in Minnesota and it was for a dance in Lane, South Dakota. We bought a used station wagon and set out. We were going to be stars. Only one problem, we got there and there was no dance. We'd been had.' Dan remembers that jobs were infrequent in the early times, so the group sometimes found themselves in a strange town and hungry with no money. 'One night the four of us were trying to sleep but we were starving. All of a sudden we heard the rustle of a candy bar wrapper. One of the guys had held out. We pounced on that candy and split it four ways. I remember another time when we finally got paid for a job. We were so hungry, we all ran to the first smorgasbord and ate for an hour and a half until they threw us out.'
But then in early 1961, the lean years got better shortly after they drove to Oklahoma City and cut a tape with a version of Roll Over Beethoven. The band were headed for
Norman Petty
's Clovis, New Mexico studio. They never made it that far South, stopping in Oklahoma City for a session at Gene Sullivan's studio there. They recorded five songs, but still had twenty minutes remaining on the clock, so the Flairs cut Roll Over Beethoven. It was a song they played so often on stage, that they dismissed it's hit possibilities.
'In 1960 I moved from Omaha to Phoenix', Davis recalls. '
The Flairs
were playing in a place called 'The Cave Under The Hill', at the Hill Hotel, which was in downtown Omaha. A guy named Hap Heflinger called me from Omaha and said he was sending me a copy of the tape they recorded in Oklahoma City. That's how that happened, after I moved they got a hold of me in Arizona.'
'I was from the Mid-West, so I was familiar with the Screamers from back there.' Davis recounts. 'At that time (1959)
Bobby Vee
and the Screamers/Flairs were the two biggest groups in the area. When they played me their tape with 'Roll Over Beethoven' on it, I decided to try and put it out, so Floyd Ramsey and I made a deal to start Palms Records,' Davis adds, 'My father had a swimming pool where I worked called Palm Beach, on Baseline Road in South Phoenix, and that's how we came up with the Palms name.'
Jerry Davis started writing songs with a friend in College and in 1959, while still in Omaha, recorded a single for Dolton Records in Seattle, To Prove Our
Love
Is True. 'After moving to Phoenix I made a record for Floyd's Ramco label called 'I Sold My
Heart
To The Junkman', which was my second release and it gave me a chance to see how the music business worked' The record was a flop but it did get Davis together with Audio Recorders studio owner, Ramsey.
In March of 1961 Roll Over Beethoven and the instrumental Brazil were released as Palms 726. Later that year Davis was working with two other groups. 'We had two other Palms releases in 1961, Don Sohl an the Roadrunners had 'Ticker Tape', he was from Sioux City and managed by Dick Matousek. The other was a soul record 'She Wants To Be A Lover' by Louis Johnson, which was a master I picked up in Los Angeles.'
Artikeleigenschaften von

The Velaires: The Screamers To Flairs To Velaires
Albumtitel:

The Screamers To Flairs To Velaires

Genre

Rock'n'Roll

Preiscode

AH

Artikelart

CD

EAN:

4000127161680

Gewicht in Kg:

0.115
The Velaires 1961 hatten die Velaires einen Tot 100-Hit mit einem Revival von Roll Over...
mehr
"The Velaires"
The Velaires
1961 hatten die Velaires einen Tot 100-Hit mit einem Revival von Roll Over Beethoven, aber sonst war von ihnen wenig zu hören. Dieses Set zeigt, dass man von ihnen im selben Atemzug wie von Bobby Fuller sprechen sollte.
Sie spielten tighten, aggressiven, garagenartigen Rock'n' Roll in der Ära der Teenager-Idole. Alle Velaires' Kay Bank, Palms und Jamie Singles sind hier, plus 14 unveröffentlichte Titel. Insgesamt gibt es 26 Titel, darunter ihr großes Instrumental Brasilien, und Ubangi Stomp, Sticks And Stones, Scotch & Soda, Mule Train, Tragedy Train, Locomotion und Johnny B. Goode. Alles von 1959-1963!
Roll Over Beethoven wurde von fast jeder Band gecovert, die in den 60er Jahren mit Rock and Roll anfing, einige Platten waren nicht allzu gut gemacht, andere waren dem Geist des Originals treu geblieben und wurden zu Bestsellern. Einer dieser Bestseller, die die Hot 100 machten, war von einer Band aus Sioux City, Iowa, den Velaires.
Wir gehen zurück zum Anfang, Mai 1958. Danny Matousek erinnert sich: "Vier von uns gründeten eine Band namens The Screamers. Wir haben einen Wettbewerb in Shore Acres, Iowa, gewonnen, und seitdem spiele ich." Die ursprüngliche Gruppe bestand aus Danny an der Rhythmusgitarre, Bob Dawdy-Lead-Gitarre, Don Bourret-Drums und Jerry DeMers-Bass. Alle vier waren Sänger, obwohl Jerry und Danny den größten Teil des Gesangs auf ihren Aufnahmen machten. Diese vier ursprünglichen Mitglieder blieben zusammen als die Screamers, die Flairs und schließlich die Velaires. Danny erinnert sich, dass er eine Akustikgitarre für 25 Dollar gekauft und mit Gold besprüht hat. "Jerry hielt das Mikro und Bob brachte uns das Spielen bei."
Ihre erste Platte war eine Do-it-yourself-Aufnahme im Kay Bank Studio in Minneapolis von The Screamers im Jahr 1959. Die Titel waren I Dig und Was habe ich falsch gemacht? Dies brachte einige lokale und regionale Luftspiele und trug dazu bei, Buchungen für die Band zu fördern. Danny's Bruder Dick buchte die Band über seine C & M Enterprises zusammen mit anderen lokalen Talenten. "'I Dig' ist heutzutage eine sehr sammelbare Scheibe geworden', erzählt Danny. Wir waren nur ein Jahr lang die Screamers, und es ist lustig zu denken, dass unsere erste Platte die sammelbarste ist. Es ist sehr repräsentativ für den Midwestern Rockabilly Sound der späten 50er Jahre.
Diese frühen Tage waren wild. Unser erster Job war ein Booking Agent in Minnesota und es war für einen Tanz in Lane, South Dakota. Wir kauften einen gebrauchten Kombi und machten uns auf den Weg. Wir wollten Stars werden. Nur ein Problem, wir kamen dort an und es gab keinen Tanz. "Wir wurden reingelegt." Dan erinnert sich, dass Jobs in der Anfangszeit selten waren, also fand sich die Gruppe manchmal in einer fremden Stadt wieder und hungerte ohne Geld. Eines Nachts versuchten wir vier zu schlafen, aber wir hungerten. Plötzlich hörten wir das Rascheln einer Schokoriegelpackung. Einer der Jungs hatte ausgeharrt. Wir haben uns auf die Süßigkeiten gestürzt und sie durch vier geteilt. Ich erinnere mich an ein anderes Mal, als wir endlich für einen Job bezahlt wurden. Wir waren so hungrig, dass wir alle zum ersten Buffet rannten und anderthalb Stunden aßen, bis sie uns rauswarfen."
Aber dann, Anfang 1961, wurden die mageren Jahre besser, kurz nachdem sie nach Oklahoma City gefahren waren und ein Band mit einer Version von Roll Over Beethoven geschnitten hatten. Die Band war auf dem Weg zu Norman Petty's Clovis, New Mexico Studio. Sie schafften es nie so weit in den Süden und hielten in Oklahoma City für eine Sitzung in Gene Sullivans Studio. Sie nahmen fünf Songs auf, hatten aber noch zwanzig Minuten auf der Uhr, so dass die Flairs Roll Over Beethoven geschnitten haben. Es war ein Lied, das sie so oft auf der Bühne gespielt haben, dass sie seine Hit-Möglichkeiten verworfen haben.
1960 zog ich von Omaha nach Phoenix", erinnert sich Davis. Die Flairs spielten an einem Ort namens "The Cave Under The Hill", im Hill Hotel, das sich im Zentrum von Omaha befand. Ein Typ namens Hap Heflinger rief mich aus Omaha an und sagte, er schickte mir eine Kopie des Bandes, das sie in Oklahoma City aufgenommen hatten. So ist das passiert, nachdem ich umgezogen bin, haben sie mich in Arizona erreicht."
Ich kam aus dem Mittleren Westen, also kannte ich die Screamers von da hinten. Davis erzählt. Damals (1959) waren Bobby Vee und die Screamers/Flairs die beiden größten Gruppen in der Gegend. Als sie mir ihr Band mit'Roll Over Beethoven' darauf spielten, beschloss ich, es zu veröffentlichen, also machten Floyd Ramsey und ich einen Deal, um Palms Records zu gründen," fügt Davis hinzu,'Mein Vater hatte einen Swimmingpool, wo ich arbeitete, genannt Palm Beach, an der Baseline Road in South Phoenix, und so kamen wir auf den Namen Palms".
Jerry Davis begann mit einem Freund am College Songs zu schreiben und nahm 1959, als er noch in Omaha war, eine Single für Dolton Records in Seattle auf, To Prove Our Love Is True. Nach meinem Umzug nach Phoenix machte ich eine Platte für Floyds Ramco-Label namens "I Sold My Heart To The Junkman", die meine zweite Veröffentlichung war und mir die Möglichkeit gab, zu sehen, wie das Musikgeschäft funktionierte" Die Platte war ein Flop, aber sie brachte Davis zusammen mit Audio Recorders Studiobetreiber Ramsey.
Bewertungen lesen, schreiben und diskutieren...
mehr
Kundenbewertungen für "The Screamers To Flairs To Velaires"
Bewertung schreiben
Bewertungen werden nach Überprüfung freigeschaltet.
Weitere Artikel von The Velaires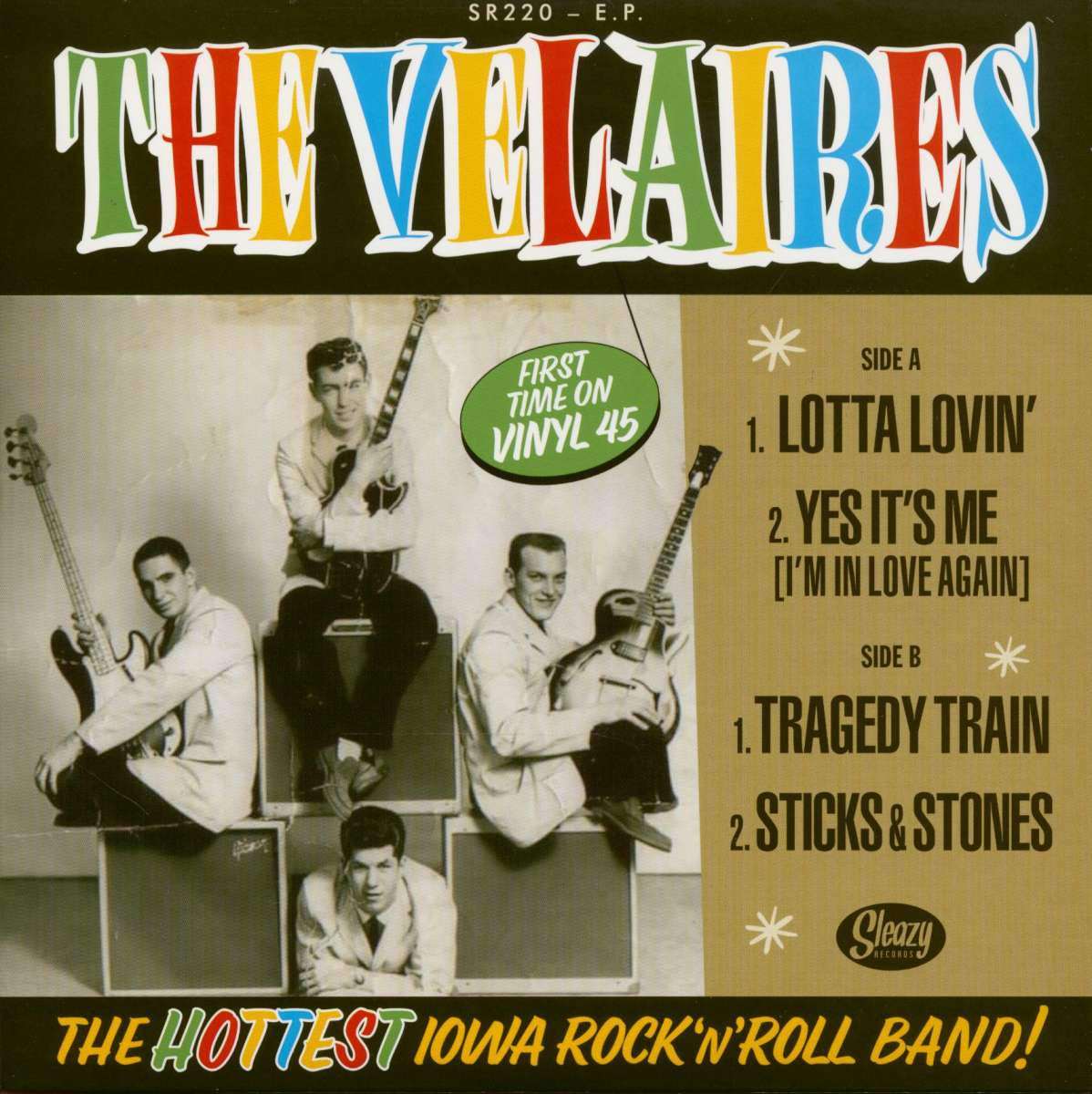 The Velaires: The Velaires (7inch, EP 45rpm)
Art-Nr.: 45SR220


nur noch 1 verfügbar
Sofort versandfertig, Lieferzeit** 1-3 Werktage