Der Artikel wurde erfolgreich hinzugefügt.
Kitty Wells
The Golden Years by Bob Pinson & Richard Weize
4,95 € *
15,74 € *
(68,55% gespart)
inkl. MwSt. / zzgl. Versandkosten - Abhängig vom Lieferland kann die MwSt. an der Kasse variieren.
Sofort versandfertig, Lieferzeit** 1-3 Werktage
Artikel-Nr.:

BFB10009

Gewicht in Kg.:

0.21
32 Seiten/Seiten; 22/15cm; viele seltene Bilder/seltene Bilder Das Leben von Kitty Wells bis...
mehr
Kitty Wells: The Golden Years by Bob Pinson & Richard Weize
32 Seiten/Seiten; 22/15cm; viele seltene Bilder/seltene Bilder Das Leben von Kitty Wells bis 1957, mit Diskographie (chronologisch/numerisch/alphabetisch) - Englisch
Zwischen 1949 und 1957 produzierte die Nashville-Sängerin Kitty Wells eine Reihe von Aufnahmen, die in der Country-Musikgeschichte ihresgleichen sucht. Diese 95 Bemühungen definierten im Wesentlichen die Rolle der Frau in der modernen Countrymusik und öffneten den klassischen Honky-Tonk-Stil von
Lefty Frizzell
und
Hank Williams
für neue Feinheiten und Perspektiven. Das sind in jeder Hinsicht'klassische' Aufnahmen. Sie repräsentieren die führende Stylistin des Landes auf dem Höhepunkt ihres Könnens. Sie spiegeln Nashvilles Songwriting und instrumentale Kreativität zu Beginn der Neuzeit wider, als ihre Energien noch frisch waren und ihre Phantasie noch in Kontakt mit ihren Wurzeln stand.
Sie enthalten die neuen offenen Aussagen über Scheidung, Trinken und Betrug, die die Countrymusik in das zwanzigste Jahrhundert brachten. Sie gehören zu den unglaublichsten Hits aller Genres und halten ihren Sänger 161 Wochen lang in den Top Ten. Am wichtigsten ist jedoch, dass sie die Aufrichtigkeit, den Zweck und die Intensität haben, die mit großer Volksmusik einhergeht; ihre Kraft scheint auch heute noch, etwa 30 Jahre nach den Sitzungen, durch.
1953, inmitten dieser frühen Aufnahmen und hektischen Touren, überreichte der Gouverneur von Tennessee, Frank G. Clement, Kitty Wells ein Zeugnis. Darin heißt es: "Kitty Wells wurde von den Discjockeys der Vereinigten Staaten und Kanadas zur Königin der Folksänger in Amerika gewählt, und außerdem beweist sie, dass sie eine hervorragende Ehefrau und Mutter ist, in Übereinstimmung mit den besten Traditionen der Southern Womanhood".
Die Tatsache, dass der gute Gouverneur sich verpflichtet fühlte, Kitty's erstaunlichen kommerziellen Erfolg mit dieser Paean zu "Southern womanhood" zu qualifizieren, gibt uns eine Vorstellung davon, in welcher Welt Kitty Wells arbeitete, und welche Art von Druck sie fühlte. 1953 waren die Menschen im Süden noch nicht ganz bereit, die Idee einer Frau mit einer Vollzeitkarriere in der Musik auf der einen Seite zu versöhnen, und
Glücklicherweise hat sich Kitty Wells in beiden Rollen wohl gefühlt. In ihrem eigenen Leben bis 1952, als sie vor das Mikrofon trat, um ein neues Lied namens It Wasn't God Who Made Honky Tonk
Angels
zu singen, hatten sich ihre Frauen- und Mutterschaftsrollen ziemlich gut durchgesetzt. Anfang 1951 hatte sie beschlossen, sich zur Ruhe zu setzen, ihren Mann die Gesangsarbeit machen zu lassen und wieder Hausfrau zu werden und eine Familie zu gründen. Hinter ihr standen fast 20 Jahre Radioprogramme, Schulhauskonzerte, Roadshows, Staatsmessen und das Leben aus Trailern. Ehemann Johnnie Wright, eine Hälfte des Duos Johnnie & Jack, sah ihren neuen Hit Poison
Love
die Charts erklimmen, und es war Zeit, sich ein wenig zu entspannen.... dachte sie.
Das lange Vorspiel zu 1952 begann für Kitty am 30. August 1919 in Nashville. Dort wurde sie als Muriel Deason, eines von sechs Kindern, geboren; bald zog sie in das ländliche Humphries County, einen hügeligen Abschnitt etwa 25 Meilen westlich von Nashville, wo ihr Vater in einem Sägewerk arbeitete. "Mein Vater hieß Charles Deason", sagt Kitty. "Er wurde in Erin, Tennessee, geboren und lebte in der Nähe von Dickson; der Name meiner Mutter war Myrtle Crete, und sie wurde in dieser Gegend geboren. Mein Vater spielte Gitarre und sang. Er hatte mehrere Brüder, die alle Instrumente spielten - einer spielte die Geige. Mein Vater spielte immer beim Tanzen, beim Square Dance, als wir aufwuchsen. 1 Vermutung, die ist, als ich ein Interesse am Lernen, Musik zu spielen und zu singen nahm und herum auf dem Fußboden saß und ihn überwachte, die Gitarre zu spielen - er würde alte Zeitliede wie der Prediger und der Bär singen. Und natürlich bin ich im Sommer mit vielen Hymnen und Kirchenliedern aufgewachsen. Meine Schwestern, meine Mutter, wir alle würden mitmachen." 1928, als Kitty acht Jahre alt war, zog die Familie zurück nach Nashville, wo ihr Vater einen Job bei der Tennessee Central Railroad als Bremser annahm....
Artikeleigenschaften von

Kitty Wells: The Golden Years by Bob Pinson & Richard Weize
Albumtitel:

The Golden Years by Bob Pinson & Richard Weize

Genre

Country

Sprache

Englisch

Kategorie

Nachschlagewerk

Einband

Broschiert

Seiten

32

Verleger

Bear Family Records

Artikelart

Bücher/Books

ISBN-13

978-3-924787-08-0

Größe

15 x 21 x 0,3 cm

ISBN-10

3924787085

Autor

Bob Pinson & Richard Weize

EAN:

4000127100092

Gewicht in Kg:

0.21
Kitty Wells As a genre, answer songs have never done that well, but this was the...
mehr
"Kitty Wells"
Kitty Wells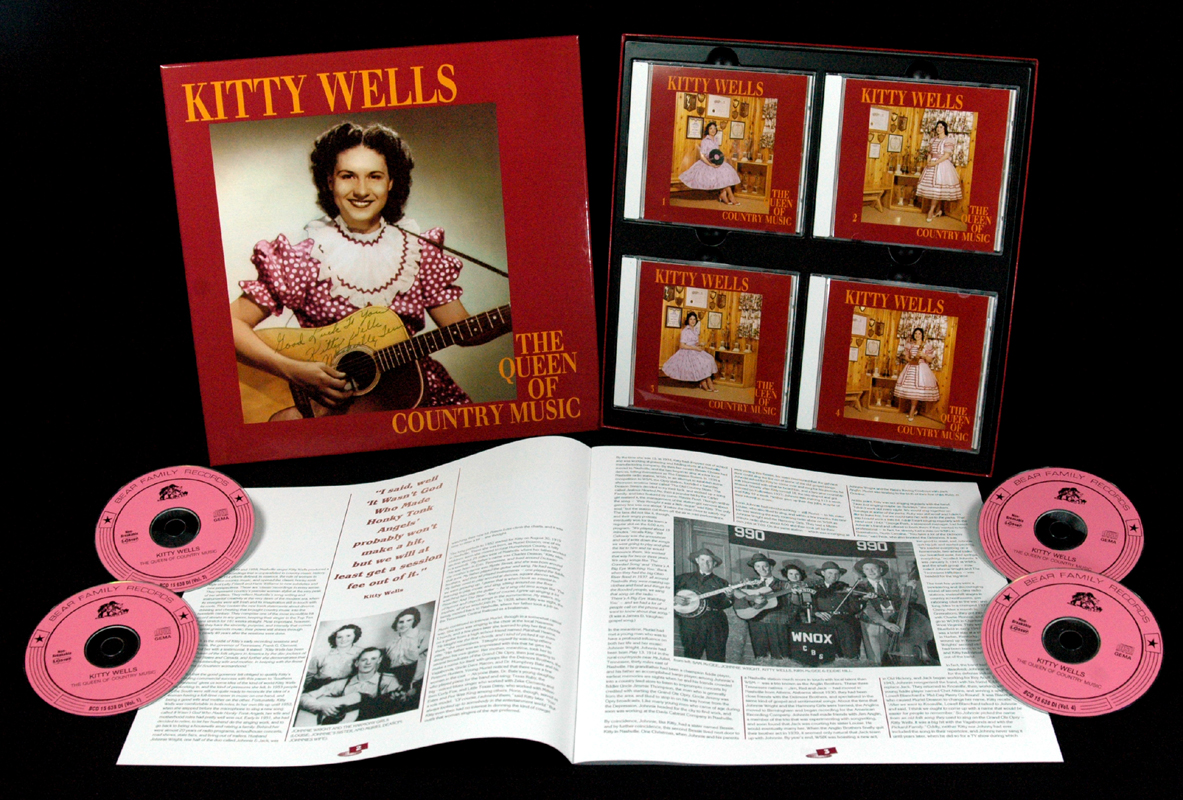 As a genre, answer songs have never done that well, but this was the spectacular exception. Proclaimed the pride of southern womanhood by Governor Frank Clement in 1953, Kitty Wells was born Muriel Deason in Nashville on August 30, 1919. Her early career with her husband, Johnnie Wright of Johnnie & Jack, is detailed in the notes accompanying 'The Queen Of Country Music' (Bear Family BCD 15638). She took the stage name Kitty Wells from an 1860s parlor song by Thomas Sloan that had slipped into country music. She began recording for RCA at the same time as Johnnie & Jack, but was cut loose after two sessions.
In January 1952, Johnnie & Jack and Miss Kitty moved from Shreveport back to Nashville. Tillman Franks says that Webb Pierce was the one who persuaded Paul Cohen at Decca Records to give Kitty a contract, but she doesn't remember it that way. "While we were still in Shreveport, Johnnie had me make a demo record and he sent it to [Decca's] Paul Cohen, but we didn't hear anything from him. One night, Johnnie & Jack were playing the Ernest Tubb Midnite Jamboree and happened to see Paul. Johnnie asked him if Decca was interested in recording me, and he said, 'Yes.' In fact, he had a song he wanted us to listen to." Troy Martin at Peer Music had pitched a song by Jay Miller from Crowley, Louisiana. "I was returning from a trip to Rayne," Miller told Dorothy Horstman, "and I had my car radio on. They were playing 'The Wild Side Of Life.' I'd thought of writing a sequel on several occasions, but my lyric ideas were not strong enough. On this trip a set of lyrics came into my mind. I pulled to the side of Highway 90, took a tablet I kept in my glove compartment, and began to write lyrics down." Miller, of course, knew that the melody was in the public domain so he wouldn't have to give a half share to the original composer, as was the case with most answer songs. Miller himself produced the original version by Alice 'Al' Montgomery for Feature Records. "A friend of mine came in from Nashville, heard our Feature recording and took it back with him. And the second night after he got back Kitty Wells recorded it," Miller told John Broven. Kitty Wells and Johnnie Wright were unconvinced by the song. "I said, 'Well, it probably won't be a hit, but at least we'll get a session fee out of it,'" remembered Kitty.
Paul Cohen turned the session over to Owen Bradley, and it became the first major hit that Bradley produced for Cohen. The key instrument was Shot Jackson's tremulous steel guitar. "It's almost a Dobro sound," said Johnnie Wright. "but it's electric." It was recorded on May 3, 1952 when Wild Side Of Life was one week away from the #1 spot. Kitty's record charted on July 19 and topped the charts on August 23. Her wounded innocence was only heightened by what would become her trademark vibrato and often awkward shyness. Dressed demurely in gingham, no one would mistake her for a home wrecker.
Kitty Wells Queen Of Country Music 1949-1958 (4-CD)
Read more at: https://www.bear-family.com/wells-kitty-queen-of-country-music-1949-1958-4-cd.html
Copyright © Bear Family Records
Bewertungen lesen, schreiben und diskutieren...
mehr
Kundenbewertungen für "The Golden Years by Bob Pinson & Richard Weize"
Bewertung schreiben
Bewertungen werden nach Überprüfung freigeschaltet.
Weitere Artikel von Kitty Wells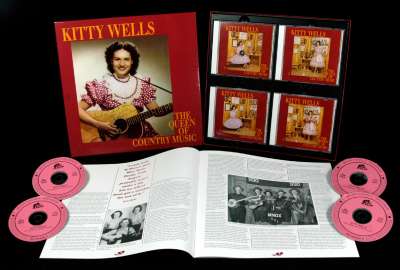 Kitty Wells: Queen Of Country Music 1949-1958 (4-CD Deluxe...
Art-Nr.: BCD15638


Sofort versandfertig, Lieferzeit** 1-3 Werktage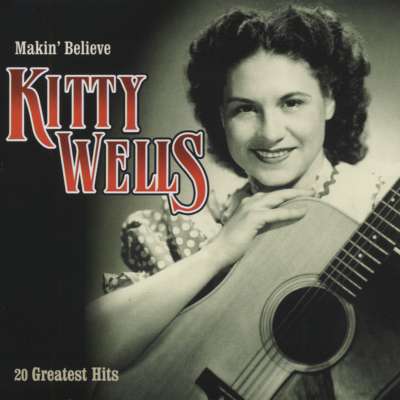 Kitty Wells: Makin' Believe
Art-Nr.: CDCTS55529


Artikel muss bestellt werden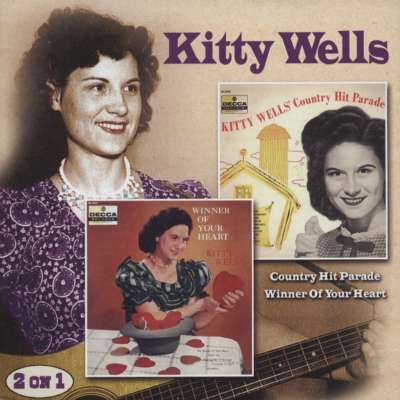 Kitty Wells: Country Hit Parade - Winner Of Your Heart
Art-Nr.: CDHUX125


Artikel muss bestellt werden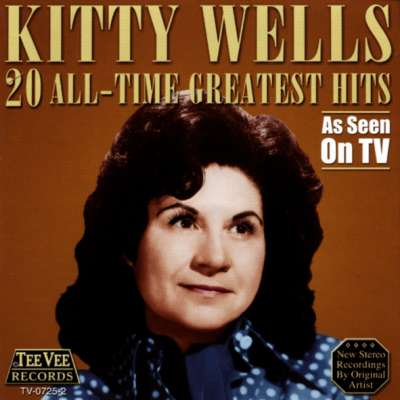 Kitty Wells: 20 All Time Greatest Hits
Art-Nr.: CDTVC0725


nur noch 1 verfügbar
Sofort versandfertig, Lieferzeit** 1-3 Werktage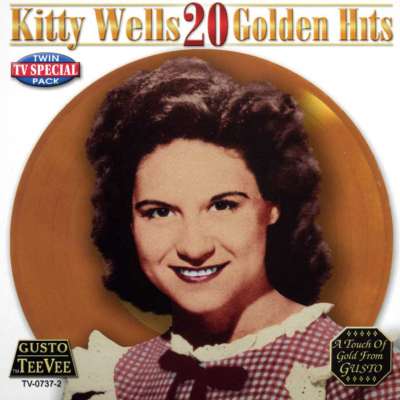 Kitty Wells: 20 Golden Hits
Art-Nr.: CDTVC0737


Artikel muss bestellt werden