Für die Filterung wurden keine Ergebnisse gefunden!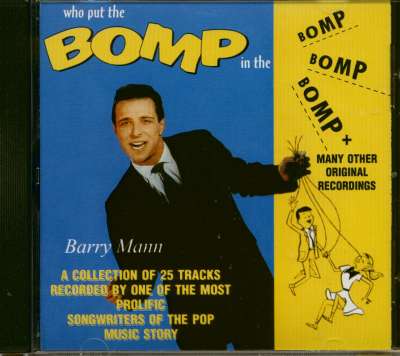 Barry Mann: Who Put The Bomp? - Collection (CD)
Art-Nr.: CDMAR007

(Marginal) 25 tracks (62:12)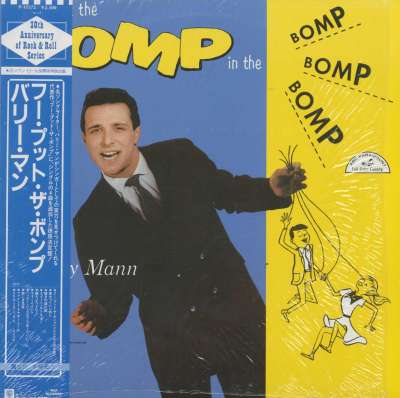 Barry Mann: Who Put The Bomp In The Bomp Bomp Bomp (Japan LP)
Art-Nr.: LPP11572


Sofort versandfertig, Lieferzeit** 1-3 Werktage
(MCA JAPAN) 16 tracks - Rare Japanese Re-release with OBI!
Barry Mann: Who Put The Bomp In The Bomp Bomp Bomp - Vinyl...
Art-Nr.: LPABCS399

(ABC-Paramount) 16 tracks Stereo
Wer war/ist

Barry Mann

? - CDs, Vinyl LPs, DVD und mehr
Barry Mann
wurde am 9. Februar 1939 in Brooklyn, New York geboren. Später, als ein angehender Architekt, wurde er zum Songwriter, als Paul Case, der Generaldirektor der im Familienbesitz der Aberbach Familie befindlichen Verlagsfirma Hill & Range Music, einen der ersten Songs von Mann auf der B-Seite von Bobby Pedricks Single 'White Bucks And Saddle Shoes' auf Big Top veröffentlichte, einem Label, das 1958 an Hill & Range angeschlossen war. 1961 heiratete Barry Mann Cynthia Weil. Mit ihr sollte er die meisten seiner ganz großen Hits schreiben. Er begann umgehend wieder selbst Aufnahmen zu machen, als sein eigener Song 'Who Put The Bomp' zum Top Ten Hit auf ABC im Sommer des Jahres 1961 wurde. Weitere Platten und Aufnahmen scheiterten jedoch. Im Zuge des Erfolgs seiner Kollegin und Brill Building Songschreiberin Carole King, schaffte er ein Comeback als Sänger / Songwriter mit Solo-Alben 1971 und 1975. Wenn auch Manns Aufnahmekarriere unspektakulär war, so waren er und Cynthia Weil eines der erfolgreichsten, nicht darstellenden amerikanischen Songwriting-Teams der Sechziger Jahre. In den Jahren zwischen 1959 und 1970 schrieb man über 50 Hot Hundred Songs, rteilweise alleine, teilweise mit Cynthia Weil und auch mit anderen - nur im Jahr 1967 landete er keinen Treffer.
Und noch oben drauf macht eine Liste dieser Songs deutlich, dass Mann und Weil mit ihren Songs eine Vielfalt von Stilen abdeckte, obwohl sie mit ihren großstädtischen Protest-Songs am erfolgreichsten waren.
1959: Mann's erster Hit, 'She Say (Oom Dooby Doom)' (The Diamonds, Nr. 18). 1960: 'Footsteps' (Steve Lawrence, Nr. 7) und 'The Way Of A Clown' (Teddy Randazzo, Nr. 44). 1961: u. a. zwei Top 20 Notierungen, 'Bless You' (Tony Orlando) und 'I Love How You Love Me' (The Paris Sisters). 1962: sechs Top 20 Notierungen, darunter "Come Back Silly Girl" (The Lettermen), 'He's Sure The Boy I Love' und 'Uptown' (The Crystals), 'I'll Never Dance Again' (Bobby Rydell), 'My Dad' (Ray Peterson) und 'Patches' (Dickey Lee). 1963: zehn Hot 100 Notierungen, darunter vier in den Top 20, 'Blame It On The Bossa Nova' (Eydie Gormé), 'I'll Take You Home' und 'On Broadway' (The Drifters) und 'The Grass Is Greener' (Brenda Lee). 1964: drei Top 10 Platten, 'I'm Gonna Be Strong' (Gene Pitney), 'Saturday Night At The Movies' (The Drifters) und (mit Phil Spector) das Chart-Topping 'You've Lost That Lovin' Feelin' ' (The Righteous Brothers). 1965: sieben Hot 100 Kracher, darunter 'We Gotta Get Out Of This Place' (The Animals) und 'Home Of The Brave' (Bonnie & The Treasures und Jody Miller). 1966: Eine weitere Nr. 1, '(You're My) Soul And Inspiration' (The Righteous Brothers) und eine Top 10 Platzierung, 'Kicks' (Paul Revere & The Raiders). 1967: Ging leer aus. 1968: acht Hot 100 Notierungen, darunter eine Top 10-Wiederbelebung von 'I Love How You Love Me' (Bobby Vinton) und wahrscheinlich Manns seltsamster Song 'The Shape Of Things To Come' (Max Frost & The Troopers). 1969: zwei Hot 100 Notierungen, darunter eine Top 20-Wiederbelebung des Ronettes Klassikers "Walking In The Rain" (Jay & The Americans). 1970: vier Hot 100-Notierungen, darunter "New World Coming" (Mama Cass) und 'I Just Can't Help Believing' (B.J. Thomas).