Der Artikel wurde erfolgreich hinzugefügt.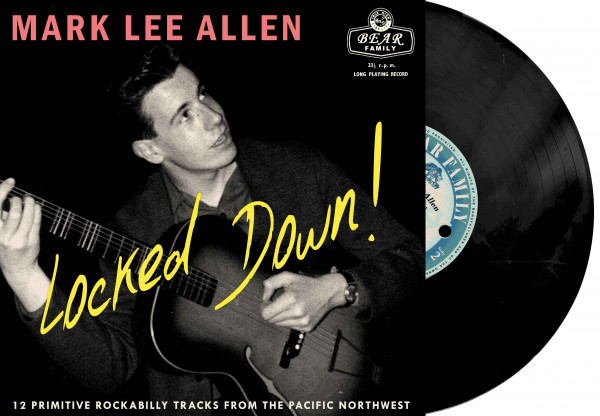 inkl. MwSt. / zzgl. Versandkosten - Abhängig vom Lieferland kann die MwSt. an der Kasse variieren.
Dieser Artikel erscheint am 1. Juli 2022
1-LP 25cm-Vinyl, Postkarte als Beileger, 12 Einzeltitel. Gesamtspielzeit ca. 28 Min....
mehr
Mark Lee Allen: Locked Down! (LP, 10inch, 33rpm)
1-LP 25cm-Vinyl, Postkarte als Beileger, 12 Einzeltitel. Gesamtspielzeit ca. 28 Min.
Akribischer britischer Vinyl-Sammler (Singles), Rockabilly-Experte, Autor und Musiker, der seit den frühen 2000er Jahren in den USA lebt.
Während des Lockdowns 2022 in seinem privaten Studio entstandene Aufnahmen, seine ureigenen trashigen Versionen seiner Lieblingsstücke, abgefahrene und obskurste Juwelen aus der Musikgeschichte.
Ein Vinyl-Album auf Bear Family Records® voller origineller Rockabilly-Highlights, rau, schräg, kantig, manisch.
Ein Hammer-Album für alle jene, die wissen, welche authentischen Gefühle und Kraft in dreckigem, ursprünglichem Rockabilly stecken.
Exquisite 10"LP in kleiner Auflage mit Mark Lees eigenen, sehr persönlichen Linernotes und Anmerkungen zu jedem einzelnen Titel. Großartig!
 Jeder Rockabilly-Enthusiast oder akribische Singles-Sammler kennt Mark
Lee Allen
. Alle anderen müssen wissen, dass Mark Lee Allen zur Avantgarde der heutigen Rockabilly-Retrogarde-Enthusiasten gehört. Seine Sammler-Kollegen verehren Allens Wissen und respektieren ihn für das Aufspüren seltener Vinyl-Funde.
Mark Lee Allens Ruf bei zeitgenössischen Sammlern und Trash-a-Billies basiert auf seiner eigenen Re-Issue-Reihe 'Twisted Tales from the Vinyl Wastelands', einer Serie, die aus konzeptualisierten Zusammenstellungen besteht, die sich mit Johnny-Cash-Soundalikes, Aliens und anderen Anomalien befasst. Er spürte auch den verschollenen Honky-Tonker
Bill Carter
wieder auf und brachte dadurch zwei Veröffentlichungen auf Bear
Family
Records® hervor: Bill Carter 'Cool Tom Cat' (BAF14010) and Bill Carter 'Ramblin' Fever - The Complete Recordings 1953 – 1961' (BCD17650).
Der 'bescheidene Sohn eines Bankräubers, der anfing, Gitarre zu spielen, vorgab, ein Rockabilly-Sänger zu sein, sich erträumte, sein Schlafzimmer sei ein Aufnahmestudio, um dort dutzende Kassetten aufzunehmen', wie Allen sich auf 'Locked Down!' selber vorstellt, begann seine Karriere Mitte der 1980er Jahre in englischen Rockabilly-Bands. Nach Marks Umzug in die USA in den frühen 2000er Jahren, sammelte und verkaufte er Original-Singles. Zudem produzierte er seine vielseitigen Kompilationen.
Während des Lockdowns von 2020 musste der ewig rastlose Allen dringend seine übermäßigen Energien kanalisieren und beschloss, Instrumente und Aufnahmeequipment zu kaufen, um seine Lieblingssongs, Hunderte von ihnen, zu Hause aufzunehmen - nur um nicht verrückt zu werden!
Auf 'Locked Down!' versammelt Mark Lee seine Favoriten und besticht mit einer entzückenden und unterhaltsamen Zusammenstellung. In Anbetracht der Weite des vorliegenden Materials seiner Sammlung und seiner Vertrautheit mit den abgefahrensten und obskursten Juwelen aufgenommenen Mülls der Musikgeschichte, hätte man eine schwer verdauliche Freak-Veröffentlichung befürchten können. Aber – der wahre Künstler und Musikliebhaber in Mark Lee Allen hat eingängige Klassiker wie Till The Law Says Stop, Don't Be Unfair und Lonely Lonely Train an die Seite von Hardcore-Rockabilly-Hymnen wie Bertha Lou und In The Deep Dark Jungle gestellt.
Aber Mark Lee wäre nicht der Allen, der er ist, wenn er uns nicht auch die Obskuren und Verrückten anbieten würde: Pick'em Up And Shake 'em Up (obskur) und $ F-olding Money $ (verrückt) sind Highlights auf einem Album, das vor Killer-Rockabilly-Highlights nur so strotzt – rau, kantig, manisch – und mit einer Stimme und einem Gefühl, so authentisch und vintage, wie es eben nur geht. Ein Rockabilly-Hammer!
Artikeleigenschaften von

Mark Lee Allen: Locked Down! (LP, 10inch, 33rpm)
Albumtitel:

Locked Down! (LP, 10inch, 33rpm)

Genre

Rock'n'Roll

Preiscode

BAF

Geschwindigkeit

33 U/min

Record Grading

Mint (M)

Sleeve Grading

Mint (M)

Plattengröße

LP (10 inch)

Artikelart

LP (10 inch)

EAN:

4000127140258

Gewicht in Kg:

0.35
Allen, Mark Lee - Locked Down! (LP, 10inch, 33rpm)

LP (10 inch) 1
01
Lonely Lonely Train
Mark Lee Allen
02
Don't Be Unfair
Mark Lee Allen
03
Pick'em Up And Shake'em Up
Mark Lee Allen
04
Act Like You Love Me
Mark Lee Allen
05
Black Jack David
Mark Lee Allen
06
Can't Do Without You
Mark Lee Allen
07
Till The Law Says Stop
Mark Lee Allen
08
Tell Me Baby
Mark Lee Allen
09
In The Deep Dark Jungle
Mark Lee Allen
10
Baby Fan The Flame
Mark Lee Allen
11
$Folding Money
Mark Lee Allen
12
Bertha Lou
Mark Lee Allen
Bewertungen lesen, schreiben und diskutieren...
mehr
Kundenbewertungen für "Locked Down! (LP, 10inch, 33rpm)"
Bewertung schreiben
Bewertungen werden nach Überprüfung freigeschaltet.
Weitere Artikel von Mark Lee Allen