Der Artikel wurde erfolgreich hinzugefügt.
Bill Anderson
The First 10 Years, 1956-1966 (4-CD Deluxe Box Set)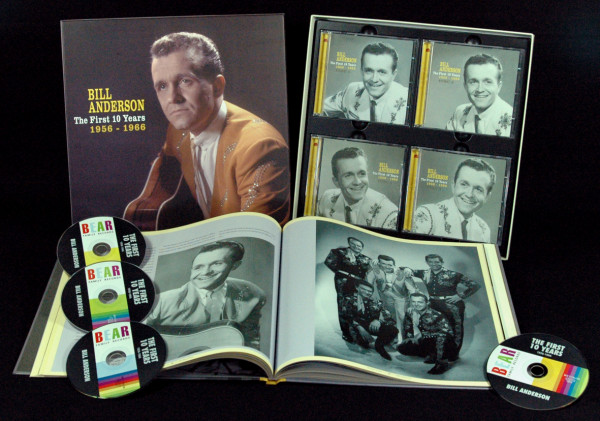 89,95 € *
94,95 € *
(5,27% gespart)
inkl. MwSt. / zzgl. Versandkosten - Abhängig vom Lieferland kann die MwSt. an der Kasse variieren.
Sofort versandfertig, Lieferzeit** 1-3 Werktage
Das Bill Anderson Box Set mit 126 Songs auf 4 CDs. Die erste umfassende Anthologie über Bill...
mehr
Bill Anderson: The First 10 Years, 1956-1966 (4-CD Deluxe Box Set)
Das
Bill Anderson
Box Set mit 126 Songs auf 4 CDs.
Die erste umfassende Anthologie über Bill Anderson, den erfolgreichsten Singer/Songwriter aus der klassischen Ära des Nashville-Sounds mit 21 'Billboard' Country-Chart-Hits, z.B.
Po' Folks, Mama Sang A Song
,
Still, Bright Lights And Country Music, I Love You Drops
und
I Got The Fever
. Diese Edition enthält seine ersten acht Decca-Alben, dazu sieben Single-B-Seiten und drei unveröffentlichte Studioaufnahmen, dazu fünf Duette mit
Jan Howard
, u.a. den Charts-Spitzenreiter
For Lovin You
. Erstmals werden die seltenen frühen TNT-Singles neu veröffentlicht, inklusive des rockigen
Take Me
und die erste Einspielung seiner unsterblichen Honky-Tonk-Hymne
City Lights
und mit 12 Demos von Bill Anderson-Originalen aus seinem Privatarchiv, darunter ein Duett mit der noch ganz jungen
Dolly Parton
.
Seine Karriere begann in den Mittfünfzigern, Bill Anderson ist sehr wahrscheinlich der erfolgreichste Singer/Songwriter der Country-Geschichte. Über ein halbes Jahrhundert gehört er zur Grand Ole Opry, und noch immer ist er ein mitreißender
Live
-Künstler, produktiver Schreiber und innerhalb der Industrie einer der meistrespektierten Altvorderen. Der Decca-Bestseller von Bill Anderson aus den Endfünfzigern und den gesamten Sechzigern setzten Maßstäbe für den sich entwickelnden Nashville-Sound. Außer auf uninteressant gekoppelten 'Hit'-Ausgaben wurden all diese Aufnahmen noch niemals akribisch auf CD veröffentlicht - bis jetzt. Erstellt in Zusammenarbeit mit dem Sänger, enthält diese 4-CD-Ausgabe sämtliche noch verfügbaren Master der Einspielungen zwischen 1956 und 1966 und als Zugabe eine Alternativ-Version von '3 A.M.' Das Box Set präsentiert außerdem die erste Single von Bill Anderson aus der Zeit als 19-jähriger Student an der Universität von Georgia.
Für alle, die ihn nur als Interpreten eines innigen, ruhigen Sprechgesangs kennen (was ihm den Kosenamen 'Flüsternder Bill' einbrachte), sind all diese Aufnahmen eine Offenbarung - als vielschichtige Mischung mit Rockabilly-Balladen, Texas-Shuffles, kompromisslosem Honky Tonk und Country-Pop Bill Andersons Privatarchiv, darunter inzwischen so gefeierte Songs wie
I Love You Drops, The Cold, Hard Facts Of Life, Once A Day, Slippin' Away
und
The Lord Knows I'm Drinkin'
. Eine junge Dolly Parton singt mit Bill Anderson
If It's All The Same To You
.
Zur Songsammlung gehört eine detaillierte Bill Anderson-Biografie bis ins Jahr 1966, illustriert mit Abbildungen und Erinnerungsstücken aus dem persönlichen Besitz des Sängers.
Video von Bill Anderson - The First 10 Years, 1956-1966 (4-CD Deluxe Box Set)
Artikeleigenschaften von

Bill Anderson: The First 10 Years, 1956-1966 (4-CD Deluxe Box Set)
Albumtitel:

The First 10 Years, 1956-1966 (4-CD Deluxe Box Set)

Genre

Country

Preiscode

DK

Edition 2

Deluxe Edition

Artikelart

Box set

EAN:

4000127171504

Gewicht in Kg:

1.5
Bill Anderson Die 1960er Jahre könnten in der Country- und Western-Musik beinahe als...
mehr
"Bill Anderson"
Bill Anderson
Die 1960er Jahre könnten in der Country- und Western-Musik beinahe als Anderson-Dekade bezeichnet werden. Es war eine seltene Woche, in der ein Anderson-Song, der entweder von ihm selbst oder von einem anderen großen Künstler aufgenommen wurde, nicht in den nationalen Country-Hit-Charts war. Manchmal waren zwei oder drei Anderson-Nummern gleichzeitig in den Charts.
Irwin Stambler und Grelun Landon
Enzyklopädie der Volks-, Country- und westlichen Musik", 1969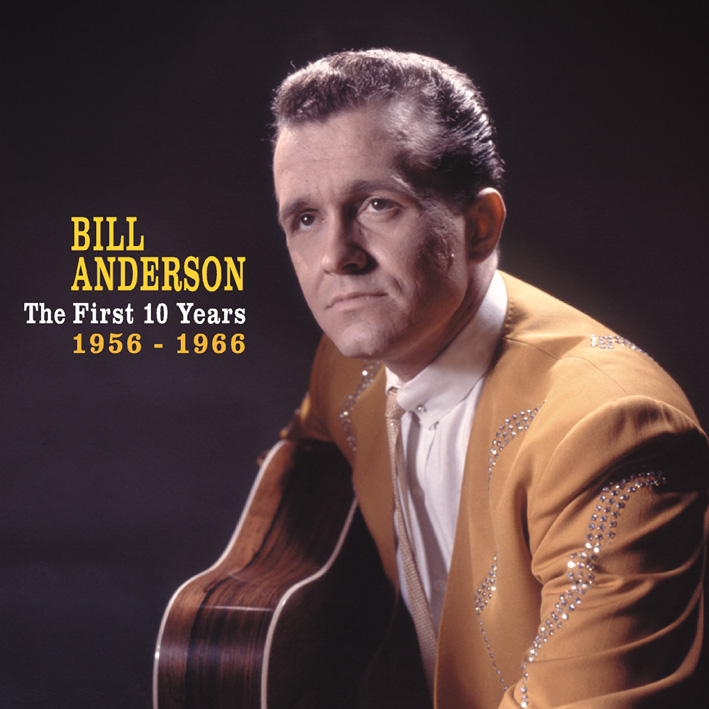 Aus heutiger Sicht ist es leicht, die Bedeutung von Bill Anderson in diesem turbulenten Jahrzehnt der amerikanischen Geschichte und Countrymusik zu übersehen. Die selbstgemachten Kritiker, die die Popkultur verfolgen, zitieren Merle Haggard, Loretta Lynn, George Jones, Buck Owens und Johnny Cash als die wichtigsten Künstler dieser Jahre. Während Haggards und Lynns Flugbahnen nach oben kippten, ging Jones durch populäre, aber meist vergessene Hits. Owens Karriere stieg und fiel, während Cash fiel und stieg. Aber Anderson kam hoch hinaus und blieb dort.
Während dieses Jahrzehnts blieb Anderson ein beständiger Top 10 Country-Singles-Künstler, dessen Platten selten bis weit in die siebziger Jahre zurückreichen. Sechs dieser Singles kamen in die Pop-Charts. Ein Meisterkommunikator, Anderson wurde im Alter von 23 Jahren in die Grand Ole Opry aufgenommen. 1964 gründete er die Po' Boys, eine der großen Back-up-Bands dieser Zeit. Im folgenden Jahr lancierte er'The Bill Anderson Show', eine Low-Key-Show mit einer halben Stunde Laufzeit in den wichtigsten Fernsehmärkten im ganzen Land. Als einer der produktivsten Songwriter der Branche schrieb er für Porter Wagoner, Jim Reeves, Lefty Frizzell, Faron Young, Roy Drusky und Connie Smith.
Heute ist Anderson einer der angesehenen älteren Staatsmänner der Countrymusik. Jüngere Künstler suchen ihn immer noch nach seinem neuen Material, während andere seinen umfangreichen Backkatalog nach möglichen Hits durchsuchen. Anderson's beliebte'Country Family Reunion' Konzerte und Videos bieten eine entspannende Plattform für seine Helden und Gleichaltrigen und ziehen ein Publikum an, das seine Leidenschaft für Nashvilles goldene Ära teilt.
Außerhalb von oberflächlichen, gleichgültig zusammengestellten'Hits' Paketen ist die Musik, die er während der'Anderson Decade' aufgenommen hat, nicht wieder aufgelegt worden. Um sicher zu sein, seine intimen frühen Decca-Liebesballaden appellierten nie an die überwiegend männliche Plattensammler-Bruderschaft - die Menge, die die Owenses, Haggards, Lynns, Joneses und Cashes vergöttert. Aber der Sänger hat mehr zu bieten als die sentimentalen Balladen und Halbrezitationen, die ihm den Spitznamen'Whispering Bill' einbrachten. Sein TNT und Decca Katalog enthält Rockabilly, Texas Shuffles, Nashville Pop, Saga Songs, Power Balladen und einen Hauch von Bluegrass. Alle sind überfällig für die Wiederentdeckung.
Die Familie Anderson stammte ursprünglich aus Pike County, Georgia. 1920 verkaufte James William Anderson, Sr. seine Farm, um eine Versicherungsagentur in Griffin, Georgia, zu eröffnen. Das Unternehmen entwickelte sich zur Middle Georgia Mutual Insurance Co., die heute noch in Betrieb ist. An den Wochenenden spielte der ältere Anderson mit seinen Brüdern als Anderson Family Band, hauptsächlich Square Dance und Griffin Social Events. Seine Frau, Elizabeth Williams Anderson, spielte Salongitarre, aber nur zu ihrem eigenen Vergnügen.
Ihr einziges Kind, James William Anderson, Jr., erbte die Arbeitsmoral seiner Eltern, wenn nicht ihr musikalisches Talent. 1933 war er Korrespondent der neu gegründeten Dun & Bradstreet in Atlanta und sammelte Finanzdaten über regionale Unternehmen für die Kreditprüfung. Am 27. September 1933 heiratete er Elizabeth'Lib' Smith, deren Vater der ehemalige Pastor der Ersten Methodistischen Kirche von Griffin war. Kurz nach der Hochzeit verlegte Dun & Bradstreet ihn nach Meridian, Mississippi. Drei Jahre später verlegte die Agentur ihn nach Columbia, South Carolina, wo das erste Kind des Paares, James William Anderson III, am 1. November 1937 geboren wurde. Eine Tochter, Mary Elizabeth, kam viereinhalb Jahre später.
Von Anfang an war der junge Billy Anderson von fast allem angezogen, was er im kleinen Philco-Radio der Familie hörte, insbesondere von den Live-Country-Musiksendungen, die über WIS, Kolumbiens ältesten und größten Sender, ausgestrahlt wurden. Seine Lieblingsnummer war Byron Parker and His Hillbillies, die in drei täglichen Shows zu sehen waren. Der Junge hörte aufmerksam zu, als der silberzüngige Parker, der sich "The Old Hired Hand" nannte, die Vorteile des Mehls, der Reifen und der Abführmittel seiner Sponsoren lobte. Parkers Tonhöhen wurden von der Musik und der breiten Komödie seiner erfahrenen Streicherband unterbrochen, darunter der Geiger Homer'Pappy' Sherrill, der Bassist/Comedian Julian'Greasy' Medlin und DeWitt'Snuffy' Jenkins, deren innovatives fünfsaitiges Banjo-Picking die wegweisenden Bluegrass-Stylisten Earl Scruggs und Don Reno inspirierte.
Die Nachbarn der Andersons hatten eine Tochter, die als Empfangsdame des WIS arbeitete. Als Billy fünf oder sechs Jahre alt war, nahm sie ihn mit zu einer Live-Übertragung von Parkers Morgensendung. "Byron Parker kam zu mir in die Ecke des Studios und sprach mit mir, fragte mich nach meinem Namen und stellte mir dann einige von ihnen vor...."
Bill Anderson The First 10 Years, 1956-1966 (4-CD)
Read more at: https://www.bear-family.de/anderson-bill-the-first-10-years-1956-1966-4-cd.html
Copyright © Bear Family Records
Bewertungen lesen, schreiben und diskutieren...
mehr
Kundenbewertungen für "The First 10 Years, 1956-1966 (4-CD Deluxe Box Set)"
Von:
Arne Pedersen
Am:
25.10.2017
Very good beginning
As always, Bear Family Box set never disapoint you. I know I got quite a few of them! When you reissue a decade in a box, and take all the artists recordings in that decade, one can hope for another box for the next decade, and that way you end up with all the artists recordings. This is the best way to collect records! Starting with the beginning. As for Bill Anderson, well; no he was not a great singer, but a very good songwriter, and the whole Nashville sound to it, makes it all allright! So if there should ever come another box, with the next decade, I'm in!
Von:
Ron Gwen
Am:
14.10.2017
Don't know what this means
I only knew Bill Anderson from his excellent hit songs. In fact I only cam across him through British comedian/crooner Ken Dodd who, in the 60s, put out 3 singles in a row, all of Bill Anderson songs, (Still, 8x10 and Happiness).

On CD1 the selection of Bill's 50s recordings are interesting, particularly the early version of City Lights but, in my opinion, Bill really came into his own during the 60s and the latter part of this CD contains several of his hit songs that still sound good today.

CD2 contains several cover versions. I always like to hear how other artists interpret well-known songs and Bill has chosen particularly well as his versions are much smoother than the hits and stand up well against them.

Two songs on this CD that I had not heard before but which I enjoyed very much were Me and Restless.

CD3 has Bill's versions of respectively Connie Smith's and Al Martino's hits Once A Day and Think I'll Go Somewhere (And Cry Myself To Sleep).

CD4 ends with 12 demos, including a duet with Dolly Parton and another Connie Smith hit, Nobody But A Fool. There is also a nice version of this song by Dean Martin on his LP The Hit Sound Of DM.

Overall, this set demonstrates what a supreme songwriter and performer Bill is, Quality all the way through.
Von:
Redecker
Am:
13.03.2014
Bill Anderson is Nashville's most successful and consistent songwriter of all time. This four-CD set covers the first 10 years of his recordings..This is a stunning release that is highly recommended.
Maverick 3-4/2012 Alan Cackett
Bewertung schreiben
Bewertungen werden nach Überprüfung freigeschaltet.
Weitere Artikel von Bill Anderson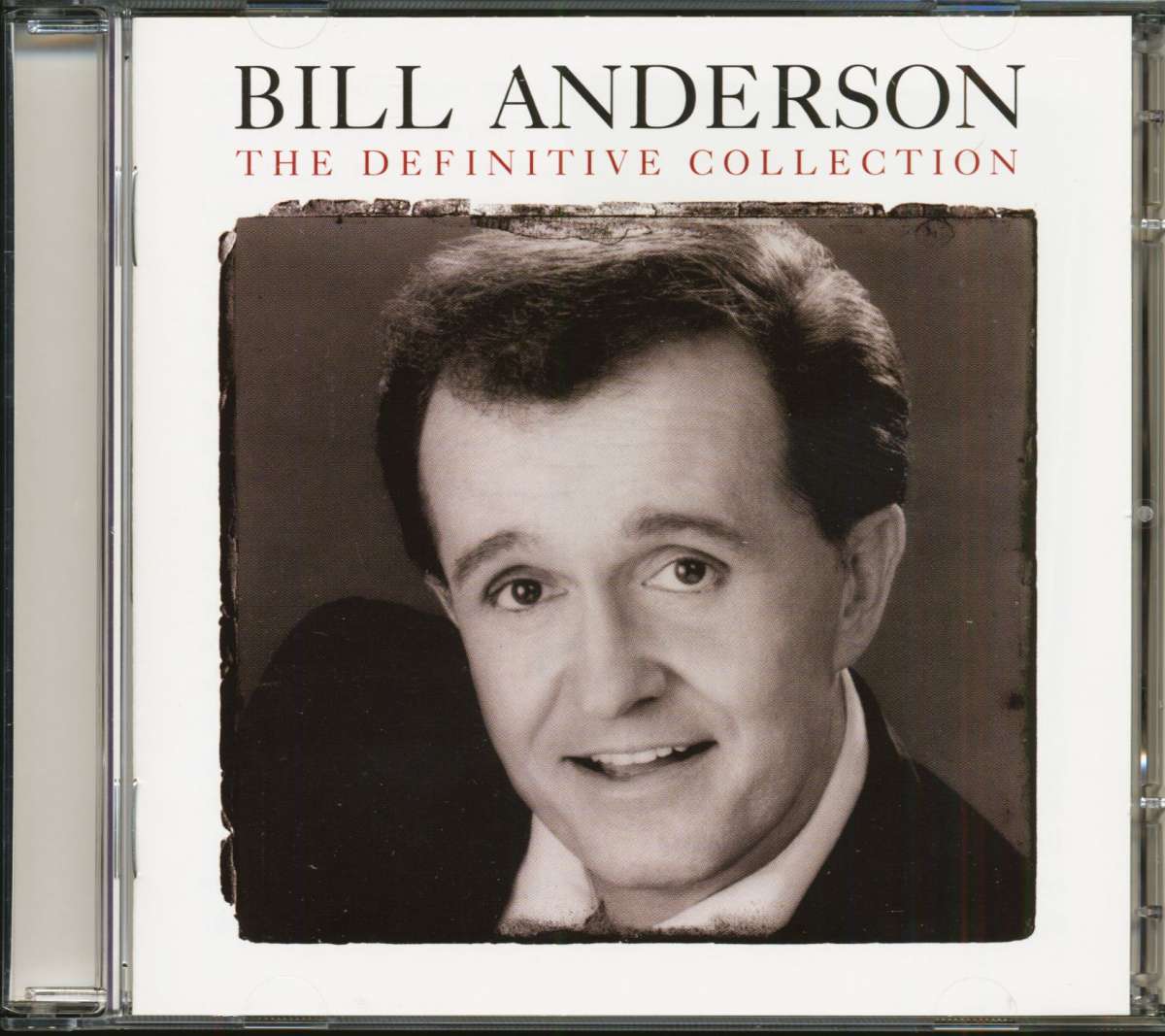 Bill Anderson: The Definitive Collection (2-CD)
Art-Nr.: CDHUMP133


Artikel muss bestellt werden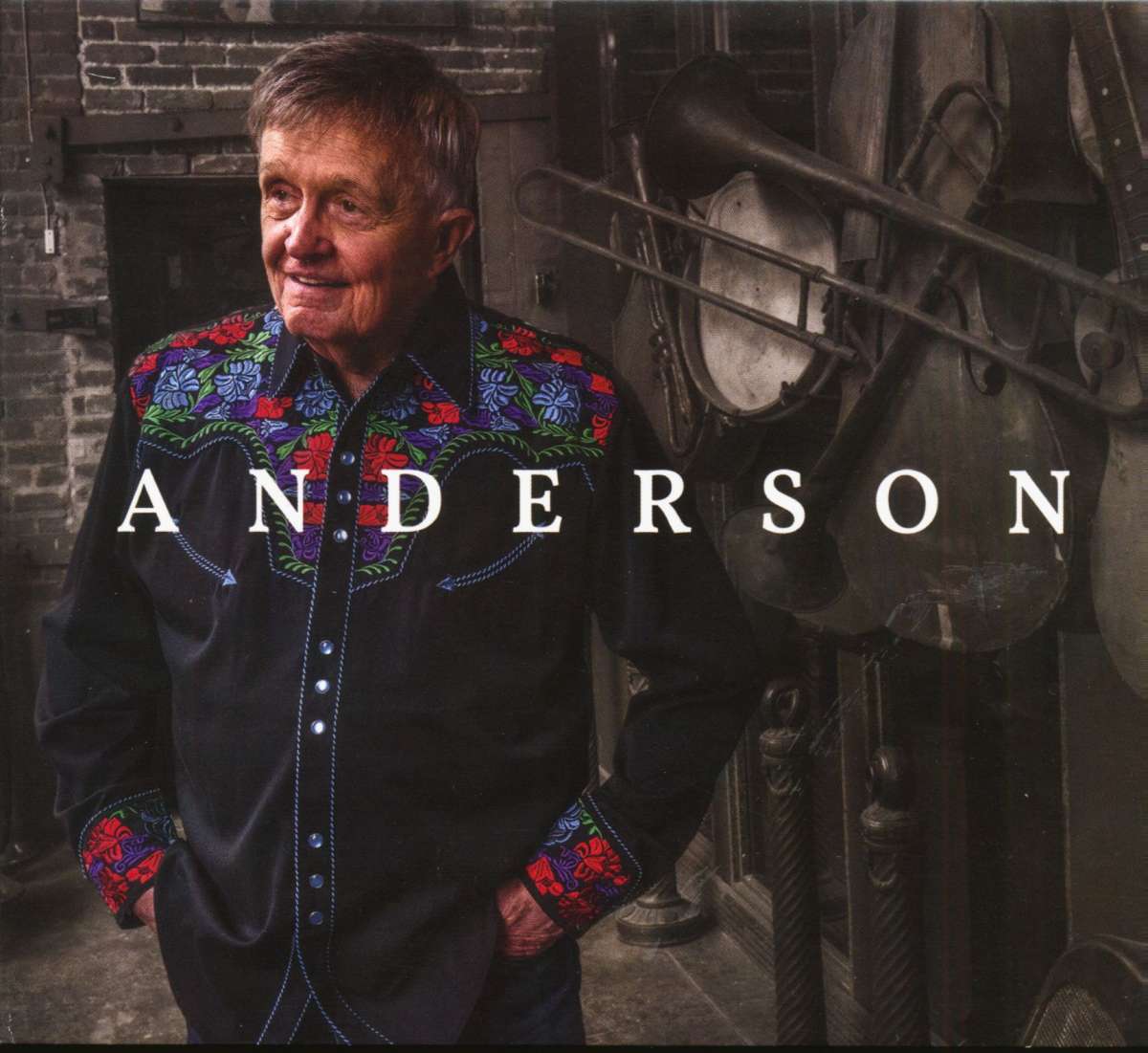 Bill Anderson: Anderson (CD)
Art-Nr.: CDTWI112


nur noch 1 verfügbar
Sofort versandfertig, Lieferzeit** 1-3 Werktage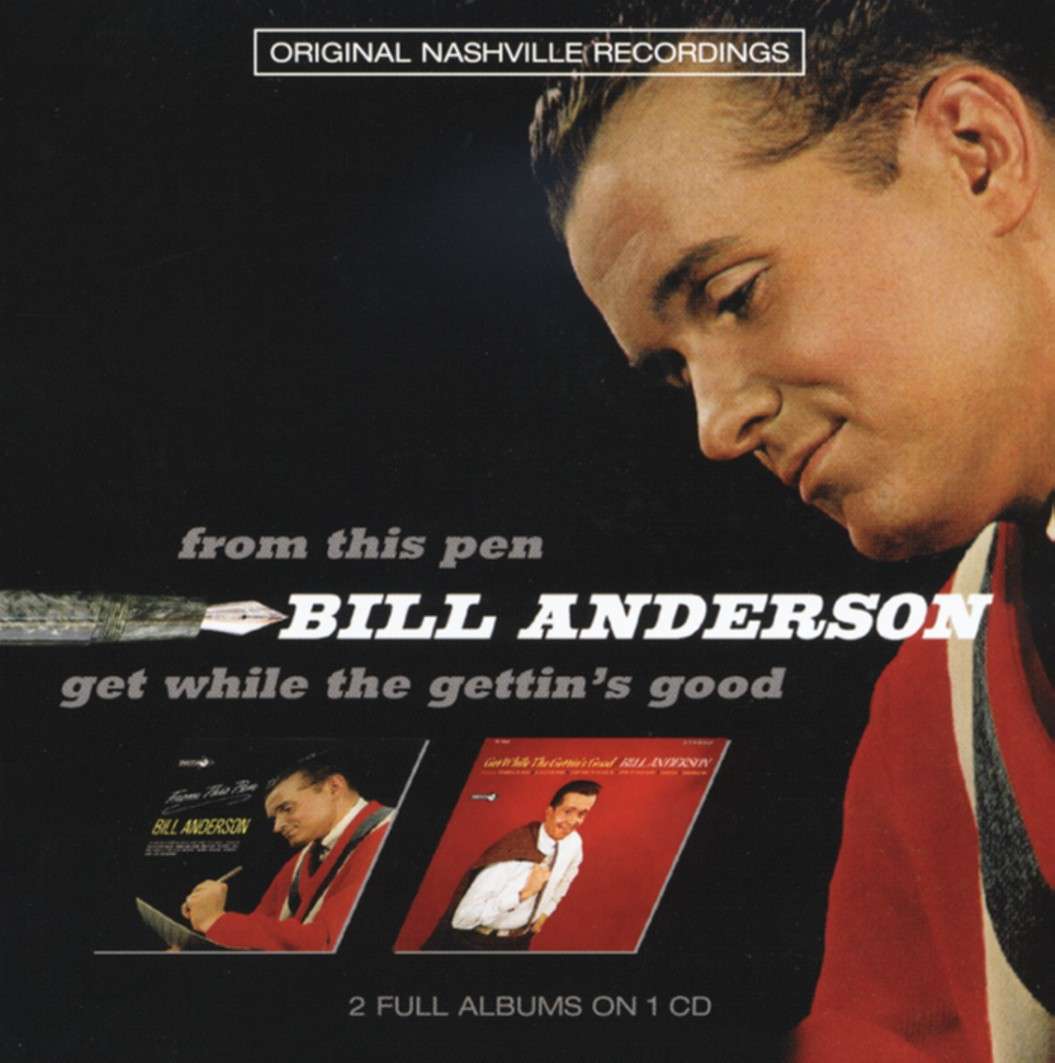 Bill Anderson: From This Pen - Get While The Gettin's Good
Art-Nr.: CDHUX130


Artikel muss bestellt werden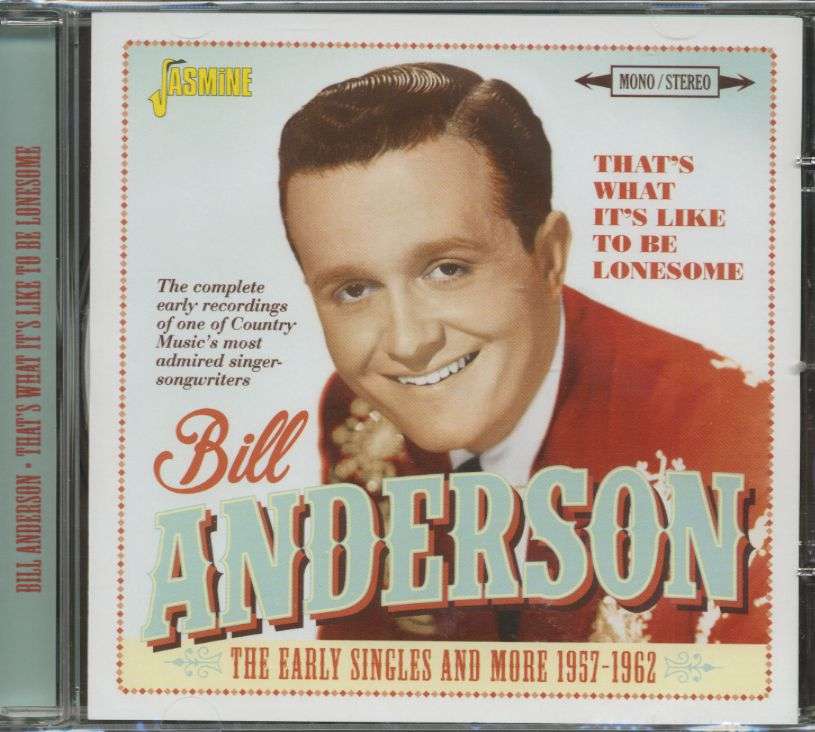 Bill Anderson: That's What It's Like To Be Lonesome (CD)
Art-Nr.: CDJAS3696


Artikel muss bestellt werden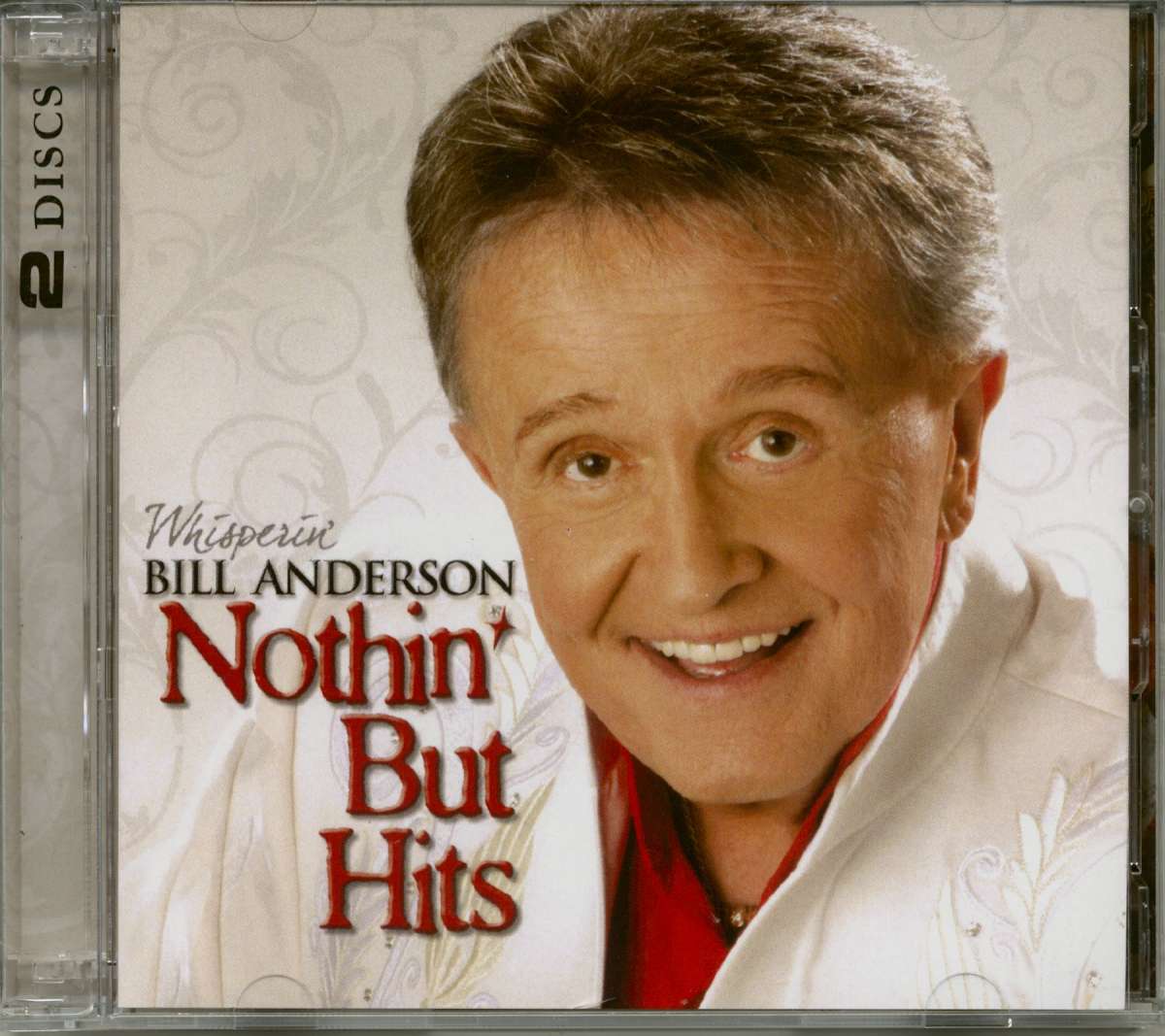 Bill Anderson: Nothing But Hits (2-CD)
Art-Nr.: CDBA20182


Artikel muss bestellt werden