Der Artikel wurde erfolgreich hinzugefügt.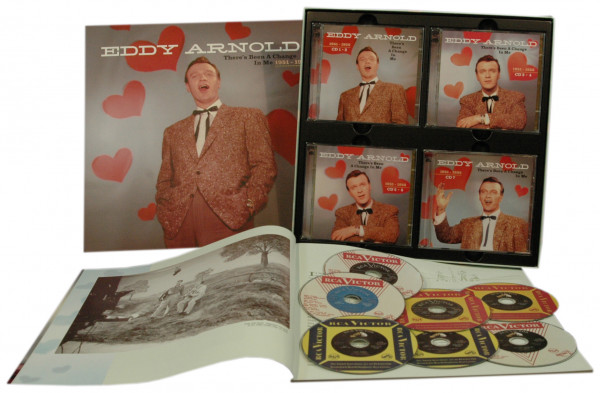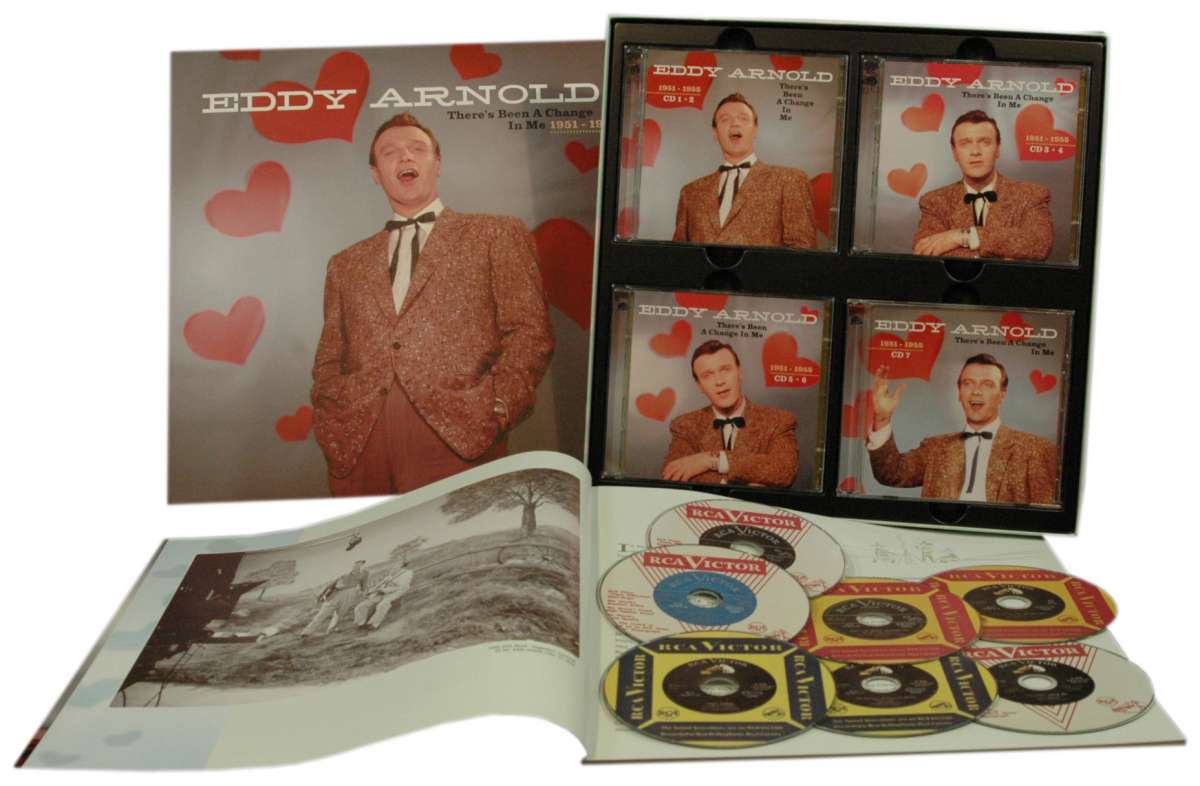 7-CD Box (LP-Format) mit 48-seitigem Buch, 166 Einzeltitel. Spieldauer ca. 432 Minuten. Diese...
mehr
Eddy Arnold: There's Been A Change (7-CD)
7-CD Box (LP-Format) mit 48-seitigem Buch, 166 Einzeltitel. Spieldauer ca. 432 Minuten.

Diese Box präsentiert zum ersten Mal alle Eddy Arnold-Aufnahmen aus den Jahren 1951 bis 1955, als Eddy Arnolds populärer 'Country-Politan'-Sound seinen Anfang nahm! Sie enthält Eddy Arnolds erste Session mit Orchester ' später ein Markenzeichen seiner Aufnahmen ' und seine Hits wie There's Been A Change In Me, I Wanna Play House With You, A Full-Time Job, You Don't Know Me und viele andere! Hinzu kommt Eddy Arnolds berühmte Session vom 28. April 1955 mit dem Arrangeur und Dirigenten Hugo Winterhalter: Das Resultat waren vier Top-10-Country-Hits, darunter die Nr. 1 Cattle Call ! Ebenfalls zu hören: die unveröffentlichte Originaleinspielung von Eddy Arnolds Nr.1-Hit von 1954, I Really Don't Want To Know nur mit Eddy Arnold (Gitarre) und dem Bassisten Charles Grean. Weiterer Höhepunkt sind die Instrumentals der Nashville-Stars Chet Atkins, Hank 'Sugarfoot' Garland, Marvin Hughes und Bob Moore sowie jene der New Yorker Session-Asse Al Chernet, George Barnes und Marty Gold! 44 Aufnahmen sind hiermit erstmals veröffentlicht.
Video von Eddy Arnold - There's Been A Change (7-CD)
Artikeleigenschaften von

Eddy Arnold: There's Been A Change (7-CD)
Albumtitel:

There's Been A Change (7-CD)

Genre

Country

Edition 2

Deluxe Edition

Preiscode

GI

Artikelart

Box set

EAN:

4000127165381

Gewicht in Kg:

1.3
Arnold, Eddy - There's Been A Change (7-CD)

Box set 1
01
Tennessee Hillbilly Ghost
02
Rollin' And Tossin'
03
I Wanna Play House With You
04
Call Her Your Sweetheart
05
He Knows
06
Puppy Love
07
I Wish I Knew
08
Heart Strings
09
Bundle Of Southern Sunshine
10
When You And I Were Young, Maggie
11
A Sinner's Prayer
12
I Wanna Play House With You
13
Roll Along Kentucky Moon
14
Trouble In Mind
15
When My Blue Moon Turns To Gold Again
16
No One Will Ever Know
17
Wild Flower
18
White Azaleas
19
I'll Still Belong To You
20
Somebody's Been Beating My Time
21
That Little Boy Of Mine
22
Open Thy Merciful Arms
23
The Old Rugged Cross
24
Have Thine Own Way, Lord
25
Take My Hand, Precious Lord
26
Anything That's Part Of You
27
Easy On The Eyes
28
This Is The Thanks I Get (For Loving You)
29
That's What Love Is All About
30
Someone Calls Me Daddy
31
(Don't Ever Take The) Ribbons From Your Hair
32
A Full Time Job
33
Shepherd Of My Heart
34
You Gotta Be Mine
35
Puppy Love
36
I'll Do As Much For You Someday
37
Have Thine Own Way, Lord
38
My Desire
39
When I've Done My Best
40
I Want To Thank You Lord
41
Smokey The Bear
42
Horace The Horse
43
I'd Trade All Of My Tomorrows
44
Older And Bolder
45
Lovin' Up A Storm
46
The Missouri Waltz
47
Condemned Without Trial
48
You Always Hurt The One You Love
49
Moonlight And Roses
50
I'm Waiting For Ships That Never Come In
51
The Old Rugged Cross
52
Have Thine Own Way, Lord
53
Someday, Somewhere
54
Today (Evening Song)
55
Angry
56
I Got Bad New For You
57
When Your Hair Has Turned To Silver
58
I'm Gonna Lock My Heart (And Throw Away The K
59
Ready Willing And Able
60
I'm Gonna Sit Right Down And Write Myself A L
61
Eddy's Song
62
This Is The Thanks I Get (For Loving You)
63
If I Never Get To Heaven
64
Your Left Over Kisses
65
How's The World Treating You
66
Free Home Demonstration
67
A Second Fling
68
Mama, Come Get Your Baby Boy
69
I Really Don't WantTo Know
70
I'll Never Get Over You
71
My Everything
72
Unfaithful Love
73
It Is No Secret (What God Can Do)
74
Crying In The Chapel
75
Beyond The Sunset
76
I Really Don't WantTo Know
77
Whispering Hope
78
The Chapel On The Hill
79
This Is The Thanks I Get (For Loving You)
80
I Was Foolish When I Fell In Love With You
81
Through A Stranger's Eyes
82
My Everything
83
The Chapel On The Hill
84
Robe Of Calvary
85
Prayer
86
I Called On The Master
87
'Twas The Dawn Of A Beautiful Day
88
When It's Round-Up Time In Heaven
89
The Touch Of God's Hand
90
Just Call Me Lonesome
91
Hep Cat Baby
92
The Mills Of The Gods
93
A Dozen Hearts
94
When You Said Goodbye
95
Hep Cat Baby
96
If She Will
97
Live Fast, Love Hard, Die Young
98
This Is The Thanks I Get (For Loving You)
99
When You Said Goodbye
100
No One To Cry To
101
Shame On You
102
Cold Cold Heart
103
So Round, So Firm, So Fully Packed
104
I Love You So Much It Hurts
105
Christmas Can't Be Far Away
106
Someday (You'll Want Me To Want You)
107
Sittin' On Santa Claus' Lap
108
Slow Poke
109
You Can't Be True Dear
110
(Now And Then, There's) A Fool Such As I
111
Tennessee Waltz
112
Do You Miss Me
113
Don't Forget
114
I've Been Thinking
115
I Always Have Someone To Turn To
116
I Wouldn't Know Where To Begin
117
I'm Your Private Santa Claus
118
I Don't Hurt Anymore
119
(Gonna Get Myself A) Brand New Sandman
120
Two Kinds Of Love
121
In Time
122
Each Time You Leave
123
It Took A Miracle
124
A Present For Santa Claus
125
The Horse In Striped Pajamas
126
Why Daddy
127
Unchained Melody
128
His Hands
129
Silver Moon
130
Making Believe
131
The Cattle Call
132
The Richest Man
133
The Kentuckian Song
134
I Walked Alone Last Night
135
Home On The Range
136
Wanderin'
137
On Top Of Old Smokey
138
Sweet Betsy From Pike
139
The Lonesome Road
140
The Wayfaring Stranger
141
Sometimes I Feel Like A Motherless Child
142
Barbara Allen
143
Across The Wide Missouri
144
Down In The Valley
145
Red River Valley
146
I Gave My Love A Cherry
147
Careless Love
148
The Rovin' Gambler
149
If She Will
150
That Do Make It Nice
151
I'll Be Satisfied
152
I'll Be Satisfied
153
Do You Know Where God Lives
154
Bayou Lullaby
155
You Don't Know Me
156
Puppy Love
157
Heart Strings
158
Bundle Of Southern Sunshine
159
Trouble In Mind
160
Trouble In Mind
161
Wild Flower
162
I'll Still Belong To You
163
Somebody's Been Beating My Time
164
Have Thine Own Way, Lord
165
This Is The Thanks I Get (For Loving You)
166
This Is The Thanks I Get (For Loving You)
EDDY ARNOLD 1918 - 2008 Als er seine ersten Plattenaufnahmen machte, nannte man ihn den...
mehr
"Eddy Arnold"
EDDY ARNOLD 1918 - 2008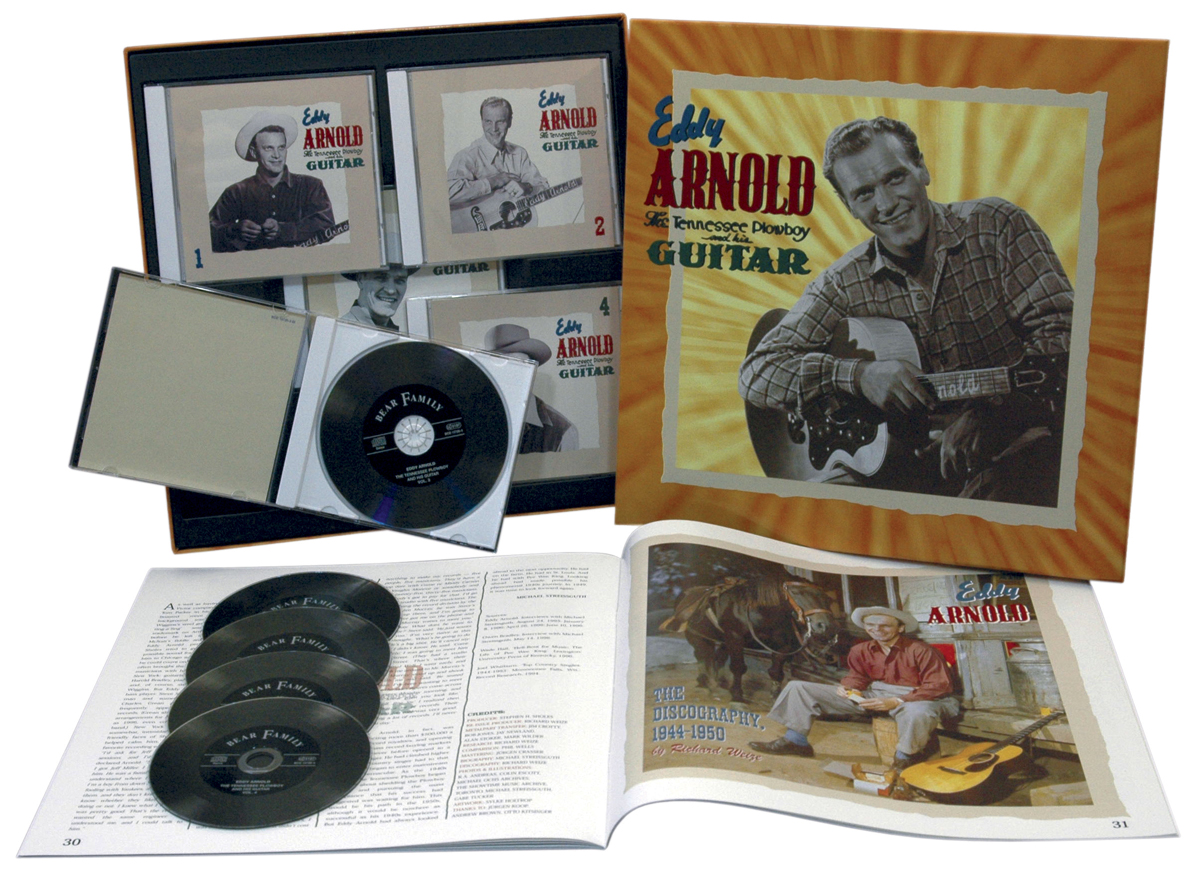 Als er seine ersten Plattenaufnahmen machte, nannte man ihn den 'Tennessee Plowboy', aber schon damals wollte er nie mehr auf eine Farm zurückkehren. Eddy Arnold starb am 8. Mai 2008, kurz vor seinem 90. Geburtstag. Er lebte in Brentwood, Tennessee, einer Stadt, die er gewissermaßen mit aufbaute und weiterentwickelte. Er hat rund 85 Millionen Schallplatten verkauft, darunter waren 37 Pop- und nahezu 150 Country-Hits. Seit den Vierzigern stand er in jedem Jahrzehnt mit Titeln in den Hitparaden. 1948 gab es – außer Arnold-Nummern – nur einen einzigen (!) anderen Song, der es auf Platz 1 der Country-Charts schaffte. Er war außerdem mitverantwortlich dafür, daß die Country Music allgemein populärer wurde. Bill C. Malone schrieb in 'Country Music USA': "Obwohl seine Musik nicht von allen Traditionalisten akzeptiert wurde, war Mr. Arnold einer der ultimativen Titanen der Nashville-Musik. Seine Stimme war ein unbemühtes, einnehmendes Schmeicheln, das manchmal an eine Klarinette in einer tiefen Tonlage erinnerte; und obwohl er Streicher und eine opulente Instrumentierung bevorzugte, brachte er seine Songs mit nur wenigen Ausschmückungen rüber." Und Peter Cooper befand in 'The Tennessean': "Mr. Arnold war ein Multimillionär, der aber gern mit Freunden in einfachen Restaurants an der 8th Avenue essen ging. Er war ein Baulöwe, der die grüne, freie Natur liebte. Er war ein stolzer Junge vom Land, der stets bemüht gewesen ist, den Einfluß der Musik aus dem Süden auch auf die amerikanischen Städte zu übertragen. Er war ein Star, eine treibende Kraft und ein charmanter Mensch."
Richard Edward Arnold wurde am 15. Mai 1918 auf einer Farm in Chester County, Tennessee, geboren – rund 20 Meilen südlich von Jackson. Sein Vater starb, als Eddy 11 Jahre alt war, und die Familie verarmte. Auf dem Höhepunkt der Weltwirtschaftskrise sah er keinen anderen Ausweg, als es mit Singen zu versuchen. Schon in seinen Jugendjahren war er in und um Jackson im Radio zu hören, und 1938 sang er für Sender und in Clubs von St. Louis. Eines Tages hörte er auf WSM, daß Pee Wee King keinen Sänger mehr hatte. Arnold erhielt die Chance zum Vorsingen und wurde im Januar 1940 Mitglied von Kings Golden West Cowboys. Im November 1941 heiratete er Sally Gayhart, mit der er bis zu ihrem Tod im März 2008 zusammenlebte.
Nachdem er Pee Wee King verlassen hatte, wurde Colonel Tom Parker sein Manager, und 1944 unterschrieb Arnold einen Vertrag bei RCA Victor Records. Im Dezember 1944 nahm er im WSM-Studio B Cattle Call auf – gewissermaßen die Geburt der Nachkriegs-Musikindustrie in Nashville. Schnell folgte Hit auf Hit: That's How Much I Love You, It's A Sin, I'll Hold You In My Heart und viele andere. 53 Wochen in Folge stand er auf Platz 1 der Singles-Country-Charts und – wie schon erwähnt – 1948 gab es nur ganze zwei Wochen, an denen er nicht den Spitzenplatz belegte. Autor Don Cusic: "Er verkaufte mehr Platten als Hank Williams, Lefty Frizzell und jeder andere Country-Künstler. Außerdem überwand er die Grenzen Nashvilles und die der Country Music und hatte infolge seiner TV-Shows und –Auftritte immensen Einfluß auch auf die amerikanischen Pop-Hörer."
Arnold war stets aufgeschlossen gegenüber Veränderungen, um seine Musik aktuell zu gestalten – er hat auch nie bestritten, wie sein Ziel lautete: Schallplatten verkaufen! Allein 1951 verbuchte er 13 Nr.-1-Hits in den Country-Charts, und seine 1953er-Einspielung von I Really Don't Want To Know deutete bereits den Crossover-Effekt des Nashville Sounds an. Der Rock 'n' Roll drosselte dann seine Verkaufszahlen, doch er kam als Pop-Crooner mit Hits wie What's He Doing In My World und dem Klassiker Make The World Go Away zurück. 1966 trat er in der Carnegie Hall auf und wurde in die Country Music Hall of Fame aufgenommen. Er ging mit einem großen Orchester auf Tournee und war regelmäßig landesweit Gast im Fernsehen.
Und obwohl seine Verkaufszahlen weiter langsam sanken, nahm Eddy Arnold neue Schallplatten auf. RCA veröffentlichte 2005 sein 100. Album, 'After All This Time'. "Als ich ihn vor wenigen Wochen traf, hatte er Pläne für eine weitere LP", sagt Joe Galante (Nashville-Chef von SonyBMG/RCA). "Er wirkte stets besonders glücklich, wann immer er über Musik sprach – und genau so werde ich ihn im Gedächtnis behalten." Eddy Arnold wurde in der Country Music Hall of Fame aufgebahrt und im Kreis seiner Familie in Brentwood beigesetzt.
The Tennessee Plowboy
5-CD Box-Set (LP-size) with 40-page book
BCD15726 EI
ISBN:978-3-89795-282-9
Cattle Call
Country, Western
CD with 16-page booklet
BCD 15441 AH
ISBN:978-3-89795-030-6
Bewertungen lesen, schreiben und diskutieren...
mehr
Kundenbewertungen für "There's Been A Change (7-CD)"
Von:
Parker
Am:
21.09.2017
My Boy
great set thank you
Von:
Hermann K.
Am:
22.08.2017
Wow
Alles, was man braucht. Top!!
Bewertung schreiben
Bewertungen werden nach Überprüfung freigeschaltet.
Weitere Artikel von Eddy Arnold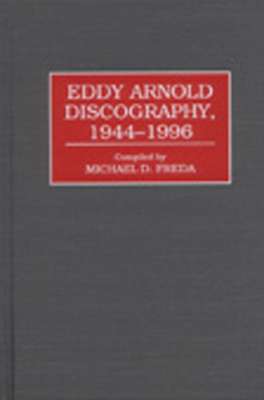 Eddy Arnold: Michael D. Freda: Discography 1944-1996
Art-Nr.: 0001015


Sofort versandfertig, Lieferzeit** 1-3 Werktage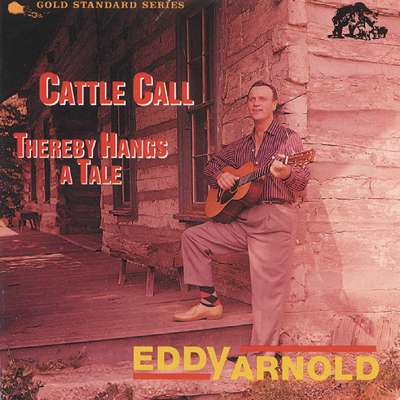 Eddy Arnold: Cattle Call
Art-Nr.: BCD15441


Sofort versandfertig, Lieferzeit** 1-3 Werktage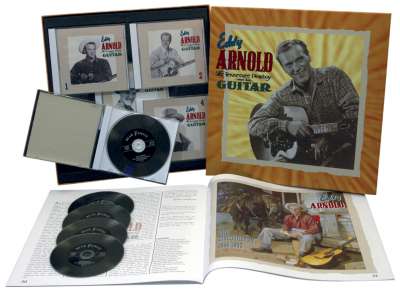 Eddy Arnold: The Tennessee Plowboy And His Guitar (5-CD Box...
Art-Nr.: BCD15726


Sofort versandfertig, Lieferzeit** 1-3 Werktage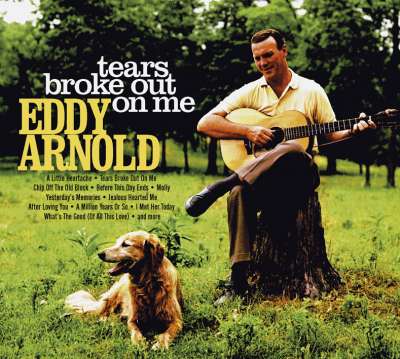 Eddy Arnold: Tears Broke Out On Me
Art-Nr.: BCD17205


Sofort versandfertig, Lieferzeit** 1-3 Werktage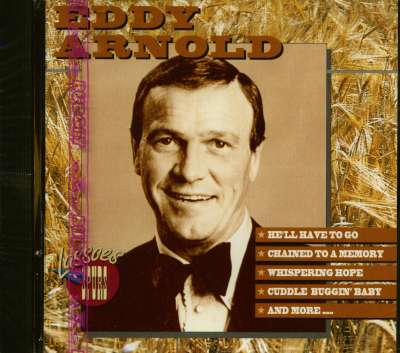 Eddy Arnold: Lassoes 'n' Spurs (CD)
Art-Nr.: CD17232


Sofort versandfertig, Lieferzeit** 1-3 Werktage