Der Artikel wurde erfolgreich hinzugefügt.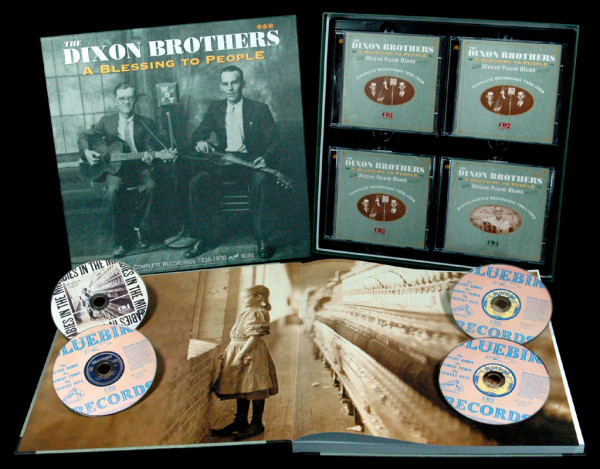 89,95 € *
94,95 € *
(5,27% gespart)
inkl. MwSt. / zzgl. Versandkosten - Abhängig vom Lieferland kann die MwSt. an der Kasse variieren.
Sofort versandfertig, Lieferzeit** 1-3 Werktage
4-CD Box (LP-Format) mit 164-seitigem gebundenem Buch, 121 Einzeltitel, Spieldauer ca. 342...
mehr
Dixon Brothers: A Blessing To People (4-CD Deluxe Box Set)
4-CD Box (LP-Format) mit 164-seitigem gebundenem Buch, 121 Einzeltitel, Spieldauer ca. 342 Minuten.
'
Dorsey Dixon
ist der Hofdichter der [US-amerikanischen] Textilindustrie'. - Archie Green. Dieses Standardwerk ist einem der herausragenden Gebrüder-Gespanne im Hillbilly zur Zeit der Großen Depression gewidmet, eine Schatzgrube voller kirchlicher und weltlicher Musik sowie Liedern aus dem industriellen Arbeitsleben der Carolina-Region. Die meisten Songs wurden von Dorsey M. Dixon geschrieben, dem Autor von 'Wreck On The Highway' und weiterer Country-,
Bluegrass
- und Folkmusic-Standards, allesamt wahre Klassiker des Americana-Genres! Diese Box enthält sämtliche erhalten gebliebenen Aufnahmen der
Dixon Brothers
und der mit ihnen verbundenem Formationen, erstmals in einer Edition zusammengefasst! Darüber hinaus enthält diese Edition zusätzlich dreiunddreißig Soloaufnahmen von Dorsey M. Dixon aus den Jahren 1961/62 und die Originalversionen von
Weave Room Blues, Spinning Room Blues, Down With The Old Canoe, Two Little Rosebuds, Intoxicated Rat
und
I Didn't Hear Anybody Pray
(auch bekannt als
Wreck On The Highway
) sowie mehr als zwei Dutzend zuvor unveröffentlichte Aufnahmen!
Die Brüder Dorsey und
Howard Dixon
arbeiteten zusammen in den Tuchfabriken von East Rockingham in North Carolina. Ab 1932 traten sie gelegentlich als Duo mit Gitarre und Steelgitarre auf. Ihre tief bewegenden Lieder und ihre sich ums Weben drehenden Blues verschafften ihnen zwei Jahre später einen regelmäßigen Hörfunk-Spot bei 'Crazy Barn Dance' auf WBT. Zwischen 1936 und 1938 nahmen die
Dixons
- entweder zusammen oder mit anderen Partnern - mehr als neunzig Stücke für RCA-Victor auf, darunter spätere Klassiker wie
Weave Room Blues, Spinning Room Blues, Intoxicated Rat
,
Down With The
Old Canoe
und
I Didn't Hear Anybody Pray
. Die Dixon Brothers wurden zu einem der bestbekanntesten und populärsten Hillybilly-Gebrüdergespanne während der Großen Depression. Diese CD-Box widmet sich erstmals umfassend der bemerkenswerten Arbeit der Dixon Brothers.
Die akribisch restaurierten Songs auf dieser 4-CD-Box umfassen jede noch erhaltene Aufnahme der Dixon Brothers und der mit ihnen verbundenen Formationen. Das 164-seitige gebundene, LP-große Begleitbuch enthält einen neuen biografischen Beitrag und ausführliche Erläuterungen zu den einzelnen Liedern, geschrieben von dem Historiker Patrick Huber. Hinzu kommen viele seltene und zuvor nie gezeigte Fotografien, sämtliche Liedtexte, eine detaillierte Diskografie und Reproduktionen der Original-Sessionaufzeichnungen.
Authentische Musik aus dem Americana-Genre gewinnt Jahr für Jahr an Popularität. Die meisten dieser 'klassischen' Aufnahmen sind seit den Tagen der Großen Depression nicht mehr gehört worden
Artikeleigenschaften von

Dixon Brothers: A Blessing To People (4-CD Deluxe Box Set)
Albumtitel:

A Blessing To People (4-CD Deluxe Box Set)

Genre

Country

Preiscode

DK

Edition 2

Deluxe Edition

Artikelart

Box set

EAN:

4000127168177

Gewicht in Kg:

2.1
The Dixon Brothers Mitglieder: Dorsey Murdock Dixon, geb. 14.10.1897 in Darlington - South...
mehr
"Dixon Brothers"
The Dixon Brothers
Mitglieder: Dorsey Murdock Dixon, geb. 14.10.1897 in Darlington - South Carolina, gest. 17. 4. 1968 Howard Dixon, geb. 19. 6. 1903 in Darlington - South Carolina, gest. 24. 3. 1961 Record Labels: RCA, Vanguard, Piedmont, Testament The Dixon Brothers, ein interessantes Duo der 30er Jahre, wurde stark von Darby&Tarlton beeinfiußt. ln seinen Songs offenbart sich eine beißende Sozialkritik an den Zuständen in den Baumwollwebereien. Dorsey Dixon trat als Solist bei den Newport Folk Festivals der 60er Jahre auf und hat auch noch ein paar L.P.s eingespielt.
The Dixon Brothers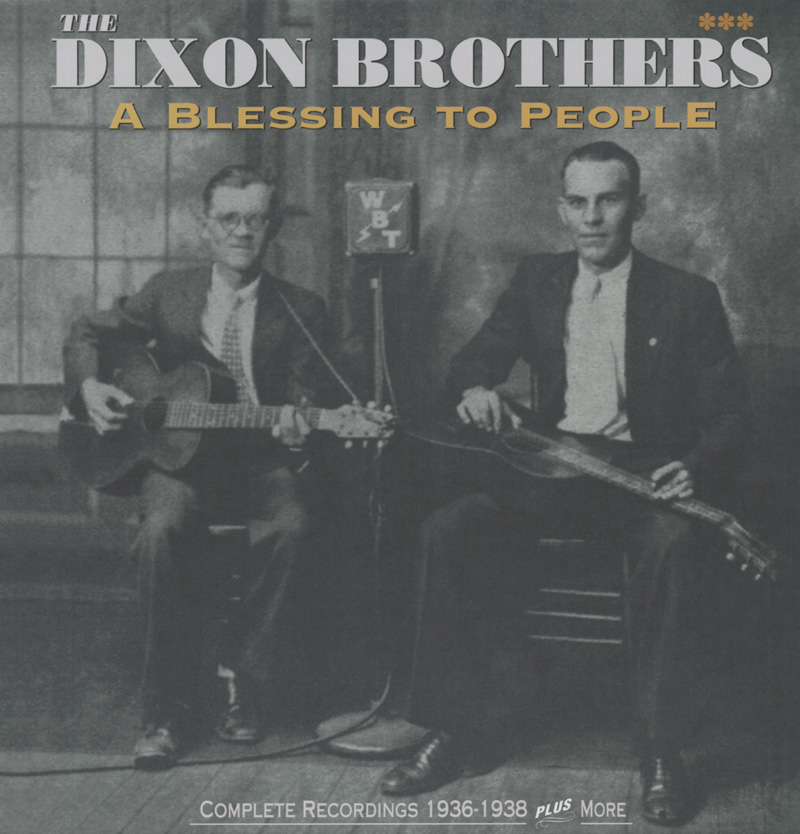 THE DIXON BROTHERS
9. Weave Room Blues
(Dorsey M. Dixon)
Bluebird B 6441; Montgomery Ward M 7024
Im Textilgürtel der Carolinas unterhielten Dorsey und Howard Dixon ihre Zuhörer per Radio und Schallplatte. Ihre selbst geschriebenen Songs beschrieben das Leben in dem von der Depression gebeutelten Süden. Die meisten Songs schrieb Leadsänger Dorsey Dixon. Die Dixon Brothers kombinierten religiöse Lieder und humorvolles neues Material mit fesselnden Geschichten über heimische Tragödien oder den Frust der Fabrikarbeit. Ihre Veröffentlichungen auf Bluebird wurden weit über die Region des Piedmont hinaus begeistert aufgenommen. Mit der Wiederveröffentlichung von Intoxicated Rat auf Victors Zusammenstellung 'Smoky Mountain Ballads' im Jahr 1941 führte der Folklorist John A. Lomax die Dixon Brothers bei städtischen Freunden der Folkmusic im Norden ein. Roy Acuff machte I Didn't Hear Anybody Prayvon den Dixons zum Country-Hit WreckOn The Highway. Pioniere des Folk Revivals wie Woody Guthrie, Pete Seeger und Jean Ritchie coverten jeweils mindestens einen Song der Dixons, ebenso wie Jahre später Doc Watson, George Jones, Townes Van Zandt und Brook Benton.
Dorsey Murdock Dixon wurde am 14. Oktober 1897 in Darlington, South Carolina geboren. Er kam zu früh auf die Welt, wog lediglich drei Pfund und überlebte das Säuglingsalter nur knapp. Sein Bruder Howard Britten Dixon wurde am 19. Juni 1903 in der Nähe von Kelleytown geboren. Die Eltern von sieben Kindern waren kleine Landpächter und Arbeiter in den Baumwollspinnereien Darlingtons.
Dorsey Dixon beherrschte im Alter von fünfzehn Jahren Fiddle und Gitarre; seine jüngeren Brüder Howard und Tommy übten sich im Harmoniegesang. Tommy starb 1920 im Alter von 15 Jahren und nun sangen Dorsey und Howard zusammen.
Nachdem er fünf Jahre als Eisenbahnsignalwärter gearbeitet hatte, kündigte Dorsey 1920 und wurde Weber in einer Baumwollspinnerei. Howard folgte ihm und bekam einen Job als Springer.[i] 1925 zog Dorsey nach Rockingham, North Carolina, um dort als Weber in der Hannah Pickett Mill zu arbeiten. Howard und seine Familie schlossen sich ihm bald an. Die Brüder gründeten ein Duo; Dorsey spielte Fiddle und Howard begleitete ihn auf der Gitarre. 1931 besuchten sie ein privates Konzert von Jimmie Tarlton, einem Kollegen aus der Spinnerei. Tarlton spielte Steelgitarre und sang Tenorstimme. Im Duo mit Tom Darby spielte er eine Reihe von populären Columbia-Platten ein. Nachdem die Brüder ein paar Stücke gesungen hatten, zeigte Tarlton Dorsey, wie man mit Fingerpicks spielt. Kurz darauf erwarb Howard eine einfache Gitarre, hob die Saiten über dem Griffbrett an und experimentierte mit einem kleinen Rundstahl und offener Hawaii-Stimmung.
Während er an sechzehn Webstühlen arbeitete, schrieb Dorsey Weave Room Blues, ein Lied, das die Härte des Jobs und die Schwierigkeiten, mit dem Lohn eines Webers über die Runden zu kommen, beschrieb. Als die lokale Tageszeitung, die 'Rockingham Post-Dispatch', den Liedtext am 25. Februar 1932 abdruckte, fürchtete Dorsey um seinen Job. Der Besitzer der Spinnerei jedoch mochte den Song und suchte Dorsey in der Weberei auf, um ihm zu gratulieren.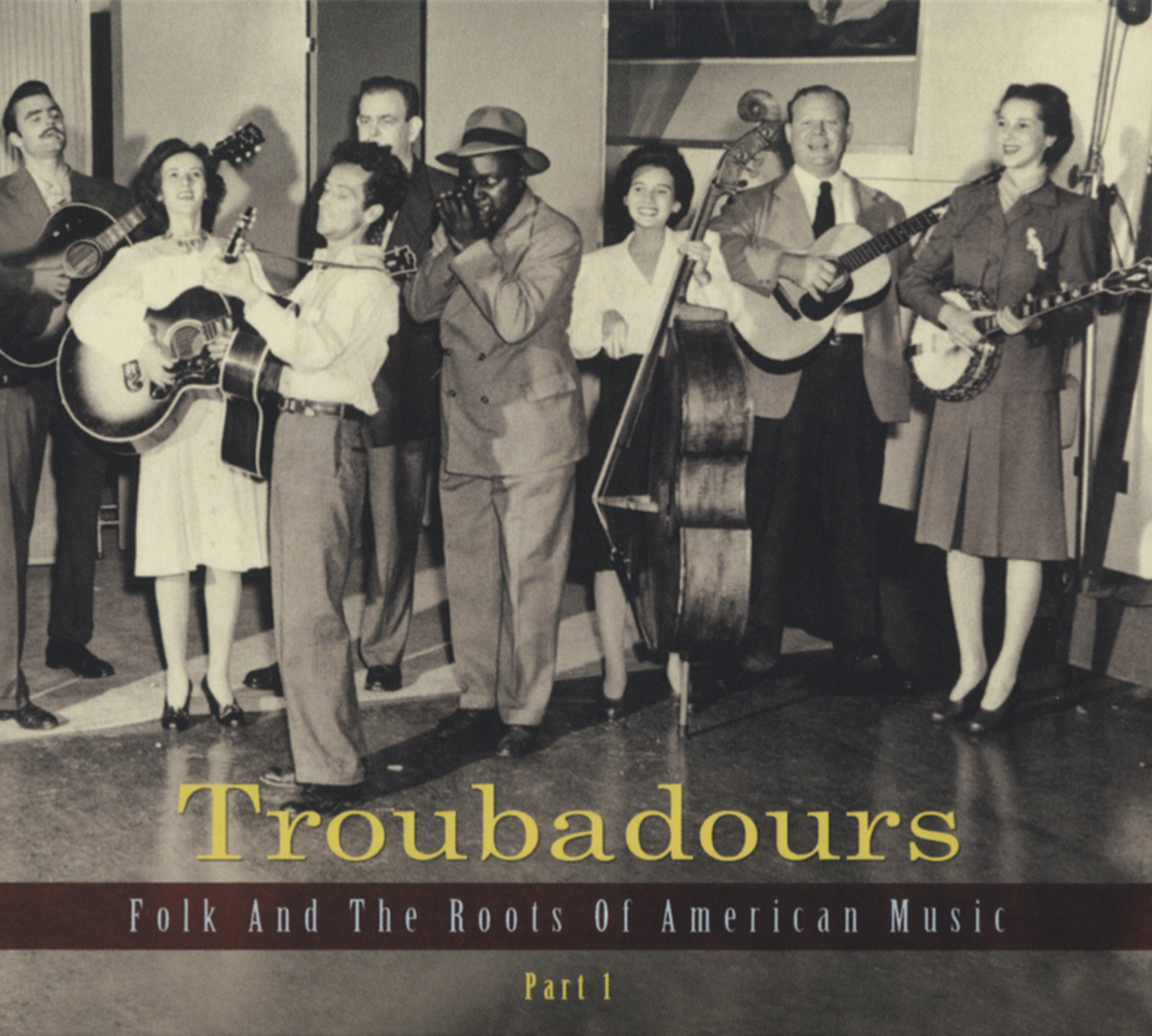 5. The Midnight Special (& The Golden Gate Quartet)
Anfang 1934 spielten die Brüder mit Erfolg bei 'The Crazy Barn Dance' vor, einer neuen Country Music Show auf WBT in Charlotte. Die beiden kündigten ihre Jobs in Rockingham und traten im Duo und als Teil von J.E. Mainer's Mountaineers auf. Das ständige Unterwegssein und die schlechte Bezahlung belastete das Familienleben, deshalb kehrten sie im Oktober 1935 schließlich zu den Spinnereien zurück. Ein Talentsucher von Victor hatte sie jedoch im Radio gehört und bot ihnen einen Schallplattenvertrag an.
Die ersten Aufnahmen für Bluebird entstanden am 12. Februar 1936 in Charlotte. Die Dixon Brothers hatten sechs Songs vorbereitet, darunter den Weave Room Blues, der bei den Hörern von WBT äußerst beliebt war. Dieser Song erschien auf der zweiten Platte für Bluebird. Nach Aussage von Patrick Huber, Historiker und Dixon-Experte, verkaufte sich Weave Room Bluesin der Piedmont-Region gut. Es gab sogar eine Coverversion von Fisher Hendley auf Vocalion. Dieser Song könnte Pete Seeger zu seinem Winnsboro Cotton Mill Blues inspiriert haben, den er 1947 aufnahm. Beide Songs erinnern in ihrer Melodie an den Pophit Alcoholic Blues aus dem Jahr 1919, geschrieben von Edward Laska und Albert Von Tilzer.
Bis zur Beendigung ihrer Partnerschaft im Jahr 1939 nahmen Dorsey und Howard Dixon fünfundfünfzig Songs für Bluebird auf. Unweigerlich kehrten beide Männer in die Textilfabrik zurück. Howard ging nach East Rockingham. Dorsey zog zuerst nach Greenville, South Carolina, und 1947 nach New York; ein Jahr später folgte er seinem Bruder in die Aleo Mill von East Rockingham.
[i] Je nachdem was gerade anfiel oder wer gerade ausfiel – der Springer musste überall ran.
Various - Troubadours Troubadours -
Various - Troubadours Teil 1, Folk und die Wurzeln amerikanischer Musik (3-CD)
Read more at: https://www.bear-family.de/various-troubadours-teil-1-folk-und-die-wurzeln-amerikanischer-musik-3-cd.html
Copyright © Bear Family Records
Bewertungen lesen, schreiben und diskutieren...
mehr
Kundenbewertungen für "A Blessing To People (4-CD Deluxe Box Set)"
Von:
Roelof Post.
Am:
21.07.2018
prima.
leuke stijl heerlijk naar te luisteren.
Von:
Redecker
Am:
13.03.2014
Thank you to everyone who made possible this fine tribute to Dorsey and Howard Dixon. A Blessing to People is just that.
The Old-Time-Herald 11/2013 Sarah Bryan
Von:
Redecker
Am:
13.03.2014
Real deal hillbilly music direct from the mother lode. This box set features all the Dixon Brothers recordings that are still availalble.
Maverick 5-6/2013 Alan Cackett
Von:
Redecker
Am:
13.03.2014
Ein beeindruckendes Zeit- und Musikdokument aus der \Great Depression\"-Ära.
Stereoplay 10/2011"
Von:
Redecker
Am:
13.03.2014
Man muss Bear Family einmal mehr für diese archivarische Arbeit der Extraklasse danken - und hält mit dieser Box einen einmaligen Schatz in den Händen.
Good Times 5/2012 Ulrich Schwartz
Von:
Redecker
Am:
13.03.2014
Honouring the forgotten troubadours of the Carolina cotton mills. It's shot through with musicality, of songs made by and for the people.
Record Collector 10/12 Tim Holmes
Von:
Redecker
Am:
13.03.2014
Ein richtige Leckerbissen für den Sammler! Umfassend,einmalig und beeidruckend ist diese Zusammnestellung, ein Baustein im Fundament der Entstehung der heutigen Country Music.
Western Mail 8/12 Manfred Hesse
Bewertung schreiben
Bewertungen werden nach Überprüfung freigeschaltet.
Weitere Artikel von Dixon Brothers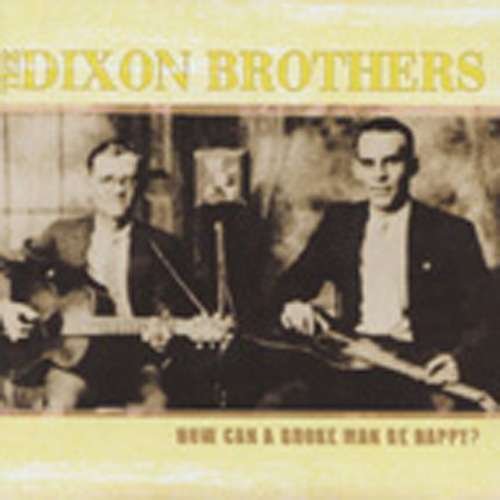 Dixon Brothers: How Can A Broke Man Be Happy
Art-Nr.: CDACM4022


Artikel muss bestellt werden