Der Artikel wurde erfolgreich hinzugefügt.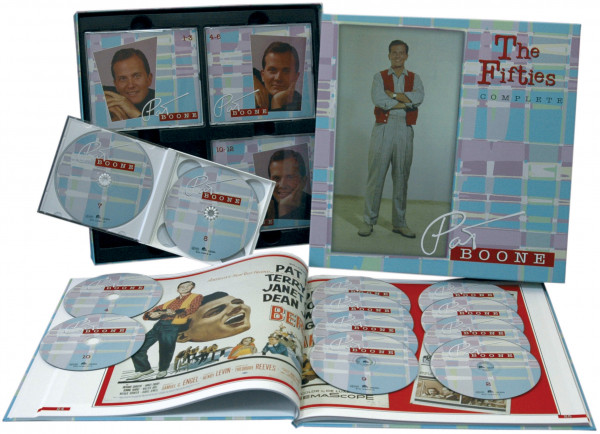 Artikel-Nr.:

BCD15884

Gewicht in Kg.:

2.6
12-CD Box Album (LP-Format) mit 84-seitigem gebundenem Buch, 347 Einzeltitel. Spieldauer ca. 865...
mehr
Pat Boone: The Fifties - Complete (12-CD)
12-CD Box Album (LP-Format) mit 84-seitigem gebundenem Buch, 347 Einzeltitel. Spieldauer ca. 865 Minuten.

Er mag nicht der König des Rock'n Roll gewesen sein, doch war Pat Boone sicher der König der Hit Parade während der Rock'n Roll Ära. Er sang Balladen mit einem Beat und flottoe Pop Melodien wie I'll Be Home, Don't Forbid Me, Love Letters In The Sand, Why Baby Why und I Almost Lost My Mind. Hits wie diese hielten ihn von 1955-1959 jede Woche in den Charts.

Dieses Boxset enthält die seltene 1953er Repubic Aufnahmen von Pat Boone und jede Dot Single, die in den Fünfzigern gemacht wurde - über 320 Stücke insgesamt. Hier sind die original Mono Versionen von Pat Boone's Hits (nie zuvor auf CD Album), außerdem die geläufigeren Stereo Remakes von 1959. Alle Alben von Pat Boone aus den Fünfzigern sind dabei (die meisten in stereo) sogar ein unveröffentlichtes Album.
Ferner gibt es 88 zuvor unveröffentlichte Aufnahmen, darunter unveröffentlichte Versionen einiger großer Hits wie Friendly Persuasion, Love Letters, A Wonderful Time Up There, Too Soon To Know und andere. Abgerundet wird das Boxset mit einem 88seitigen Buch in festem Einband und LP Format mit einer Biographie , Duscographie und zahlreichen Fotos von Pat Boone, die aus seiner persönlichen Sammlung stammem.
Artikeleigenschaften von

Pat Boone: The Fifties - Complete (12-CD)
Albumtitel:

The Fifties - Complete (12-CD)

Genre

Rock'n'Roll

Edition 2

Deluxe Edition

Preiscode

LK

Artikelart

Box set

EAN:

4000127158840

Gewicht in Kg:

2.6
Boone, Pat - The Fifties - Complete (12-CD)

Box set 1
01
Until You Tell Me So
02
(I'll Never Be Free) My Heart Belongs To You
03
Remember To Be Mine
04
A Halfway Chance
05
I Need Someone
06
Loving You Madly
07
Two Hearts
08
Tra-La-La
09
Ain't That A Shame
10
Angel Eyes
11
Tennessee Saturday Night
12
Now I Know
13
No Arms Can Ever Hold You (No Other Arms)
14
Rich In Love
15
You're Gonna Be Sorry
16
At My Front Door
17
Gee Whittakers
18
Tutti Frutti
19
I'll Be Home
20
Hoboken Baby
21
Just As Long As I'm With You
22
I Almost Lost My Mind
23
Long Tall Sally
24
Am I Seeing Angels?
25
Bingo
26
Money Honey
27
Treasure Of Love
28
I'm In Love With You
29
Friendly Persuasion (Thee I Love)
30
King For A Day
31
When You Help A Friend In Need
32
Take The Time
Boone, Pat - The Fifties - Complete (12-CD)

Box set 2
01
All I Do Is Dream Of You
02
Ev'ry Little Thing
03
Would You Like To Take A Walk
04
Chains Of Love
05
Harbor Lights
06
Sunday
07
Hummin' The Blues
08
I'm Waiting Just For You
09
Beg Your Pardon
10
Chattanooga Shoe Shine Boy
11
With You
12
Forgive Me
13
Begin The Beguine
14
Mocking Bird
15
Indiana Holiday
16
Coax Me A Little
17
Marry Me, Marry Me
18
That Lucky Old Sun
19
Scattered Toys
20
Old Fashioned Christmas
21
Why Did I Choose You?
22
Honey Hush
23
Tomorrow Night
24
Rock Me Baby
25
Anastasia
26
The Poem
27
Gold
28
Don't Forbid Me
29
Flip, Flop And Fly
30
Pledging My Love
Boone, Pat - The Fifties - Complete (12-CD)

Box set 3
01
Ain't Nobody Here But Us Chickens
02
Shake A Hand
03
Please Send Me Someone To Love
04
I'm In Love Again
05
Rock Around The Clock
06
Shot Gun Boogie
07
Five, Ten, Fifteen Hours
08
Too Soon To Know
09
Love Letters In The Sand
10
The Fat Man
11
When I Write My Song
12
Great Googa Mooga
13
Too Soon To Know
14
Love Letters In The Sand
15
Why Baby, Why
16
Peace In The Valley
17
He'll Understand And Say Well Done
18
Technique
19
Love Letters In The Sand
20
Bernadine
21
Talking To Myself About You
22
Just A Closer Walk With Thee
23
Steal Away
24
Louella
25
Without My Love
26
Louella
27
There's A Goldmine In The Sky
28
Sweet Hour Of Prayer
29
The Old Rugged Cross
30
In The Garden
31
Now The Day Is Over
Boone, Pat - The Fifties - Complete (12-CD)

Box set 4
01
Beyond The Sunset
02
It Is No Secret
03
My God Is Real
04
Softly & Tenderly
05
Will The Circle Be Unbroken?
06
Have Thine Own Way Lord
07
Yield Not Temptation
08
Whispering Hope
09
There's A Goldmine In The Sky
10
Cathedral In The Pines
11
From A Jack To A King
12
Remember You're Mine
13
How Deep Is The Ocean
14
A Pretty Girl Is Like A Melody
15
Say It Isn't So
16
Cheek To Cheek
17
Always
18
They Say It's Wonderful
19
All Alone
20
What'll I Do
21
All By Myself
22
Remember
23
Soft Lights & Sweet Music
24
Be Careful, It's My Heart
25
The Girl That I Marry
26
Say It With Music
27
Count Your Blessings
28
Clover In The Meadow
29
April Love
30
When The Swallows Come Back To Capistrano
Boone, Pat - The Fifties - Complete (12-CD)

Box set 5
01
A Wonderful Time Up There
02
Terry
03
Great Googa Mooga
04
Santa Claus Is Coming To Town
05
Jingle Bells
06
White Christmas
07
Silent Night
08
April Love
09
Give Me A Gentle Girl
10
Clover In The Meadow
11
April Love (& SHIRLEY JONES)
12
A Wonderful Time Up There
13
Too Soon To Know
14
My Little Red Book
15
I've Got You On My Mind
16
Sugar Moon
17
Call It Stormy Monday
18
Keep Your Heart
19
Cherie, I Love You
20
Peace On Earth
21
Have Faith
22
If Dreams Come True
23
Baby Has Gone Bye Bye
24
If Dreams Come True
25
That's How Much I Love You
26
If Dreams Come True
27
That's How Much I Love You
Boone, Pat - The Fifties - Complete (12-CD)

Box set 6
01
September Song
02
Ebb Tide
03
I'll Walk Alone
04
To Each His Own
05
Autumn Leaves
06
Anniversary Song
07
Stardust
08
Cold, Cold Heart
09
Solitude
10
Deep Purple
11
Stardust
12
Blueberry Hill
13
St. Louis Blues
14
Heartaches
15
Her Hand In Mine
16
He
17
I Believe
18
Ave Maria
19
The Lord's Prayer
20
They Can't Take That Away From Me
21
Yes Indeed!
22
Don't Worry 'Bout Me
23
Lazy River
24
Lonesome Road
25
American Beauty Rose
26
Little White Lies
Boone, Pat - The Fifties - Complete (12-CD)

Box set 7
01
Sweet Sue, Just You
02
It's A Pity To Say Goodnight
03
Sweet Georgia Brown
04
Gone Fishin'
05
My Baby Just Cares For Me
06
I'll Build A Stairway To Paradise
07
Robins And Roses
08
I've Heard That Song Before
09
Frenesi
10
Sweet Georgia Brown
11
Two Little Kisses
12
Gee, But It's Lonely
13
For My Good Fortune
14
Gee, But It's Lonely
15
Wait For Me, Mary
16
Havin' Fun Spo-Dee-O-Dee
17
I'll Remember Tonight
18
Mardi Gras March
19
Mardi Gras March
20
Bourbon Street Blues
21
A Fiddle, A Rifle, An Ax, And A Bible
22
Bigger Than Texas
23
Loyalty
24
Loyalty
25
Yes Indeed!
26
For My Good Fortune
Boone, Pat - The Fifties - Complete (12-CD)

Box set 8
01
Jingle Bells
02
Here Comes Santa Claus
03
My Happiness
04
Now Is The Hour
05
You Can't Be True, Dear
06
Side By Side
07
Midnight
08
Silver Bells
09
I'll Be Home For Christmas
10
It Came Upon A Midnight Clear
11
Rudolph The Red-Nosed Reindeer
12
Santa Claus Is Coming To Town
13
O Little Town Of Bethlehem
14
Adeste Fideles
15
Joy To The World
16
Hark, The Herald Angels Sing
17
The First Noël
18
Wait For Me Mary
19
Bewildered
20
Good Rockin' Tonight
21
How Soon
22
With The Wind And Rain In Your Hair
23
Shake A Hand
24
Money Honey
25
'tis Sweet To Be Remembered
26
Rock Boll Weevil
27
Brightest Wishing Star
28
Beulah
29
Rock Boll Weevil
Boone, Pat - The Fifties - Complete (12-CD)

Box set 9
01
Anytime
02
True Love
03
I'm In The Mood For Love
04
Fascination
05
Secret Love
06
How Soon
07
Because Of You
08
Maybe You'll Be There
09
Tenderly
10
You Belong To Me
11
Why Don't You Believe Me
12
The Nearness Of You
13
More Than You Know
14
You're My Girl
15
You Just Can't Plan These Things
16
Goodnight, Sleep Tight
17
Do I Worry
18
Wang Dang Taffy Apple Tango
19
Bewildered
20
For A Penny
21
Alone
22
Walking The Floor Over You
23
Oh, What A Feeling
24
Last Night Was The End Of The World
25
Drifting And Dreaming
26
Tumbling Tumbleweeds
27
Beside Me
28
I'll Never Be Free
29
Sentimental Me
Boone, Pat - The Fifties - Complete (12-CD)

Box set 10
01
Let The Rest Of The World Go By
02
Melody Of Love
03
Let Me Call You Sweetheart
04
Vaya Con Dios
05
Twixt, Twelve And Twenty
06
All At Once
07
Brightest Wishing Star
08
Why Don't You Haul Off And Love ...
09
It's A Sin
10
Didn't It Rain
11
No Middle Ground
12
(Remember Me) I'm The One Who Loves You
13
Fool's Hall Of Fame
14
This Girl Is Mine
15
I've Got A Dream On My Mind
16
God Be With You
17
Take The Name Of Jesus
18
I Love To Tell A Story
19
Blessed Assurance
20
Saviour, Like A Shepherd Lead Us
21
He Leadeth Me
22
God Will Take Care Of Thee
23
I'll Be Home For Christmas
24
White Christmas
25
Joy To The World
26
Silent Night
27
O Little Town Of Bethlehem
28
It Came Upon A Midnight Clear
29
The First Noël
30
Adeste Fideles
Boone, Pat - The Fifties - Complete (12-CD)

Box set 11
01
Santa Claus Is Coming To Town
02
O Holy Night
03
God Rest Ye Merry Gentlemen
04
Hark, The Herald Angels Sing
05
Santa's Coming In A Whirlybird
06
That's All
07
I Want To Be There
08
To The Center Of The Earth
09
Many Dreams Ago
10
Wait For Me Mary
11
The Faithful Heart
12
Boone's Rock 'n' Roll
13
Too Marvelous For Words
14
My Love Is Like A Red, Red Rose
15
Twice As Tall
16
Come Spring
17
What A Friend We Have In Jesus
18
I Am Thine, O Lord
19
Let The Lower Lights Be Burning
20
Nearer, My God, To Thee
21
Rock Of Ages
22
Loving You Madly
23
Money Honey
24
Friendly Persuasion (Thee I Love)
25
Ev'ry Little Thing
26
Love Letters In The Sand
27
Pledging My Love
Boone, Pat - The Fifties - Complete (12-CD)

Box set 12
01
Love Letters In The Sand
02
Beyond The Sunset
03
Louella
04
Baby Has Gone, Bye-Bye
05
St. Louis Blues
06
Two Little Kisses
07
For My Good Fortune
08
Bigger Than Texas
09
Wait For Me Mary
10
How Soon
11
It's A Sin
12
Didn't It Rain
13
I Almost Lost My Mind
14
Don't Forbid Me
15
Love Letters In The Sand
16
Why Baby Why
17
Bernadine
18
There's A Goldmine In The Sky
19
I'm In Love With You
20
Chains Of Love
21
Remember You're Mine
22
Anastasia
23
I'm Waiting Just For You
24
Friendly Persuasion (Thee I Love)
25
A Wonderful Time Up There
26
Too Soon To Know
27
That's How Much I Love You
28
I'm Waiting Just For You
29
Walking The Floor Over You
Pat Boone Geboren am 1. 6. 1934 in Jacksonville, Florida. Studium an der Columbia...
mehr
"Pat Boone"
Pat Boone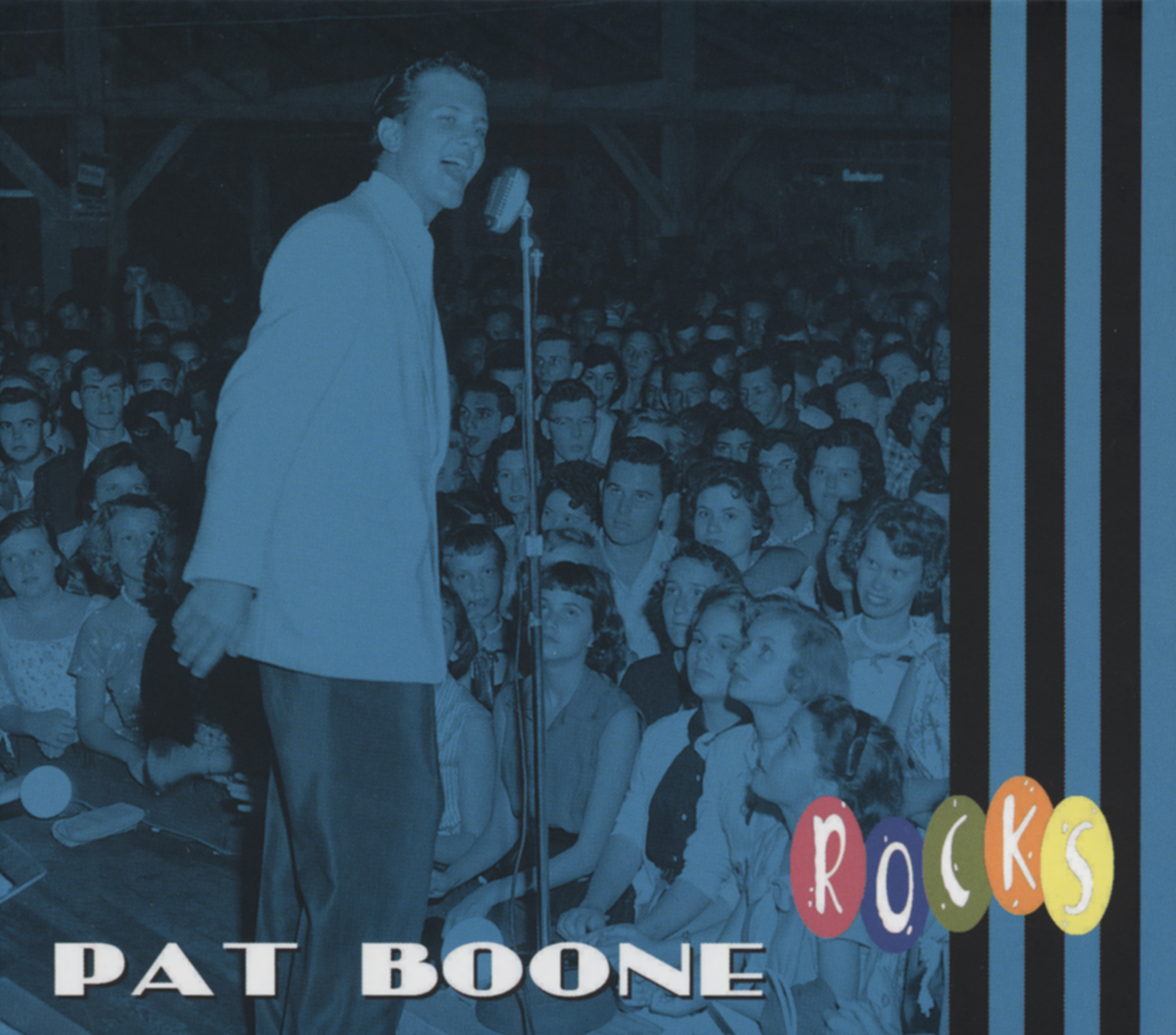 Geboren am 1. 6. 1934 in Jacksonville, Florida. Studium an der Columbia University, heiratete Shirley, die Tochter des Country-Stars Red Foley. Wurde zum 'König der Cover-Versionen, wobei er nahezu jede Vorlage mit Süßstoff überzog. Galt als Saubermann Nr. 1 der US-amerikanischen Unterhaltungs-Industrie (so lehnte der Vater von vier Töchtern eine Filmrolle an der Seite von Marilyn Monroe ab, weil er keine fremde Frau küssen wollte).

1955 erhielt Pat Boone einen Plattenvertrag von Dot Records, für die er bis 1966 genau 57 Single-Titel in die US-Charts brachte, darunter die Nr.-1-Hits 'I Almost Lost My Mind', 'Don't Forbid Me' (beide 1956), 'Love Letters In The Sand' und 'April Love' (beide 1957) sowie 'Moody River' (1961). Ende der 70er Jahre verlegte sich Pat Boone, von 1957-60 Gastgeber der TV-Show 'The Pat Boone Chevy Showroom', ganz auf christliche Musik.

1997 landete Pat mit einem Heavy-Metal-Album (!) einen späten Treffer in den USA. Seiner Tochter Debbie war 1977 ein Nr.-1-Hit mit 'You Light Up My Life' gelungen. Sechs von insgesamt zehn deutschsprachigen Titeln sang Boone in den Teldec-Studios in Hamburg, die vier letzten im Februar 1966 in den Mailänder Saar-Studios zu vor produzierten Playbacks, die in Köln hergestellt worden waren. Spielfilmrollen übernahm er in US-Produktionen wie 'April Love' (' - Junges Glück im April', 1957), - 'Mardi Gras' ('Blaue Nächte', 1958), 'Journey To The Centre Of The Earth' ('Die Reise zum Mittelpunkt der Erde', 1959), 'The Yellow Canary' (' - Kennwort Canary', 1963), - 'The Pigeon' ('Das Geheimnis der Puppe', 1969) und 'The Cross And The Switchblade' ('Das Kreuz und die Messerhelden', 1969).

Aus dem Bear Family Buch - 1000 Nadelstiche von Bernd Matheja - BFB10025 - '
Pat Boone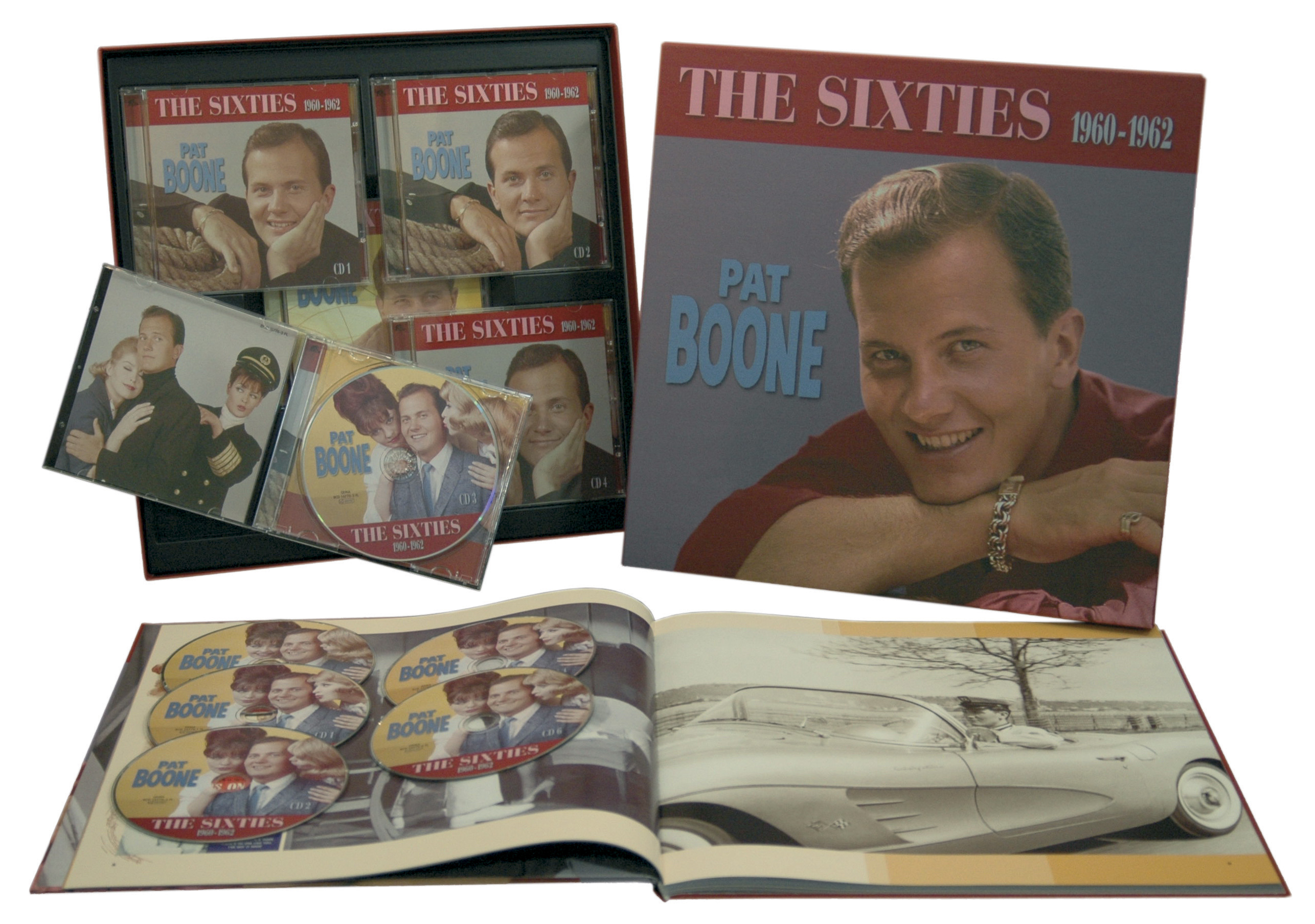 Der New Yorker Discjockey Alan Freed, der nicht bereit war, die von den Managern des Brooklyn Paramount Theaters auferlegte höhere Miete zu zahlen, verlegte sein äußerst erfolgreiches'Rock'n' Roll Holiday Jubilee' an die Academy of Music in Manhattan.
Das gab dem konkurrierenden Discjockey Tommy'Dr. Jive' Smalls die Gelegenheit, seine Show von Harlem nach Brooklyn Paramount zu verlegen, wo sie am 23. Dezember 1955, einen Tag nach der Premiere von Freed's 12-tägigem Stand in der Innenstadt, ihr einwöchiges Engagement eröffnete.
Während Freed's Bühnenshows - wie sein zukunftsweisendes Radioprogramm - schon immer integriert waren, war dies eine Premiere für `Dr. "Jive." Er hatte eine starke Besetzung von R&B-Performern in der Show, darunter Bo Diddley, Clyde McPhatter, die Flamingos, die Five Keys und die Turbans. Einer der beiden weißen Acts war eine Gesangsgruppe, die Cheers, Schützlinge von Jerry Leiber und Mike Stoller, deren Hits (bis dahin) Bazoom und Black Denim Trousers And Motorcycle Boots waren.
Die andere.... nun, wie Ruth Brown, eine andere der Stars in der Show, später sagte: "Pat Boone, mit den weißen Böcken auf den Füßen, die spät aus der Schule kommen."
Brown war vielleicht etwas verwirrt von dem Studenten der Columbia University English Literature, der seine charakteristischen weißen Wildlederschuhe trug und zu einem überwiegend schwarzen Publikum sang, das viele von ihnen aus früheren Versionen durch schwarze Acts erkannten. Andere hingegen waren weniger beeindruckt. Viele Jahre später schrieb der Little Richard-Biograph Charles White: "Als[Little Richards]'Tutti Frutti' die Charts erklomm, wurde es von zwei weißen Künstlern - Pat Boone und Elvis Presley - überspielt.... Das half tatsächlich beim Verkauf von Richards Originalversion, da Leute, die noch nie Rock'n' Roll (sic) gehört hatten, auf den neuen Sound aufmerksam wurden. Aber im Allgemeinen war die Politik der'weißen' Plattenfirmen, die die Lieder schwarzer Künstler covern, ein grausamer Diebstahl des ursprünglichen Talents." (Während Boone's Version ein Cover war und konkurrierte, kam Presley's später und nur als Albumschnitt heraus).
Natürlich ist im Le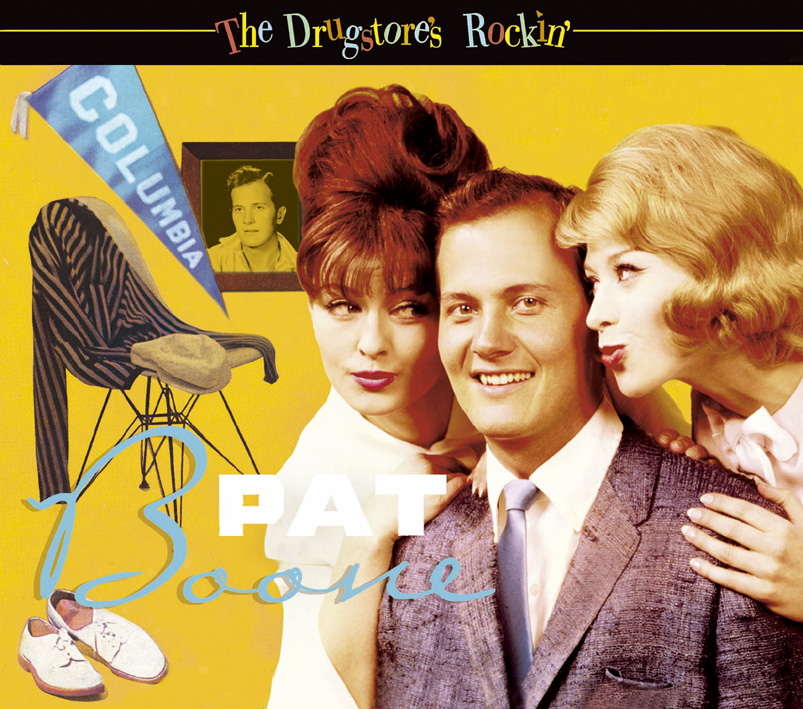 ben nichts so einfach. Viele Acts, darunter Teresa Brewer, Gale Storm, Georgia Gibbs, die McGuire Sisters, die Diamonds und Bill Haley nahmen ihre eigenen Versionen von R&B-Hits für den weißen Markt auf.
Wie Boone selbst der ehemaligen'Newsweek'-Popkritikerin Karen Schoemer erklärte: "Die revisionistische Idee ist irgendwie entstanden, dass wir, als Popkünstler eine R&B-Platte abdeckten, den Fortschritt der ursprünglichen Künstler behinderten, anstatt ihn zu verstärken. Aber in jenen frühen Tagen wurde R&B-Musik nicht im Pop-Radio gespielt. Es war zu roh, rau, unfertig klingend, verstümmelt - man konnte nicht alle Worte verstehen. Die Leute waren an Big Bands und polierte Produktionen gewöhnt. Deejays waren nicht bereit, es zu spielen und die Leute waren nicht bereit, es zu empfangen. Aber als wir eine ausgefeiltere Pop-Version eines Songs machten, hatte sie eine Chance und fing an, sich durchzusetzen. Die Leute verstehen nicht, welche Rolle die Coverversionen gespielt haben. Es waren Popkünstler, die R&B-Musik machten, die das Rampenlicht auf die ursprünglichen Künstler richteten und die Tür öffneten."
...Und Joe Smith, "...Jeder war sich bewusst, dass die ursprünglichen Künstler nicht auf 90% der Radiosender in Amerika gespielt werden würden. Sie wollten keine R&B-Platte von Chuck Berry, Fats Domino oder Little Richard spielen. In der Tat hofften und beteten die ursprünglichen Künstler, dass ihre Platten von jemandem gecovert würden, der Airplay bekommen könnte, weil es bedeutete, dass ihre Platten noch mehr Anerkennung in ihrem eigenen Bereich erhalten würden. Es würde sich später ändern....aber wir waren wie Katalysatoren, die R&B zum Rock and Roll verhalfen."
"Als ich das erste Mal von Boone's'Ain't That A Shame' hörte, mochte ich es nicht", sagte Domino dem Biografen Rick Coleman. "Es dauerte zwei Monate, um zu schreiben, und er löschte es fast genauso wie ich." Es tut irgendwie weh."
Domino, der sowohl von den Tantiemen der Autoren als auch von der indirekten Exponierung profitierte, mag seine Meinung in späteren Jahren geändert haben. "Ich ging zu Domino bei Al Hirt in New Orleans", erzählte Boone Smith. "Als er hörte, dass ich im Publikum war, rief er mich auf die Bühne und sagte zu der Menge: "Ich möchte, dass ihr alle etwas wisst. Siehst du diesen Ring?" Er hatte einen großen Diamantring an jedem seiner Finger, und er zeigte auf den prominentesten seiner Diamantringe und sagte: "Dieser Mann hat mir diesen Ring gekauft, mit diesem Lied." Und wir sangen "Ain't That A Shame" zusammen." Jahre später brachte Domino Rick Nelson auf die Bühne zum Duett auf I'm Walkin', einem Domino-Original, das Nelson auf den Fersen von Fats' eigener Version an die Spitze gebracht hatte.
Während niemand eine Pat Boone Aufnahme mit einer von Little Richard, Domino oder Big Joe Turner verwechseln wird, waren einige seiner R&B-beeinflussten Songs legitime Hits und hatten ihren eigenen Charme. In der Tat landete Boone vier Singles auf der'Billboard' R&B-Singles-Chart. Sicherlich standen schwarz-weiße Songwriter Schlange, um die Aufmerksamkeit von Boone oder von Dot Records' Chef Randy Wood zu erregen. Und viele von ihnen hatten Erfolg.
Nicht jeder Song auf dieser Zusammenstellung von Boones Up-Tempo-Material begann sein Leben als R&B-Cover oder Revival; aber alle haben den gleichen lebendigen Geist; den eines Mannes, der liebt, was er tut, und den Spaß teilen will.
Und nun einige Bemerkungen zu den bemerkenswertesten Liedern dieser Sammlung.
Geboren in Tennessee und am North Texas State College, trat Pat Boone in lokalen Radioprogrammen auf und wurde ausgewählt, in der landesweit ausgestrahlten "Ted Mack's Original Amateur Hour" aufzutreten, wo er dreimal gewann und zu einem speziellen Wettbewerb unter mehreren Gewinnern eingeladen wurde. Während er in New York City war, sprach er für ein anderes nationales Programm vor, "Arthur Godfrey's Talent Scouts."
"Am Samstagabend", sagte Boone 1993, "gewann ich bei Ted Mack", der sich für das Finale qualifizierte, und am Montag trat ich bei Arthur Godfrey" auf und gewann eine Woche lang Auftritte in seiner täglichen Radiosendung. Die Leute von Ted Mack sagten mir, ich hätte gewonnen, aber sie müssten mich disqualifizieren."
Pat hatte einige Seiten in einer Tony-Martin-Pop-Ader auf einem kleinen, lokalen Label ohne Erfolg aufgenommen. Aber eines Tages, als er seine Eltern in Tennessee besuchte, erhielt er einen Anruf von Randy Wood. Besitzer von Randy's Record Shop in der Nähe von Gallatin, Wood führte auch das Label Dot Records in seinem Laden. "Randy hatte mich ein paar Jahre lang beobachtet und war überzeugt, dass ich wie ein Profi singen konnte. Er war begeistert, er war nett, wir schüttelten uns die Hand und er sagte, er würde mich anrufen, sobald er ein Lied gefunden hat, das zu mir passt."
Monate vergingen, und Boone war wieder in der Schule in Texas, als er endlich von Wood hörte. "Er schickte mir ein Ticket nach Chicago, wo ich einen Song namens "Two Hearts" aufnehmen sollte."
Eine unwahrscheinliche Wahl für Boone - dessen Idole (denken Sie daran, dass dies vor dem Durchbruch von Elvis Presley war) seinen Schwiegervater, den Country-Sänger Red Foley, und Bing Crosby - Two Hearts war der dritte Hit der Charms, einer schwarzen Gruppe aus Cincinnati, die für das Deluxe-Label aufgenommen wurde. Ein weiterer Charms-Hit, Hearts Of Stone, war einige Monate zuvor von den Fontaine Sisters erfolgreich für den weißen Markt gecovert worden, auch für Dot (ein weiterer Charms-Hit war ein Cover für den Schwarzmarkt des Cheers' Bazoom).
"Ich hatte noch nie'Two Hearts' gehört, aber vom Titel her dachte ich, dass das Lied etwas in der Walzerzeit sein würde, wie es Perry Como tun könnte." Dann stellte Wood eine tragbare Platte auf, die in seinem Hotelzimmer gespielt wurde, und spielte wiederholt die springende R&B-Tanzmelodie mit einem Boogie-Beat. Der Arrangeur und Dirigent von Boones Version war Lew Douglas, der als Arrangeur für das Chicagoer Orchester von NBC Radio tätig war und mit Acts wie Joni James in Chicago aufnahm.
Pat Boone Pat Boone - Pat Rocks
Read more at: https://www.bear-family.de/boone-pat-pat-boone-pat-rocks.html
Copyright © Bear Family Records
Bewertungen lesen, schreiben und diskutieren...
mehr
Kundenbewertungen für "The Fifties - Complete (12-CD)"
Grossartig
Wer 50er Jahre Musik/Songs, melancholisch, Schnulzen, Swing und etwas RocknRoll liebt, wird auch Pat Boone mögen. Er interpretierte u.a. vorhandene/bekannte Melodie neu, wirkte in Filmen mit, dessen Songs u.a. auch in diesem Set präsentiert werden (u.a. Bernadine, April Love).

Service durch Bear-Family-Records und Zustellung verlief schnell und Problemlos

Like my Doris Day and Caterina Valente Order : Service and shipping was fast and good.
Von:
Tommy
Am:
29.09.2017
Bewertung schreiben
Bewertungen werden nach Überprüfung freigeschaltet.
Weitere Artikel von Pat Boone
Pat Boone: The Legendary Years Of Rock & Roll
Art-Nr.: ABC30004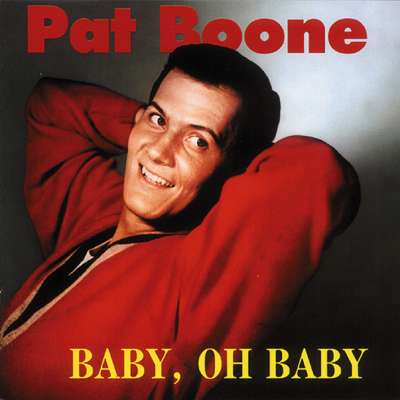 Pat Boone: Baby, Oh Baby
Art-Nr.: BCD15645


Sofort versandfertig, Lieferzeit** 1-3 Werktage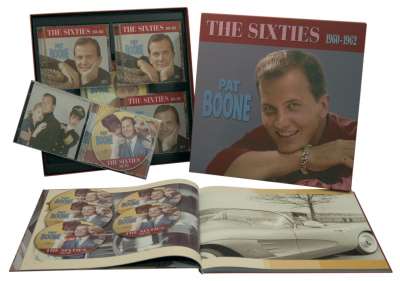 Pat Boone: The Sixties (1960-1962) (6-CD)
Art-Nr.: BCD16776


Sofort versandfertig, Lieferzeit** 1-3 Werktage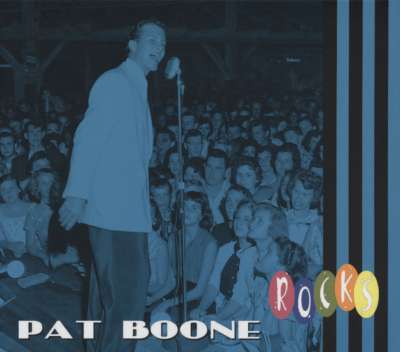 Pat Boone: Pat Boone - Pat Rocks
Art-Nr.: BCD16933


Sofort versandfertig, Lieferzeit** 1-3 Werktage
Pat Boone: Jivin' Pat (LP)
Art-Nr.: BFX15230


Sofort versandfertig, Lieferzeit** 1-3 Werktage