Der Artikel wurde erfolgreich hinzugefügt.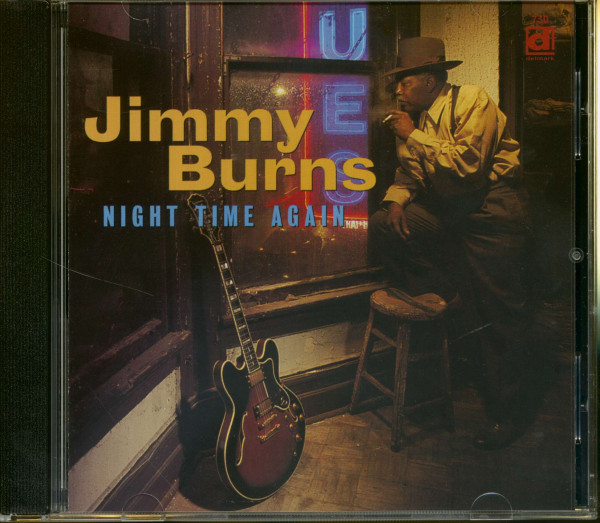 inkl. MwSt. / zzgl. Versandkosten - Abhängig vom Lieferland kann die MwSt. an der Kasse variieren.
nur noch 1x verfügbar
Sofort versandfertig, Lieferzeit** 1-3 Werktage
Artikel-Nr.:

CDDE730

Gewicht in Kg.:

0.107
(1998/99 'Delmark') (63:13/14) Seine eigenwillige Mischung aus Chicagoer Blues- und...
mehr
Jimmy Burns: Night Time Again
(1998/99 'Delmark') (63:13/14) Seine eigenwillige Mischung aus Chicagoer Blues- und Soulelementen ist äußerst individuell und unterhaltsam, die Produktion erinnert im Sound (im positiven Sinne) an die späten '70er Jahre und die ersten Soul/Blues-Versuche des
Jimmy Johnson
. Ein wunderbares Album!
During a live set of Jimmy's music you're likely to hear his powerful interpretations of songs by
Elmore James
and
Muddy Waters
, alongside those by
Curtis Mayfield
and
Ray Charles
, plus Jimmy's own thoroughly contemporary originals. "
Jimmy Burns
accompanies his soulful, countrified voice with unstoppable rhythms and sure-handed solos. His vibrant, heartfelt blues and boogies echo the Mississippi Delta, where he was born and raised." -
Guitar Player
Jimmy's first Delmark CD
Leaving Here Walking
(Delmark 694) was chosen as Blues Album Of The Year by the National
Association
of Independent Record Distributors. On
Night Time Again
Jimmy's back with his unique blend of contemporary
Chicago
blues, Delta feel, R&B and soul.
Artikeleigenschaften von

Jimmy Burns: Night Time Again
Albumtitel:

Night Time Again

Genre

Blues

Preiscode

VCD3

Artikelart

CD

EAN:

0038153073022

Gewicht in Kg:

0.107
Born in Dublin, Mississippi in 1943, Jimmy Burns derived his earliest inspiration from tt ,...
mehr
"Jimmy Burns"
Born in Dublin, Mississippi in 1943, Jimmy Burns derived his earliest inspiration from tt , ,4-ma records of Muddy Waters, John Lee Hooker and others. After Jimmy moved to Chicago in the A 'Aft., mid-'50s he discovered a scene that was perfect for the meld of traditional blues, churchy emotionalism, and forward-looking pop/R&B sophistication that by then comprised his musical aesthetic. When he finally signed with Delmark in the mid-'90s, he was primed and ready to take his place as a leading blues recording artist.

The African-American Great Migration of the early and mid 20th Century is usually credited with bringing the blues to Chicago from the cotton fields of the South. Even on its own terms, of course, that generalization leaves out a lot: there were several important stops between the Delta and the Windy City (Memphis and St. Louis being only two of the most significant); furthermore, a lot of Southern blues artists had spent most of their lives in towns and cities before they migrated; not all of them made the trip north with Delta soil under their fingernails. But perhaps the most important detail the 'Delta-to-Chicago' blues cliche omits is the varied nature of the music the new arrivals brought with them. From the beginning.
African-American gospel singers, tamers. pop crooners, and even country music aficionados rode trains, drove cars, and hitched rides up Highway 61 alongside blues guitarists and harp players. By the mid-'50s, a lot of the younger migrants were immersed in R&B, doo-wop, and the nascent rock & roll of the era as well. As they poured into Chicago's South and West Sides. they made the city far more than merely a blues stronghold: it became a vibrant cultural swap meet of almost endless variety, a place where artists representing different generations and genres interacted and created new sounds out of the living traditions and contemporary influences they shared. Jimmy Burns' career exemplifies the interweaving of styles and aesthetic sensibilities that defined African-American popular music of that era. Born into a farming family in Dublin. Mississippi in 1943, he derived his earliest inspi-ration from the records of blues artists like Muddy Waters and John Lee Hooker (a close associate of Burns' older brother, guitarist/harpist Eddie Burns. who had moved to Detroit by then and was already sharing recording studios and bandstands with Hooker).
Young Jimmy experimented with music by nailing a single string upside a wall and plucking it—the classic downhome bluesman's beginning. But he actually began to play guitar in church (the first song he ever played was the venerable spiritual You Got To Move), and he did most of his singing there. as well. In addition, he listened to and absorbed the music of suave balladeers such as Nat 'King' Cole and houserocking R&D good-timers like Louis Jordan and Nappy Brown, all of whom were on the airwaves and in the jukeboxes. After Jimmy moved to Chicago in the mid-'50s he discovered a scene that was perfect for the meld of traditional blues. churchy emotional-ism. and forward-looking pop/R&B sophistication that by then comprised his musical aesthetic. At that time doo-wop was also ascendant, both in the charts and on the streets. Although the doo-woppers prided them-selves on the newness of their sound and the urbanity of their professional personas, in many ways they weren't ter-ribly different from the blues musicians who had preceded them. Like their blues forbearers they fashioned richly tex-tured music from the cadences. melodies. and themes of their world: gospel harmonies, street vendors. calls, the romantic blandishments of pop singers. and (though some may have been loath to admit it) the charged sensuality and sly irony of bluesmen and songsters. Ever the eclectic. Jimmy Burns eagerly embraced this new musical opportunity. He made his first recording, on the Alan label, when he was sixteen years old, as a member of a vocal group called the Medallionaires. Characteristically, the Medallionaires didn't limit themselves to doo-wop; they backed up bluesman Jimmie Lee Robinson for some ses-sions on Bandera, and they peformed at local nightclubs and at record hops on shows with stars as diverse as Dee Clark, Brenda Lee. Clarence 'Frogman' Henry, Count Basie. and even Anita Bryant.

Within a few years Jimmy expanded his territory even farther. On the North Side of Chicago in the early '60s a hip folk scene was coming into bloom; Jimmy's well-tempered. grit-ty-sweet vocal style was perfect for the urbane kind of tra-ditionalism Josh White had pioneered and which was now being re-popularized by folk-oriented artists like Odetta. Harry Belafonte. and the young Richie Havens. He became a mainstay at clubs like the Fickle Pickle and the Gate of Horn, venues that also featured performances by 'rediscovered' blues elders such as the still-potent Big Joe Williams. But when it came time for him to record under his own name, Jimmy jumped genres yet again. His '60s -'70s output on Chicago-based labels such as USA. Tip Top. Dispo, and Erica, was mostly in an ebullient. pop-tinged soul vein. He toured both locally and around the Midwest, promoting these disks at record hops and concerts. He found. however, that it was impossible to support a family this way; although he never gave up music entirely, he began to relegate it increasingly to a part-time hobby as the '70s progressed. Jimmy had never abandoned his early love for straight-ahead blues, and in the late '70s he formed a rugged little blues band anchored by drummer Larry Taylor, son of the legendary guitarist Eddie Taylor and one of Jimmy's nephews.
They gigged around the West Side: eventually they began to secure jobs on the expanding, predominantly white. North Side scene as well. The new generation of blues fans there were a lot less purist in their attitudes than some of their elders had been; they encouraged Jimmy to slip sweet-toned doo-wop. funky soul, and ebullient pop stylings into his sets along with down-and-dirty Chicago shuffles. Armed with a diverse repertoire and possessed of an amiable onstage demeanor buttressed by the solid professionalism he'd honed over the years. Jimmy soon found himself one of Chicago's most in-demand -newer' bluesmen. When he
finally signed with Delmark in the mid-'90s. he was primed and ready to take his place as a leading recording artist on the contemporary blues scene. Like his fellow Delmark artist Jesse Fortune, he now found himself a 'newly discovered' bluesman after having been active on Chicago's blues, soul and R&B scenes for over forty years. A conscientious artist who enters the studio only when he has prepared sufficient material and honed it to meet his exacting standards. he has remained with Delmark ever since. The disk you're holding represents a further closing of the circle for Jimmy—just as he returned to the music of his youth when he began playing the blues again in the late '70s.
he now gets to showcase what's always been one of his strongest suits: the powerful, emotionally resonant connec-tion he makes with an audience when he performs live. Recorded at one of Chicago's most beloved blues venues, it captures perfectly the indelible combination of ebullient good spirits, warm-hearted intimacy. and sharp-witted intelligence that characterizes Jimmy Burns. as both a musician and a man. Between the musicianship on display and the obvious enthusiasm of the packed house that was there to cheer Jimmy on, this recording proclaims the blues -as well as one of its most stalwart and dedicated exponents-to be healthy and alive. both solidly rooted and eager to move into the future. Do. i 74at 7ta.e.e.'- came alocutd! the fuvr-tei 444 ft.e.4t 6e9a,g1 — David Whiteis
Special thanks to Steve Sharp, whose article Jimmy Burns: I'm Back In Music To Stay (LIVING BLUES, March-April 2001) was a major source of background information for these notes. David Whiteis is a Chicago freelance writer. His book CHICAGO BLUES: PORTRAITS AND STORIES was published in 2006 by University of Illinois Press.


Bewertungen lesen, schreiben und diskutieren...
mehr
Kundenbewertungen für "Night Time Again"
Bewertung schreiben
Bewertungen werden nach Überprüfung freigeschaltet.
Weitere Artikel von Jimmy Burns