Der Artikel wurde erfolgreich hinzugefügt.
Dieser Artikel ist gestrichen und kann nicht mehr bestellt werden!
Benachrichtigen Sie mich, sobald der Artikel lieferbar ist.
7-CD Box, LP-Format, mit 104 seitigem hardcover Buch, 168 Titel, Spieldauer 549:28...
mehr
Freddie King: Taking Care Of Business (7-CD Deluxe Box Set)
7-CD Box, LP-Format, mit 104 seitigem hardcover Buch, 168 Titel, Spieldauer 549:28 Minuten.
Diese Box enthält alle Studioaufnahmen der Electric-Guitar-Blues-Legende
Freddie King
von 1956 bis 1973 für die Labels El-Bee, Federal, King, Cotillion-Atlantic und Leon Russells Shelter Records! Alle mörderisch guten Instrumentals, die er während seiner Hoch-Zeit in den Sixties einspielte, darunter
Driving Sideways, Wash Out, Low Tide
und
Remington Ride
; dazu seine Hits
Hide Away, Lonesome Whistle Blues
,
San-Ho-Zay, I'm Tore Down
sowie das rausgewuchtete
Going Down
! Insgesamt sieben randvolle CDs, inklusive frühen Raritäten und diversen, bislang unveröffentlichten Alternativ-Aufnahmen vieler seiner Klassiker für das Federal-Label wie
You've Got To Love Her With A Feeling, Have You Ever Loved A Woman
und
See See Baby
, plus bisher unveröffentlichte Federal-Titel. Eine komplette, ebenfalls nie veröffentlichte Demo-Session von 1968 in Dallas mit seiner Interpretation von
J. B. Lenoir
s
The Mojo
, das es in keiner anderen Studio-Version gibt. Großartige, nie gezeigte Fotos und Erinnerungsstücke von Freddie King sowie ein umfassender Begleittext von
Bill Dahl
!
Freddie King, der legendäre 'Texas Cannonball', war einer der größten Bluesgitarristen der Geschichte, dessen aggressiver Stil dem modernen Rockgitarren-Spiel den Boden bereitete. Der 'Rolling Stone' setzte ihn auf Platz 25 der besten Gitarristen aller Zeiten - er prägte unter anderem
Eric Clapton
,
Jeff Beck
,
Stevie Ray Vaughan
und viele andere. Er beeinflusste wahrscheinlich so viele Rockgitarristen wie kein anderer. Freddie King stilistische Mehrgleisigkeit aus Texas- und
Chicago
-Sound war absolut einzigartig, und seine Hit-Karriere als Sänger und Instrumentalist blieb unübertroffen. Keiner der sogenannten Blues-Guitar-Götter ließ mehr physische Kraft in sein permanentes Saitenfeuerwerk einfließen. Und dazu noch diese alles steuernde, emotional aufgeladene Stimme Freddie Kings!
Dies ist das einzig wahre CD-Denkmal für einen der richtungsweisendsten Bluesgitarristen überhaupt. Nie zuvor wurde ein so umfassendes Projekt gestartet - kein echter Blues-Fan kommt daran vorbei!
Artikeleigenschaften von

Freddie King: Taking Care Of Business (7-CD Deluxe Box Set)
Albumtitel:

Taking Care Of Business (7-CD Deluxe Box Set)

Genre

R&B, Soul

Edition 2

Deluxe Edition

Preiscode

GK

Artikelart

Box set

EAN:

4000127169792

Gewicht in Kg:

2.1
Freddie King Obwohl er am 3. September 1934 in der Nähe von Gilmer, Texas, geboren...
mehr
"Freddie King"
Freddie King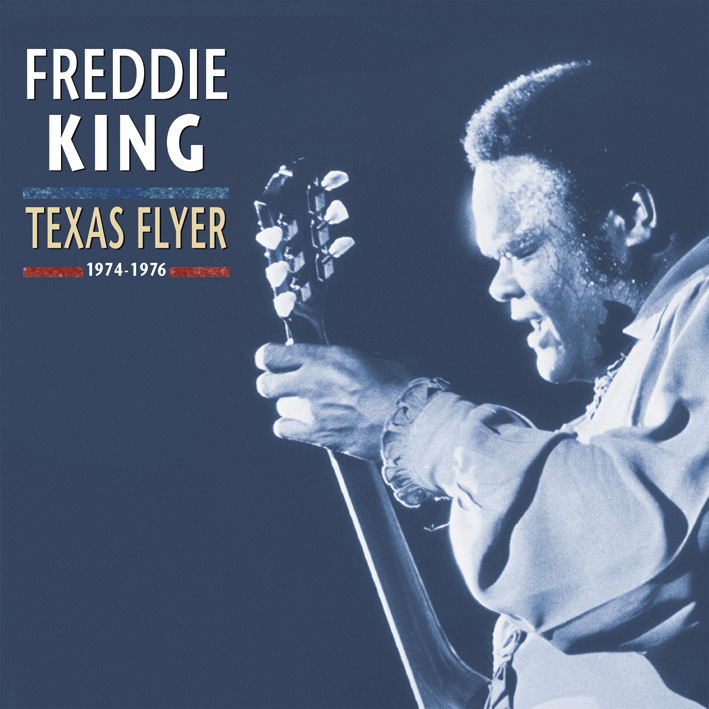 Obwohl er am 3. September 1934 in der Nähe von Gilmer, Texas, geboren wurde, verbrachte Freddy King seine musikalisch prägenden Jahre in Chicago. Von 1950 bis 1963 trug der stattliche Gitarrist zur Veränderung des Blues der Windy City von der Ensembletradition hin zum neuen, aggressiveren Sound der West Side bei – mit seinen sensationellen Gitarrenfähigkeiten und rausgebrüllten Vocals.
Freddie Christian (King war der Nachname seiner Mutter; Federal Records änderte später die Schreibweise seines Vornamens in Freddy) lernte schon früh unter Anleitung seines Onkels Leon King Gitarre spielen. Die 78er von Lightnin' Hopkins, John Lee Hooker, T-Bone Walker und Louis Jordan machten großen Eindruck auf den Jungen. Er siedelte im Dezember 1950 nach Chicago über; groß für sein Alter, wurde er in die örtlichen Blueskneipen reingelassen und konnte seine Helden aus der Nähe persönlich sehen. Die brillanten Gitarristen Jimmy Rogers, Robert Jr. Lockwood und Eddie Taylor gaben ihm wichtige musikalische Tipps.
"Er versuchte, zu spielen zu lernen", sagte der 1997 verstorbene Rogers. "Er kam immer rein, setzte sich hin und schaute uns beim Spielen zu, mir und Muddy." Freddy setzte das, was er sah, gut um. "Er ging dann zurück nach Hause und übte, bis diese Licks bei ihm ganz gut klangen." King entwickelte eine heiße Zwei-Finger-Gitarrentechnik mit einem Plastik-Daumenpick und einem Metallpick am Zeigefinger. "So spielte ich auch, und er beobachtete mich", sagte Rogers. Freddy spielte in verschiedenen lokalen Formationen und stieß 1956 zu den Blues Cats des jungen Bluesharpspielers Earlee Payton. "Payton trennte sich von uns", erinnerte sich deren 1997 verstorbener Bassist Robert 'Big Mojo' Elem. "Danach war Freddy King der Bandleader."
King machte sein Plattendebüt 1956 mit dem fetzigen That's What You Think für das winzige El-Bee Label von John Burton, musste dann jedoch vier Jahre auf seine nächste Aufnahmegelegenheit warten. In der Zwischenzeit rackerte er sich an die Spitze der neuen West-Side-Bewegung, zusammen mit Magic Sam. "Alle sagten: 'Mann, du musst dir Freddy King ansehen!'", meint sein West-Side-Gitarrenkollege Eddy Clearwater.
Ein anderer junger Chicagoer Gitarrist, Syl Johnson, spielte eine Vermittlerrolle, als Freddy schließlich beim Federal-Unterlabel von Syd Nathans in Cincinnati beheimateten King Records unterkam. "Er hörte davon, dass ich bei Federal unterschreibe, also wollte er versuchen, auch auf das Label zu kommen", sagt Syl. "Er gab mir ein Demo und ich schickte es an Sonny Thompson." Sonny, ein in Mississippi geborener Pianist, der 1948 mit seinem zweiteiligen Instrumental Long Gone für die Plattenfirma Miracle die Spitze der R&B-Charts erreichte, bevor er zu Nathans King-Label wechselte, leitete das Chicagoer Büro von Federal und King. Thompson nahm Freddy für Federal unter Vertrag und produzierte seine Debütsession in Cincinnati am 26. August 1960.
Wie gewöhnlich übernahm Thompson auch den Platz am Klavier, Bill Willis spielte Bass und Philip Paul Schlagzeug. Nicht weniger als drei Hits wurden an diesem Tag eingespielt, der größte war die einzige Instrumentalnummer. Hide Away war nach einer von Freddys Lieblingskneipen auf der West Side benannt, Mel's Hideaway Lounge. "Das war lange Zeit ein richtiger Hotspot", sagte Rogers. Das Stück bestand aus einer Reihe von geborgten Riffs, die zu einem nahtlosen Ganzen zusammengefügt wurden.
Das Grundthema hatte King vom Slidegitarrenhexer Hound Dog Taylor übernommen, der seine Kreation Taylor's Boogie nannte. "Er war der Erste, der anfing es zu spielen", sagt Clearwater. "Dann spielte es Magic Sam." Der nahm 1961 seine eigene Version für Mel Londons Chief-Logo auf und nannte sie Do The Camel Walk. Aber Sam verwendete nicht die zwei Chorusse, die Freddy auf seinen Bass-Saiten spielte und die direkt aus Jimmy McCracklins 58er-Hit The Walk kamen, sowie die 12 Takte aus Henry Mancinis Peter Gunn. Der weit offene Break-Akkord stammte entweder von Lockwood oder Freddy Robinson.
"Wir spielten es ungefähr drei-, vier-, vielleicht fünf- oder sechsmal und wir dachten: 'Okay, langsam sind wir so weit, es auch aufzunehmen'", erinnerte sich der 2010 verstorbene Willis. "Der alte Herr (Nathan) sagte: 'Ich hab's schon!'" Der gerissene alte Syd hatte einen #5 R&B-/#29 Pop-Smash-Hit eingefangen – und das definitive elektrische Bluesgitarren-Instrumentalstück.
Bill Dahl
Chicago, Illinois
PLUG IT IN! TURN IT UP!
Electric Blues 1939–2005 – The Definitive Collection!
Volume 3: 1960–1969
Bewertungen lesen, schreiben und diskutieren...
mehr
Kundenbewertungen für "Taking Care Of Business (7-CD Deluxe Box Set)"
Von:
Hanno Holzheuser
Am:
19.09.2017
Ganz toll
Perfekter Service für die Bestellung dieser einzigartigen Zusammenstellung!
Von:
Harry T.
Am:
23.05.2017
Bewertung schreiben
Bewertungen werden nach Überprüfung freigeschaltet.
Weitere Artikel von Freddie King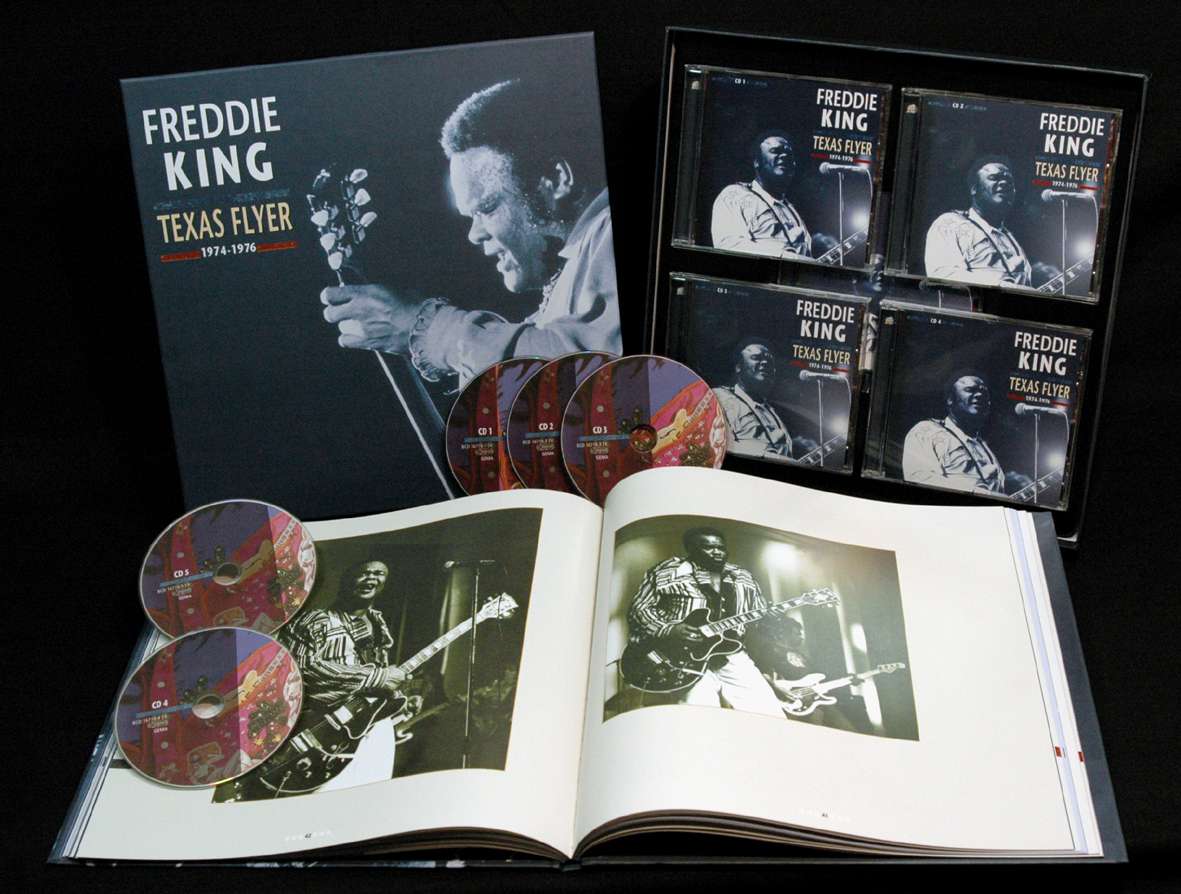 Freddie King: Texas Flyer, 1974-1976 (5-CD Deluxe Box Set)
Art-Nr.: BCD16778


Artikel muss bestellt werden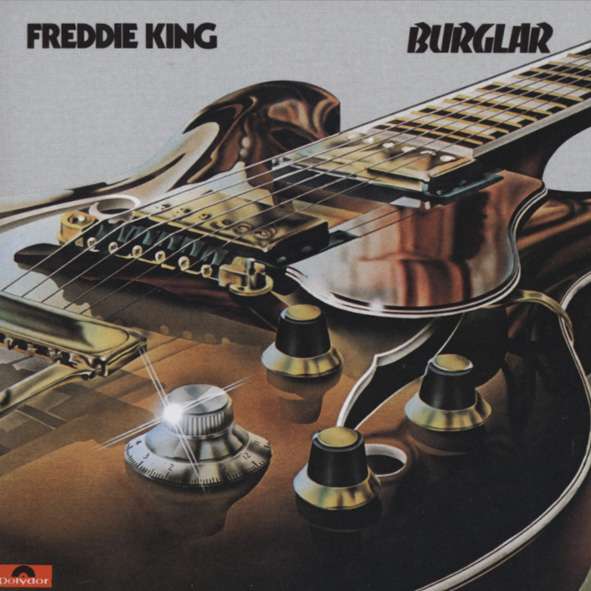 Freddie King: Burglar
Art-Nr.: CD8318152


Artikel muss bestellt werden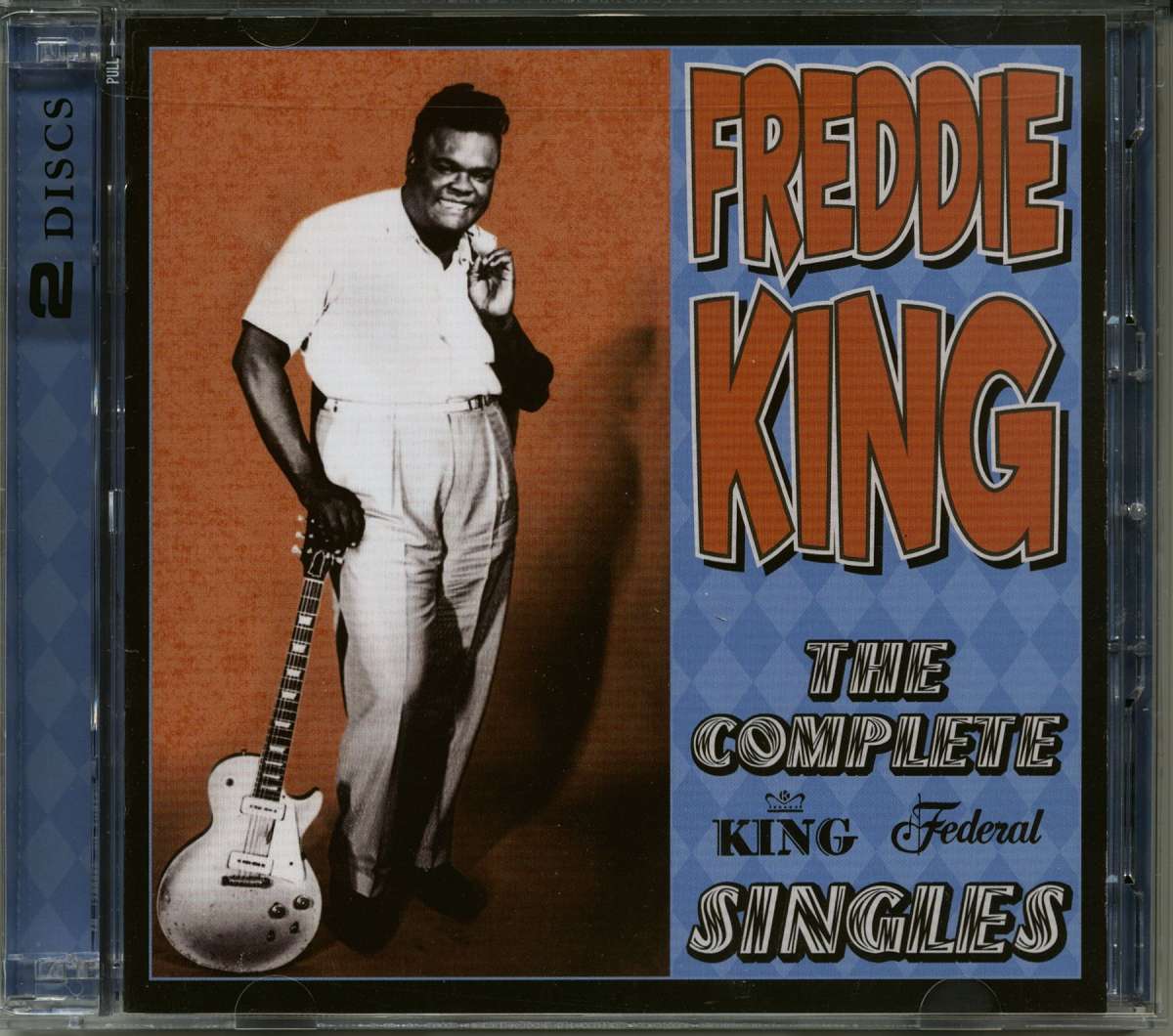 Freddie King: Complete King Federal Singles
Art-Nr.: CDRGM0114


nur noch 1 verfügbar
Sofort versandfertig, Lieferzeit** 1-3 Werktage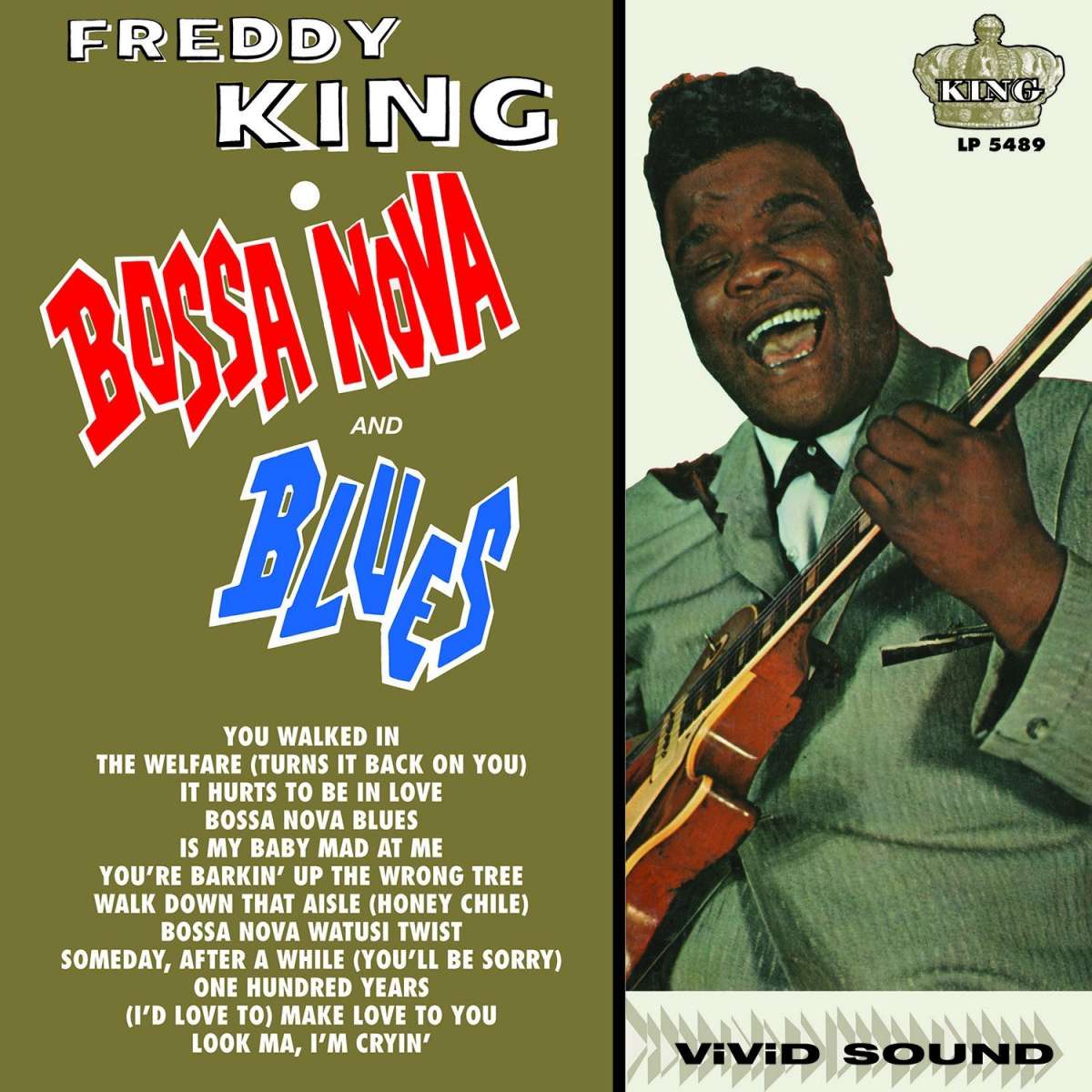 Freddie King: Bossa Nova And Blues
Art-Nr.: SLP5489


Artikel muss bestellt werden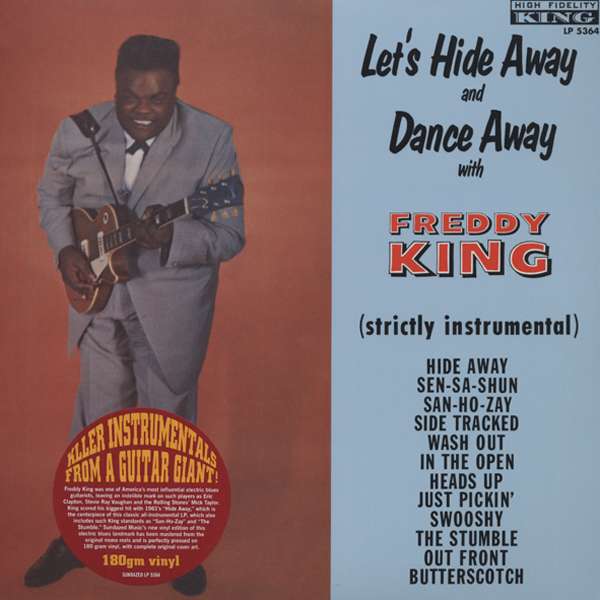 Freddie King: Let's Hide Away And Dance Away With...180g
Art-Nr.: SLP5364


Artikel muss bestellt werden