Der Artikel wurde erfolgreich hinzugefügt.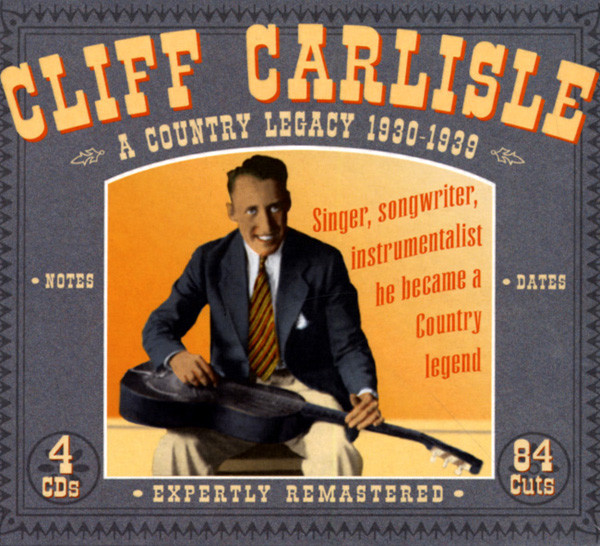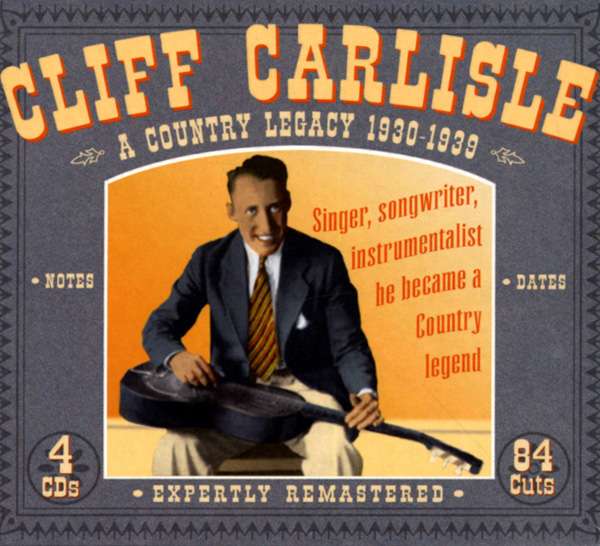 inkl. MwSt. zzgl. Versandkosten
Artikel derzeit nicht verfügbar, Lieferfristen von bis zu 2-3 Wochen sind zu erwarten. (soweit verfügbar beim Lieferanten - kann aber auch schneller gehen)
Artikel-Nr.:

CDJSP7732

Gewicht in Kg.:

0.4
(JSP) 84 tracks 1930-39
mehr
Cliff Carlisle: 1930-39 4-CD
(JSP) 84 tracks 1930-39
Artikeleigenschaften von

Cliff Carlisle: 1930-39 4-CD
Albumtitel:

1930-39 4-CD

Genre

Country

Artikelart

CD

EAN:

0788065773229

Gewicht in Kg:

0.4
Carlisle, Cliff - 1930-39 4-CD

CD 1
01
A Wild Cat Woman And A Tom Cat Man
02
Memphis Yodel
03
Desert Blues
04
High Steppin' Mama
05
Rambling Yodeler
06
Dear Old Daddy
07
Seven Years With The Wrong Woman
08
Gamblin' Dan
09
Handsome Blues
10
When The Evening Sun Goes Down
11
That Great Judgement Day
12
Goodbye Old Pal
13
I Want A Good Woman
14
My Lovin' Kathleen
15
You'll Miss Me When I'm Gone
16
Nevada Johnny
17
There Is No More That I Can Say
18
Prepare Me O Lord
19
Roll On, Roll On
20
When It's Round Up Time In Heaven
21
Home Of The Soul
Carlisle, Cliff - 1930-39 4-CD

CD 2
01
Ash Can Blues
02
Mouse's Ear Blues
03
That Nasty Swing
04
Sal's Got A Meatskin
05
Ring Tail Tom
06
Onion Eating Mama
07
It Takes An Old Hen To Deliver The Goods
08
Shanghai Rooster Yodel
09
Chicken Roast Blues
10
Wigglin' Mama
11
Sugar Cane Mama
12
Tom Cat Blues
13
No Daddy Blues
14
My Rockin' Mama
15
Rooster Blues
16
Guitar Blues
17
It Ain't No Fault Of Mine
18
Shine Your Light For Others
19
Two Eyes In Tennessee
20
The Blind Child's Prayer
21
When The Angles Carry Me Home
Carlisle, Cliff - 1930-39 4-CD

CD 3
01
Columbus Stockade Blues
02
Shanghai Rooster No.2
03
The Brakeman's Reply
04
Waiting For A Ride
05
Hobo's Fate
06
Cowboy Johnny's Last Ride
07
Get Her By The Tail On A Downhill Grade
08
My Travellin' Night
09
True And Tembling Brakeman
10
Hobo Blues
11
Pan American Man
12
Pay Day Fight
13
Far Beyond The Starry Sky
14
I'm Saving Saturday Night For You
15
Dang My Rowdy Soul
16
My Rocky Mountain Sweetheart
17
Goin' Down The Road Feelin' Bad
18
Georgia Moon
19
I Don't Mind
20
I'm Sorry Now
21
Lonely Orphan Child
Carlisle, Cliff - 1930-39 4-CD

CD 4
01
Trouble Minded Blues
02
A Mean Mama Don't Worry Me
03
Why Did It Have To Be?
04
When It's Round Up Time In Texas
05
Shine On Me
06
A Stretch Of 28 Years
07
Footprints In The Snow
08
Gonna Raise A Ruckus Tonight
09
Going Down The Valley One By One
10
Memories That Haunt Me
11
Black Jack David
12
Going Back To Alabama
13
Lonesome For Caroline
14
Uncloudy Day
15
Broken Heart
16
Shot The Innocent Man
17
Girl In The Blue Velvet Band
18
Sally Let Your Bangs Hang Down
19
Where My Memory Lies
20
New Memories Of You That Haunt Me
21
On The Banks Of The Rio Grande
geb. 6. 5. 1904 in Taylorsville - Kentucky gest. 2. 4. 1983 Record Labels: Gennett, Romeo,...
mehr
"Cliff Carlisle"
geb. 6. 5. 1904 in Taylorsville - Kentucky gest. 2. 4. 1983 Record Labels: Gennett, Romeo, Perfect, Melotone, Conqueror, Champion, Oriole, Royal, Cocolian, ARC, Columbia, Decca, RCA, King, Mercury, Rem, Old Timey Clifford Raymond Carlisle tourte mit dem Keith Circuit in den 20er Jahren durch den amerikanischen Süden. Er sang Blue Yodels im Stil von Jimmie Rodgers und spielte Gitarre und Dobro. 1930 spielte er die ersten Schallplatten ein, allein oder zusammen mit seinem Bruder Bill als ,The Carlisle Brothers". Er wurde Mitglied aller wichtigen großen Radioshows einschließlich der Grand Ole Opry. Von 1947 bis zu seinem Tode lebte Cliff Carlisle sehr zurückgezogen und spielte nur noch sehr selten Platten ein.
Bewertungen lesen, schreiben und diskutieren...
mehr
Kundenbewertungen für "1930-39 4-CD"
Bewertung schreiben
Bewertungen werden nach Überprüfung freigeschaltet.
Weitere Artikel von Cliff Carlisle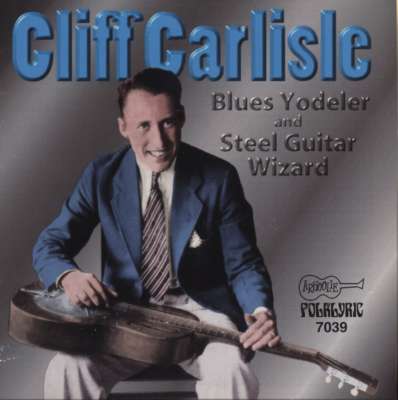 Cliff Carlisle: Blues Yodeler & Steel Guitar Wizard
Art-Nr.: CDARH7039